October 20, 2014 at 12:00 AM
Heavy-duty bulldozers and trucks pepper an empty lot on Webster Avenue near 205th Street, where a new 10-story, 60-unit residential building is now under construction. And the point has been made loud and clear: The Bedford, as it will be called, will not be supportive housing, a nagging problem for the burgeoning Webster Avenue stretch. Read more
October 19, 2014 at 12:00 AM
By DAVID CRUZ
If you had the chance to fill the role of New York City Councilmember, where would you earmark $1 million in capital funds? It's a question Councilman Andy Cohen will continue posing in his latest round of Participatory Budget sessions, a yearlong process where locals as young as 14-years-old in his 11th Council District can offer input on how to spend taxpayer monies to better their communities.
Six workshops are slated for this month:
Monday, Oct. 20 – Schervier Nursing Home, 2975 Independence Ave. at 7 p.m.
Wednesday, Oct. 22 – Rambling House, 4292 Katonah Ave. at 7:30 p.m.
Thursday, Oct. 23 – Mosholu Montefiore Community Center, 3450 DeKalb Ave. at 7 p.m.
Monday, Oct. 27 – Riverdale YM/YWHA, 5625 Arlington Ave. at 7 p.m.
Wednesday, Oct. 29 – Lehman College Lovinger Theatre, 250 Bedford Pk. Blvd. at 7 p.m.
Thursday, Oct. 30 – Vladeck Hall, 74 Van Cortlandt Pk. So. at 7 p.m.
"Participatory Budgeting is the true definition of bringing government to the people," said Cohen, in a statement. "Through this process we will engage residents, increase civic participation and give the public more confidence in government."
There are caveats– proposals must be a construction or renovation project, cost a minimum of $35,000, and proven be a boon to the public for more than five years. The winning bid must be submitted by the middle of 2015.
For more information on the process, residents are asked to call Councilman Cohen's office at (718) 549-7300.
October 17, 2014 at 3:03 PM
By Catharina Thuemling
The Five-Two's taking some extreme measures to shut down a Fordham nightclub.  Read more
October 17, 2014 at 9:03 AM
By David Cruz
High-tech software pinpointing the exact origin of gunfire is coming to the 52nd Precinct amid a spate of shootings in recent weeks.  Read more
October 17, 2014 at 12:00 AM
Compiled by Judy Noy
Editor's Pick 
The Bronx by Bike 
The 20th annual free Tour de Bronx will take place on Sunday, Oct. 26, offering a 25- or 40-mile ride, starting from the Bronx County Building, 851 Grand Concourse at 161st Street and will culminate at the New York Botanical Garden with live music and light snacks. Check-in time is at 9 a.m. Free bike helmets will be fitted and distributed from 8 to 11:30 a.m., while supplies last. Participants must sign a waiver. To register, go to www.iLoveTheBronx.com. Read more
October 17, 2014 at 12:00 AM
by David Greene 
After a wild murderous melee outside a local night club, we asked readers their thoughts on the club scene and how guests can stay safe.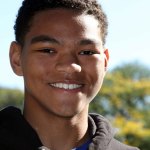 I think that economically they actually help the community with their taxes, but there's a lot of danger because it's not really positive or energetic because most people want to get loose and go wild. And that can lead to negativity. So violence-wise it's a bad thing, but economically it's a good thing.
Joshua Cabrera, Kingsbridge  Read more
October 17, 2014 at 12:00 AM

by Kasia Romanowska 
After living for months without gas and an on-site super in case of emergencies, tenants of a historic building in Norwood are now demanding better quality of life as the wintry months loom. Read more
October 16, 2014 at 11:10 AM
by David Cruz 
The i's have been dotted. The t's crossed. The lawsuits cleared.
Now the Kingsbridge National Ice Center is officially set to bring the world's largest skating center to the long vacant Kingsbridge Armory after a bumpy start. Kevin Parker, the lead developer of the complex, officially signed a 99-year lease with the city Economic Development Corporation this week, two weeks after a judge ruled he is the sole developer of the $350 million project.
"Reaching this juncture caps a monumental effort from community partners, elected officials and local residents who joined us in dreaming big – in supporting our vision," said Parker in a statement. "We look forward to advancing what promises to be one of the most exciting development projects in New York City history."
Kyle Kimball, running the city EDC, said called the news an "important step towards the realization of this project, and the significant economic benefits it will generate for the Bronx." That includes living wage judges, community space and local hiring, as per terms laid out in a Community Benefits Agreement. An after school ice hockey component will also be included, with Olympic gold medalist Sarah Hughes and KNIC CEO Mark Messier lobbying foundations for support grants.
But the lease did come with some terms, namely that Parker assure the EDC he has the capital to get the project off the ground. At a recent Community Board 7 committee, members revealed that Parker has one year to reveal he has funding.
The latest development comes after a Bronx judge ruled that Kevin Parker is the sole developer of the Armory project and not Jonathan Richter, Jeff Spiritos, Marcos Wignell, the trio that led talks with the community as the project was being vetted.
In July, the three plaintiffs had asked a judge to bar Parker from speaking with the city Economic Development Corporation, the real estate arm of the city, over lease negotiations on the Armory. The latest development allows Parker to continue his talks with the city over when a lease will be sign, clearing KNIC to repurpose the Armory into an ice skating center complete with nine sheets of ice and a 5,000 arena for $350 million.
The trio's lead attorney , Ernest Badway, refused to comment on the ruling.
Parker's attorney, Bill Brewer, emphasized that the three plaintiffs "had no right to interfere with this project or impede its progress."
But the summer-long lawsuits have likely pushed back construction of the massive ice center, originally slated to wrap up construction by 2017. The project is now a year delayed. Once the site is built it will activate the Community Benefits Agreement, a legally binding document hammered out by the community stakeholders and KNIC. The agreement tacks on stipulations that include local hiring, a one percent revenue sharing plan, and an allocation of 50,000 square feet of community space at the Armory's lower levels.
And even as KNIC plowed through the judicial channels, it was able to secure financing from various groups, namely The Kresge Foundation. Driven by its need for "social investment" the philanthropic organization agreed to serve as the lead investor in a $30 million equity raise for KNIC.
October 16, 2014 at 12:00 AM
COMMUNITY BOARD 7 will hold its general board meeting on Tuesday, Oct. 21 at Serviam Gardens, 321 E. 198th St., at 6:30 p.m. Committee meetings are held on the following dates at the board office, 229A E. 204th St., at 6:30 p.m. unless otherwise noted: Education/Libraries & Youth Services committee meets Wednesday, Oct. 22; Parks & Recreation and Senior Services committees meet Wednesday, Oct. 29 (Note: Senior Services Committee meets at 7:30 p.m.) For more information call (718) 933-5650.
THE 52ND PRECINCT COMMUNITY COUNCIL meets Thursday, Oct. 16 at the Fordham Hill Oval Corporation, 2455 Sedgwick Ave. from 7 to 9 p.m. For more information, call (718) 220-5824.
October 16, 2014 at 12:00 AM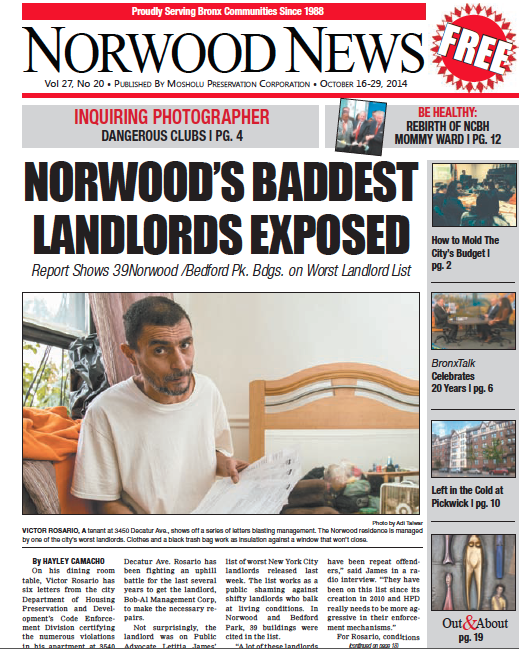 by David Cruz 
Take participatory budgeting, a Tour de Bronx, the rebirth of the NCBH maternity ward and the list of Norwood's worst landlords and you have the latest edition of the Norwood News, hitting newsstands at over 200 locations in the northwest Bronx. This week we explore key events happening in the community for you to share with friends and family.
Check out roving reporter Hayley Camacho's article on shady landlords whose buildings have made life hell for tenants in Norwood and Bedford Park. The responses she gathered are quite interesting.
Next, we give you an update to a murderous melee that took place in Fordham Road, followed by a nagging quality of life issue at the Pickwick Arms, a historic building at the northern tip of the Grand Concourse.
All that and more (as usual) as we bring you the latest digital edition of the Norwood News! So read up!
Comments