By VIVIAN R. CARTER
Mosholu Preservation Corporation (MPC), a not-for-profit support corporation of Montefiore Medical Center since 1981, wants the northwest Bronx to be healthy, safe and clean. It has garnered strong support from the Jerome-Gun Hill Business Improvement District and the merchants associations in three other local business corridors—Webster Avenue, East 204th Street and Bainbridge Avenue, and East 233rd Street and White Plains Road.
But perhaps their most influential supporter is Councilman Andrew Cohen, who, in collaboration with MPC, is now announcing the launch of an initiative to harness the passion and energy of local businesses and residents to the cause of cleaner streets and sidewalks in the 11th Council District. The Department of Sanitation of New York (DSNY) has an arsenal of special programs devoted to keeping New York neighborhoods tidy, so Cohen and MPC intend to deploy them, and Bronx businesses and individual residents can join in the partnership.
The easiest way to help is by volunteering for Adopt-a-Basket. Through a simple online form, any volunteer can help protect local health and quality of life by committing to adopt one of the city's 25,000 litter baskets. The program is particularly critical in busy, densely populated and visited areas like the northwest Bronx business corridors, where litter baskets fill up faster than city sanitation teams can empty them. Residents and businesses have an interest in seeing that litter doesn't spill onto sidewalks and streets, where it can attract vermin and insects, and generate unpleasant sights and smells.
Once the volunteer has completed an adoption form, DSNY provides a supply of plastic liners, a collection schedule – and a direct local contact for DSNY.  The volunteer monitors their litter basket on a daily basis. When the adopted litter basket is three-quarters full, the volunteer removes the partially filled plastic liner from the can, ties it securely, leaves it next to the basket for collection, then inserts a new liner into the basket.  Six merchants from the Webster Avenue corridor have already offered to adopt litter baskets.
There's a bigger way that local businesses, not-for-profit organizations, and generous individuals can help reduce litter and improve conditions on the streets—by sponsoring the purchase of a deluxe, heavy-duty litter basket in an area. Sanitation teams will regularly empty these newly placed, pre-approved baskets that go a step beyond the city's standard design.  Once purchased by an organization or individual, baskets will include a logo or name to highlight that sponsor's commitment to maintaining the community's quality of life. Anyone can both sponsor and adopt a basket, if desired.
To adopt and/or sponsor a litter basket or learn more about this initiative, contact Marcia Cameron of MPC, at (718) 324-4946, or email MCameron@montefiore.org.
By IMANI HALL
Vital Stats: 4K- Number of pregnancies among teen girls ages 15 to 19 in the Bronx.
(Source: New York City Department of Health)
Montefiore's School Health Program (MSHP) has been awarded $3 million in funding by the Jerome L. Greene Foundation to combat teenage pregnancy in the Bronx. MSHP provides services to 40,000 Bronx students at 73 high schools in 22 school locations.
"We are pleased to join our longtime partner, Montefiore Health System, in an intensive effort to address unintended pregnancy in the Bronx," said Christina McInerney, the foundation's president, adding, "This new grant strengthens both our and Montefiore's mission to build a better future for today's youth."
The newly funded program will go towards the hiring of a research team comprised of a research coordinator, research assistant, an epidemiologist, director of research, a project coordinator, a youth support worker and community health organizer "to identify those kids who are at risk of unintended pregnancy" in 12 of the 22 MSHPs, according to Dr. David Appel, director of the Montefiore School Health Program.
Participating schools will also experience a major advertising blitz of the program, with flyers distributed at school to get the word out on the program. The Bronx has the highest teen pregnancy rates in the city, with over 4,000 babies born to mothers between the ages of 15 and 19 yearly, according to city health statistics.
"Our objective is to reduce unintended teen pregnancy by 50 percent over a three-year period," said Appel. "It's being staggered for schools through year one, year two and year three so we can see the impact, compared to what's happening without the funding from the Greene grant."
The teen pregnancy program is one aspect to MSHP. Each site has a full-time recreationalist, nurse, medical provider, mental health provider, a part-time dentist and a community organizer available during the school year.
"There is recognition that children in many neighborhoods like the Bronx throughout New York City, mainly rural and urban, find out there is a need for more than a school nurse in the school," said Appel. "The school nurses connect kids to their private care providers, but kids that don't have them, there's nothing to connect to, so it's bringing direct services to the schools."
With schools closing for the summer season, only eight of the 22 clinics will be open from 8 a.m. to 3 p.m. Students whose school clinics don't stay open during the summer receive a flyer with contact information for the clinics that are open. For those in need of mental care, an on-call mental care provider is available.
Additional reporting by David Cruz.
By IMANI HALL  
The 52nd Precinct held its last community meeting before going on a two-month hiatus. At the meeting, Inspector Nilda Hoffman outlined the nagging spike in reported crime this year, focusing her attention on any impending increase this summer. Read more
By IMANI HALL
At the 52nd Precinct's Community Council meeting June 25, members of the Council paused to recognize long-time member Mary Vallati, who will turn 100 this month. As part of the celebration, Vallati was presented with a proclamation from Borough President Ruben Diaz Jr. with her family by her side. Read more
By JASMINE GOMEZ
"I can't take it anymore," were the words Kalief Browder, a 22-year-old Bronx man, uttered to his mother, the night before he hanged himself on June 6 from his home. Read more
By DAVID CRUZ
The debate over whether institutionalization of the borough's mental health population rages fiercely, with state officials seeing it as vestige of a bygone era. In the last few years, the state has closed its institutions, shifting away from housing the mentally ill and seeking different forms of treatment instead. Read more
June 30, 2015 at 12:00 AM
By DAVID CRUZ
Vital Stats: $438 Billion – Costs of Medicaid nationally. (Source: Center of Budget and Policy Priorities.)
Hospitals across the Bronx have begun receiving an infusion of federal monies aimed at a plan that ensures Medicaid-covered patients stay on top of their health to avoid a costly emergency room visit. The plan is aligned with a larger goal of shrinking Medicaid spending, officials from St. Barnabas Health System (SBH) announced. Read more
June 30, 2015 at 12:00 AM
By KIMBERLY JACOBS
Norwood residents may or may not have noticed the new dogwood trees planted throughout the lawns on Mosholu Parkway. But for those who have, there have been some cheers and jeers. Read more
By TATYANA TURNER
Norwood residents are trying to find measures to beat the heat as the summer settles in, by cracking open a fire hydrant. But as children turn open hydrants into neighborhood gatherings, a slew of open fire hydrants throughout the summer has members of the FDNY shutting them off, pointing out the dangers in leaving them open. Read more
June 29, 2015 at 12:00 AM
By DAVID GREENE
This week we asked readers their thoughts and plans for the much-anticipated summer season.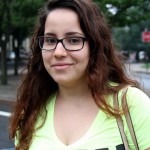 I'm actually looking forward to getting together with some old friends, visit with family and enjoy some much needed time off. I hope the weather cooperates.
Lisa Jenkins
Comments