April 19, 2014 at 12:00 AM
Editor's Pick
Easter at the Oval
The public is invited to an Spring Egg Hunt at the Williamsbridge Oval on April 19 from 11:30 a.m. to 2 p.m. Events include carnival games, potato sack races, music, and a traditional egg hunt. There will be separate hunts for ages 1 to 5 and for ages 6 to 11 at 1:30 p.m. Children must bring their own baskets. For more information, call (718) 543-8672. Read more
April 18, 2014 at 1:57 PM
by David Cruz 
St. Brendan's Church in Norwood marked Good Friday with a re-enactment of the Passion of Jesus Christ. Hundreds took part in a procession where actors portraying Roman soldiers flogged an actor portraying a beaten and bloodied Jesus Christ trudging through East 204th Street. The longstanding tradition by St. Brendan's parish happens every Good Friday, the Catholic holiday that marks the death of Jesus. Read more
April 18, 2014 at 12:00 AM
By Shayla Love
This year, the Easter bunny is hopping to Norwood!
Children won't have to go farther than the Williamsbridge Oval, as they'll meet and greet the springtime hare while hunting for bright colored eggs containing candy and treats inside. This first annual Spring Egg Hunt will take place Saturday, April 19 from 11 a.m. to 2 p.m. and is sponsored by the Mosholu Preservation Corporation, the Jerome-Gun Hill BID and the city Parks Department. Read more
April 17, 2014 at 5:23 PM
by David Cruz 
The Concourse of Death may now become the Concourse of Caution.
To prevent the more fatalities along the Grand Concourse over the years, the city has rolled out new traffic calming measures to keep traffic flowing for drivers without making a hard stop or causing an accident. Read more
April 17, 2014 at 12:52 PM
by David Cruz, Norwood News editor-in-chief
Another round of our Bronx News Roundup is here with some interesting stories from our journalism brethren in the Bronx and abroad.
First up, former Councilman Oliver Koppell continues do so some serious soul searching in his possible run against state Senator Jeff Klein. The Bronx Times Reporter's editor Bob Kappstatter writes Koppell will likely decide after Passover and Easter. Kappy also notes speculation of Klein having his Independent Democratic Caucus faction join Senate Democrats instead of GOP, currently holding co-leadership rule. A Klein source tells Kappy that the rumors are unfounded.
It's been three months and no mention of the Kingsbridge Armory, until now. Daniel Geiger at Crain's New York Business found an inside baseball piece on developers of the mammoth project looking to finance it through alternate means. Don't want to give any spoilers so you just have to read Mr. Geiger's piece.
Welcome2TheBronx spotlights Morris Court, a development project that's near construction, the first in Mott Haven/Port Morris development to be built under new rezoning drafted in 2009.
And finally, Denis Slattery at the Daily News has a piece on a controversial principal at P.S. 386 getting support from parents to have her reinstated. The principal was accused of ignoring concerns from students who said that one of the school's teachers allegedly raped a 10 year old.
And that's it for this roundup. Be sure to check back next week for some more stories from our Bronx journalists!
April 17, 2014 at 12:00 AM
by David Cruz
Norwood has long battled "the Bronx is burning" image since the days when the nation witnessed charred building remains in the south Bronx during the 1970s. Though the trend never reached Norwood, its stereotype remained etched in the minds of skeptic out-of-towners believing those days continue to exist. Read more
April 16, 2014 at 8:25 PM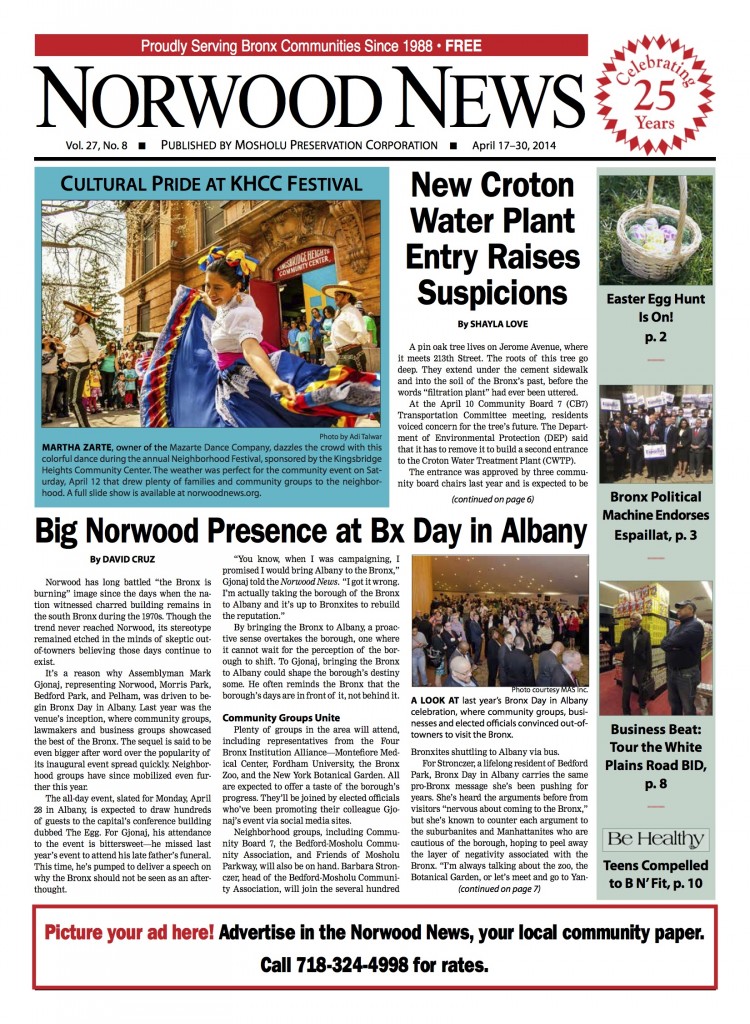 Has two weeks passed already!?! In the interim, the Norwood News gathered several noteworthy news items that makes up this latest edition. Inside you will find several interesting top stories on the Croton Water Filtration Plant and the impending Bronx Day in Albany that will spark a conversation. Check out our In The Public Interest, Inquiring Photographer, Out & About, Neighborhood Notes and our Business Beat. This time we took a trip to Pelham Parkway to spotlight the White Plains Road Business Improvement District, making great strides.
So spread the word on the Norwood News, and view the digital edition. Also, if you know anyone interested in spreading their brand, have them give us a call at 718-324-4998. So enjoy this latest edition!
April 16, 2014 at 2:44 PM
April 12th was a gorgeous day for folks attending the Kingsbridge Heights Community Center's annual Neighborhood Festival. Kids got to be kids while learning about different cultures in the borough. Check out these great photos from our photographer maven Adi Talwar.
April 16, 2014 at 1:07 PM
Passages
They Just Don't Make 'Em Like They Used To: My homage to Patricia Cranley

Obituary written by William Murray, her grandson
Editor's Note: The Norwood News accepts submissions for our feature entitled Passages, write-ups that includes milestones, tributes and other items that highlight people in Norwood and the surrounding communities at the discretion of the editor-in-chief.  
Patricia Cranley was a long-standing member of this Bronx working class neighborhood and a staple of its Irish-American community. Born in the south Bronx two days before Christmas in 1926, Patricia was a child of the Great Depression. She endured through World War II, The Korean War, Vietnam, and The Gulf War, just to name a few. If we rolled an autobiographic film of her life, there would come a point in her heyday where she resembled the character Mae Mordabito (played by Madonna) in A League of Their Own. Read more
April 16, 2014 at 1:00 AM
by Shayla Love
A pin oak tree lives on Jerome Avenue, where it meets 213th Street. The roots of this tree go deep. They extend under the cement sidewalk and into the soil of the Bronx's past, before the words "filtration plant" had ever been uttered. Read more
Comments