By MOSES BUSTOS
A skateboarder wants a bank to ledge. Another wants longer runways to pick up speed. A third one requested a bowl. Read more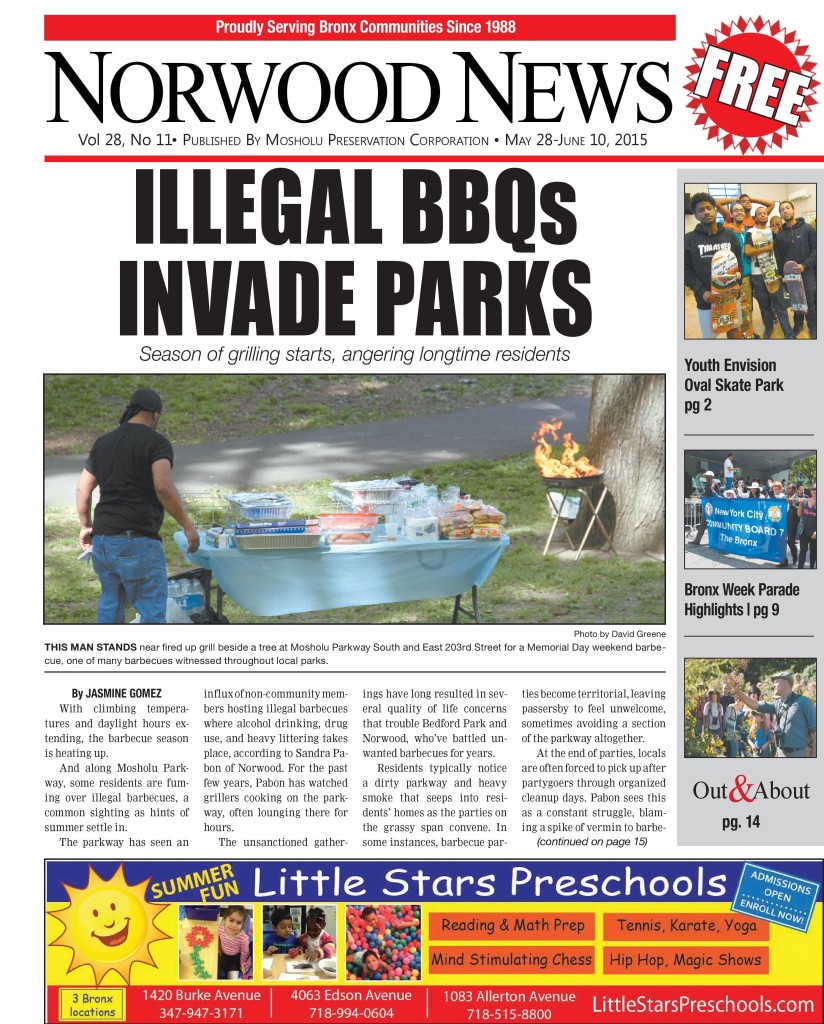 By DAVID CRUZ
The latest edition of the Norwood News is on its way to a restaurant, office or store near you, loaded with plenty of news you can use.
Our latest offering brings you a timely story rankling many residents—illegal barbecues. Jasmine Gomez takes a look at just why barbecuing is something of a mainstay in the Bronx, despite being prohibited in some parks. We get the city's side, and hear out the pros and cons. Definitely a community story worth reading.
We then move on to a profile of a storied civic group that's become synonymous to the Bedford Park community. Read up on the civic group's humble beginnings and 40-year milestone.
The paper's neighborhood staples are on tap with Neighborhood Notes, Inquiring Photographer, The Bronx Beltway and Out & About features ready to be read.
So be sure to grab and coffee, click on this link of the Norwood News, and get your community news fix.
By JASMINE GOMEZ
With climbing temperatures and daylight hours extending, the barbecue season is heating up. And along Mosholu Parkway, some residents are fuming over illegal barbecues, a common sighting as hints of summer settle in. Read more
An OpEd by VONETTA DUDLEY
For the first time in nearly a decade, we have over one million smokers in New York City. One out of three smokers will prematurely die from smoking-related diseases.  This is alarming especially when we know that tobacco use is the number one cause of preventable death.
In the Bronx, 16.1 percent of adults and 7 percent of the youth are current smokers.* Tobacco companies have been consistently targeting our youth and have labeled them as their "replacement smokers." Tobacco companies won't stop and will do what they have to in order for people to buy and use their products.
Most of the youth start smoking by age 18. They are overly exposed to tobacco products by what they see in local community stores and what they view from in the media. These two outlets are of easy access to our youth and are used as a way to gain their interest in their products. The tactics used such as product displays, advertisements, smoking in movies, and in YouTube videos are harming our youth and not enough information is being provided on the many dangers and harms of tobacco use and nicotine addiction. We don't need more ways for kids and teenagers to be hooked on nicotine.
The less our youth know about tobacco use and its harmful effects the easier Big Tobacco can target them. We need to direct some of the effort towards the education and information youth receive about the harms of tobacco use and their over exposure by tobacco companies. The more smoking policies are introduced as well as the cost of tobacco products increasing the better chances we have of protecting our youth. Programs such as Reality Check of NYC Smoke-Free are helping to address these concerns and get our youth take action and speak up against Big Tobacco in their schools and communities. For more information, or to lend your support, visit our website at NYCSmokeFree.org.
Editor's Note: Vonetta Dudley is a Bedford Park resident and part of Bronx Reality Check: Youth Engagement, and NYC Smoke Free, a program of Public Health Solutions, works to protect the health of New Yorkers through tobacco control policy, advocacy, and education. 
By  TATYANA TURNER & DAVID CRUZ
A young man was shot on the outskirts of Kingsbridge/Bedford Park just an hour before the community was to enjoy a street festival. The shooter remains on the run in a case of what police sources say was a gang-related, retaliatory shooting.
Children were prepared for the 2nd annual Decatur Avenue Street Festival when gunfire erupted, forcing the cancellation of the festival just on the eve of Memorial Day weekend.
Cops from the 52nd suspect the shooting began at a barber shop on 194th Street and Decatur Avenue. The victim, part of the notorious Crips gang, was shot by a rival Bloods gang member in response to a shooting that happened on the corner of Creston Avenue and East 193rd Street in broad daylight two days before, according to one police source. The victim stumbled to 195th Street with gunshot wounds to the groin. He was transported to a nearby hospital with his condition unknown. Police cordoned off 195th Street and Decatur Avenue.
Councilman Ritchie Torres, who was expected to appear at the festival, said in a statement that "today's tragic shooting on Decatur Avenue wounded the entire community."
"My thoughts and prayers are with the victim and their family for a full and speedy recovery," said Torres.
The shooting comes on the same day as 14-year-old Christopher Duran was shot to death in a suspected gang-related shooting in Concourse.
By DAVID CRUZ
In the weeks following the death of Ana Charle, the director of a homeless shelter in Wakefield, security at the shelter has picked up. A parked security car sits outside the shelter. Three part-time peace officers and a supervisor from the New York City Department of Homeless Services (DHS) now roam the facility, a reactionary response by DHS shortly after Charle's death. Read more
Small Business Workshops
Monroe College School of Business and Operation HOPE host free small business development workshops Wednesdays through July 29 from 6 to 8 p.m. at the college's Ustin Hall, 2375 Jerome Ave. (184th Street). Participants will learn how to start a business, build a business plan, and look for funding. For more information or to register, call (201) 381-8798 or email pedro.barry@operationhope.org.
Understanding Colitis Program
An educational program on inflammatory bowel disease, Crohn's disease and ulcerative colitis takes place May 21 at Montefiore Medical Center's Tishman Learning Center room #1, 111 E. 210th St. Free registration and light snacks provided. For more information or to register, call (646) 388-9290.
Food Assistance Programs
Information on several food assistance programs including the federal SNAP/food stamp program, WIC, school and summer meal, senior meals, and more is available by calling the New York Coalition Against Hunger office at (212) 825-0028. Information on Bronx food programs is also available in English at http://bit.ly/1FksQB3 and Spanish at http://bit.ly/1aYB1GG.
Free Tutoring
Free tutoring in math, history, English and science is available for students ages 12 to 21 at Sistas & Brothers United, 103 E. 196th St., 3rd fl., Mondays to Fridays from 3 to 6 p.m. For more information, call (718) 584-0515 ext. 243 or (347) 481-6180.
Free Legal Help
Free legal services are available at the office of Councilman Andy King, 940 E. Gun Hill Rd., Fridays through June 26. Legal consultations include criminal, NYCHA, tenant/landlord, public assistance, wills, healthcare proxies, contract disputes, family law issues, and civil litigations. For more information and to schedule an appointment, call (718) 684-5509.
Bird Walks
Bird Walks at Van Cortlandt Park are available free, Saturdays from 8 to 9:30 a.m. until November. Anyone interested can meet at the Nature Center, 246th Street and Broadway. For more information, contact Joseph McManus at McManus638@aol.com.
Healthcare & Benefits Screening
The Northwest Bronx Resource Center is offering help for several services: healthcare enrollment and benefits screening every Monday and SeedCo will help with healthcare applications, benefits (SNAP, WIC, etc.), finding free and low-cost healthcare, finding a doctor and other programs. Community Service Society is available to assist with applying and/or questions regarding benefits, including SNAP, WIC, Disability, etc. For more information, email Jumelia@unhp.org or (718) 933-2539.
MMCC Services
The Mosholu Montefiore Community Center, 3450 DeKalb Ave., offers services for children, teens and senior citizens including pre-K classes, day camp, adult education classes and wide-ranging services for senior citizens. To learn more, call MMCC at (718) 882-4000.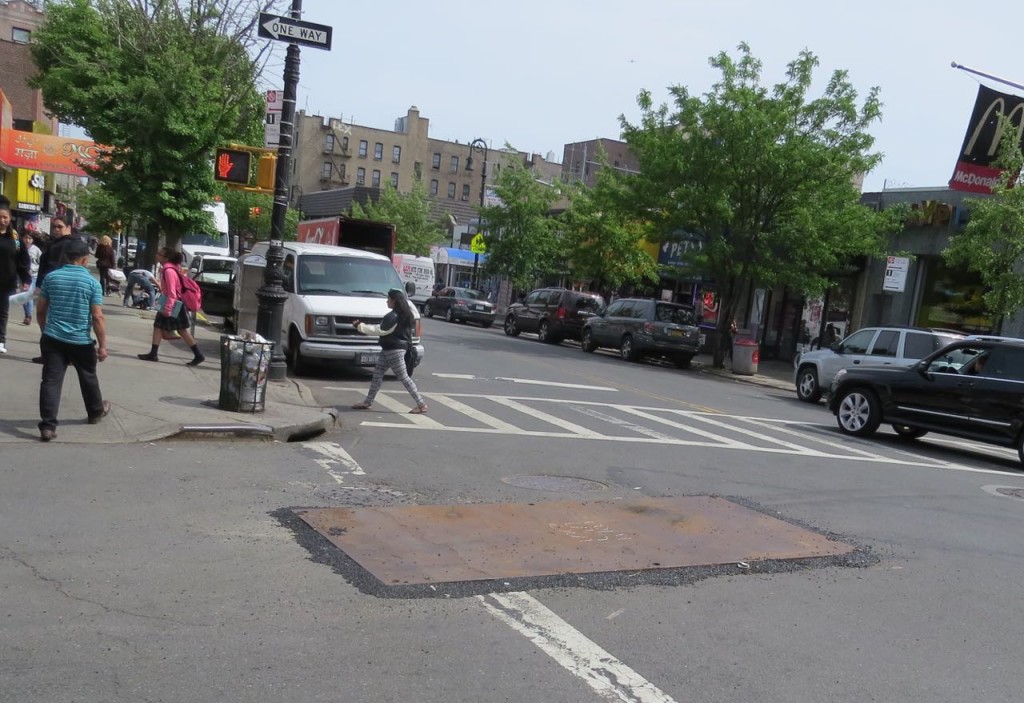 By DAVID CRUZ 
Perry Avenue  and East 204th Street is whole again following crews covering up a giant hole at the busy intersection.
City crews placed a metal plate on top of a sinkhole that turned morning rush into an obstacle course for drivers turning to Perry Avenue.
Residents spotted the sinkhole, mistaken for a pothole, for two weeks. Although the sinkhole was eventually sealed, the tar sunk in a day later, forcing crews to place the metal plate.
According to a statement issued by the Department of Transportation to News 12, Empire City Subway Company, a subsidiary of Verizon with a franchise from the City of New York,  is responsible for repair and restoration at this location.
The unsightly sinkhole caused an uproar on local social media pages.
"I was there Saturday morning and evening, and it was okay after it was fixed Saturday morning," wrote Lucio Macente. 'I guess it was fixed for one day. Lol."
By DAVID GREENE 
A 20 year-old man was fatally shot in the chest on the sidewalk in Kingsbridge, with detectives now hunting for his gun-toting killer. Read more
By DAVID CRUZ 
Bedford Park is becoming the bedrock of development.
The latest is the purchase of an abandoned piece of property at 232 East 201st St., which was at one point the home of squatters.
Ariel Properties executed the sale for an undisclosed buyer for $650,000, translating to $36 per buildable square feet. It's located at the corner of Valentine Avenue and 201st Street, deemed a R8 zoning district. Developers can build upwards to 17,982 buildable square feet as-of-right or 19,416 should developers work community space into the development.
"With direct access to Grand Concourse and the Bronx Botanical Gardens, 232 East 201st Street offered developers a unique opportunity to develop a boutique multifamily in a central Bronx location ," said Scot Hirschfield, vice president at Ariel Property Advisors.
The latest purchase makes it another purchase of property buying in Bedford Park, a neighborhood that's home to a mix of residential developments and private houses.
Comments