October 31, 2014 at 2:04 PM

By Catharina Thuemling
Let the horse be replaced with horsepower!  Read more
October 31, 2014 at 1:12 PM
In the last month, wall-to-wall coverage of Ebola has engulfed the news media. You could say it's like that of an outbreak–the moment a large media outlet covers it, the rest are infected by it (in the news business, it's called piggybacking).
From the moment the first New York City case of Ebola was reported, city officials have been on high alert. Rightfully so, though Mayor Bill de Blasio has continually pounded the drum saying "there is no reason for New Yorkers to be alarmed." The patient, a doctor treating Ebola patients at the epicenter of the disease, West Africa, is currently being treated. This past week, a Soundview boy purported to have the disease turned out to be a false alarm. Panic itself can be quite contagious.
Despite this, the news has scared some emergency rooms believing it would deal with aswell of patients arriving, some driven by the hysteria. Others by legitimate concerns.
So the Norwood News is taking a more even-handed approach to Ebola, utilizing information from the Centers for Disease Control:
October 31, 2014 at 9:35 AM
Editor's Pick
Halloween on Jerome
 The Jerome-Gun Hill BID presents Halloween Fright Fest, Oct. 31 from 3 to 5 p.m. on Jerome Avenue from Mosholu Parkway to Gun Hill Road. Kids should come in costume. There will be a raffle, free candy, and a free picture with Spiderman. For more information, call (718) 324-4946.  Read more
October 30, 2014 at 9:01 AM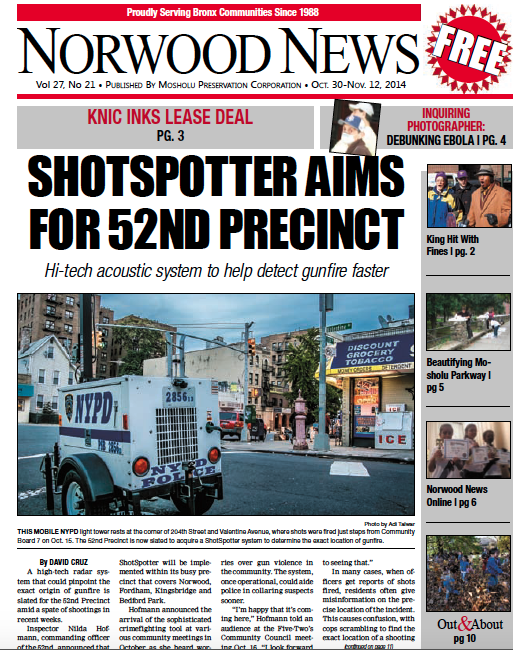 The Norwood News, your bi-weekly community newspaper you know and love to read is out once again, both on the digital format and over 200 locations in the northwest Bronx. In this edition we take an in-depth look at the super high-tech ShotSpotter system slated to arrive within the 52nd Precinct. Hear from Inspector Nilda Hofmann who can't wait to see the system up and running in the station house that covers Norwood, Bedford Park, Fordham and Kingsbridge.
We've also bridged the divide between newspaper and digital news with Norwood News Online, a feature showcasing some web exclusives that can only be found on www.norwoodnews.org. Read all about a campaign to curb teen pregnancies, a spelling bee
B-O-N-A-N-Z-A at P.S. 94, an outraged Fordham Business Improvement District that's dealing with a CAR-tastrophe and a bitter debate about police accountability.
So stop by the many diners, clinics, banks and stores for your copy of the Norwood News, or read all about it from the convenience of your computer. Until next time!
October 29, 2014 at 12:00 AM
By KASIA ROMANOWSKA
As the holiday season rapidly approaches, a new shopping center has opened up in the Bronx following a ribbon cutting and a year of debuts for shopping centers across the borough. Read more
October 28, 2014 at 1:38 PM

by David Greene
A group of experienced thieves, eluding police since early this year, have struck again in Bedford Park.  Read more
October 28, 2014 at 9:22 AM
Vital Stats: 11.1% – Percentage of pregnancies among females aged 15-19. (Source: Center for Disease Control)
by David Cruz 
Recognizing the high number of teen pregnancies throughout the Bronx, the New York City Health Department has launched an advertising blitz to help reverse teen pregnancy figures.  Read more
October 27, 2014 at 5:16 PM

By Anton K. Nilsson
A public art piece on the sidewalk at the corner of East Fordham Road and Webster Avenue is frequently obstructed by parked vehicles belonging to multiple city agencies, enraging officials from the borough's biggest business improvement district.  Read more
October 24, 2014 at 12:58 PM
British Traveler George Meegan Revisits Norwood and Talks Death
By KASIA ROMANOWSKA 
George Meegan, the renowned British adventurer who spent seven years crossing both Americas by foot, is revisiting Norwood, where he looked back on his epic walk while extending an invite to friends for his "last journey." Yet on this one, he will be present only in spirit.  Read more
October 23, 2014 at 11:08 AM

By David Cruz
One day after celebrating her 24th year at the NYPD, Inspector Nilda Hofmann faced a tense standoff with two police skeptics calling for more accountability within the Police Department. Their weapons: debate and rebuttals that seared with hostility.
Comments