July 28, 2014 at 12:37 PM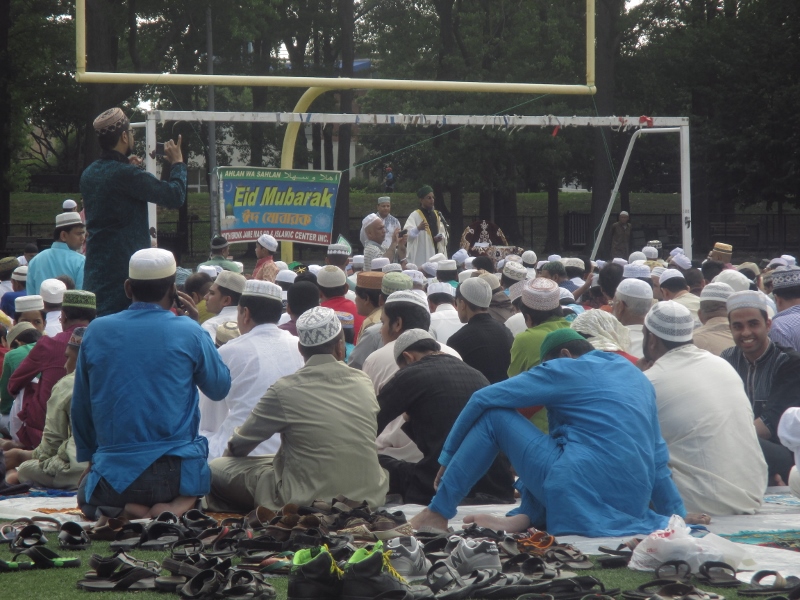 With the end of Ramadan, hundreds of local Muslims celebrated Eid al-Fitr with a massive prayer service at the Williamsbridge Oval field on Monday, July 29. Wearing  Taqiyah caps, men and boys bowed several times during the ceremony for Eid ul-Fitr, meaning Feast of Breaking the Fast. The  month-long holiday requires Muslims to fast all day, though by sundown Muslims will enjoy a hearty meal. Organizers also pleaded with the faithful to help raise a half million dollars for the North Bronx Islamic Center, which is still being constructed. The center will be a four-story building complete ith a funeral home, an Islamic school and a library.
July 27, 2014 at 12:00 AM
by Pamela Segura
The public typically experiences visual art at its conclusion, forgoing the opportunity to see the creative methods, processes and work spaces of artists. Read more
July 26, 2014 at 12:00 AM
by Pamela Segura
Early this week, new funds were earmarked for a skating park inside Williamsbridge Oval Park following mobilization efforts by community groups. Read more
July 25, 2014 at 12:00 AM

By DAVID CRUZ
For Fordham businessman Jason Mizrahi, the secret to operating a successful religious shop wasn't taught in college, but told by his intuitive father–treat the customer well. Read more
July 24, 2014 at 11:32 PM

by David Cruz 
Merchants facing a rent hike along a stretch of stores near the Kingsbridge Armory are breathing easier for now after hearing news their impending high rent will be delayed. Rents were to have gone up Aug. 1.
At a meeting hosted by the Northwest Bronx Community & Clergy Coalition and the Northwest Bronx Democrats at St. Tolentine Church on Fordham. Steven Lorenzo, a realtor with NAI Friedland, told the audience that New Kingsbridge LLC, the new landlord to two properties on the corner of West Kingsbridge Road and Jerome Avenue has decided to arrive at a compromise with merchants. Lorenzo, serving as a go-between for merchants and the new landlord, will be meeting next week to hammer out details.
The change came following a meeting with Community Board 7 on Tuesday night, where merchants vented their frustration to members and stakeholders over the rent spike. Lorenzo later met with Rick Brown, a representative from New Kingsbridge LLC, an offshoot of Levites Realty Management, spending three hours with merchants to address major concerns about the sudden rent hike.
"He's met with a couple of them and was definitely swayed by their concerns," Lorenzo told the Norwood News. "Tenants said the economy is not what it was before."
Lorenzo emphasized that while he knows the new landlord, he has no financial stake in the Levites' new leasing of the properties.
But despite the good news Gene Bass, one of thirteen affected merchants at the corner of West Kingsbridge Road and Jerome Avenue, remained skeptical.
"I believe it when I see it," said Bass, owner of Forever Young on Kingsbridge Road.
Meantime, the NWBCCC and NWBx Dems plan to hold more town hall-style forums to educate the public on changes inspired by the Kingsbridge Armory redevelopment project, slated to become an ice center. They offered information on the Community Benefits Agreement, a legally binding document that offers financial benefits to the surrounding community. The CBA remains inactive for now, upon the signing of the lease by Kingsbridge National Ice Center Partners LLC. A lawsuit that's currently working its way through the legal system has delayed the project for now.

by David Greene 
One man is dead in an overnight car crash on Jerome Avenue in Bedford Park that split the car in half.
Rescue crews were called to the crash at 2:19 a.m. on Thursday, July 24, outside of Lehman College at Jerome Avenue between East 196 Street and Morris Avenue.  Read more
July 24, 2014 at 11:02 AM

Editorial 
It's not every day you see an editorial on the Norwood News, but this news is worth it. Read more
Well, here it is–the latest edition of the Norwood News is out with pages of intriguing news coverage and a special announcement for readers. First up, the Norwood News continues its coverage of the Kingsbridge Armory and some bad luck for merchants who face a massive rent hike come August. We explore just what transpired at an emergency meeting hosted by Community Board 7.
Our next story is pretty endearing for us, and will receive plenty of promotion in the coming four weeks as we enter the annual Norwood News hiatus. In August we'll unveil a brand new look to the Norwood News that will serve as a new chapter in this great community newspaper's history. More announcements on this change will come.
We also take a look at what's happening on the jobs front, the business front with our Business Beat column and the health front with Be Healthy. So if you have several minutes stop by at one of our over 200 locations in the northwest Bronx, and please feel free to call the paper at 718-324-4998 to share some thoughts. Until next month!
July 23, 2014 at 10:28 AM
By DAVID CRUZ  
With 13 merchants facing double the rent for their stores across the street from the Kingsbridge Armory, now slated for redevelopment, those affected are scrambling to find a new place to do business. And many are turning to community stakeholders for help.  Read more
Comments