December 27, 2014 at 12:00 AM
Editor's Pick 
Free Music at NYPL
The Bronx Library Center, 310 E. Kingsbridge Rd., presents Doo Wop featuring the New York Exceptions performing music from the '50s, '60s and '70s, Dec. 27; and Madame Butterfly, performed by the New York Opera Forum, Jan. 3; both at 2:30 p.m. For more information, call (718) 579-4244/46/57 or visit www.nypl.org.
The Mosholu Library, 285 E. 205th St., offers Music by Josué Pagán, performing classical guitar, Jan. 3 at 2:30 p.m. For more information, call (718) 882-8239.  Read more
December 26, 2014 at 12:00 AM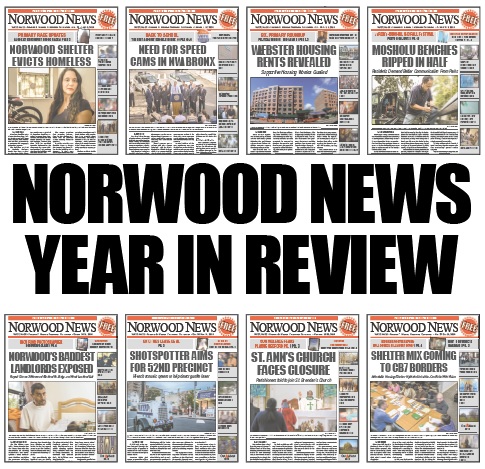 By HAYLEY CAMACHO
The northwest Bronx has seen quite a batch of news stories that have gripped, intrigued and caused quite a stir during 2014. The Norwood News tracked many of these stories this year, and in some cases, broken them. As part of a yearly tradition, we look back at some of the top stories of 2014.  Read more
December 24, 2014 at 12:00 AM
As we close 2014, the Norwood News wants to take you back to Dec. 2013 when the New York City Council, led by its Bronx delegation, overwhelmingly voted in favor of re-purposing the Kingsbridge Armory into the world's largest ice skating rink. The fervor was exciting for the Kingsbridge National Ice Center. History had unfolded. The community was happy thanks to its legally binding Community Benefits Agreement.
Many elected officials praised the project as the start of a new frontier for the Bronx—the rise of a burgeoning borough-wide sports Mecca. A smart first step as the borough dominated in the economic development front in 2014. It would be a great challenge.
That was a year ago.
These days, the Armory saga has moved mostly to the courtroom, where a rift among developers derailed the start of the project. By and large, it was a major setback for a project that's deemed a game changer for the Bronx, further putting the borough on a positive track.
Stories delving into the Armory's lawsuit, its giant price tag, and early signs of gentrification have been explored by local media. And yet, not one story has been made on its projected groundbreaking. That's because no date has even been set.
To be fair, a disclaimer: though benchmarks for the Armory have been few, it may not mean some behind-the-scenes dealings are in the works.
Once the Norwood News let the cat out of the bag that there was a plan for an editorial on Armory, Stephan Butler, KNIC's executive vice president, emphasized that there are talks with unnamed stakeholders, though it's a "long process." An even greater process, according to Butler, is determining how much work will be needed to have the building ready.
Among the variables KNIC's exploring is how much cleanup is needed to remove any, if at all, hazardous materials and lead paint, how much wiring and electrical duct work is needed. What needs to be answered, according to Butler, is the unknown. "The unknown piece is how much," said Butler. "We have to go through our checklist."
As for the date the rink will open, Mr. Butler remained cautiously optimistic on whether it will open in 2017.
"We certainly want to say [2017], we just don't know…not that we don't know, it's just we just need more information. And we're in the middle of getting that," said Butler, adding the group just recently began looking at the building two months after it had signed a 99-year lease agreement with the New York City Economic Development Corporation.
Step one has finally been reached. The bigger question is when will step two, a true groundbreaking, be accomplished? So to the stakeholders reading, hear this plea: Make 2015 the year the Kingsbridge Armory is shovel ready. Make it so that the 8-year-olds considering to take part in KNIC's after school programs can do so by age 12.
Editor's Note: To all of our readers, have a happy and safe 2015. If you like to submit an item for our opinions section, send them to dcruz@norwoodnews.org
.
December 22, 2014 at 4:01 PM

by David Cruz 
A push for calm in the aftermath of two cops fatally shot in Brooklyn has reverberated in the Bronx, with legislators siding with Mayor Bill de Blasio's stance for unity following weeks of tensions and strained relations.
In Kingsbridge Heights, legislators and residents stood outside the 50th Precinct, pushing for a more tempered city two days after Police Officers Rafael Ramos and Wenjian Liu were gunned down by Ismaaiyl Brinsley,  a mentally ill Baltimore man bent on killing police officers. Brinsley would later kill himself while on the platform of a subway station. Read more
December 19, 2014 at 4:21 PM
by David Cruz 
Hector Aponte, the long serving Bronx Commissioner for the New York City Department of Parks & Recreation, is slated to retire. The agency confirmed to the Norwood News of Mr. Aponte leaving office after spending ten years as Bronx parks chief. It's unclear when Mr. Aponte's retire date is effective.
Mr. Aponte, who grew up in the Bronx, was appointed by Mayor Michael Bloomberg to serve as the Bronx Parks Commissioner. His first year in the Bronx came amid the early construction phase of the Croton Water Filtration Plan in Van Cortlandt Village, a massive water project tied to a $200 million spending pot for Bronx parks. But under Mr. Aponte's leadership, a fraction of the money was spent.
Mr. Aponte began working for the Parks Department in 1995, holding various positions that included Parks Manager for Manhattan from 1995 to 2003. He had a brief tenure as Chief of Operations in Staten Island before returning to his home borough.
It's unclear who will succeed Mr. Aponte. The Bronx is home to the most parkland than the rest of the city.
December 19, 2014 at 3:48 PM

J.R. Martinez (center) shared his back story to 100 Bronx men looking for a dose of inspiration. Martinez, a 2011 Dancing with the Stars winner, military veteran and author of Full of Heart took part in the city Department of Youth and Community Development's Transition to High School Program, encouraging students to draft a book chapter that delves into a key moment in their personal life. Students from High School 433 in Kingsbridge and Pelham Prepatory Academy in Pelham Gardens will take part in the 11-week program.
Held at Lehman College, the program looks to spur creativity while encouraging the fundamentals of writing. The course will allow students to tap into their creative potential through other writing mediums that include poetry, rap, and screenplays.
December 19, 2014 at 3:18 PM
Metrocard Van
A Metrocard van will be visiting two locations in Norwood and Bedford Park on Tuesday, Dec. 23. The first will be at the Mosholu Montefiore Community Center, 3450 DeKalb Ave. from 12 to 1 p.m. and at the Bedford Park Senior Center, 243 E. 204th St., from 1 to 3 p.m. For more information contact Councilman Andrew Cohen's office at (718) 549-7300. 
Williamsbridge Oval Classes
The Williamsbridge Oval Recreation Center holds a variety of exercise classes, game room time, and computer classes for children, teens and adults this fall. For more information, call (718) 543-8672.
Open House
Councilman Andy King will host an open house and community  meet and greet at his 12th District offices at 940 E. Gun Hill Rd. and 135 Einstein Loop, Room 44, in Co-Op City on  Jan. 15, from  11 a.m. to 2 p.m. King will be joined by representatives from city agencies, who will be available to answer community questions.
Applicants Wanted for Community Boards
The Borough President's office is currently accepting applications for membership to local Community Boards. The submission deadline is Friday, February 6, 2015. For more information, visit www.bronxboropres.nyc.gov or call (718) 590-3914.
Winter Programs for Children
The Mosholu Montefiore Community Center is offering various winter classes in for local children in the arts, fitness and educational subjects. In person registration will be on Saturday, Jan. 3 from 9 a.m. to 4 p.m. at 3450 DeKalb Ave. For more information visit www.mmcc.org or call (718) 882-4000.
Parking Calendars
Copies of the NYC 2015 Parking calendar are available to residents. Anyone interested can visit Assemblyman Jeffrey Dinowitz's district office at 3107 Kingsbridge Ave.
Support Services for Grandparents
The PSS/WSF Grandparent Family Apartments (GFA), which provides supportive housing for grandparents raising their grandchildren,  offers various services for caregivers and children through its PSS Kinship Caregivers Program. For more information, visit www.pssusa.org or call (718) 620-1262.
Opportunity for Local Poets
Poetryfest is soliciting submissions of poems of up to 21 lines for its Free Poetry Contest. The deadline is Dec. 20, and entrants can submit their work online at Poetryfest.TV or by mail to 1638 Dogwood, Ackworth, Georgia 30102. Winners will receive cash prizes and be featured in the organization's upcoming poetry show. 
52nd Precinct Explorers
The 52nd Precinct Law Enforcement Explorers meets Tuesdays at 4:30 p.m. at 3016 Webster Ave. The group is open to youth ages 14 to 20. Learn about law enforcement as a career, meet with local police officers, participate in projects, trips, and various activities. For more information, call PO Yvette Palermo-Ortega at (718) 220-5833.
December 18, 2014 at 11:39 AM
By David Cruz 
Thursday brings you another installment of Bronx News Roundup, where we take you around the Bronx to see what our fellow roving reporters are gathering for you. From what we've see there's plenty to write about:
Several outlets are reporting that the Archdiocese of New York is considering the closure of more parishes next year. Preliminary lists show St. Simon Stock Church at 2195 Valentine Avenue may merge with St. Joseph's Church at 1949 Bathgate Avenue.
The New York Times explores the current state of New York State-operated nursing homes following the aftermath death of Frank Mercado at a nursing home in University Heights.
Major plans are underway to the recently sold Bronx General Post Office in Mott Haven, the Daily News reports.
A new pop-up coffee shop debuts in Mott Haven, aimed at stirring the conversation on race relations, DNAInfo reports.
One day after Mayor Bill de Blasio visits Rikers Island, the U.S. Attorney's office plans to sue the city over conditions at the notorious prison, The New York Times reports.
Meantime,the city intends to present findings of a traffic study on the leafy Hutchinson River Parkway that's now abutting so many development projects in the Bronx, so says The Bronx Times Reporter.
In Riverdale, it's the battle of two former legislators over their view on specially designated natural space in Fieldston, reports The Riverdale Press. 
And Welcome2TheBronx is reporting that protestors are gearing up to crash a secret groundbreaking of FreshDirect's new headquarters in Port Morris. It's using the hashtag #WeCan'tBreathe–a play on the slogan used during the Eric Garner grand jury verdict protests–to spread word on the protest.
That rounds up this latest write-up of Bronx News Roundup. Be sure to check the next edition on Christmas Thursday! Happy holidays to all our readers!
December 17, 2014 at 10:03 AM

By DAVID CRUZ and JANAKI CHADHA
If you walk along East Gun Hill Road, you'll see the white holiday lights sparking cheery feelings of Christmas, Hanukkah and New Years. Turn the corner onto Jerome Avenue and you'll notice the holiday rush at several stores throughout the Jerome Gun Hill Business Improvement District. Read more
December 16, 2014 at 11:15 AM
by David Cruz 
They're at it again. Read more
Comments