April 23, 2014 at 12:00 AM
by David Greene
This week we asked readers what they thought were the most dangerous intersections in the Bedford Park and Norwood communities.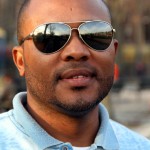 1) I've tried to cross Jerome Avenue and East Gun Hill Road a few times to go to the pharmacy and the stores around there and it's pretty dangerous with drivers turning. People turn at high speeds or race to catch a light.
–Marlon McLeod
April 22, 2014 at 12:00 AM

By JUSTIN MCCALLUM
Questions over the closure and toxicity of a local Norwood school will be addressed at an upcoming public meeting that will determine the next steps for exposed students, parents and teachers. The news comes amid an introduction to a bill seeking further transparency on the health safety at public schools.
April 21, 2014 at 9:11 AM
By DAVID CRUZ
Joe Thompson sat at the Rainbow Diner, his regular 24-hour eatery, ordering "the usual" black cup of coffee. Normally, it's a quick stop before his daily walkthrough along the White Plains Road Business Improvement District, where he serves as its executive director. Read more
April 20, 2014 at 12:00 AM

Bronx to Lace Up Its Shoes for the Annual B'N Fit Walk
By PAOLO MOSSETTI
It's time for our kids to drop that remote and start running!
The Bronx Nutrition and Fitness Initiative for Teens (B'N Fit) has just announced the Annual Teen and Community Walk, and their website is open for registration. Read more
April 19, 2014 at 12:00 AM
Editor's Pick
Easter at the Oval
The public is invited to an Spring Egg Hunt at the Williamsbridge Oval on April 19 from 11:30 a.m. to 2 p.m. Events include carnival games, potato sack races, music, and a traditional egg hunt. There will be separate hunts for ages 1 to 5 and for ages 6 to 11 at 1:30 p.m. Children must bring their own baskets. For more information, call (718) 543-8672. Read more
April 18, 2014 at 1:57 PM
by David Cruz 
St. Brendan's Church in Norwood marked Good Friday with a re-enactment of the Passion of Jesus Christ. Hundreds took part in a procession where actors portraying Roman soldiers flogged an actor portraying a beaten and bloodied Jesus Christ trudging through East 204th Street. The longstanding tradition by St. Brendan's parish happens every Good Friday, the Catholic holiday that marks the death of Jesus. Read more
April 18, 2014 at 12:00 AM
By Shayla Love
This year, the Easter bunny is hopping to Norwood!
Children won't have to go farther than the Williamsbridge Oval, as they'll meet and greet the springtime hare while hunting for bright colored eggs containing candy and treats inside. This first annual Spring Egg Hunt will take place Saturday, April 19 from 11 a.m. to 2 p.m. and is sponsored by the Mosholu Preservation Corporation, the Jerome-Gun Hill BID and the city Parks Department. Read more
April 17, 2014 at 5:23 PM
by David Cruz 
The Concourse of Death may now become the Concourse of Caution.
To prevent the more fatalities along the Grand Concourse over the years, the city has rolled out new traffic calming measures to keep traffic flowing for drivers without making a hard stop or causing an accident. Read more
April 17, 2014 at 12:52 PM
by David Cruz, Norwood News editor-in-chief
Another round of our Bronx News Roundup is here with some interesting stories from our journalism brethren in the Bronx and abroad.
First up, former Councilman Oliver Koppell continues do so some serious soul searching in his possible run against state Senator Jeff Klein. The Bronx Times Reporter's editor Bob Kappstatter writes Koppell will likely decide after Passover and Easter. Kappy also notes speculation of Klein having his Independent Democratic Caucus faction join Senate Democrats instead of GOP, currently holding co-leadership rule. A Klein source tells Kappy that the rumors are unfounded.
It's been three months and no mention of the Kingsbridge Armory, until now. Daniel Geiger at Crain's New York Business found an inside baseball piece on developers of the mammoth project looking to finance it through alternate means. Don't want to give any spoilers so you just have to read Mr. Geiger's piece.
Welcome2TheBronx spotlights Morris Court, a development project that's near construction, the first in Mott Haven/Port Morris development to be built under new rezoning drafted in 2009.
And finally, Denis Slattery at the Daily News has a piece on a controversial principal at P.S. 386 getting support from parents to have her reinstated. The principal was accused of ignoring concerns from students who said that one of the school's teachers allegedly raped a 10 year old.
And that's it for this roundup. Be sure to check back next week for some more stories from our Bronx journalists!
April 17, 2014 at 12:00 AM
by David Cruz
Norwood has long battled "the Bronx is burning" image since the days when the nation witnessed charred building remains in the south Bronx during the 1970s. Though the trend never reached Norwood, its stereotype remained etched in the minds of skeptic out-of-towners believing those days continue to exist. Read more
Comments