July 26, 2015 at 10:53 PM
By DAVID CRUZ
The final night of Novena of St. Ann's marked the last day of service at the Shrine Church of St. Ann's on Bainbridge Avenue in Norwood, with a resounding call for unity between St. Ann's parishioners and those from St. Brendan's, a neighboring catholic church. Last year the Archdiocese of New York decided to merge the two. Read more
July 25, 2015 at 12:00 AM
By TATYANA TURNER
The gated community known as Fordham Hill Oval Cooperative welcomed a new board of directors, ending a hostile saga sparked by some dissatisfied cooperative owners of the sprawling complex. Read more
July 24, 2015 at 12:00 AM
By DAVID CRUZ
Overall crime at the 52nd Precinct is finally coming down, thanks to the NYPD's Summer All Out initiative, reversing a trend that's troubled residents in Norwood in recent months. Read more
July 23, 2015 at 12:00 AM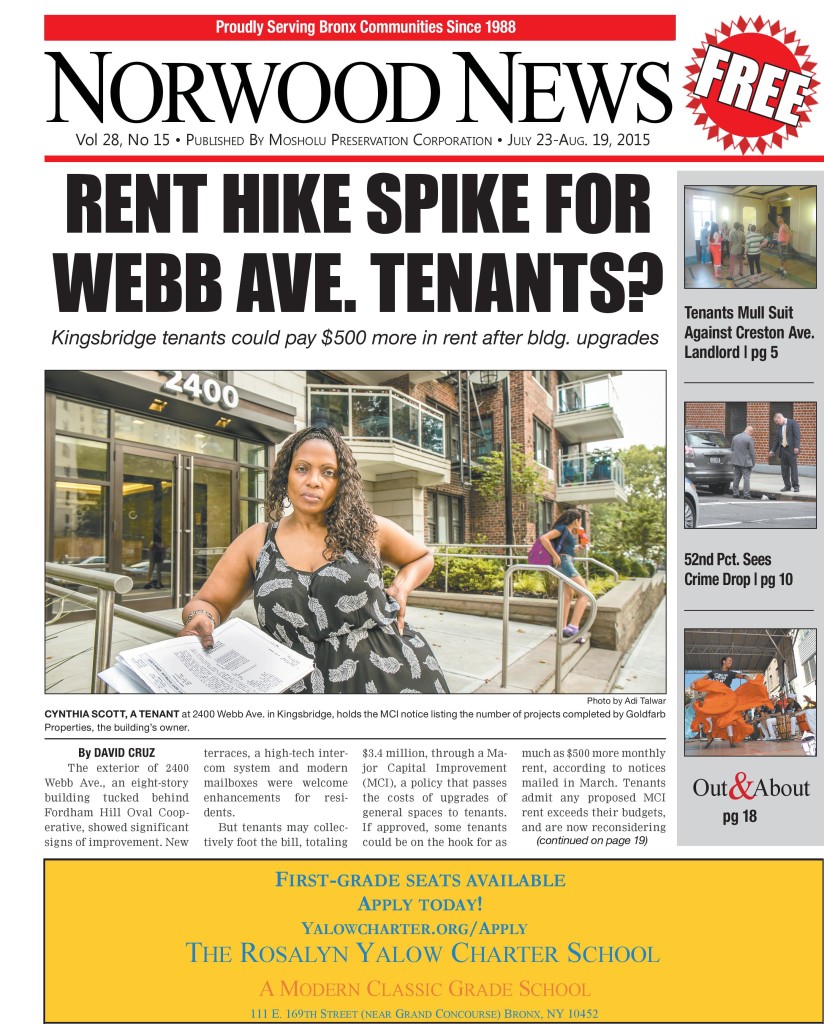 By DAVID CRUZ 
The latest, community-packed edition of the Norwood News is out with plenty of community news you can use. This is our month-long edition where we hope to keep you in the know with some community happenings taking place near you.
We first, however, go to Kingsbridge where tenants at a newly plush apartment building are getting soaked with a proposed rent increase as high as $500. Read what tenants and the building landlords have to say, and how elected are stepping in to get a handle on this. Check out another related story of a Creston Avenue landlord alleged to have ignored pleas from tenants to have their apartments fixed.
An editorial on page 2 emphasizes the need for upgrades of an abandoned lot. A picture featured on that page will tell you a lot.
And then of course, we have your Norwood News staples–Inquiring Photographer, Out & About, and The Bronx Beltway to name a few. Also, check out Montefiore Medical Center's goal of signing up more people to be organ donors.
So check out 20 pages of this award-winning newspaper, and be sure to check us out on www.norwoodnews.org. If you want a hard copy you can visit one of the many stores, offices and other institutions that carry the newspaper.
By DAVID CRUZ
The 52nd Precinct has tackled a major gang operating in Creston Avenue and 198th Street in Bedford Park, officials charge. Read more

BDCC Dinner
What a night at the Bronx Democratic County Committee (BDCC) dinner July 16 at Marina del Rey in Throggs Neck! The political intrigue was kicked up a notch not because of the soiree's numbers or the bevy of lobbyists and unions in attendance (labor unions were well represented, given all the hootin' and hollerin'), but from feuding politicos, Mayor Bill de Blasio, and Governor Andrew Cuomo, who made scheduled appearances, though the two coincidentally did not cross paths. Read more
July 22, 2015 at 11:30 AM
By DAVID CRUZ
The exterior of 2400 Webb Ave., an eight-story building tucked behind Fordham Hill Oval Cooperative, showed significant signs of improvement. New terraces, a high-tech intercom system and modern mailboxes were welcome enhancements for residents. Read more
By EMMANUEL ANOKYE
Schools, senior centers and neighborhood colleges within Community District 7 have received a swell of capital funding from Borough President Ruben Diaz Jr., part of $34 million in allocations by his office.
"My office's allocations in Community Board #7 will fund critical technology and infrastructure upgrades to some of our borough's finest education institutions, create over 100 new units of affordable housing," Diaz said, "I am proud to have been able to provide this funding to so many worthy institutions in this year's capital budget."
Community District 7 is home to the neighborhoods of Norwood, Bedford Park, Kingsbridge, Fordham and University Heights.
Of the pot of millions of dollars, $550,000 went towards Lehman College for renovations towards upgrading Carman Hall and the addition of a multi-media lecture hall. Jewish Home Lifecare House will receive half million dollars to replace an HVAC Air handler, while $500,000 will go towards Bronx Community College for a renovation within their new EOC headquarters.  In addition, Fordham Bedford Serviam Heights will receive $500,000 for developing 103 units of mixed income housing.
Diaz has also funded $175,000 for Kingsbridge International High School for construction, and $75,000 towards both Celia Cruz Bronx High School of music for new equipment of laptop computers, and International School for Liberal Arts for upgrades within their technology area.
Two years ago, I went on one of my many summer trips to Honduras, my mother's native country, which inspired my purpose in life. I want to volunteer for the Peace Corps but right now I'm focused on my project.  This trip was unique because it was the longest I have ever stayed in Honduras.  My mother's friend, who is a teacher, invited me to her school in San Pedro Sula to teach her students English.  I was not excited about the idea because it would mean that I would have to leave my air-conditioned room, but finally I decided that some fresh air is a requirement during summer vacation.
I did become excited when I got there.  The kids were immediately very cheerful.  The teacher begged me for teaching supplies.  There was nothing on the wall to motivate learning.  The students were hot, exhausted and could not focus well.  I noticed that some students wore torn school pants and used strands from mops as a belt.  Their teacher introduced me as their English teacher for the day and gave me control of the class!
It's amazing how children are able to hide their problems behind a bright smile.  I found out that one of the students was a teenager like me but still in the third grade and did not have a supportive family.  Local gangs took advantage and tried to recruit him.  I also noticed the students were much more independent than me which was embarrassing because I'm older than they are but still depend on my mother for most of my necessities.  This was when I realized how lucky I am to attend a private parochial school, have a supportive family, and the protection of my basic needs.
I'm writing this letter in hopes that you'll help me collect and send books and teaching supplies back to Honduras.  I will be able to promote my project during Van Cortlandt Park Conservancy's Barefoot Dancing series on Thursdays, thru August 6 at Van Cortlandt House Museum 6:30pm.  Please bring notebooks and other books when you come.
Sincerely,
Keren Agurcia
Norwood Resident
The Jericho Project, a not-for-profit group aiming to ease homelessness among the country's veterans, broke ground for its latest veterans-only supportive housing on July 7. A total of 89 apartments will be available for veterans at 2065 Walton Ave. in Burnside–56 for veterans referred by the Bronx VA Medical Center and 33 for young adults ages 18-25 from Bronx Community Board 5, via referrals from  BronxWorks, Covenant House, and other local non-profit organizations that work with young adults in need. Officials said they'll also place a heavier focus in offering housing to veterans of the LGBT community.
The project is aligned with Mayor Bill de Blasio's Housing New York initiative, which looks to create more affordable housing options in New York City over the next decade. At a July 13 news conference in the Bronx, de Blasio announced a record-breaking number of new affordable housing in the city, with a total of 4,981 units either preserved or built in the city, according to the city's figures.
Comments