April 17, 2015 at 10:57 AM
In response to the Letter to the Editor criticizing West Bronx Housing in the April 2 – 15, 2015:  West Bronx Housing's move was not our choice. Read more
April 17, 2015 at 10:35 AM
By DAVID CRUZ
Community Board 7 voted to establish a committee aimed at improving the lives of U.S. military veterans, establishing a panel unseen in other local Community Boards. Read more
April 16, 2015 at 8:49 AM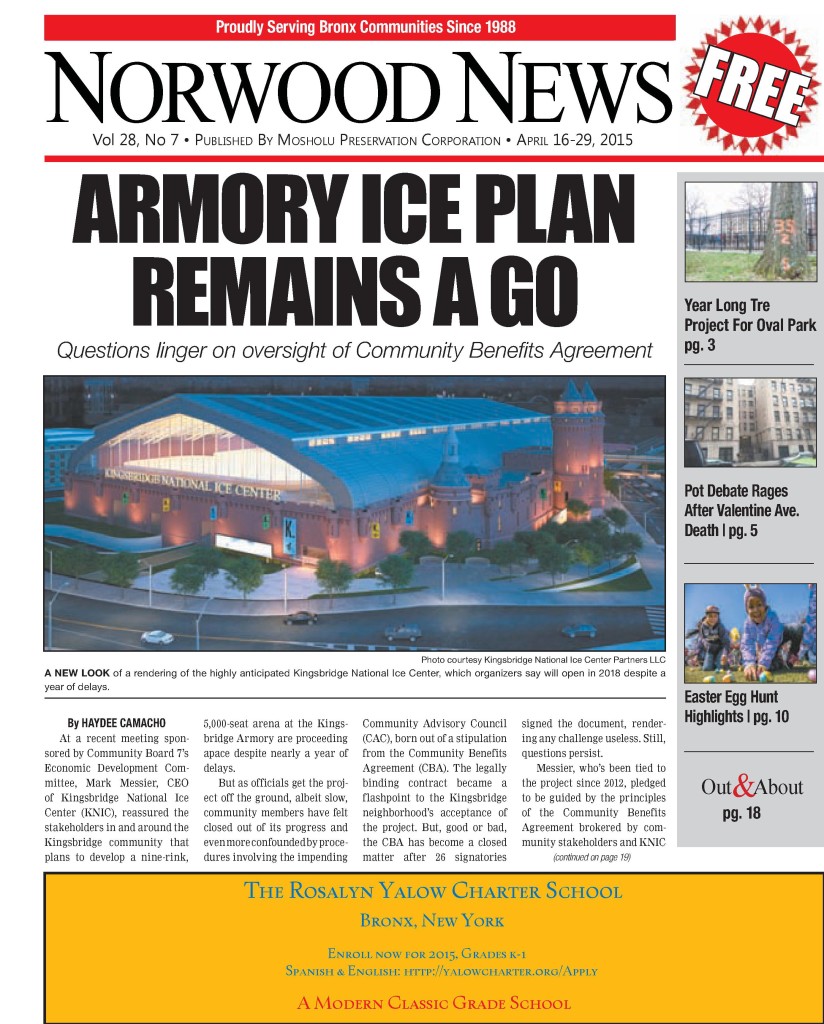 By DAVID CRUZ 
The latest edition of the Norwood News is hitting 300 locations throughout the northwest Bronx this morning, and it's loaded with plenty of community news you can use. Here are some stories that can grab you:
We begin what's been happening in the neighborhood's long running story: developments at the Kingsbridge Armory. Haydee Camacho delves into the story focusing on some folks wishing the Community Benefits Agreement tied to the Kingsbridge Armory Ice Center would have been fleshed out better. Worth a read.
Valentine Avenue neighbors are still reeling over the death of a teen who plunged to his death from a rooftop as he was attempting to evade police. The kid was allegedly smoking pot, opening the debate on whether the criminality of marijuana smoke contributed to his death. Both sides weigh in. Our Inquiring Photographer also picks the brain of Bronxites over the subject.
We then have the Norwood News' staples—Out & About, Neighborhood Notes, and our Bronx Beltway feature for you to peruse.
Those are a fraction of the offerings the Norwood News has on hand for this edition. Be sure to check the Norwood News website daily to read up on what's happening in Norwood and beyond.
April 15, 2015 at 4:52 PM
By DAVID CRUZ 
The Norwood News stumbled upon the New York City Parks Department's chopping of worn out trees throughout Williamsbridge Oval Park, starting in the north end. Read more
April 15, 2015 at 2:23 PM
By MOSES BUSTOS 
In a battle for better pay wages at a restaurant in Mt. Hope, workers demonstrated alongside supporters on April 13, in a protest that will be scheduled every Monday moving forward. Read more
April 15, 2015 at 10:42 AM

Rivera's Presence Sought
Kudos to Assemblyman Jose Rivera's office for finally answering a request for a representative to take part in the Bedford Mosholu Community Association's monthly meetings. It did take over a year. Read more
April 15, 2015 at 10:34 AM
Several Bronx community and elected stakeholders gathered April 14 to cut the ribbon on the newly opened Bedford Park Manor at 2985 and 2987 Webster Ave. The site, formerly a plumbing supplies company, houses 122 units, of which 80 percent are already rented. Amenities include a spacious courtyard. The complex was developed by The Stagg Group following major rezoning by New York City in 2009, at the behest of Community Board 7 and the Four Bronx Institution Alliance, comprised of Montefiore Medical Center, The New York Botanical Garden, The Bronx Zoo and Fordham University.
April 15, 2015 at 9:14 AM
By HAYDEE CAMACHO
At a recent meeting sponsored by Community Board 7's Economic Development Committee, Mark Messier, CEO of Kingsbridge National Ice Center (KNIC), reassured the stakeholders in and around the Kingsbridge community that plans to develop a nine-rink, 5,000-seat arena at the Kingsbridge Armory are proceeding apace despite nearly a year of delays. Read more
April 13, 2015 at 9:17 AM

By KIMBERLY JACOBS 
As the April 15 tax deadline looms for thousands of Bronxites, Councilman Ritchie Torres hopes residents think of the local economy should they receive their tax refund. Read more
April 10, 2015 at 4:17 PM
By JASMINE GOMEZ
Several dozen trees at Williamsbridge Oval Park have been marked by the city Parks Department, with a portion of the arbores slated for replacement in what appears to be a large scale tree maintenance project.  Read more
Comments