By Alex Kratz
Editor's Note: The latest edition of the Norwood News is out now, and its our annual Year in Review issue–-a recap of the biggest stories that took place in 2011, in the Bronx and beyond. Over the next week or so, we'll be rolling these top stories out here on Breaking Bronx. Enjoy, and a happy and healthy New Year to all of our readers!
This past March, Foodtown, one of Norwood's premier supermarkets, reopened to rave reviews 15 months after being destroyed in a fire. It marked a welcome sign of resurgence for a neighborhood shopping district crippled by two devastating fires at the end of 2009.
While the first fire took out 10 small businesses on the corner of Bainbridge Avenue, it was the second major fire, on East 204th Street, that left the neighborhood without a major supermarket and all the foot traffic it generated.
In the aftermath, the Katz brothers, who own the Foodtown chain and whose father opened up the family's first produce stand in Norwood 55 years ago, vowed to rebuild. And they did, expanding the store by 50 percent and introducing new features, such as a sushi bar, an olive and cheese counter, more seafood and a more spacious design.
Customers and employees were glad to be back. "It was tough watching something you put 12 years into go up in smoke," said store manager Rick Shinnerer, "but out of the ashes a new store has emerged."
The Correctional Association of New York, a nonprofit that advocates for improved conditions in state correctional facilities, is looking for formerly or currently incarcerated people who have been treated for HIV or Hepatitis C while in prison or jail to share their stories. The group wants to hear your/your loved ones experiences in order to assess how well the state's correctional facilities are caring for inmates with these illnesses. See the flier below for more info and who to contact.
By Alex Kratz
Editor's Note: The latest edition of the Norwood News is out now, and its our annual Year in Review issue–a recap of the biggest stories that took place in 2011, in the Bronx and beyond. Over the next week or so, we'll be rolling these top stories out here on Breaking Bronx. Enjoy, and a happy and healthy New Year to all of our readers!
The Bronx Household of Faith's 17-year legal battle with the Department of Education came to a close in 2011 with the University Heights church and dozens of other religious groups facing eviction from school buildings throughout the five boroughs. The story thrust the small evangelical congregation into the national spotlight and struck up a debate that will move onto the legislative stage in 2012.
Thanks to support from local elected officials, including City Councilman Fernando Cabrera and State Assemblyman Neslon Castro, Bronx Household and its 48-member congregation may be able to continue holding worship services inside the PS/MS 15 auditorium on Andrews Avenue, as it has for the past decade. Castro introduced legislation that would change the state's education law to allow churches to worship in public school buildings.
By Jeanmarie Evelly
A former PS 51 teacher plans to file a lawsuit against the Department of Education, claiming that working in the toxic Bedford Park building that used to house the school was the cause of a birth defect in her unborn baby, the Daily News reports today.
This summer, The DOE told parents and staff at PS 51, also known as the Bronx New School, that the Jerome Avenue building tested positive for high levels of trichloroethylene (TCE), a chemical the Environmental Protection Agency says can cause health problems in humans. Nancy Tomassi, who filed the legal papers this week, worked at the school for five years. She was forced to terminate her pregnancy in October after her baby was found to have an unsurvivable brain defect.
By Jeanmarie Evelly
Editor's Note: The latest edition of the Norwood News is out now, and its our annual Year in Review issue–-a recap of the biggest stories that took place in 2011, in the Bronx and beyond. Over the next week or so, we'll be rolling these top stories out here on Breaking Bronx. Enjoy, and a happy and healthy New Year to all of our readers!
Two years after the City Council voted down plans to turn the hulking and empty Kingsbridge Armory into a shopping mall, local groups and elected officials spent much of 2011 pondering what should be done now with the 575,000-square-foot space.
In June, Bronx Borough President Ruben Diaz, Jr., who has made the redevelopment of the Armory a top priority of his administration, released a long-awaited report on possible future uses for the building, created by a special Armory task force and a group of New York University faculty and graduate students. Despite detailing a number of suggested ideas and totaling 267 pages, the report was criticized by many for lacking substance, and because it offered no clear plan for how the redevelopment of the building would be paid for.
After leading the defeat of the Bloomberg-backed shopping mall plan in 2009, Diaz is under considerable pressure to make progress on the Armory. The building remains empty, while major development projects in other areas of the Bronx have taken off this year, including multi-million dollar shopping centers in Co-op City and at the former Stella D'Oro factory on West 237th Street.
Read more
By Jeanmarie Evelly
Mega-wealthy real estate mogul, reality TV star and onetime presidential hopeful Donald Trump will soon be doing business in the Bronx, as the city has chosen his company to run a 222-acre golf course at Ferry Point Park East.
The Trump Organization was granted a 20-year licensing agreement from the city for the operation of what the city is saying will be the "only tournament-quality course in New York City," complete with clubhouse, snack bar, comfort station, and driving range. Trump has pledged to pay at least $10 million towards the building of the clubhouse, which the city predicts will create 100 new construction jobs.
According to the Parks Department, the golf course should be open to the public by 2014. Ferry Point Park East, a large swath of parkland just south of St. Raymond's Cemetery near Throgs Neck, is also being developed to include a "community park with playgrounds and ballfields, and a waterfront park with rambling trails and scenic overlooks."
By Alex Kratz
Editor's Note: The latest edition of the Norwood News is out now, and its our annual Year in Review issue–a recap of the biggest stories that took place in 2011, in the Bronx and beyond. Over the next week or so, we'll be rolling these top stories out here on Breaking Bronx. Enjoy, and a happy and healthy New Year to all of our readers!
At a community meeting near Fordham Hill in November, Inspector Joseph Dowling told the crowd that a recent uptick in random
neighborhood violence, which had claimed the life of a 59-year-old father and badly-injured a 4-year-old boy, did not tell the whole story of violent crime in the 52nd Precinct.
It may not tell the whole story, but it was certainly the biggest crime story of 2011.
Last March, Dowling took over command of the Five-Two from John D'Adamo, a young deputy inspector who was re-assigned after making tabloid headlines when his wife was caught lying to Westchester County police.
Up until this fall, Dowling, who previously commanded a precinct in Washington Heights, had enjoyed a relatively quiet beginning to his tenure. Then, at the end of October, a series of seemingly random acts of violence, most of them on or around Grand Avenue and Fordham Road, put the community on edge and a neighborhood in the spotlight.
The three most frightening and disturbing incidents happened within days of each other.
By Jeanmarie Evelly
[Updated 4 p.m.]
In an editorial printed on Christmas day, the New York Times endorsed the so-called living wage bill that's been lingering in the City Council for nearly two years, calling the legislation "long overdue." The New York Post, in turn, printed its own editorial the same day, blasting the bill's supporters for "seeking to drive jobs out of the city."
The newsprint battle is the latest in a drawn-out dispute over the controversial Fair Wages for New Yorkers Act, introduced by two Bronx council members and born out of a heated debate over a shopping mall planned for the Kingsbridge Armory, which would require developers that get significant taxpayer subsidies to pay workers higher wages. (The New York Daily News editorialized against the bill back in May.)
"This bill makes sense," the piece in the New York Times reads. "A wage of $10 an hour would help lift thousands of New Yorkers above the poverty line."
It also dismissed the main criticism of the bill–that it would squash economic development–by pointing to other cities, like Los Angeles and Philadelphia, that have similar laws and continue to thrive, and highlighted Mayor Bloomberg's previous support for a wage mandate bill in 2002 as contradictory to his current, adamant opposition to the idea of a wage requirement.
The Post took aim at Public Advocate Bill De Blasio, considered a frontrunner in a crowded field of contenders expected to run for Mayor in 2013, who announced his support for the bill last week. The editorial called him a "jobless advocate," who "doesn't give a hoot about the economy or jobs."
It also blasted Bronx Borough President Ruben Diaz, Jr., one of the bill's main supporters and the driving force behind a push for living wages at the Kingsbridge Armory two years ago, for his role in the defeat of the shopping mall plan.
"Puff went the mall. And all the jobs," it said.
Diaz sent out his own statement following the Times editorial.
"This major endorsement shows that we have momentum on our side, and that more and more New Yorkers agree that the 'Fair Wages for New Yorkers' Act is good public policy," he said.
He also pointed to a recent Quinnipiac Poll which found New Yorkers support the bill by a margin of 74-19 percent.
The legislation currently has the vote of 29 City Council members, but needs 34 to override the almost-certain veto it would get from Mayor Bloomberg. Council Speaker Christine Quinn will decide whether or not to bring the bill up for a vote, and she's yet to publicly support or oppose it. De Blasio's endorsement, however, could put extra pressure her–Quinn is also considered a top potential mayoral candidate–to take a stance.
Norwood News photographer Adi Talwar took these shots from the tree lighting celebration on Mosholu Parkway hosted by Community Board 7 and attended by dozens of local kids, families elected officials and St. Claus. Below is a shot of the St. Brendan's School choir, which performed at the Dec. 15 event. Here's a link to a slideshow with more photos from the tree lighting.
The newly opened Tender Tots Child Care Center on Decatur Avenue is hosting an open house today for interested parents until 5 p.m.
The nursery school offers educational programs for infants, toddlers, pre-school and kindergarten aged children, and accepts all government subsidy programs such as ACS and HRA. You can read more about the new center here. 
Tender Tots is located at 3322 Decatur Ave. For more information, visit tendertotsny.com or call (718) 324-1052.
By David Greene
Police are looking for a driver who hit struck and killed a man on Mosholu Parkway early Monday, before
taking off.
According to the NYPD, the victim, identified as a 23-year-old Hispanic male, was crossing Mosholu Parkway at Paul Avenue around 4:30 a.m., on Monday, Dec. 26, when he was struck by a passing vehicle. The car took off before police arrived, and the victim was pronounced dead at the scene.
Mosholu Parkway was shut down in both directions outside of DeWitt Clinton High School for several hours, as investigators from the NYPD's Accident Investigation Squad pieced together details from the holiday tragedy.
The man's body was discovered more than twenty-feet from the crosswalk, landing on a patch of grass next to the curb. One of the victim's shoes landed nearby.
According to the NYPD, there have been no arrests.Several sources say police are looking for a gold vehicle with front end damage.
"One guy's dead and another will probably go to jail," one Paul Avenue resident at the scene said. "It's not a nice way to spend the holidays."
By Jeanmarie Evelly
Editor's Note: From now on, we'll be rolling out a health-related news story here on the Breaking Blog every Wednesday, an online expansion of our Be Healthy! column that appears in each print edition of the Norwood News. If there's a health story or issue you think we should cover, or if you've got a question you'd like us to answer, let us know by sending an e-mail to: norwoodnews@norwoodnews.org.
The owner of a West Tremont Avenue bodega was publicly honored last week for his efforts to increase the number of healthy food options offered at his store, swapping chips for fresh fruits and sodas for bottled water as part of a program run by students at nearby MS 331.
State Sen. Gustavo Rivera and Bronx Health REACH presented Bakil Aljaradi, who owns West Tremont Deli Grocery Corp. at 19 W. Tremont Ave., with a proclamation and certificate of recognition. For the last month, Aljardi has worked with students from MS 331's Citizen Schools program to develop a special healthy lunch menu for students and teachers and to expand the number of healthy snacks he sells.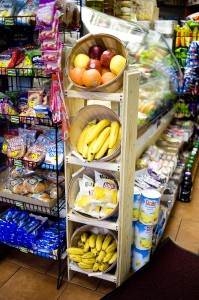 "Bakil Aljaradi has worked to ensure that his deli, West Tremont Deli Grocery Corp, is an example of how to make the Bronx a better place," Rivera said. "Through his work, Mr. Aljaradi has inspired the community around his bodega to work together. He has fostered relationships with local community organizations and government officials to effect change and social justice in the Bronx."
Before working with MS 331 students, Aljaradi participated in the city's Healthy Bodega Initiative, a program run by the Department of Health that works with store owners in neighborhoods that have little other grocery options to expand the number of fresh foods they sell. Bronx Health REACH worked with a group of 14 sixth graders at MS 331 to launch an "Adopt a Bodega," campaign at the deli.
"Together they created a special meal combo that was healthier than what was originally offered, and successfully advocated for drinks like water to be placed at eye level as opposed to soda," said Citizen Schools director Lauren Long-Garcia. "Students learned about the importance of healthy eating and the power that they have to make a positive change in their community."
A Bronx Christmas Story (Kind Of)
We're going to start this holiday edition of Bronx Breakdown with a heart-warming, feel-good story about Scott Lebron, a sophomore at Discovery High School on the Walton Campus in Kingsbridge Heights who anxiously delivered a thoughtful letter to a well-known public figure during a Christmas event earlier this month.
No, he didn't submit a Christmas wish list in a letter to Santa Claus. In fact, the letter doesn't mention the holidays at all and it was written more than a year ago following a visit from Bronx Borough President Ruben Diaz, Jr.
Along with numerous other elected officials, nonprofit leaders, news reporters and "green" development advocates, Diaz made a point to stop by and see what was going on in the bustling, photosynthesizing classroom of special ed science teacher Steve Ritz. At Discovery, Ritz was generating big-time buzz through an urban farming project designed to teach kids life science through hands-on horticulture.
The students were learning how to grow their own plants and vegetables on vertical gardens in the classroom. The project and the gardens exploded into what has become the Bronx Green Machine, a nonprofit program that teaches high school students like Scott not only how to grow nutritious food in a classroom (or anywhere for that matter), but how to "green" the roofs of buildings as well as other environmentally-friendly construction skills. The program has garnered local and even national attention.
In any case, in the fall of 2010, it brought Diaz to Discovery, which, as Ritz often points out, sits in the shadow of the long-vacant Kingsbridge Armory. (Ritz believes he could feed hungry Bronxites and put them back to work by turning the Armory into some of kind of massive urban farming center. Mayor Bloomberg, are you listening?).  He spoke to Ritz's students and urged them to keep up the good work. Scott, then just a ninth grader, was brought to tears by Diaz's words and it inspired him to write the borough president a letter. Read more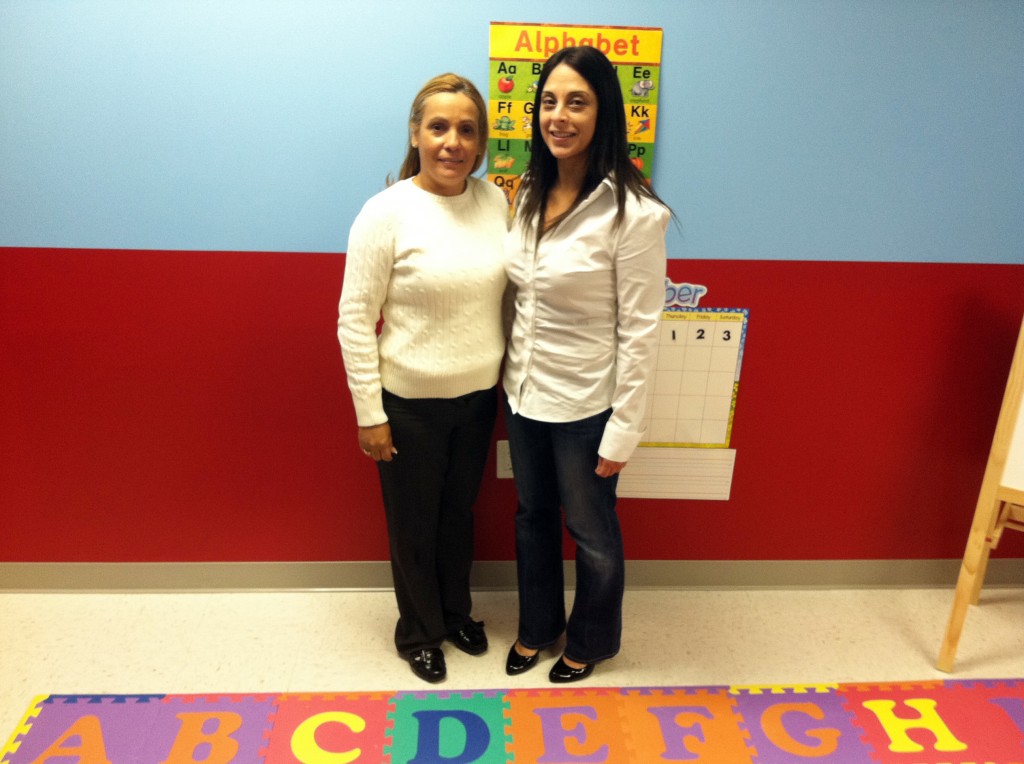 By Emily Piccone
A new nursery school in Norwood will be open by the New Year, and the space is already set up and ready for the children to stream in.
Occupying the first floor of a new apartment building on Decatur Avenue just north of East Gun Hill Road, Tender Tots Nursery School is available to children from 6-weeks to 5-years-old. The children are divided into four age groups and in class sizes of 10, with two teachers each. School officials say the ratio for the infant classroom is slightly smaller at 4:1.
The colorful new carpets displaying the alphabet, painter's easels, mini-kitchens, puppet theaters and arts and crafts stations all stand ready for the children's use starting in January.
The school's Educational Director Michelle D'Avanzo says she is using a creative curriculum, which leaves a lot of the lesson planning up to the teachers, but wants the focus of Tender Tots to be around play, and there's ample space to grant it. One large empty classroom with bay windows is being left empty for exercise and games, D'Avanzo says. Plus, they have placed soft playground flooring on the outside courtyard for safety during playtime.
The school is open for both full day and part day, and rates start at $200 a week for full day (7:30 a.m. to 6 p.m.), for children ages 3 to 6.
Included in the price is both breakfast and lunch, which will be catered in daily, including pancakes, bagels and waffles for breakfast, and pasta, chicken, fish sticks and pizza for lunch.

Ed. Note: For more information or to register, visit tendertotsny.com or call (718) 324-1052.
The holiday season has Bronxites, elected officials and local organizations looking for ways to give back.
If you missed it in last week's print edition of the Norwood News,an eclectic group of locals, including a Bronx-based biker gang and a Bainbridge Avenue tattoo shop, have teamed up with the Lutheran Church of the Epiphany in Norwood to launch a toy drive.
Meanwhile, children in the Ambulatory Care Center at St. Barnabas Hospital, pictured above, got a treat this week when they received holiday gifts from Santa and Frosty the Snowman.
Local elected officials are also getting in on the giving action: Senator Gustavo Rivera  and his Bronx CAN Health Initiative partners hosted a healthy holiday party and toy-giveaway, with Montefiore Medical Center and the Bronx Chamber of Commerce, last Sunday at the Mary Mitchell Family and Youth Center in Crotona (pictured at left).
Council Member Oliver Koppell launched his toy drive this holiday season by distributing over 100 toys on December 8 to children at the Little Angels Head Start Program on Hull Avenue (pictured at right). The toys were among 300 donated to Koppell by the Bronx Chamber of Commerce and Bronx Toys, a toy manufacturer, to give to children in his district, including those at the Mosholu-Montefiore, Marble Hill and Kingsbridge Heights Community Centers.
For those of you looking for ways to give back locally, we've compiled a list of Bronx locations and organizations that are accepting toys and other donations this holiday season, which you'll find after the jump.
Know of one we've missed? Let us know in the comments section or by sending a message to norwoodnews@norwoodnews.org.
Pedro Espada, Jr., is facing another legal battle this morning. According to a press release sent last night by his Soundview Healthcare Network, a judge today will once again weigh whether or not to allow the former state senator's health clinics to continue participating in the state's Medicaid program.
According to the statement, Espada and workers from his Soundview Health Care Network planned to rally outside the Bronx County Courthouse early this morning, before a hearing scheduled for 9:45 a.m. that would decide the clinics' future.
Soundview was banned from the state's Medicaid program this summer, after the Department of Health and the State's Office of the Medicaid Inspector General deemed that the clinics had failed to comply with Medicaid oversight laws. Soundview, which includes five health centers across the Bronx, serves primarily Medicaid patients and would likely close if it were cut off from the program.
Soundview was granted a stay by a judge back in August, allowing the clinics to temporarily continue accepting Medicaid reimbursement funds; at a hearing last month, another judge asked the state and Soundview to try and negotiate a deal that would keep the health centers open.
Espada, who serves as Soundview CEO,  and his son, Pedro Gautier Espada, were barred from participating in the Medicaid program last year. Both men are facing trial on federal charges that they embezzled more than $500,000 from nonprofit clinics, spending the money on luxury car payments and exorbitant sushi restaurant tabs.
According to a statement from the organization, more than 20,000 patients use Soundview's health clinics each year.
"Soundview, its employees and patients maintain insufferable harm would result in the termination of Soundview from the Medicaid program," the press release read.
Dear Norwood News Readers,
'Tis getting a little late in the holiday gift buying season, which is why we pounded the trails of the local shopping districts in the Norwood News' coverage area — from Fordham to  Kingsbridge to Gun Hill Road, from Bainbridge to Jerome Avenue and East 204th Street to Southern Boulevard — to find the best deals, merchandise and innovative ideas for presents in 2011. We do this every year for two reasons: (1) We know you could use the help, and (2) We believe in supporting our local merchants right here in the Bronx. So take this newspaper (it may even help you get a better deal at some places), hit the local shopping circuit, contribute to your neighborhood economy and reap the benefits of a job well done. You're welcome.
Sincerely,
The Norwood News Elves

Send Your Sweetie to Boot Camp
We all need a little help shedding those holiday pounds, so this holiday season get your sweet-toothed sweetheart the gift of personalized training with the Belin Challenge Fitness Boot Camp and see results in a matter of days. Boot camp starts Jan. 9 and is limited to just 10 trainees.
To sign up, or for more information, call (646) 801-3153.
A Girl's Best Friend
Diamonds are a girl's best friend and they might make her want to be your best friend this holiday season if you do her the honor of stopping in Freilich Jewelers, which has a beautiful and wide-ranging selection of diamond earrings. Or, gift her with the Swarovski Crystal sterling earrings and 24K gold encrusted Christmas rose, a package deal that can be yours (or hers) for $99. Plus, act now and get a $15 gift card when you spend more than $100.
Freilich Jewelers is located at 312 E. 204th St. and is open Tuesday to Friday, 10 a.m. to 6:30 p.m. and Saturday,10 a.m. to 6 p.m. Call (718) 798-1063.

Give the Gift of Meat
The Hillside Meat Market is a one stop shop for all of your Christmas roasting needs. Hillside has a large selection of pork cuts, including pork shoulders and pork thighs that, if pre-ordered, Hillside will de-bone and season for you. An 8- to 10-pound shoulder (which feeds about a dozen people) will cost between $15 and $20. Hillside can also help with your specialty meats orders, such as a rack of lamb or duck.
Hillside Meat Market is located at 3117 Bainbridge Ave. and is open Monday to Saturday, 8 a.m. to 6:30 p.m. and Sunday, 8:30 a.m. to 4 p.m. Read more
Gov. Cuomo and state lawmakers announced yesterday that they'd reached a deal on legislation that will expand taxi services in the outer boroughs and bring more handicapped cabs to the city.
The bill, which has been in negotiations since last June, will allow livery cabs–largely the only car service available here in the outer boroughs and upper Manhattan–to legally pick up street hails (yes, it was illegal before). The new law will also permit the Taxi and Limousine Commission to issue 18,000 new livery cab licenses 2,000 new medallions for traditional yellow taxis, reserved for cars that are wheelchair accessible.
Local elected officials are calling the deal a win for the Bronx, where livery cabs and car services are the norm.
"I am pleased that after months of negotiations over the details of this legislation, an agreement has been reached that will improve the quality of life of my constituents in the Northwest Bronx and will provide livery cab drivers, so many of whom live in the 33rd Senate District, with the much-needed ability to pick up legal street hails," State Sen. Gustavo Rivera said in a statement.
"This plan is a victory for commuters," said Bronx Borough President Ruben Diaz, Jr.
The sale of the new licenses and taxi medallions will bring in an estimated $1 million in revenue for the city, according to the plan.
By Alex Kratz
Acting on a 911 call early this morning, just minutes after midnight, police say officers from the 52nd Precinct found a 51-year-old Hispanic man inside a North Fordham-area apartment building with a gunshot wound to his torso. Emergency workers pronounced him dead when they arrived at the scene inside of 2700 Marion Ave., which is between East 195th and East 196th streets.
Police are awaiting family notification before releasing the name of the victim. No arrests have been made and police say the investigation is ongoing.
By Alex Kratz
Next week, the Norwood News unveils it's annual Year in Review issue, which will include our picks for the top news stories of 2011. We will be basing our selections on three factors: relevance to our readership in the northwest Bronx, impact on the community and interest generated. We plan on lumping some of our stories into larger "Year in [Insert Subject: Crime, Politics, Parks, etc.]" features, which will allow us to touch on multiple stories for each subject.
But we also want to hear from you, our readers. What, in your mind, were the biggest, most interesting, most impactful stories of this year? It could be something we've written about extensively or a story we may have neglected entirely — it's up to you.  Include as much or as little detail as you want in the comments section below and we'll run a selection of Reader's Picks stories in next week's print edition. Anything we can't fit into the paper, we'll run online here on Breaking Bronx.
If you don't feel comfortable leaving a comment here, you can write us at norwoodnews@norwoodnews.org, leave a comment on our Facebook page or send us a direct message on Twitter (@norwoodnews). Feel free to include your name or ask to remain anonymous.
–Alex Kratz, Editor-in-Chief
By Ronald Chavez
The City Council's Education Committee voted unanimously yesterday to pass two bills that advocates and supporters say will increase transparency from the Department of Education concerning chemicals found in school buildings. The legislation comes at a time when the DOE has faced biting criticism from parents at PS 51, the Bronx News School,  over its handling of the discovery of harmful toxins in its school earlier this year.
One bill requires the DOE to  disclose the presence of the toxin Polychlorinated biphenyls (PCBs) in schools to parents within seven days of their discovery. Another would have the DOE provide annual progress reports on its removal of PCB-laden lighting fixtures and caulking in schools.
PCBs are said to exist in hundreds of schools across the city. The DOE has said it will remove PCBs by replacing the dated lighting fixtures and removing caulking over a 10-year period. New York Lawyers for the Public Interest is suing so that the DOE removes the toxic fixtures in two years.
PCBs have been linked to cancer and damage to the reproductive system of women, according to the Environmental Protection Agency. NYPLI says exposure to PCBs during, or even years before, pregnancy can affect newborns or a child's health. The nonprofit agency says PCBs put both students and school officials' reproductive health at risk.
That's not where the school toxins trouble ends for the DOE. Read more
This summer and fall, Bronx Borough President Ruben Diaz, Jr.'s office asked residents to fill out an online "wellness" survey, asking questions to gauge how Bronxites feel about living in the Boogie Down, what areas they're happy with and what things they think need fixing.
Last week, Diaz' office released the results of the survey, which 1,901 people filled out.
The majority of respondents said they think Bronx schools are the area that needs the most improvement, with 57 percent listing education as their number one priority. Other areas ranking as less-than-stellar were crime/public safety and economic development/jobs.
However, just over half of participants said they think the Bronx is a "good" or "excellent" place to live; 46 percent of those surveyed ranked the borough as "fair" or "poor." Most of the people who completed the survey, meanwhile, indicated that they've lived here for a while, with more than three-quarters saying they've been in the Bronx for over a decade.
A group of students at the Academy of Mount Saint Ursula in Bedford Park were recognized recently for their hard work and academic achievements during a recognition ceremony at the all-girls Catholic high school.
Students who maintained a cumulative grade point average of 89.5 or higher, as well as six students who ranked first and second in their respective classes, have been nominated to the National Honor Society, to which they'll be officially inducted in May. Overall, nearly half of the school's student body earned an average of 84.5 or higher this past academic quarter.
Congrats, ladies, and keep up the good work.
Kids and parents took in the lights and festivities during the Fordham Road Business Improvement District's "Sparkle the Heart of Fordham" celebration earlier this month at Bryan Park. For more photos by Adi Talwar from "Sparkle the Heart of Fordham" event, click here.
Just a quick heads up. Community Board 7 will be holding its monthly meeting tonight at 6:30 p.m. at the Bronx Library Center, 310 Kingsbridge Road. CB7 usually meets every third Tuesday of the month, but shifted this month to avoid the start of Hannukah.
By Alex Kratz

[PS 48 in Hunts Point won a $50,000 prize for its music program thanks to this video.]
In the latest edition of the Norwood News, we examined the legislative record of Bronx State Senator Jeff Klein's Independent Democratic Caucus, which includes Klein and three other right-leaning Democrats. What we didn't explore is Klein's dealings as a private lawyer, which landed him in today's NY Post and not in a good way. The Post's Chuck Bennett reports that Klein appeared to have been playing both sides of the city lawsuit game.
Klein's law firm, Klein, Calderoni and Santucci, has signed three contracts worth $2.25 million with the Comptroller's Office to perform initial reviews of lawsuits brought against the city. They advise the city on whether to fight the suit or settle.
At the same time, Klein was being paid by a major personal-injury firm headed by William Gallina, which has filed 114 lawsuits against various city agencies since 2007. (One suit involving a woman injured on a city sidewalk resulted in $1,240,000 judgement for one of its clients.)
In his defense, Klein said he never worked on city cases for Gallina and never discussed cases from Gallina's firm with Fred Santucci, Jr., his partner who handles the city contract. He said he stopped working for Gallina earlier this year. Read more
No need to head to the mall for a photo op with Santa this week. Assemblywoman Naomi Rivera and Santa Claus will be traveling around the Bronx all day tomorrow to bring cheer and presents to kids. Through a partnership with Montefiore Medical Center, Bronx Council on the Arts, the Bronx Chamber of Commerce, Bronx Toys and Beth Abraham Family of Health Services, Rivera and Mr. Claus will stopping at four Bronx businesses tomorrow between 9 a.m. and 5 p.m. Here are the locations and times you can find Rivera and Santa:
The Sanz
815 Allerton Ave
9:00-10:30 am
Pelham Parkway Vision
735 Lydig Ave
11:30-12:30 pm
900 Park Restaurant
900 Morris Park Ave
1:30-2:30 pm
Leroy Pharmacy
314 E 204th St
3:30-4:30 pm
By Emily Piccone
With help from an eclectic group of local supporters that includes painters, students, a bike gang and Gothic tattoo artists, the Lutheran Church of the Epiphany in Norwood is bringing the holiday spirit to families in need despite its own financial burdens.
Together, this motley crew is spending the next couple of weeks gathering toys for local kids whose families may not be able to afford gifts this holiday season.
The Ching-a-Ling Nomads, a Bronx-based motorcycle club with a storied rep (that includes spitting on their fallen members' tombstones out of respect), came on board following a conversation between one of its members and Pastor Bob Rainis, the vicar at Epiphany Lutheran.
"He was telling me about how the motorcycle club was trying to get into doing good things in the community," said Rainis. "It's a remarkable thing these men and woman are doing in the club to rally a large number of people."
At a private party this coming weekend, The Ching-a-Lings, a grizzled group of veteran Bronx bikers who were recently featured in the New York Times and have a headquarters in Tremont, will solicit gifts from guests and then transport them up to the church on East 206th Street in Norwood. Read more
By Jeanmarie Evelly
On a recent weekday morning, dozens of people sat on folding chairs in the recreation room of the Andrew Jackson Senior Center in Melrose, listening to Minerva Velazquez-Munoz, a registered nurse, give tips on getting a reluctant patient to take their medication. You can cut the pills in half, she said; you can mix some of them with orange juice.
Next was a lesson in properly changing the dressings on a wound, and how to lift a patient from a bed without straining your back. Afterwards, those in attendance chatted over free coffee and bagels.
This wasn't a medical conference, however, and none of the attendees were healthcare professionals. They were regular people with regular jobs, who, for any number of reasons and circumstances, have taken on the role of primary caregiver for an ill or disabled loved one. They've been charged with cooking meals, drawing baths, doling out medication and dealing with health insurance claims.
"Many people don't even think of themselves as caregivers," said Judy Santamaria, director of the caregiver support program at VNSNY CHOICE, a health plan affiliate of the nonprofit Visiting Nurse Service of New York. "They say, 'Oh, that's my mother,' or 'That's my husband, I'm just taking care of him.'"
Lots of community events happening tonight!
The 52 Precinct's monthly community council meeting will be held tonight at the New York Botanical Garden, 2900 Southern Blvd., from 7 to 9 p.m. Get there early, at 5:30 p.m., and you can check out the garden's famous holiday train show for free. For more details call council president Brenda Caldwell-Paris at 917-650-0620.
Community Board 7 will host its annual holiday tree lighting tonight at 6 p.m., at Bainbridge Avenue and Mosholu Parkway.
And last but not least, the Community Education Council for School District 10 meets tonight at 6:30 p.m. at PS 8, 3010 Briggs Ave. Call them at (718) 741-5836 for more information.
Starting today, you'll be able to take your laptop/smartphone/tablet over to Devoe Park and do some web surfing in the great outdoors. The park just got free Wi-Fi, thanks to AT&T,  under a five-year digital initiative Mayor Bloomberg launched last spring.
Since June, 20 parks across the city have gotten the digital hookup, including Joyce Kilmer and Bronx River Park.
"Parks are not only great places to throw a ball, read a book, or catch some rays or waves, they are also ideal for surfing the net," Parks Department Commissioner Adrian Benepe said in a statement.
By Jeanmarie Evelly
Last year, State Sen. Jeff Klein, representing the Bronx and Westchester, announced that he and three other Democrats would be breaking off from the party to form their own group. It caused a schism in the senate chambers, for sure, but with less malfeasance and dramatics than the notorious 2009 coup.
The move was met with criticism from some Democrats who deemed it political pandering, a way for Klein and his breakaway colleagues to win favor with the Republicans, who had just re-gained a slim 32-30 majority in the Senate.
"What's the difference between what they're doing and what the amigos did?" said Bronx Sen. Ruben Diaz, Sr., referring to the 2009 Senate coup, when former Bronx State Sen. Pedro Espada, Jr. (Diaz's pal) and Queens Democrat Hiram Monserrate defected to the Republican party in exchange for leadership roles. "There's nothing different. They are a copycat."
But as the one-year anniversary of Klein's Independent Democratic Conference approaches in January, the senator defends his caucus with pride, calling it a productive division from the Democrats' dysfunctional leadership, and from the partisan gridlock that characterized the tumultuous two years the party was in power after spending more than 40 years in the minority.
"I fought harder than anybody to take the majority [in 2009], but unfortunately, it was a complete letdown," Klein said in a recent interview. "All the things that we wanted to do, like ethics reform, we never seemed to be able to get the votes for."
Let's not overthink this. The Department of Education's policy precluding churches and other religious organizations from worshiping in city schools is discriminatory and impractical.
Like tens of thousands of groups, from Alcoholics Anonymous to the Boy Scouts, churches like Bronx Household of Faith in University Heights pay rent and use school facilities for a few hours every week during off-hours when no students are present.
The city's main argument in arguing to keep the policy in place (despite vigorous opposition from Bronx Household's lawyers with the Alliance Defense Fund, which took up the case in the name of religious freedom), is that students who attend schools where there is religious worship during off-hours will get confused. They might feel the government, which controls the schools, favors a certain religion.
Even if this notion didn't appear condescending to students, who see religion everywhere in our society, we would argue that the premise is faulty to begin with.
We went to PS/MS 15 back in June to find out how Bronx Household used the school and to see if it, in fact, "transformed" the school into a state-sponsored church (as an appeals court judge argued in upholding the city's policy).
What we found is that on a Sunday morning, there was no sign of church or anything else going on inside the building. Read more
By Ronald Chavez
Bedford Park and Norwood residents are fighting the possible closure of a local post office, saying it would leave the neighborhood with a lack of access to most mail services.
The so-called Botanical Station on Webster Avenue is one of 17 post offices in the Bronx alone that could be closed as the struggling United States Postal Service looks to cut $20 million from its budget over the next three years.
The roughly 40, mostly older, residents who gathered at a discontinuance hearing Monday night at the Bedford Park Senior Center, said other locations listed by the USPS were too far away or in dangerous neighborhoods. Most residents would have to travel to the station at East 188th Street station, nearly a mile away from the Botanical location. Others said it would be too hard for them to traverse the hilly neighborhood. Read more
By Jeanmarie Evelly
The Bronx Community Pride Center, the borough's only organization that caters specifically to the needs of the LGBT community, cut the ribbon at its new location last week — inside a building named after State Sen. Ruben Diaz, Sr., a fierce gay rights opponent.
The Pride Center, which was based in Mott Haven on East 149th Street for the last 17 years, has its new home at 975 Kelly Street in Hunts Point. The building, Rev. Ruben Diaz Gardens, was developed with funding from the outspoken state senator and named in his honor.
"Our new space is much more usable and is wheelchair accessible," Executive Director Dirk McCall said in a statement. "The new space is wonderful and we welcome everyone in the community to come by and visit us."
Diaz, who worked adamantly for years to block the passage of a marriage equality bill in the State Senate, sent out his own press release saying he was "honored" the group was moving into his building.
Meanwhile, his son, Bronx Borough President Ruben Diaz, Jr.—who disagrees with his father's stance on marriage equality—was at the new center's opening last week, and helped cut the ribbon.
The Bronx Community Pride Center is hosting an open house at its new location this Friday, Dec. 16, from 6 to 8 p.m. for residents interested in learning more about its programs and resources. For more information, call (718) 292-4368.
By Alex Kratz
A mobile legal help center with a fully functioning law office and courtroom will be parked in front of the Bronx's Mosholu Montefiore Community Center, 3450 Dekalb Ave., today from 11 a.m. to 3 p.m.
This 40-foot, 26,000-pound vehicle offers separate conference areas, high-speed computers and audio visual communication equipment. It can provide direct legal services, including advice, legal counseling, direct representation and emergency court proceedings via videoconferencing with judges.
They'll be offering counseling on immigration, family law, housing, public benefits, healthcare and home care, advance planning, consumer protection and elder abuse.
The mobile center is a partnership between New York Legal Assistance Group and the New York State Office of Court Administration. Their goal is to bring fee legal services to uderserved areas.
By Ronald Chavez

[Video: JFK bangs home during it's loss to Bronx rival Wings Academy last week.]
It was the kind of game neither team appeared to want. In a battle for Bronx high school basketball dominance, John F. Kennedy lost to Wings Academy 56-50, but both coaches admitted to being disappointed with their team's play.
In an early-season showdown of the two best public school teams in the Bronx — JFK came in ranked 10th, according to the NY Post, while Wings was 7th — both teams found areas in need of improvement.
The Knights from JFK essentially lost the game early when they failed to score until almost six minutes into the first half. Wings used their size and athleticism to pound out points in the paint against the smaller Knights.
Wings out-rebounded the Knights 37-15, and drew many more fouls, scoring 26 of their 56 from the free throw line. Just nine of the Knights' points came from free throws. Read more
By Jasmeet Sidhu
Cat colonies in the Bronx from Jasmeet Sidhu on Vimeo.
The lack of a full-service animal shelter in the Bronx has prompted some residents to create "cat colonies" in their neighborhoods where they feed and care for feral cats in their own backyards.
Currently, only Manhattan, Brooklyn and Staten Island have a full-service shelter contracted out to the not-profit Animal Care and Control that accept animals, offer animal adoption, and provide necessary veterinary care and animal sterilization. Read more
By Alex Kratz
Editor's note: The Bronx Breakdown, a re-imagined and re-invigorated version of what we once called "Friday News & Notes," consists of (1) a subjective breakdown of the week's biggest and most intriguing news stories, (2) tidbits and newsbits we've come across and thought you should know about (3) a youtube clip and (4) recommendations for things to do in the Bronx this weekend. So settle in, grab a cup of coffee or a Bronx Brewery Pale Ale and enjoy the Breakdown.
Councilman Takes a Stand for Fellow Pastors
As you can probably tell by the photo to your right, Bronx City Councilman Fernando Cabrera is taking the city's efforts to prevent churches (and other religious organizations) from worshiping inside school buildings very seriously and very personally.
In an interview today, he called New York's exclusionary policy "ridiculous" and vowed to do everything in his power to overturn it legislatively.
Just to give you a little refresher: On Monday, the United States Supreme Court, with its inaction on an appeal brought by Bronx Household of Faith, a small evangelical congregation that has met at PS/MS 15 in University Heights for the past decade, essentially upheld the city's position that allowing worship services on school property amounted to a violation of the Constitution's separation of church and state doctrine. (For more background, click here.)
It leaves at least 60 city churches, and, according to Cabrera, at least some Jewish and Muslim groups, homeless, come Feb. 12. (The city originally said churches would have to cease worshiping, Jan. 1.)
Cabrera made a few interesting points during our interview today. Read more
By Emily Piccone
Starting as a lone wolf skateboarder from the Norwood area of the Bronx, Kiefer Dixon, 22,  has won fame and a few nice paychecks from his speed and stamina on a longboard (a long skateboard). He sat down with the Norwood News to talk boards, hand-standing his way through Times Square, his recent win in Puerto Rico and how the borough has influenced his style.
This is the second in a series focusing on exemplary Bronx youth. If you know of a young person in the borough you think deserves recognition or you are that young person, send us an e-mail at norwoodnews@norwoodnews.org.
How did you start out on the longboard?
The first board that actually made me like speed skating was given to me by these Jamaican dudes. They said they had a longboard laying around and always saw me skateboarding. It was faster than the one I had at the time, and I was always by myself, so the speed was definitely what entertained me. The Bronx isn't the safest place, but I've always kept moving.
Do you have a reputation forming in the borough?
My reputation around here is that you'll never see me walking. If I'm on the train, people are like, 'what are you doing here, don't you skate?' Everyone has some story of me doing a trick or riding on my hands through a busy intersection. Even my brother's bus driver says he's proud of me because he never sees me on the corners with my pants down.  My trick that I'm know for the most is my handstand on the board. I've done handstands through traffic, down hills, through 42nd Street. The longest I've held it is four blocks going down Broadway. Read more
By Alex Kratz
The number of Bronx schools slated for closure more than doubled today as the DOE released an updated list that now includes two Bronx technical high schools: Grace Dodge and Samuel Gompers.
Those two schools, along with Aspire Preparatory Middle School, joined Jane Addams High School for Academic Careers and Gateway School For Environmental Research and Technology on the list of schools the DOE wants to close because it says the schools aren't doing enough to serve their students.
Schools Chancellor Dennis Walcott said the DOE spent the past two months analyzing schools and gathering feedback and decided these five Bronx schools and 14 others citywide should be phased out and started over from scratch as brand new schools (or broken up into smaller schools).
"These are never easy decisions, but when a school has failed to serve its students well year after year — even after receiving additional supports — we have a responsibility to provide students with better options. We are already hard at work creating the great new schools that these communities deserve," Walcott said in a statement.
Marvin Shelton, the president of the Community Education for District 10, which includes Grace Dodge, said the DOE didn't give the technical school a real chance to improve after putting it on a watch list last year and replacing its principal this fall. Now, just three months into the school year, Shelton says the DOE pulled the plug on Grace Dodge too early to see any improvement.
In addition to replacing its principal, Shelton said the DOE restricted Grace Dodge's incoming freshman class this year so it could concentrate on serving the serving the students it already had. But barring what could only be considered as a "miraculous turnaround" in so little time, Shelton said the school didn't have much of a chance to stave off closure.
Shelton said there will be a meeting at Grace Dodge, 2474 Crotona Avenue, next Thursday to discuss the ramifications of a phase-out, which would take another three years to complete. The decision isn't final. There will be a local hearing, sometime in January, where opponents of the closure plan can make their case and then the Panel for Education Policy will vote Feb. 9 on whether to approve the closures. Last year the panel closely followed the DOE's recommendations.
Borough President Ruben Diaz, Jr. released a statement about closings, saying he wanted to ensure that the students remaining at those schools slated for closure would be taken care of. He also took a shot at the DOE for its role in allowing the schools to fail. "The factors that have led to these proposed closings did not occur overnight," he said. "The DOE has not provided these schools and others with the appropriate resources to succeed, and that must change."
The public outcry continues over the U.S. Postal Service's plan to shut down 17 Bronx post office locations this year, with a rally planned for this evening at 6 p.m. outside the Bronx General Post Office, at 558 Grand Concourse.
The protest is being held before a schedule public hearing to debate the closure of one of the proposed sites, the Stadium post office on Gerard Avenue, which serves the busy and commercial-heavy neighborhood around Yankee Stadium.
Earlier this week, the USPS announced its plan to eliminate first-class, or next-day mail services. This, along with the proposed branch closures, is an attempt to help the struggling agency cut its operating costs by a whopping $20 million over the next three years.
Citywide, there are 33 post office locations that could potentially close under the plan, 17 of which are in the Bronx. The Oak Point, Crotona and Van Nest locations have already been shut down this year. You can find a full list of sites that are on the chopping block here.
The holiday season's in full swing, meaning there are plenty of festivities taking place over the next few weeks to get you in the spirit.
Tonight at 5 p.m., Bronx Borough President Ruben Diaz, Jr., will be hosting a holiday tree lighting at the Bronx County Building, 851 Grand Concourse, complete with carol singers and, of course, Santa Claus.
On Saturday, Bronx Museum of the Arts is throwing a family holiday party from 1 to 4 p.m., with food, art activities for parents and kids, and tours of its current exhibits. The museum is located at 1040 Grand Concourse. Visit www.bronxmuseum.org for more.
Next Wednesday, Dec. 14, will be the annual holiday party at the Kingsbridge Heights Community Center, 3101 Kingsbridge Terrace, from 5 to 8 p.m. The celebration is in partnership with the Fieldston School and will feature face-painting, games and food. For more information call (718) 884-0700.
The borough's two Division I college basketball programs, Fordham University and Manhattan College, face off tonight for the 104th time in a game billed as the "Battle of the Bronx." We'll be there, sending out live Tweets (follow @norwoodnews) to help you keep track of the action.
Both teams are coming off recent wins, but have had uneven starts to this season. Aside from Bronx bragging rights, a win here would build momentum going into the meat of each team's schedule.
Here's a preview from Manhattan's website and the view from the Fordham side. Manhattan's going for a total "Whiteout" to increase the intimidation factor at Draddy Gym, the Jasper's home court in Riverdale.
You can listen to the game on 90.7 WFUV or Manhattan's live web feed.

[Video: Gov. Cuomo explains his new tax plan.]
Yesterday, Gov. Andrew Cuomo announced that legislative leaders in the senate and assembly had reached an agreement that would lower taxes for middle-class New Yorkers, while increasing taxes for the wealthiest. Cuomo says the changes would net about $1.9 billion in additional revenue.
The City Council quickly passed a resolution supporting the measure and a few Bronx politicians released statements praising the legislation, which is being finalized during a special session in Albany today.
Freshman Bronx State Senator Gustavo Rivera, who was vocal about extending a temporary tax hike for New Yorkers making more than $200,000 (in place since 2009 and set to expire at the end of the year), lauded the agreement, which will essentially replace the revenue lost when the temporary tax hike expires. Read more
By Emily Piccone
It's past due that Arthur Avenue's foccacia, City Island's oysters, the Bronx  Brewery's Pale Ale and some of the other Bronx culinary mainstays received an event celebrating their deserved hype. Thank you, Bronx Tourism Council, for bringing us Bronx Restaurant Week last month.
However, there were several local restaurants in the northwest Bronx that did not participate for whatever reason. So, in the spirit of good food and good neighbors, we decided to highlight a few of those that did not participate. This is the first in a new series of Bronx restaurant profiles (not necessarily reviews because we're not sure if we're qualified for that) we'll be rolling out periodically. Got a restaurant — restaurant week participant or not — you'd like us to cover? E-mail us at norwoodnews@norwoodnews.org.
Buen Provecho!
Ebe Ye Yie (2364 Jerome Avenue)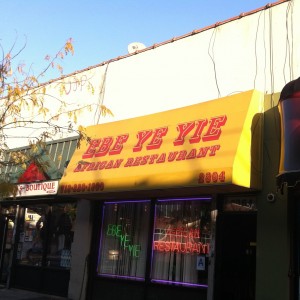 The neon "AFRICAN RESTAURANT" sign in the window is a beacon of Ghanaian cuisine on Jerome Avenue, not the first place most people turn to for dining. But, sitting two blocks from the 183rd Street 4-train stop, Ebe Ye Yie, meaning "it will be alright" is a no-frills, plastic-table-cloth-spot that packs in the good, exotic flavor.
Behind the glassed-in counter, the charming chef Fatima greeted me, and upon noticing my confusion at what to order, asked, "You want what all the white people get?"
Um, sure.
She served a heaping plate of four different styles of rice, dried fish and beef and a mound of gari, a flour made from dried cassava and palm oil. The winning elements though, were the two pasty sauces  she brought out; a dollop of each on a styrofoam plate. She left giving me a slight warning of their heat, and after just a bite I was already gunning for the can of Vimto I had thankfully bought. The sauces are made in house from the Jamaican and the black pepper, and are the icing on a starch on starch mound. Read more
The jury deciding the fate of City Councilman Larry Seabrook is split on whether or not to convict the Bronx rep, who faces federal corruption charges of fraud, money laundering and soliciting bribes.
Deliberations began last week, and the jury announced Friday that they were deadlocked over one of the charges against Seabrook–that he'd given a lucrative Yankee Stadium contract to a boilermaker in exchange for $50,000. After a second day of deliberating yesterday, the group announced they could not agree on any of the 12 counts charged against the councilman.
The group continues to review evidence today in the hopes of reaching a verdict.
Meanwhile, the judge overseeing the case in Federal District Court in Manhattan warned Seabrook's lawyers to "be careful" of what they say to the press, according to the Times, after prosecutors complained about comments made by defense attorney Anthony L. Ricco that they say could influence the jury.  Ricco told reporters yesterday that the jury "hasn't accepted the government's theory of the case" and that "people shouldn't be asked to compromise their views for efficiency or expediency."
In addition to allegedly bribing the boilermaker, Seabrook stands accused of taking kickbacks from nonprofits staffed by his family and friends, which he funneled city money towards, and for notoriously forging a receipt for a $177 bagel. The councilman is still representing his Co-op City-Edenwald-Wakefield-Eastchester Bronx district–he collected $110,163 for the gig last year–but he'll automatically get the boot if he's convicted. City Hall News has compiled a list of candidates campaigning to fill his seat.
By Alex Kratz
A 21-year-old Bedford Park man is clinging to life today at St. Barnabas Hospital after being shot several times in Kingsbridge Heights. Police found the man, who a police source identified as Richard Leonardo, in front of 2780 University Avenue at about 6 p.m. bleeding from gunshot wounds to his torso and right arm. Police say the victim is listed in critical condition at St. Barnabas, no arrests have been made and the investigation is ongoing. The shooting occurred in the 50th Precinct.
By Jeanmarie Evelly
Remember those fancy new voting machines the state rolled out last September? Instead of heading into a booth and pulling a lever, voters on Election Day last year filled out paper ballots by hand and feed them into an optical scanning machine (pictured above).
The change was made to ensure an accurate vote count–states were required by federal law to update their voting machines, a response to the 2000 presidential election fiasco. But a report released this week found that flaws with the new method resulted in 50,000 to 60,000 votes across the state going uncounted because they were cast incorrectly, namely because voters "overvoted," or accidentally shaded in the bubble for more than one candidate for a given seat.
The analysis, by the nonprofit Brennan Center for Justice, reveals that Black and Hispanic voters were at least twice as likely to lose their votes. The Bronx had the highest overvote rate of all the boroughs in the contest for governor: Nearly 1 of every 100 gubernatorial vote cast here was voided as inaccurate by the machines. At one South Bronx polling site, PS 65 on East 141st Street, over 20 percent votes in the governor's race went uncounted.
Following a Supreme Court decision that would keep churches from worshiping inside school buildings, Bronx Councilman Fernando Cabrera, a deeply religious politician who doubles as pastor of a church on Morris Avenue, will attempt to legislate guaranteed access for churches at New York City public schools.
Earlier today, the Supreme Court declined to review a court ruling, in a long-running case brought by University Heights-based Bronx Household of Faith, that upholds a Department of Education policy prohibiting churches from using city schools to conduct worship services.
"Although today's news may be cause for some disappointment, the question now moves to the individual states," Cabrera said in an optimistic statement today. "I have full confidence that our State Legislature and Governor will amend our education law to end the Department of Education's exclusionary policy and allow our churches the same access afforded to other community organizations. This case was never about special treatment, it was about fairness and I fully intend to continue this fight until we see action."
On Thursday, Cabrera, who represents the area that contains Bronx Household of Faith, will hold a press conference at noon and introduce legislation in the City Council that would amend the law that excludes churches from using school buildings for services.
Edwin Santiago, a member of Bronx Household of Faith, said church members are disappointed in the Supreme Court's decision. He called the city's policy "discrimination" and hoped Cabrera's legislation could remedy the situation, which will leave Bronx Household and at least 60 other city churches without a house to worship in come Jan. 1.
"We're just going to pray and take it as a message from God," Santiago said. "[But] we don't really know what that message is yet."