By DAVID CRUZ
In the weeks following the death of Ana Charle, the director of a homeless shelter in Wakefield, security at the shelter has picked up. A parked security car sits outside the shelter. Three part-time peace officers and a supervisor from the New York City Department of Homeless Services (DHS) now roam the facility, a reactionary response by DHS shortly after Charle's death. Read more
By DAVID GREENE 
A 20 year-old man was fatally shot in the chest on the sidewalk in Kingsbridge, with detectives now hunting for his gun-toting killer. Read more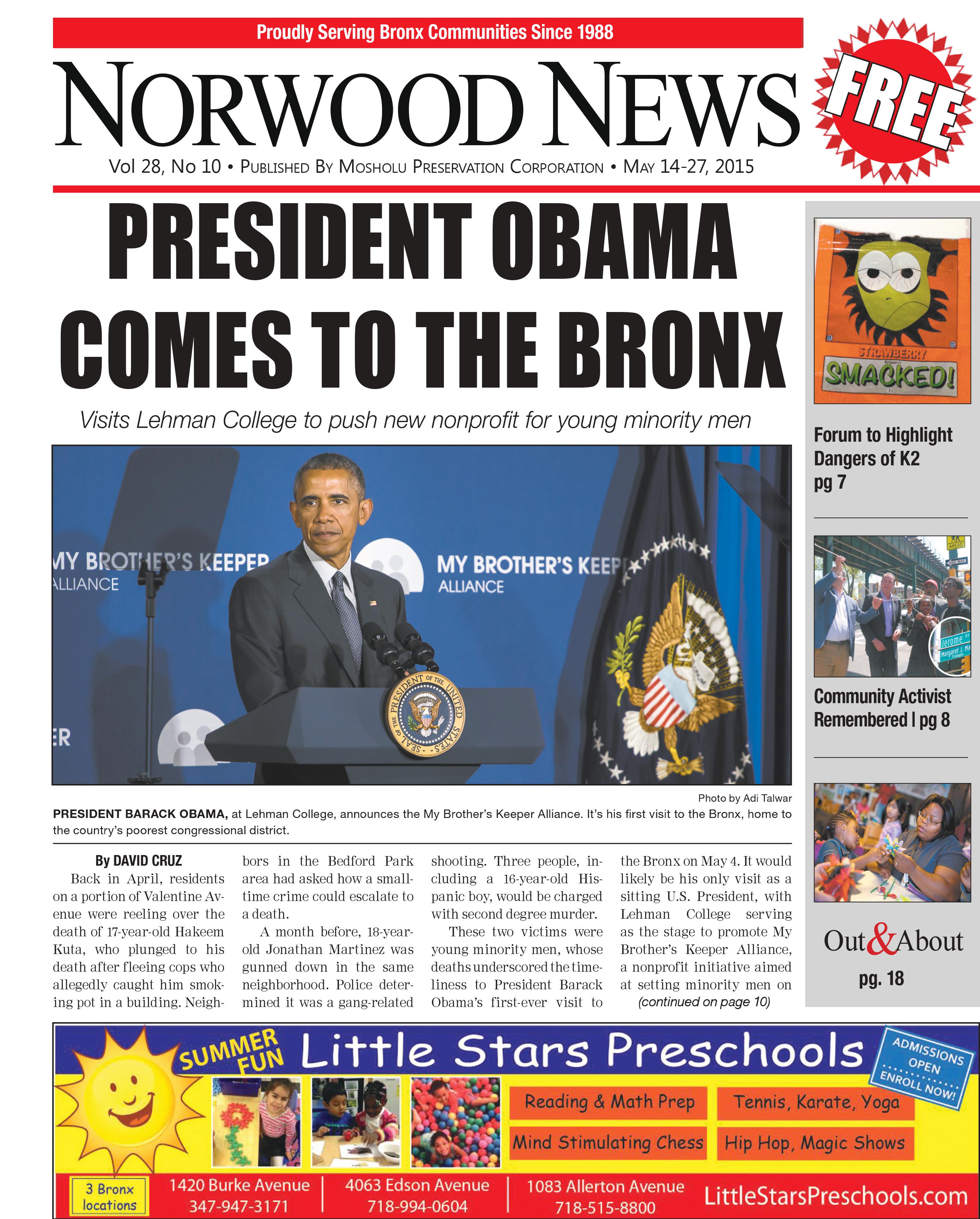 By DAVID CRUZ
The latest edition of the Norwood News is out with plenty of community news you can use! There's plenty to talk about, so here goes:
The big story is on something of a rarity: a stop by a U.S. sitting President in the Bronx. President Barack Obama did just that, spending an afternoon at Lehman College. The Norwood News was there to capture Mr. Obama's rare event, which detailed the formation of a nonprofit geared towards young minority men.
Heading back to more hyperlocal terrain, we go to Mosholu Parkway, where community residents are hammering out a new vision plan for the parkway. Council Members Andrew Cohen and Ritchie Torres sponsored a workshop that sought direct input from the community, laying the initial groundwork for the key thoroughfare.
We then have the usual items: Out & About, a special Inquiring Photographer on the President's visit, and of course, the Bronx Beltway, featuring some political stories happening around the area. If you want to get your hands on a hard copy, stop by the over 300 locations in and around the area, primarily the Norwood/Bedford Park sections of the Bronx.
Feedback is always welcome. Send comments/thoughts to dcruz@norwoodnews.org. Enjoy the latest edition. Till the next time, readers!
By DAVID CRUZ
Across 24-hour bodegas in the Norwood/Bedford Park area, buying synthetic marijuana requires little to no screening. Its legality is caught in murky technicalities, and virtually no enforcement, leaving prosecutors little room to try a synthetic marijuana case. Read more
By DAVID CRUZ
In his first, and perhaps, only stop to the Bronx, President Barack Obama visited Lehman College in Bedford Park to promote a non-profit aimed at reversing the disproportionate ill fates of minority men, a topic that continues to resonate in Bronx communities. Read more
By DAVID CRUZ
In his first, and presumably, only official visit to the Bronx, President Barack Obama will deliver remarks at Lehman College on Monday, announcing the launch of a nonprofit initiative geared towards young minority men.
The nonprofit, the My Brother's Keeper Alliance, is an offshoot to the White House's initiative of the same name. It was launched last year as a way to reverse the national trend of young men of color falling behind academically, which can often lead to fewer opportunities. President Obama has consistently pushed education as a gateway towards stability and future success, according to speeches he's delivered.
The announcement comes two years before President Obama leaves office, where reports suggest he will take a much more involved role with the nonprofit. The White House version of MBK saw $400 million in financial commitments, which was funneled to programs across the country. Likewise, investments will be key in financing some after school and community programs geared towards offering assistance to minority men.
The Bronx has the poorest congressional district in the country and is largely minority, with African Americans making up 43.3 percent of the borough. Academic achievement is extremely poor.
President Obama's visit marks the first time in nearly 14 years that a sitting U.S. President stopped by the Bronx, the last being President George W. Bush when he threw the ceremonial first pitch at Yankee Stadium during the 2001 World Series.
Editor's Note: The Norwood News will be at Lehman College covering the President's visit. We will live tweet the event via @CWEBCRUZER. We will have a full story shortly. 
By DAVID CRUZ 
Elected officials and community stakeholders are calling for the closure of a Wakefield homeless shelter that once housed a client now charged in the shooting of its director. Read more
From the pages to your smartphone, computer or laptop, the latest digital edition of the Norwood News is out with pages of community news you can use.
First up, we delve into the latest stage of the Kingsbridge National Ice Center,  set to be in the home of the Kingsbridge Armory. While developers emphasize the project's ready to go, and it is, construction may not start until a year from now. (Editor's Note: While this topic may have been briefly mentioned in another publication, the Norwood News has made an attempt to bring this back to the forefront of the conversation given its lack of mass communication). 
We'll take you to Decatur Avenue in the Bedford Park/Fordham area where there's been efforts made to refurbish a lot into a playground, a 20-year fight that's beginning to rev up again. William Mathis takes a look into that. We'll also introduce you to Vivian Carter, our new saleswoman who is also a raving history buff.
Over at Community Board 7, a new Veterans Committee has formed that helps military vets seek the help they need to transition back to a normal life.
We also have our paper's main staples–Inquiring Photographer, Out & About and Neighborhood Notes. If you want to cheer up, check out what Montefiore Medical Center is working on to ease a child's fear of going to the ER.
If you want a hard copy of the Norwood News be sure to stop by at 300 locations around the northwest Bronx to pick up a free copy.
By DAVID GREENE
Police are looking for the driver who ran over a 24-year-old NYPD Traffic Enforcement Agent and sped away, fleeing down East Gun Hill Road last week.
Police officers from the 52nd Precinct and paramedics were called to 275 East Gun Hill Road at Putnam Place at 11:59 a.m., on Thursday, April 23.
According to the FDNY, paramedics arrived in four-minutes and transported the victim to Jacobi Hospital, who was listed in serious condition.
According to one NYPD source, "The on-duty traffic agent was crossing the street in the crosswalk, when he was struck by an unknown vehicle, a blue Dodge minivan. The vehicle ran a red light and struck the pedestrian."
Despite claims from witnesses at the scene that one individual shot a photo and another a video of the striking vehicle, officials say they have no such evidence at this time.
One witness said, "The guy drove away… he hit him and kept going. I saw him laying on the ground and it looked like he had a broken arm and broken leg."
According to the victim's brother who is also an NYPD Traffic Enforcement Agent, the Parkchester resident is recuperating after having a metal rod inserted into his leg, a broken arm as well as internal injuries.
The accident took place across the street from Maria's Laundromat, where on the opposite side of East Gun Hill Road Putnam Place was recently designated a "slow zone," with the posted speed limit now 20 miles-per-hour.
According to the brother, the agent was not writing tickets and was simply crossing East Gun Hill Road at the time of the crash.
The NYPD's Crash Investigation Unit of the Highway Patrol continues to investigate the incident.
By DAVID CRUZ 
Councilman Andy King, the north Bronx legislator known for his flamboyance, is expected to be sued for sexual harassment, according to a published report. Read more

By WILLIAM MATHIS
Crime within the 52nd Precinct continues to rise, though the police ensured community members at a recent meeting it intends to stem the rise. The meeting rehashed incident involving the death of a 17-year-old who plunged to his death from a rooftop while evading police in early April. Read more
By JASMINE GOMEZ
In a borough where 26 percent of people aged 18 to 24 have no high school diploma, a number of professionals sat at round tables at Monroe College's Mintz Auditorium hoping to increase those numbers. Read more
A traffic agent was seriously injured on East Gun Hill Road by a driver that did not stop, the Norwood News has learned. 
Police cordoned off the busy stretch by East Gun Hill Road and Putnam Place shortly after noon, and reopened it an hour later.
The victim suffered broken bones, according to a police source. The driver involved in the hit-and-run incident has not been found yet. The victim was rushed to Jacobi Medical Center and was listed in critical condition.
The Norwood News will have more information as it comes.
This week we asked readers their thoughts on a recent incident where police chased teens smoking marijuana from the lobby of a building onto a roof, where one teen fell to his death.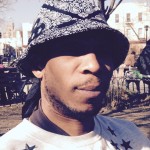 What was the crime again? It shouldn't even be considered a crime, and all it does is clog up the courts and the jails. It doesn't make sense.
Winston Bailey, Belmont

By DAVID GREENE
In a weekend that saw rising temperatures, there was a noticeable uptick in gunfire across the borough that left at least nine victims wounded in a nine-hour period.  Read more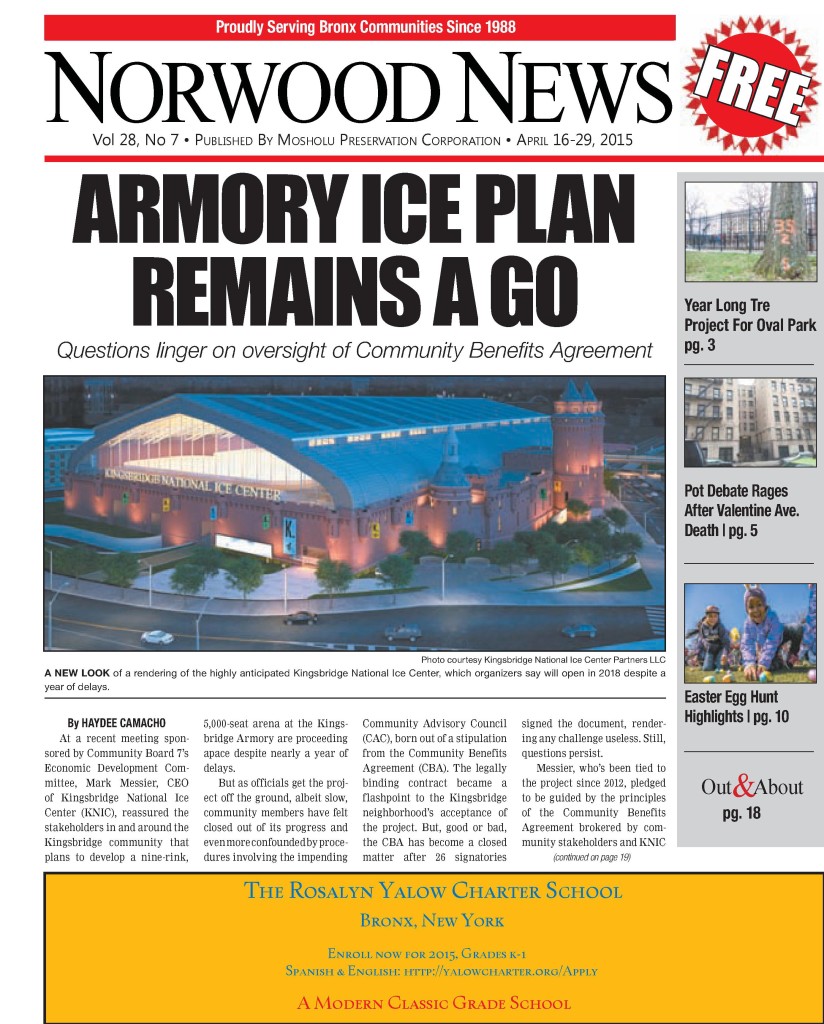 By DAVID CRUZ 
The latest edition of the Norwood News is hitting 300 locations throughout the northwest Bronx this morning, and it's loaded with plenty of community news you can use. Here are some stories that can grab you:
We begin what's been happening in the neighborhood's long running story: developments at the Kingsbridge Armory. Haydee Camacho delves into the story focusing on some folks wishing the Community Benefits Agreement tied to the Kingsbridge Armory Ice Center would have been fleshed out better. Worth a read.
Valentine Avenue neighbors are still reeling over the death of a teen who plunged to his death from a rooftop as he was attempting to evade police. The kid was allegedly smoking pot, opening the debate on whether the criminality of marijuana smoke contributed to his death. Both sides weigh in. Our Inquiring Photographer also picks the brain of Bronxites over the subject.
We then have the Norwood News' staples—Out & About, Neighborhood Notes, and our Bronx Beltway feature for you to peruse.
Those are a fraction of the offerings the Norwood News has on hand for this edition. Be sure to check the Norwood News website daily to read up on what's happening in Norwood and beyond.

By JASMINE GOMEZ and DAVID CRUZ 
The news of a Mott Haven teen plunging six stories from a building in Fordham on April 2 has one neighborhood reflecting on the criminality of marijuana and its effect on their local community.  Read more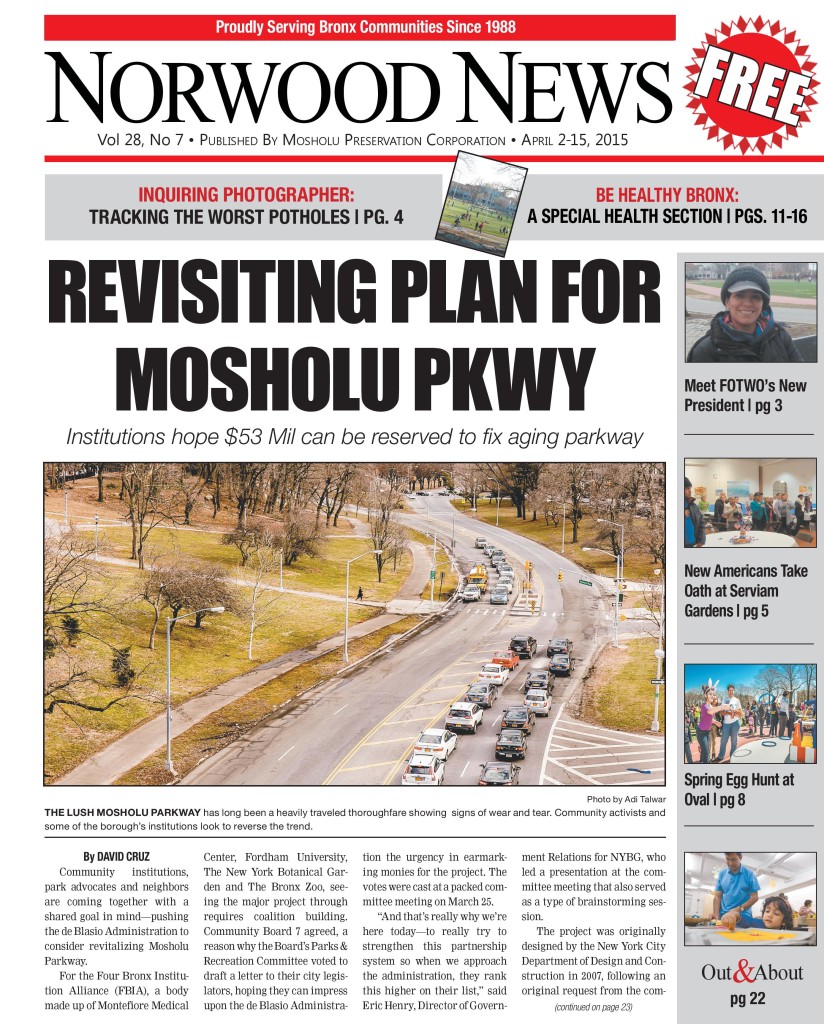 By DAVID CRUZ
The Norwood News is out with 24 pages of community news you can use, happenings and other nuggets of information. What's intriguing about this edition (just coincidence really) is it's heavily park-related. Makes sense, given all the parks that Norwood has been afforded these days.
We begin with a push to restore some infrastructure issues at Mosholu Parkway, with representatives from the local institutions urging the community for some momentum in getting elected officials to commit to restoring the parkway. Find out what went on at a March 25 community meeting.
One of our more attractive features this edition is a special health section covering news for your health and well being. We show what health ranking the Bronx has, health strides the borough has achieved, how you can ward off shingles, and a neat prescription discount program for those who can't afford the full price.
We've also brought back our letters to the editor section. If you have a letter you'd want to send, please do so. The email is dcruz@norwoodnews.org. Word count must be 250 words long.
Lastly, if you don't have Saturday plans, stop by the Williamsbridge Oval for the second annual Spring Egg Hunt celebration courtesy of the Jerome-Gun Hill Business Improvement District, the New York City Parks Department and park advocates. The festivities start at 11am.
That's about it. Be sure to check back www.norwoodnews.org for some more daily stories.
Amid a high-tech anti-crime software loaded and ready to go, the 52nd Precinct Community Council will hear from police brass over the new crimefighting tool. Officials will meet at tonight at Fordham United Methodist Church to discuss the new measure.
The meeting takes place from 7 to 9 p.m. at 2543 Marion Ave. in the Fordham/Bedford Park neighborhoods.
The Five-Two was granted funds to install the software following pressure from local elected officials last summer. The new program is part of a broader pilot program that would see the ShotSpotter system in various Bronx precincts.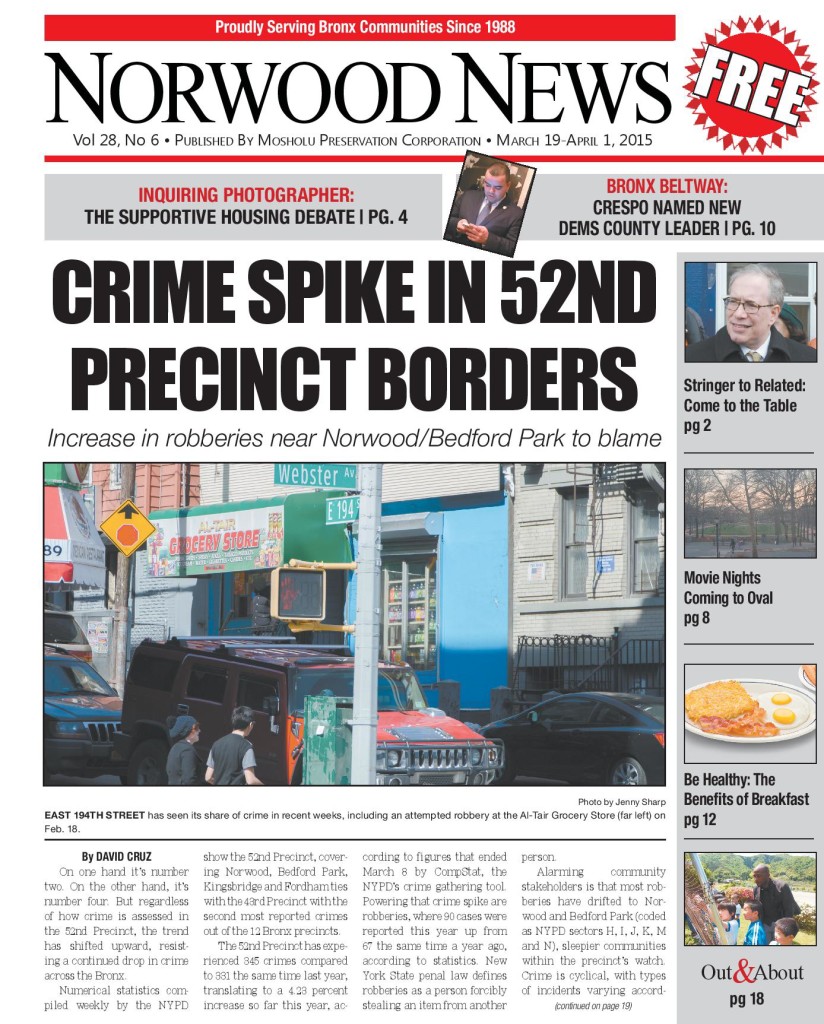 By DAVID CRUZ 
With the seasons changing hands and temperatures climbing (I also think I heard birds chirping), it's a good time to head to your local business to pick up the latest copy of the Norwood News. We've packed 20 pages of community news you can use in the area, with a crime spike in the 52nd Precinct topping our news fold. Find out what the numbers are and what folks in some of the tougher neighborhoods have to say about the crime trend.
We're also following some major development news coming out of the Bedford Park/Norwood areas, beginning with The Stagg Group's purchase of a prime piece of real estate at the corner of Grand Concourse and Van Cortlandt Avenue East.
Veering for more lighthearted fare, the Jerome-Gun Hill Business Improvement District wants you to pick a flick for the merchant group's first ever Movies at Williamsbridge Oval Park sometime during the summer. The BID teamed up with park advocates to make this possible.
We also have you covered on Inquiring Photographer, Out & About and Neighborhood Notes, familiar Norwood News staples. We also offer The Bronx Beltway, which offers a glimpse into the world of Bronx politics.
So share the Norwood News with your friends. If you want to just read it from the convenience of your home, you could always download check out the digital edition. Until next time!
By DAVID CRUZ
A high-tech sound system aimed at detecting gunfire is now operational within the 52nd Precinct, covering the northwest Bronx.
Commissioner Bill Bratton announced that ShotSpotter, billed as a gun fire detection system with pinpoint accuracy, was installed throughout the 52nd Precinct, along with six others throughout the Bronx. Inspector Nilda Hofmann, the precinct's commanding officer, had spent several weeks mulling over where to install acoustic sensors needed to detect gun shots, which required building owners consent. The system is activated once gunshots are picked up by sensors, where a real-time signal is sent to a 911 operator's computer identifying where shots were fired. Operators then dispatch a team. The software is purported to identify where shots were fired instead of going by second hand information that often sends police officers at a different direction from where shots originated.
"It will enable us to respond to shooting incidents in a more timely manner, and provide us with the ability to help victims, solve crimes and apprehend dangerous suspects more quickly," said Bratton in a statement.
The news comes months after a trio of New York City Councilmembers sounded the alarm over the need to bring ShotSpotter to the Bronx. Councilmembers Andrew Cohen, Andy King and Ritchie Torres–who represent the 11th, 12th and 15 Council Districts respectively–drafted a letter to Commissioner Bratton last year requesting the anti-crime tool come to the borough. ShotSpotter has already been installed in other major cities, including Chicago, Minneapolis and Camden, New Jersey.
In a joint statement, the legislators cheered the installation of the system, noting that "ShotSpotter will assist our local police precincts in their investigations and improve the quality of life for all Bronxites."
Shootings have seen a slight rise so far this year. Current NYPD CompStat figures show there were four shootings in the 52nd Precinct, up from two the same time last year.
Gun fire had claimed the life of an 18-year-old Jonathan Martinez, shot in the chest on March 13. Three other teens were later arrested.

By DAVID CRUZ 
On one hand it's number two. On the other hand, it's number four. But regardless of how crime is assessed in the 52nd Precinct, the trend has shifted upward, resisting a continued drop in crime across the Bronx. Read more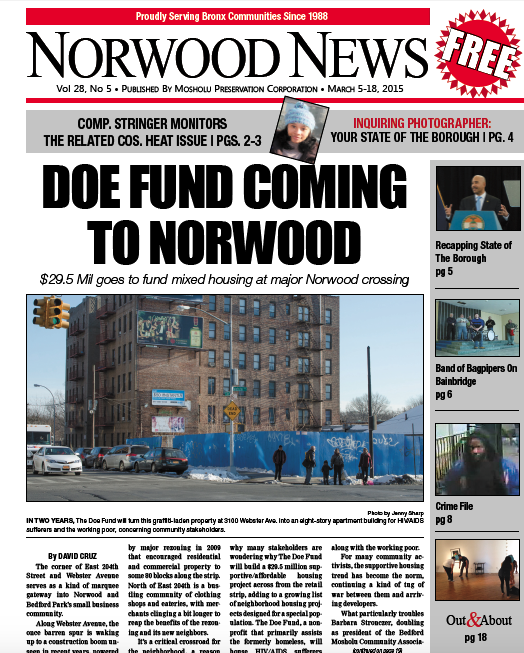 By DAVID CRUZ 
In another day filled with snow, snow, and more snow the Norwood News hopes you stay warm, cozy and aware of the latest edition of our neighborhood newspaper. We have twenty pages full of community news you can use.
We first begin with a plan by The Doe Fund to build Webster Green, a supportive/affordable housing at a prime piece of real estate on the ever-changing Webster Avenue, an area that seems to be pushing in different directions. Find out what community stakeholders have to say along with the developers of Webster Green.
We also have an intriguing story that explores the relationship between Comptroller Scott Stringer, the New York City Pension Fund and how it awarded The Related Cos. pension funds to buy three-dozen properties in the Bronx. Many tenants living in the buildings have been suffering with heat issues. We delve into that further.
There are also stories featured in our Crime File, Inquiring Photographer, School Briefs and our consistent Out & About section. Read up and share the news with your family and friends.
If you want a free hard copy of the newspaper you can stop by one of 300 locations throughout the northwest Bronx. Comments always help. Send them to dcruz@norwoodnews.org. Enjoy!
By DAVID CRUZ 
52nd Precinct Takes its First Official Homicide
The 52nd Precinct's streak of zero murders in 2015 ended last week following the death of a 52-year-old in University Heights. Police say the victim, identified as Delores Scott of Midtown Manhattan, was found with stab wounds to her chest and back in front of 20 West 190 St., a mentoring program, on Feb. 19. She was rushed to St. Barnabas Hospital and was pronounced dead a day later.
Following a description of a suspect, police would later arrest Brandi Simmons, charging him with assault, criminal possession of a weapon and menacing. It's unclear what sparked the incident.
Brazen Car Thief on the Run
Police in the Five-Two Precinct are on the hunt for a fugitive wanted in connection to a grand theft auto case on Feb.
15.
Police say the suspect got inside the driver's seat of a 2005 Honda Odyssey that had been left on by the victim as he was doing business near 213 E. 198th St. at around 4:30 p.m. The suspect soon fled.
A description of the suspect was released. He's described as a male black wearing a green jacket with a fur hood, a grey knit hat, a grey hooded sweatshirt, blue jeans, black boots, and carrying a black bag.
The public is encouraged to call Crime Stoppers at 1-800-577-TIPS or texting their tips to 274637 (CRIMES). Calls are kept confidential.
Fordham Heroin Mill Takedown
Heroin continues to be a major problem in central and south Bronx as suggested in a massive heroin mill takedown in Fordham on Feb. 19.
Officers from the Manhattan North Narcotics Major Case Unit rounded up twelve suspects at an apartment on Creston Avenue used to package the hard drugs, police said. In all, $2.5 million worth of heroin was sized.
The case wraps up a four-month investigation into the Creston Avenue building.  The Drug Enforcement Agency considers the Bronx a major hub for heroin in the northeast. City health statistics indicate the Bronx was number one for heroin-related deaths in 2013, the most recent statistics available.

By DAVID CRUZ
In a State of the Borough speech packed with pomp, ambition and proposals, Borough President Ruben Diaz Jr. talked of the Bronx on the mend, powered by a list of accomplishments and tempered gravitas. Read more
The digital edition of the Norwood News, covering the northwest Bronx and its surrounding communities, is now available here on www.norwoodnews.org.
We start with turmoil within a sprawling cooperative off West Fordham Road that's reached its zenith after a group of shareholders gathered to oust the current Board of Directors. Accusations fly all over the place with this story.
Next, the Norwood News has a feature that jumps on the Bronx political coverage—The Bronx Beltway. We highlight several stories swirling around the Bronx political sphere and provide anecdotal analysis. The newest just launched. Expect more in the next editions.
We also have stories on an upcoming flea market for a busy civic organization, a movement that showcases the artistic side of Norwood and your regulars—Inquiring Photographer and Out & About.
We, of course, love feedback from our readers so please email dcruz@norwoodnews.org. If you're of the traditional type you can also grab your free copy of the Norwood News at one of our 300 locations around the northwest Bronx. Til next time!
 by David Cruz
Authorities in New Jersey have charged a man linked to the death of a Fort Lee man found dead in the back of a car in Norwood last month.
The Bergen County Prosecutor's Office says that Andre Jamal Thompson, known by associates as "Boogie," was charged with felony murder for the homicide of Jordan Johnson. The victim was found in a black BMW on 211th Street and Tryon Avenue just off the Major Deegan Expressway and overlooking the Woodlawn Cemetery on Jan. 15.
Investigators learned that Thompson allegedly lured Johnson to an apartment in Fort Lee. Johnson was then attacked and later strangled. His phone, keys and car were later taken. Thompson would then use Johnson's phone to get his live-in girlfriend out of their apartment so Thompson could rob it of jewelry and cash, according to prosecutors.
After leaving the body in the car, prosecutors say Thompson fled the state, holing himself up in a hotel room in Laurel, Maryland. He was apprehended on Feb. 5. Johnson was brought back to Bergen County. His bail's set at $2 million.
The case brings about a sense of closure to the Norwood community, where many believed this to be the first homicide of 2015 for the 52nd Precinct. The police had stumbled upon the body, using an automated license plate scanner.
The body had been left in the vehicle overnight in what's considered a very sleepy part of the neighborhood.
Reach David Cruz at (718) 324-4998 or dcruz@norwoodnews.org. 
The latest edition of the Norwood News is out with news you can use. It's been an interesting two weeks compiling relevant stories for the northwest Bronx, and here's a snapshot of what you'll find:
– Thousands of tenants are fuming over a rise in a lack of heat and hot water in their building owned by the same firm, The Related Cos. Find out what both sides have to say in this battle that's just heating up.
Editor's Note: A fact-finding forum sponsored by Community Board 7 and the neighborhood's elected officials will be held tonight, February 5 at North Central Bronx Hospital, 3424 Kossuth Ave., 17th floor. 
– The Bronx Library Center in Fordham is the borough's main headquarters for folks to sign up for a free New York City identification card. Find out why elected officials picked the Bronx center as a main post.
– Assemblyman Carl Heastie has now been voted as the next Speaker of the New York State Assembly, one of three powerful positions in state government, alongside the governor. The Bronx is hailing Heastie's rise, while several editorial boards are calling his ascension a bad idea. Find out why.
– And finally, check out our neighborhood coverage of the winter season's first major snowstorm and how Norwood fared.
Of course, we have your Norwood News staples featured in this edition–Inquiring Photographer and Out & About, spotlighting some of the cultural events happening around the Bronx.
A hard copy of the newspaper can be found up and down the northwest Bronx. Stop by your neighborhood coffee shop, bank and medical offices to pick up your copy! If you can't find one, you'll know where you can see it. Until next time.

The Norwood News trudged out of the Keeper's House to log the week-long snow removal efforts by residents and city employees. A collection of these photos can be found on our Facebook page. Take a look, "like" them and tell your friends about them!


We're making our last-minute push for students interested in journalism and writing to sign up for Bronx Youth Heard, the free after school program that empowers students to get their names out there. We are a 12-week workshop that teaches Bronx high school students the fundamentals of journalism, building critical thinking and writing skills.
The application deadline to sign up is today, January 29, and we are welcoming to all Bronx high school students ages 14-18. Classes are held each Thursday (minus holidays) from February 5 until the middle of May at Hostos Community College. The program involves attending the workshop, taking a field trip and learning about the world of journalism as a tool to spark awareness. Students spend several weeks working on a newspaper assignment that's then published in the Norwood News, which produces 15,000 copies and it's read by nearly 40,000 readers.
We really encourage parents and teachers to push students with an interest in writing to join Bronx Youth Heard. There is so much to learn.

By KIMBERLY C. JACOBS
As one of the busiest shopping corridors in the Bronx, the Jerome-Gun Hill Business Improvement District in Norwood is an attractive area for vendors, both licensed and unlicensed, to set up pop-up businesses on the sidewalk.

By David Cruz
The relatively dormant winter is slated to unleash a record snowstorm along the tri-state area, and the Bronx is no exception.  Read more
The latest digital edition of the Norwood News is now available to read and share with your friends. Check it out via your smartphone or the convenience of your home.
Our second edition of the year features surprising news from developer Mark Stagg, owner of The Stagg Group. The cat was let out of the bag this week when we learned the large-scale developer recently  purchased a trio of new properties along Webster Avenue, complementing the other three Stagg properties slated to open. Find out which deeds Stagg took over along the burgeoning corridor The Stagg Group has purchased and what the going price was.
Other stories include a disturbing discovery of a New Jersey man found dead inside the trunk of his car at a quiet street in Norwood, problem vendors along the Jerome-Gun Hill Business Improvement District, a new HIV/AIDS campaign courtesy of the Department of Health and an editorial on the legal loopholes behind the Right to Know bill. We also profile our neighbors in Kingsbridge, exploring the neighborhood's Business Improvement District and its lone and multi-tasking executive director.
Other hallmarks of the Norwood News are also featured, including the Inquiring Photographer and Out & About sections.
So read up the Norwood News. If you want to get your hands on a free copy just stop by one of 300 locations across the northwest Bronx. Enjoy!
The Norwood News runs the Bronx Youth Heard (formerly known as the Bronx Youth Journalism Initiative), a free after-school journalism program for Bronx high school students. There are two sessions each school year: one in the fall and another in the spring.
We are currently accepting applications for our winter/spring 2015 semester, which is scheduled to start on Thursday, February 5.  Classes are held at Hostos Community College, 450 Grand Concourse, on Thursday afternoons from 4 to 6:00p.m., and run for 12 weeks.
Students learn the fundamentals of writing, reporting, and photojournalism through classroom instruction and hands-on reporting in their own neighborhoods. We take them on field trips – including the newsroom of a daily newspaper. They learn about community activism and civic responsibility, how their neighborhoods work (or don't), who has power, who doesn't and why. Guest speakers include public figures in the Bronx and professional journalists. Student work is published in a special youth supplement called Bronx Youth Heard, which appears in the Norwood News, giving youth a powerful voice in their own communities. Students who complete the course will receive a recommendation letter from our program coordinator. Depending on the school's policy, there's also the possibility of students earning class credit. We are looking for students of all academic abilities, but they should be highly motivated, love to write, be naturally inquisitive, and care about what's going on in their communities.
To apply,click here and download the application form or fill it out online here. On a separate piece of paper, please also tell us about yourself, your academic and extra-curricular interests, and why you are applying to this program. Your essay should be at least 400 words long and must be typed. Mail your completed application form and essay to Bronx Youth Heard, c/o Norwood News, 3400 Reservoir Oval East, Bronx, NY 10467. Or fax to (718) 324-2917. The application deadline is Wednesday, January 29.
The program was founded in 2008. To read about an earlier semester, and students' experiences, here's an article that appeared in City Limits. And here's an article that appeared in DNAinfo. The program is currently being funded through the city's Department of Youth and Community Development thanks to the support of local Councilman Fernando Cabrera. Bronx Youth Heard is also supported by Hostos Community College's College Now program. For more information, please call David Cruz at (718) 324-4998, or e-mail bronxyouthheard@gmail.com.

Property owners make its second major purchase along desirable corridor
By DAVID CRUZ
The large-scale developer building up Webster Avenue has purchased another chunk of property along the burgeoning corridor. Read more


The award-winning Bronx community newspaper the Norwood News is now accepting applications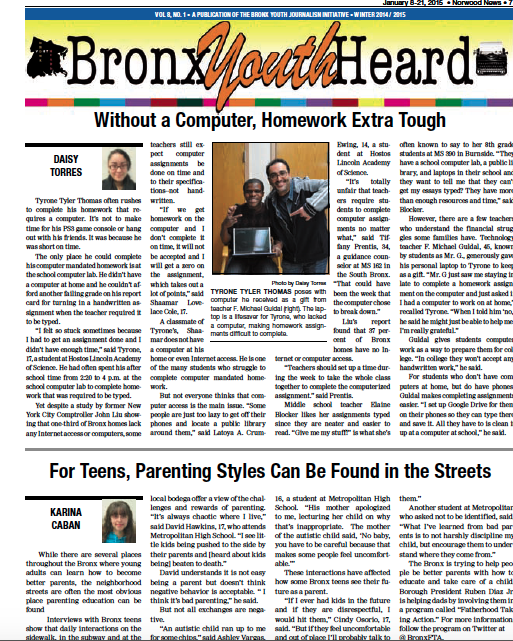 for the spring semester of Bronx Youth Heard, an after-school journalism program for high school students. The program is free and open to any high school student who lives or goes to school in the Bronx.
Throughout the course of the semester, students learn the fundamentals of writing, reporting, and photojournalism through classroom instruction and hands-on reporting in their own neighborhoods. They learn about community activism and civic responsibility, how their neighborhoods work (or don't), who has power, who doesn't and why. We take them on field trips and bring in guest speakers, including working journalists and public figures.
Best of all, at the end of the course, student work is published in a special youth-focused newspaper called Bronx Youth Heard, which appears in 15,000 copies of the Norwood News, giving youth a powerful voice in their own communities—not to mention a newspaper clip to add to their portfolios and college applications. Students will get paid for their published work and we will reimburse for MTA travel.
You can see a copy of Bronx Youth Heard, produced by students enrolled in the fall 2014 semester, here http://bit.ly/BYHPublishedJan2015. Also included is a flier and application form, which students should fill out and submit along with a typed, 400-word essay. In their essays, students should tell us about their academic and extra-curricular activities, which explain why they're applying to the program and what they hope to get out of it. We're looking for students of all academic abilities, but they should be highly motivated, love to write, be naturally curious, and care about what's going on in their communities.
Applications and essays can be submitted online at http://bit.ly/BYHSpring2015.Or sent to: Bronx Youth Heard, c/o Norwood News, 3400 Reservoir Oval East, Bronx, NY 10467. The information can also be emailed to bronxyouthheard@gmail.com.
The Deadline for applying is Thursday, January 29. Classes begin on Thursday, February 5, and are held every Thursday afternoon for 12 weeks from 4 to 6 p.m. at Hostos Community College, located at 450 Grand Concourse. If you have any questions, please feel free to reach David Cruz, editor-in-chief of the Norwood News at (718) 324-4998 or bronxyouthheard@gmail.com. If you'd like to be informed about future semesters, please email as well.
by Ruben Diaz Jr., Bronx Borough President
The people of the United States have stood strong with the people of Israel from the day that country was founded in 1947. As the only democracy in the Middle East, and as our key ally in the fight against terrorism, Israel holds a special place in the hearts and minds of Americans. This is especially true in New York City, which has shared a unique and significant relationship with the Jewish people and the state of Israel for decades.  Read more

by David Greene and David Cruz 
The 52nd Precinct's first reported homicide of the year may have taken place elsewhere.  Read more

By David Cruz 
In its first meeting of 2015, the Civilian Complaint Review Board revealed it was formally reprimanding seven officers from the 52nd Precinct while already punishing two officers in 2014. Some misconduct included excessive force and abuse of authority, said officials.  Read more
by David Greene
Bronx detectives are awaiting the autopsy report after the death of an eight-month-old infant who died Tuesday evening in Norwood.
Police officers from the 52nd Precinct and members of EMS were called to the building at 409 E. 204th St. at 5:21 p.m. on Jan. 13.
NYPD spokeswoman, Detective Annette Markowsi said Wednesday that eight-month-old was "discovered unconscious and unresponsive."
One witness, a resident of the block who declined to be identified, recalled, "The paramedic came running out of the building with the baby in his arms. The baby looked blue in the face."
The witness watched as a police car led the way and a second patrol car followed the ambulance for the half mile drive to Montefiore Hospital, where the child was pronounced dead upon arrival.
Markowsi said the infant had not yet been identified and showed, "no apparent signs of trauma." She added that detectives were waiting for the medical examiner's autopsy report to determine if the cause of death was accidental.
Residents said that the building near Webster Avenue provides permanent housing to former homeless families and the mother has not lived in the building very long.
The unidentified grandmother who opened the door to the apartment that had a "Happy Birthday" decoration across it, recalled, "Basically what happened was she rolled over on her stomach and her face was down in the crib and she suffocated."
by David Cruz 
The Norwood News is putting its aggregator cap on to bring you Bronx News Roundup, a collection of some of the stories Bronx journalists around the borough are working on.
First up, in light of the freezing temps we've been feeling around the borough lately, News 12 The Bronx is reporting on sub-zero conditions at International Leadership Charter School that's compounded by a running air conditioner.
Over in Hunts Point, food workers are threatening to walk off the job at the Hunts Point Produce Market if they're denied a $5 raise, reports the Daily News.
Winnie Hu of the New York Times profiles the borough's first-ever senior center specific for lesbian, gay, bisexual and transgender people.
A report by Scouting NY calls the 180th street subway station the prettiest throughout the city.
Gary Axelbank of BronxTalk speaks with some no-nonsense activists in the Woodlawn section.
And the 49th Precinct in the East Bronx paid its respects to the December killing of two Brooklyn cops with a vigil.
If you're in the northwest Bronx, take a walk to one of 300 locations to pick up your free copy of the Norwood News. Or you could just read it from the comfort of your computer or smart phone. We're excited to publish the first edition of 2015, loaded with local news, a New Years editorial and our ever-popular Out & About and Neighborhood Notes section.
We're also proud to host Bob Kappstatter, a guest contributor for the newspaper, who drafted our lead story–year-end crime stats for the 52nd Precinct. Stats show the precinct is headed in a better direction.
We're also proud to present the 2015 edition of Bronx Youth Heard, a special section of the Norwood News, where several students from Bronx high schools were taught basic journalism skills. Their work is presented in four pages of intriguing stories ranging from computer-mandated homework, teens coping with depression and a cell phone ban that's soon to be lifted in schools.  We're so proud of the work these students accomplished this year. Worth the read.
So there you have it, this edition's news-filled publication of the Norwood News. One item before we close: we want 2015 to be the year letters to the editor return, so please send your letters to dcruz@norwoodnews.org. The maximum number of words per letter is 300. Thanks and enjoy reading!
By David Greene 
Two police officers are recovering and two suspects are now in custody after the plain clothes officers from the 46th Precinct approached a pair of suspects wanted for an armed robbery.  Read more

By BOB KAPPSTATTER 
The year 2014 was one of pluses and minuses for the 52nd Precinct. But its commanding officer isn't complaining–or relaxing. Read more
by David Greene
New Year's morning saw the second homicide in the borough happening the quietest of places.  Read more
By DAVID GREENE 
This week we asked readers their thoughts on the recent protests for NYPD reforms and what they think demonstrators are trying to achieve.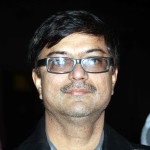 I think it's horrible. These [police officers] are innocent people. If you want to do it, do non-violent protests. I'm from India and the father of our nation, Mahatma Gandhi, got independence from non-violent protests. Like Martin Luther King, he followed the steps of Gandhi. The Justice Department is investigating and they will analyze what happened to Eric Garner and Michael Brown and will take whatever steps need to be taken.–Mohammad Ziauddin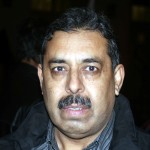 I support the protests as long as they're peaceful and as long as it's to further their goal, not to take the law into their own hands, but to express their feelings as long as they do it in a peaceful manner. The way things are going now, I believe this campaign has been hijacked by a couple of guys who don't want them [the protesters] to get to where they really want to go.–Kahalid Khan
I believe that you have a right to do what you need to do when you see injustice, but that doesn't reflect the vastness of good men and women in law enforcement who get up every day and wear the uniform and shield and protect and serve our community.–Kenny Agosto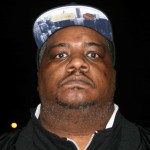 I hope the protesters can achieve what they want, what we all want–an end to violence against black men and all police brutality in general. They need to stop arguing with the cops and try and get the message across without the arguing. And stop calling these cops names. Understand this, every cop is not guilty for what happened to Eric Garner and Mike Brown.
–Jonathan Cain
I'm hoping the protesters will bring awareness of what's happening across the nation and that will bring people, especially our elected officials, to start a conversation on how to fix this broken system because it's not working the way it is. The mayor has only sat down with one organization so far, and he needs to sit down with everyone.–Quase Beasley

By DAVID CRUZ
Behind the holiday lights strung throughout four commercial strips, a blueprint for bolstering economic fervor along a major thoroughfare, and a revamped Norwood News, the Mosholu Preservation Corporation (MPC) has overseen it all. And that's just in 2014. Read more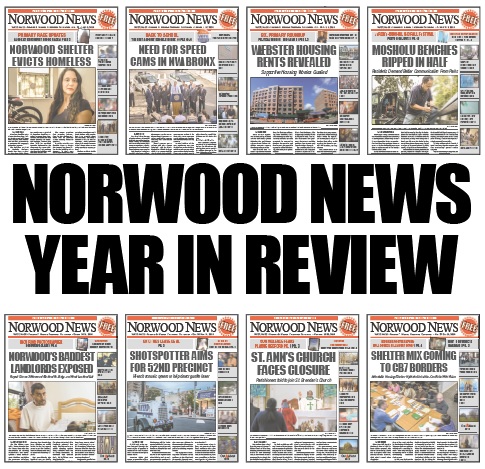 By HAYLEY CAMACHO
The northwest Bronx has seen quite a batch of news stories that have gripped, intrigued and caused quite a stir during 2014. The Norwood News tracked many of these stories this year, and in some cases, broken them. As part of a yearly tradition, we look back at some of the top stories of 2014.  Read more

by David Cruz 
A push for calm in the aftermath of two cops fatally shot in Brooklyn has reverberated in the Bronx, with legislators siding with Mayor Bill de Blasio's stance for unity following weeks of tensions and strained relations.
In Kingsbridge Heights, legislators and residents stood outside the 50th Precinct, pushing for a more tempered city two days after Police Officers Rafael Ramos and Wenjian Liu were gunned down by Ismaaiyl Brinsley,  a mentally ill Baltimore man bent on killing police officers. Brinsley would later kill himself while on the platform of a subway station. Read more
by David Cruz 
Hector Aponte, the long serving Bronx Commissioner for the New York City Department of Parks & Recreation, is slated to retire. The agency confirmed to the Norwood News of Mr. Aponte leaving office after spending ten years as Bronx parks chief. It's unclear when Mr. Aponte's retire date is effective.
Mr. Aponte, who grew up in the Bronx, was appointed by Mayor Michael Bloomberg to serve as the Bronx Parks Commissioner. His first year in the Bronx came amid the early construction phase of the Croton Water Filtration Plan in Van Cortlandt Village, a massive water project tied to a $200 million spending pot for Bronx parks. But under Mr. Aponte's leadership, a fraction of the money was spent.
Mr. Aponte began working for the Parks Department in 1995, holding various positions that included Parks Manager for Manhattan from 1995 to 2003. He had a brief tenure as Chief of Operations in Staten Island before returning to his home borough.
It's unclear who will succeed Mr. Aponte. The Bronx is home to the most parkland than the rest of the city.