by David Greene
They're standing up to violence.
Residents of Williamsbridge and Wakefield joined in solidarity with representatives of several local officials from across the borough for Stand Up to Violence (SUV), an anti-crime demonstration at the site of a recent shooting where a bullet grazed a child.
Nearly two dozen people fed up with the senseless violence that has plagued the north Bronx recently gathered outside of the Corner Street Deli at White Plains Road and 226th Street on Tuesday, August 26. The message was simple: take back the streets.
Using a bullhorn to deliver his message to the community, Pastor Jay Gooding of the Fellowship Tabernacle Ministries on East Gun Hill Road sounded the alarm over this year's wave of violence.
"We want to let this community know, no longer will we stand by while innocent babies are killed and our young people are shot down," said Gooding.
Gooding, flanked by supporters, turned it to Joe Thompson, another seasoned community leader, telling passersby that "we will never stand by while any child is injured because of gun violence."
"The most important thing we have is our children," said Thompson, as a handful of demonstrators held signs reading "Don't shoot, I want to grow up."
Thompson heads the 49th Precinct Community Council, a neighboring precinct that abuts the 47th Precinct, a stationhouse that responded to the latest shooting. The bullet grazed a three-year-old child on Saturday, August 23, though cops say he was not seriously injured. So far crime within that precinct has spiked, largely from its increase in gun violence, with at least 55% more people hit by a bullet this year when compared to the same time last year.
And while major crimes including robbery, grand larceny and felony assaults have ticked down, murder rose dramatically, prompting the Four-Seven to change tactics. City Councilmen Andy King, Ritchie Torres and Andy Cohen, who all represent portions of the north Bronx, have since sent a letter to NYPD Commissioner Bill Bratton requesting One Police Plaza incorporate the Shotspotter program to the precinct. The initiative pinpoints the origin of gunfire.
Another measure brought about by Albany was the introduction of SNUG, which has formerly incarcerated gang members quelling any potential tensions that could erupt in gun violence. More recently, an initiative pushed by Bronx Borough President Ruben Diaz Jr., which places gun offenders on a registry list, has been embraced by Councilman Ritchie Torres.
Brian Millford, a community resident and official representing Councilman Andy King's office still worries for his little brother, offering "I don't want him fearing for his life as he goes to school every morning."
by David Cruz 
The Norwood News has been anticipating this moment for quite some time, waiting for the perfect moment to re-introduce the newspaper to the readers, and it's finally here…the new Norwood News. Same news spirit. Fresh new look. In it you'll find an entire color page full of news stories impacting the community, and familiar features the Norwood News has ran for years, including Inquiring Photographer with David Greene, Business Beat, Be Healthy (fascinating piece on the 10-year separation procedure of conjoined twins), and Judy Noy's Out & About. They're complemented with a new feature dubbed Norwood News Online, a collection of news stories you'll only find on www.norwoodnews.org.
Making the news this edition is the eviction for 13 homeless families housed in a cluster site on Mosholu Parkway. Check out Imani Hall's piece on what tenants, both homeless and renters, have to say about the changes. Also, read all about a trio of thieves on the loose in the northwest section of the Bronx, robbing the elderly.
Also, we want as much feedback as possible so we urge you to email David Cruz, the editor-in-chief of the Norwood News, at dcruz@norwoodnews.org. So check out the digital edition of the Norwood News. We want your thoughts so please send them on our. Welcome to the new Norwood News.
by David Cruz 
In a case that's stretches back to 2006, thousands of Bronx tenants will begin settling their legal matters with a shady landlord who attempted to drive them out of their rent-regulated apartments in order to raise rents.
An informational meeting is slated for August 14 in Harlem for locals affected by the Pinnacle Group, the owner of nearly five-dozen buildings in the Bronx. Tenants impacted by the group between 2004 and 2010 will gather Aug. 14 at 6:30 p.m. at I.S. 172 in Harlem to understand the terms of the settlement ad how to file a claim.
Despite notices sent out to thousands of tenants, Kim Powell of Buyers & Renters United to Save Harlem, a tenants rights group, said she doesn't trust Pinnacle to have done so.
The Pinnacle Group agreed to a settlement last year, with tenants able to file claims to recoup monetary losses that ranged from time spent taking on Pinnacle to making repairs to their home to avoid eviction. Roughly $2 million has also been earmarked for attorney fees. The Legal Aid Society has agreed to aid tenants understand any legal challenges.
The case stretches back to 2006 after an investigative series by the Norwood News revealed the Pinnacle Group used questionable tactic against neighbors living in Pinnacle's collection of properties in the northwest Bronx and parts of Harlem. Powell claims amenities such as heat and hot water were turned off as a way to force tenants out, while also withholding the processing of on-time rent checks.
Powell's group later filed the class action suit that alleged Pinnacle committed conspiratorial acts to oust tenants. Pinnacle's reach was wide in the northwest Bronx, with the property group in charge of five-dozen properties in Melrose to Fieldston.

By David Cruz
National Night Out Against Crime serves as a promotional outreach event humanizing police, while forging a better bond between community and police.
At the 52nd Precinct, as in most precincts throughout the city for the past 31 years, National Night Out Against Crime drew officers out of their regular patrol and to Williamsbridge Oval Park. There they gathered with community members who took advantage of giveaways, music, and free food and backpacks all while mingling with officers. Read more

by David Greene
The northwest Bronx has a lot less graffiti, and at no expense to the taxpayer! Read more

by David Greene 
Three men are in custody after an early morning break-in at a Norwood laundromat–and cops say the trio is suspected in 33 similar jobs from Manhattan to Westchester.
Residents say a small army of police on the ground and a helicopter overhead, converged on the Spin City Laundromat at 345 East 204 Street at just before 3 a.m. on Thursday, July 30.
One police source told the Norwood News, "We responded to a burglary here last night. It was apart of a pattern-crime (and) who were responsible for 33 similar break-in's from Yonkers to Manhattan."
The officer smiled before adding, "And we arrested them last night."
The thieves apparently only targeted the store's Automated Teller Machine, which they cleaned out all of it's $10 bills. The burglars also removed the surveillance camera tapes from inside Spin City.
The owner of Spin City, who purchased the popular business three months ago and who declined to be identified, recalled, "I came to open the store this morning and found police here waiting for me."
The owner said the perpetrators created a 2-foot hole in the back of the store, where he claimed the previous owner had cheaply boarded up a window.
A second police source stated that the trio arrested had been under surveillance and police pinged the suspects phone at the time of their arrest, while the most recent crime was being committed.
Police charged Miguel Rodriguez, 34, of Beekman Avenue in Sleepy Hollow, N.Y.; Juan Perez-Porter, 41, of nearby University Avenue and Porsirio Sanchez-Javier, no address give– so far all three have only been charged with burglary and criminal mischief in the latest crime.
Officially, the NYPD could not yet comment on any additional charges or pending cases against the three suspects.
Customers at Spin City were turned away for much of the day, while one angry customer argued with police about not being able to get his clothes.
"You're not getting your clothes, it's a crime-scene," one detective told the agitated customer, who abruptly walked off.
A longtime worker at Spin City said as she watched police inside the store, "I don't want people to be scared to come here, I want the people to come back."
The day was a double-win for local cops as members of the 52nd Community Affairs, the 52 Precinct Auxiliary and members of it's Crime Prevention Unit were on hand removing graffiti along Jerome Avenue.
By Brittney Williams
Hundreds of residents from the Bedford Park, Fordham, Kingsbridge, Norwood and University Heights will converge at the Williamsbridge Oval in its yearly call against criminals.
The annual National Night Out Against Crime takes place on Tuesday, August 5 at the Williamsbridge Oval Park from 5 to 8 p.m. The night offers a varied mix of activities for children and families such as face painting and bouncing houses. Backpacks and other school supplies are also given out to children to help prepare them for the upcoming school year.
The event was founded in the early 1980s, serving as a way to bring the community together and open up communication about safety issues in the neighborhood. Every year, police officers talk with community members and offer advice on how to stay safe. Information from local community groups is also given out to keep the public aware of matters affecting Bronxites.
Adaline Walker-Santiago, the Chairperson of Bronx Community Board 7 will be setting up a table to inform people about how important the police are in the community.
"I think it's important to see the police as community-friendly. It shows the police are here for the community and they are supported," said Walker-Santiago.
This year, the 52nd Precinct has something to celebrate—lower crime than last year. CrimeStats show major crime dropped .8 percent this year, with murder taking a dip the most. This year there were three murders, compared to five at the same time last year. But hurting the Five-Two's numbers was an increase in rape and burglary, which went up 11 percent and 9 percent respectively.
Well, here it is–the latest edition of the Norwood News is out with pages of intriguing news coverage and a special announcement for readers. First up, the Norwood News continues its coverage of the Kingsbridge Armory and some bad luck for merchants who face a massive rent hike come August. We explore just what transpired at an emergency meeting hosted by Community Board 7.
Our next story is pretty endearing for us, and will receive plenty of promotion in the coming four weeks as we enter the annual Norwood News hiatus. In August we'll unveil a brand new look to the Norwood News that will serve as a new chapter in this great community newspaper's history. More announcements on this change will come.
We also take a look at what's happening on the jobs front, the business front with our Business Beat column and the health front with Be Healthy. So if you have several minutes stop by at one of our over 200 locations in the northwest Bronx, and please feel free to call the paper at 718-324-4998 to share some thoughts. Until next month!

Serial Groper Still on the Run
Police in the 47th Precinct are still on the hunt for a serial groper wanted in nine separate attacks on females between the ages of 12 and 21 in Wakefield, Edenwald, Williamsbridge and Eastchester. His crimes stretch back to the beginning of the year. Read more
The latest of the Norwood News is out, found at nearly 200 locations throughout the northwest Bronx. Here we highlight several stories worth reading:
First up, the fate of the Shrine of St. Ann's Church on Bainbridge Avenue is up in the air following a financial review by the Archdiocese. Our own Pamela Segura followed that story.
We also take you to Fordham and a lobby newsstand allegedly forced to withdraw from its coffee sales after a Starbucks opens in the same building. Check out what the coffee giant had to say about the move.
And finally, we offer readers one of our photo spreads highlighting some key moments during the first annual Family Fitness Fun event that happened at the Williamsbridge Oval.
So sit back, grab that cup of coffee and read up on what's happening in the northwest Bronx with the latest digital edition of the Norwood News. 

by David Greene 
The Bronx could not escape a series of shootings that happened throughout the city, with the borough's only weekend shooting happening in Kingsbridge.  Read more

The Norwood News is once again proud to present the latest edition of Bronx Youth Heard, a special publication reported, researched and written solely by Bronx high school students. The students were part of a 12-week program that exposed them to the basics of journalism, the mechanics of writing and the empowerment of civic mindedness. Our instructor, Katina Paron, worked closely to harness their talents, which are here for Norwood News readers to see. Before we close, we want to thank several folks: Councilman Fernando Cabrera and former Councilman Joel Rivera for allocating the funds needed to keep the program running, Hostos Community College for offering us the space free of charge, the Mosholu Preservation Corporation for allowing the Norwood News to produce the publication, and lastly the students for producing fine content. So take a look at what some of our student journalists have written and post your thoughts!
Confessions of Teenage Shopaholics: Reporter Shanna-Kay Griffiths explores teens use of money, and the compulsions all teens face when confronted with the latest sneakers or the flashiest hair styles. Read all about it here. 
Memorial Tees Sweep Bronx Schools: How do you memorialize a love one? In this story by reporter Liz Guevara, teens have shown love and support in creative ways, namely so-called memorial T-shirts that pay tribute to those who've passed. Read Liz's story, and who she spoke to here.
Hunts Point In The Spotlight: With crime a major problem in the Hunts Point neighborhood of the Bronx, some building owners have decided to shine light on the issue by hoisting several floodlights atop their buildings. Reporter Jacqueline Ortiz explores speaks to neighbors who weigh in on the move. Read all about it here.
And that's the latest edition of Bronx Youth Heard. Be sure to check back in a few months for the next edition produced by some young fine writers in the Bronx. If you have a candidate you feel works for the program, email David Cruz at dcruz@norwoodnews.org or call 718-324-4998.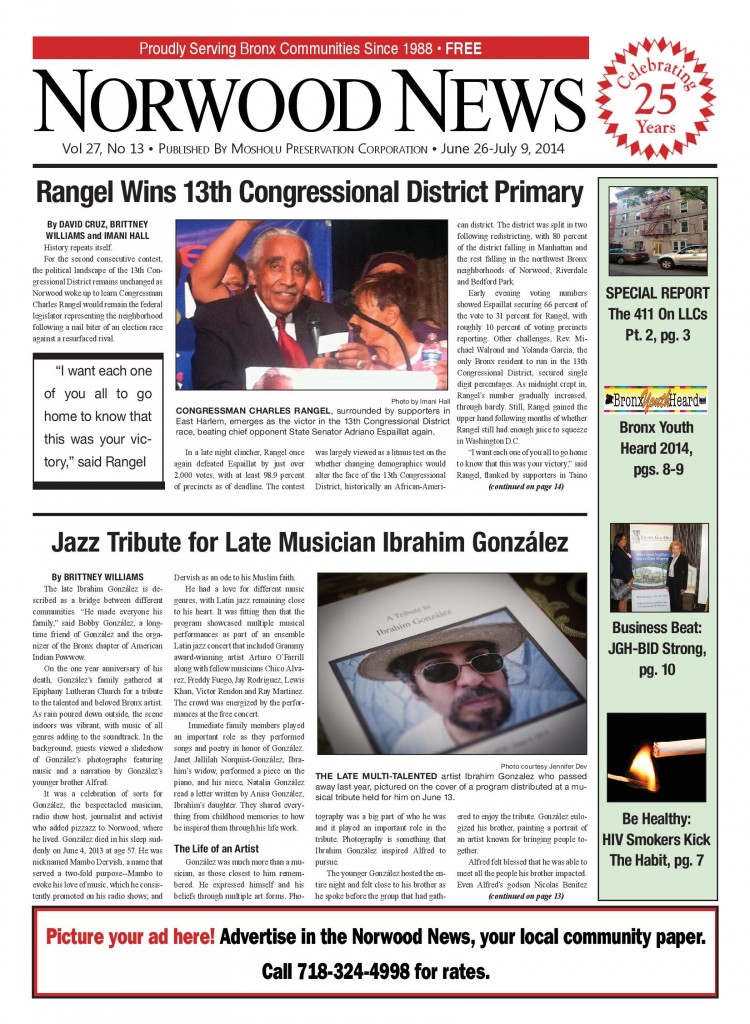 by David Cruz 
The Norwood News is out with its latest digital edition. It's also hit the nearly 200 locations Bronxites can go to read up on what's happening in the northwest Bronx. As usual, we have our own teaser for you to enjoy: First up, the big news in the Bronx political sphere is Congressman Charles Rangel securing a 23rd term as a member of the U.S. House of Representatives. Find out what his chief rival, State Senator Adriano Espaillat, has to say about the vote count. Coverage was largely due in part to our reporters Imani Hall and Brittney Williams.
Next, check out a moving jazz tribute to the late Ibrahim Gonzalez.
And finally, as has been the case for the past seven years, the Norwood News is proud to announce the latest edition of Bronx Youth Heard, authored by Bronx high school students over the winter and spring. Very intriguing pieces from the eyes of our youth.
So tell your friends, acquaintances and new friends about the latest edition of the Norwood News and send thoughts to editor-in-chief David Cruz at dcruz@norwoodnews.org.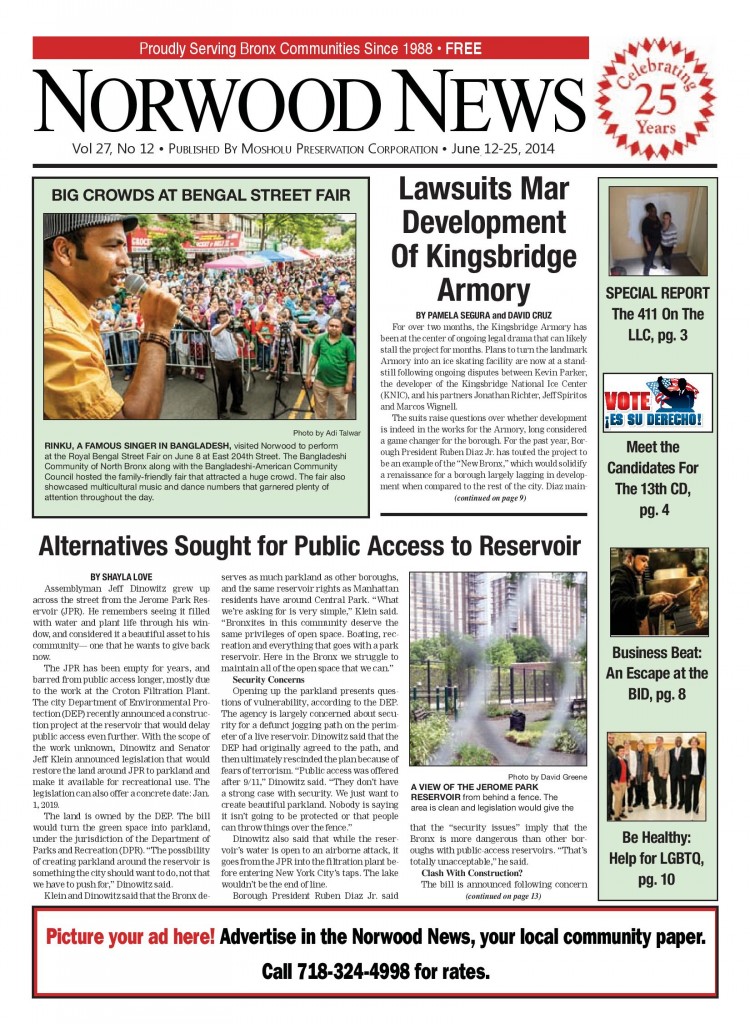 Major projects are in focus in the latest digital edition of the Norwood News. First up, trouble at the Kingsbridge Armory, slated to become a mega-ice skating rink. Infighting has caused delays for the landmark castle. We hear from both sides.
Several blocks away, legislators look to grant public access to Jerome Reservoir Park, long closed following construction of the Croton Water Filtration Plant. We find out how lawmakers intend to open the park for recreation.
The latest edition also explores the nature of limited liability corporations and loopholes exploited when managing a building. And finally, meet the candidates in the closely watched 13th Congressional District race!
So check out the latest edition of the Norwood News, also distributed at nearly 200 locations in the northwest Bronx.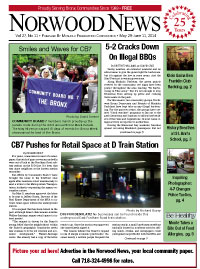 The latest edition of the Norwood News is out at nearly 200 locations in the northwest Bronx. You can find them at local diners, stores along Jerome Avenue and other neighborhood spots. For this edition we focus on the long-time issue that's irked plenty of Norwoodians: barbecuing at parks. The 52nd Precinct is now on the lookout, spotting any violators with help from neighbors.
Our other top story focuses on the Fordham Road B/D subway station and Community Board 7′s effort to push for retail space. Read up over the Board's attempts to make it happen.
Inside you can read up on so-called "swipers" lurking around train stations, a wax museum come to life at a local catholic school and a new food allergy center at Montefiore Medical Center.
So check out the latest edition, leave comments or send them directly to David Cruz at dcruz@norwoodnews.org.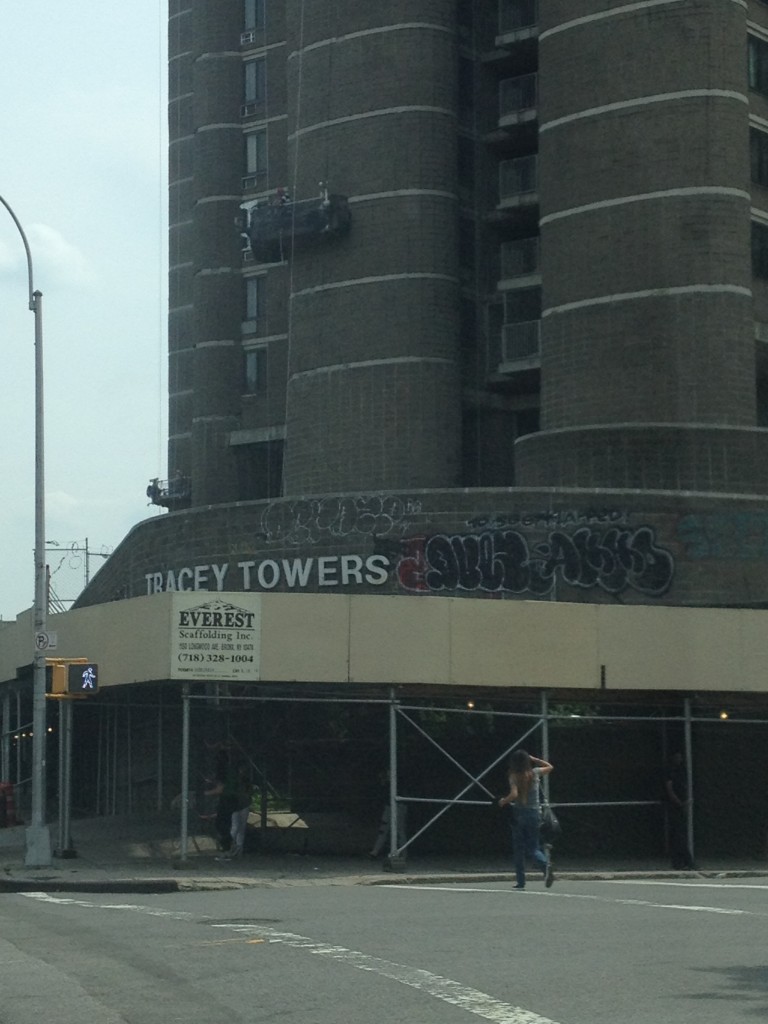 Tracey Towers, the futuristic-esque high-rise at Jerome Avenue and the Grand Concourse, was marred with cryptic graffiti (the only legible word seen is "AMMO") in early May. The Norwood News received several phone calls from several angry neighbors about this latest vandalism. Police at the 52nd Precinct advise to call the stationhouse at (718) 220-5811. Readers can also forward fresh pictures of graffiti to David Cruz at dcruz@norwoodnews.org.
Photo by David Cruz
Editor's Pick
MMC Hosts Health Fair
Montefiore Medical Center will host a community health fair, June 1 from noon to 4 p.m. on East 210th Street from Bainbridge to Steuben avenues. The event is to increase awareness about healthy living in the Bronx with activities including exercise classes, cooking demonstrations, health screenings, music, games, giveaways and more. For more information, visit www.montefiore.org.
The Bronx Puerto Rican Day kicks off at 11am at the Grand Concourse, marching from 192nd Street to Van Cortlandt Avenue East. Rain or shine.
By Brittney Williams and David Cruz 
Sunny weather, an extended weekend and no school seem to give the green light for barbecues, but it's against the law in some areas. And the 52nd Precinct is warning everyone. Read more
by David Greene
The spate of gun violence in the northwest portion of the Bronx has compelled officers at one 47th Precinct to change tactics as a fresh batch of new recruits heads to the precinct.  Read more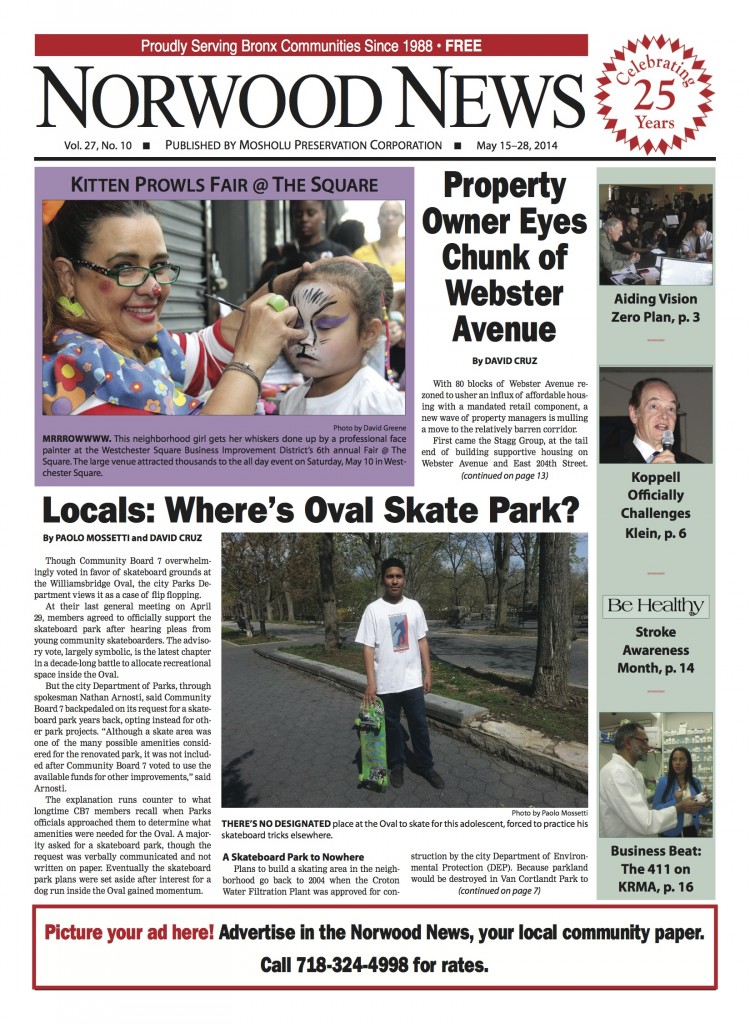 The latest edition of the Norwood News is out, available at 192 locations throughout the northwest Bronx. Stop by any diner, post office, and stores along Jerome Avenue to pick up your copy. The edition explores several interesting stories happening in the northwest Bronx nabe. First, interest on the ever-changing Webster Avenue is brewing, with one developer eyeing a chunk of occupied properties. This latest development comes on the heels of the Stagg Group at the tail end of construction on two supportive housing sites there.
Next, a burning question looms in Norwood: What happened to the the Williamsbridge Oval skateboard park? Plans were somehow underway and sizzled. We find out what happened.
And finally, Bronx Week is in full swing and we have you covered on some free events happening in the area. So grab a cup of coffee and explore what's happening in your neighborhood with the latest edition of the Norwood News.
by David Cruz 
Police from the 52nd Precinct are turning to the public for a missing person's case involving a client at Jewish Home Lifecare.
Jessie Thompson, a 96-year-old woman, was last seen leaving the campus at 100 West Kingsbridge Road just before noon on May 4. Police released video showing Thompson speaking to the bus driver of an M100 buss  at 125th Street and St. Nicholas Avenue in Harlem before boarding and taking a ride.
Police describe Thompson as a petite black woman, 5 ' 4″ weighing 120 lbs, last seen wearing a black jacket, brown pants and a black hat with white flowers.
The Jewish Home Lifecare offers in-service and out-service care for its clients. It's part of a network of other senior centers that's been around for 160 years.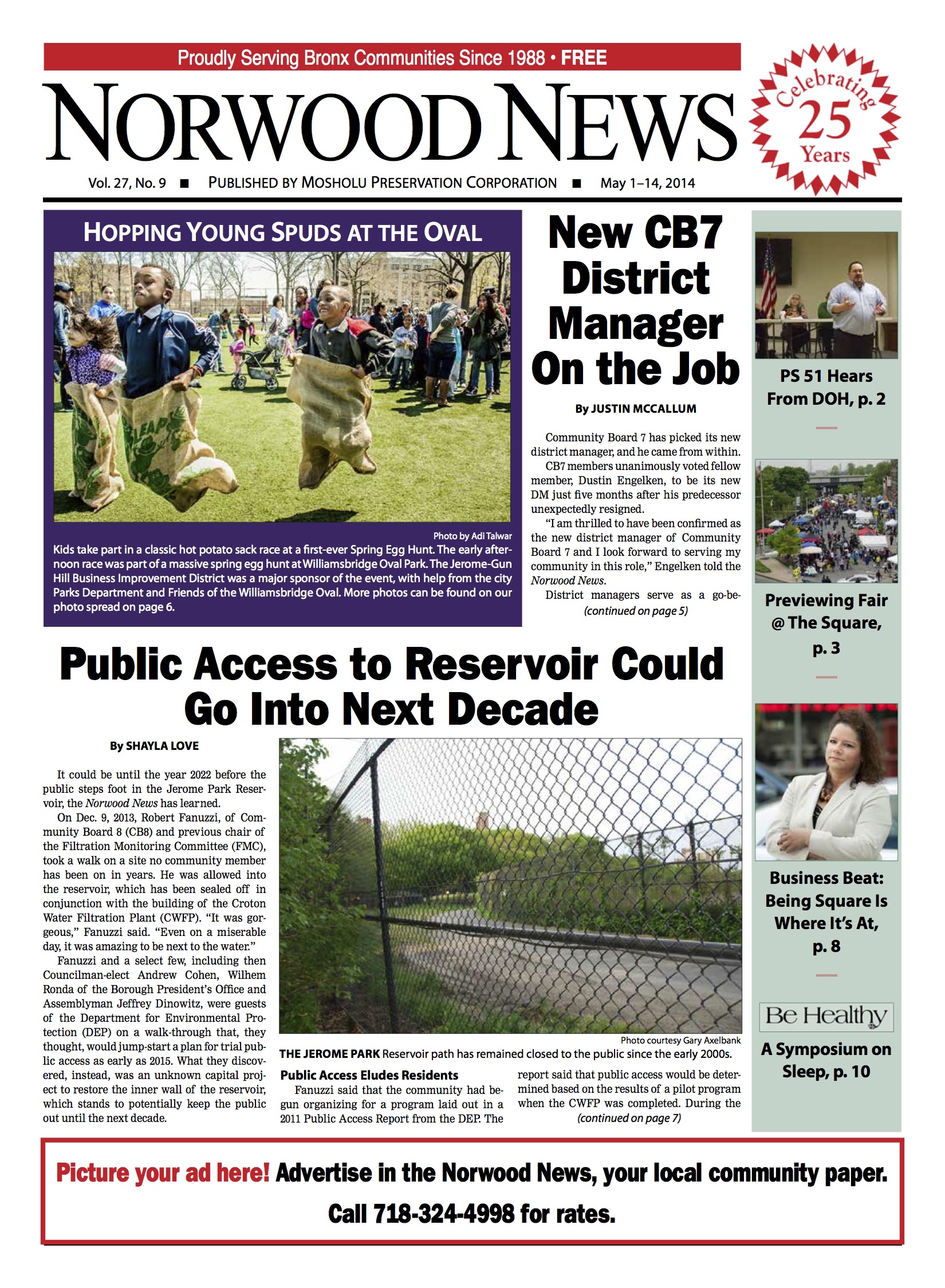 by David Cruz, Editor-in-Chief 
With the northwest Bronx springing with plenty of good causes, there is so much to write about for the latest edition of the Norwood News. The big story is the election of a new district manager for Community Board 7, a post left vacant for the past five months. Read up who members voted on, or you can read the story online. Our other story focuses on the never-ending construction of the troubled Croton Water Filtration Plant. New stuff to report, courtesy of reporter Shayla Love.
Speaking of online news consumption, the Norwood News has a new feature we've debuted: Norwood News Online, a collection of stories you will only find on our website, www.norwoodnews.org. Worth a look. Last but not least, the Norwood News looks at what our neighbors in Westchester Square are up to. Lots of interesting things going on there.
So there you have it. Plenty of cool stuff to read about up here in the Norwood area and its surrounding communities. So spread the word on the Norwood News, and if you know anyone interested in advertising in our paper, have them call 718-324-4998.
By Justin McCallum
Community Board 7 has picked its new district manager, and he came from within. Read more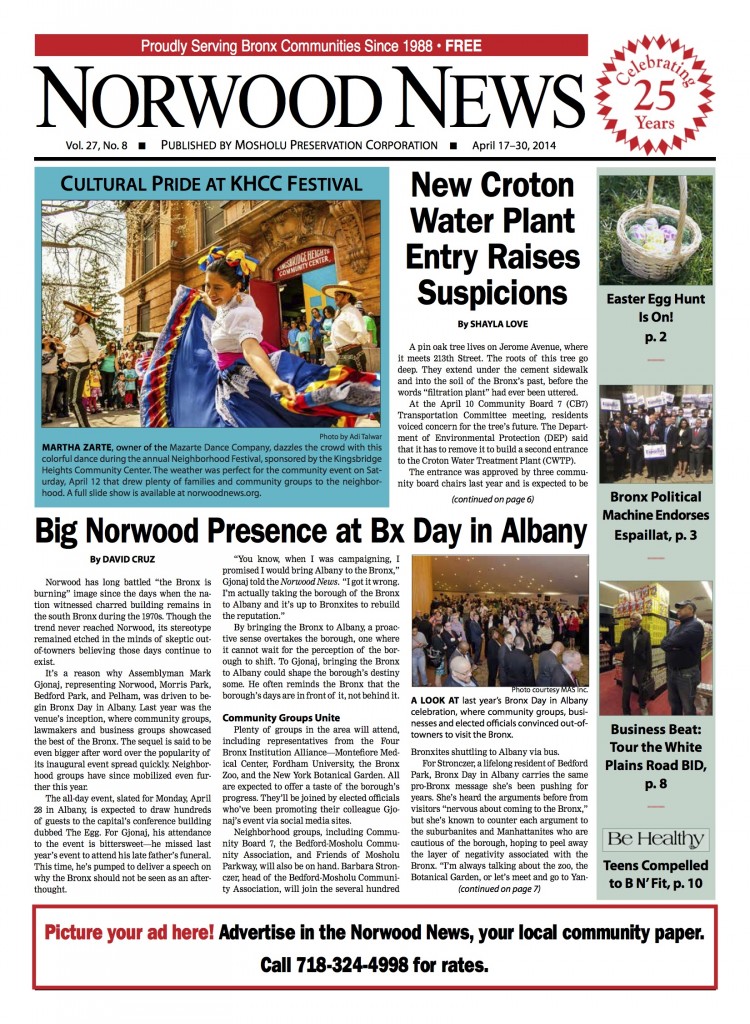 Has two weeks passed already!?! In the interim, the Norwood News gathered several noteworthy news items that makes up this latest edition. Inside you will find several interesting top stories on the Croton Water Filtration Plant and the impending Bronx Day in Albany that will spark a conversation. Check out our In The Public Interest, Inquiring Photographer, Out & About, Neighborhood Notes and our Business Beat. This time we took a trip to Pelham Parkway to spotlight the White Plains Road Business Improvement District, making great strides.
So spread the word on the Norwood News, and view the digital edition. Also, if you know anyone interested in spreading their brand, have them give us a call at 718-324-4998. So enjoy this latest edition!
By David Cruz 
They poured into Community Board 7's headquarters on April 3, frustrated and searching for answers. But they've only arrived at one conclusion—the crime and disrepair at 2922 Grand Concourse is deliberate, and it's okay with management. Read more
by David Cruz
Norwood residents woke up early this morning to find several cars smashed on Parkside Place, a quiet street running parallel from Webster Avenue.
The vandalism, first reported by News 12 the Bronx, happened during the overnight hours. Neighbors found front bumpers torn, glass on the floor and in one case tires slashed. Debris was found strewn about the hilly street. Car vandalism is commonplace in Norwood, according to neighbors.
Police are investigating.
by David Cruz
Three staffers for Councilwoman Maria del Carmen Arroyo have been arrested on charges of forging signatures during last year's petition gathering .
The story, first appearing in the New York Daily News, comes nearly a year after it was discovered the trio of staffers–Betty Julien, Elbin Lopez and Luis Vargas–allegedly wrote mock signatures that included known public figures Derek Jeter and Kate Moss.
Arroyo, distancing herself from her accused staffers, denied having known about the collusion at a Board of Elections hearing last year. The three stand to face upwards to seven years in prison if convicted.
Arroyo was unable to be reached at press time.
by David Cruz 
Police in the 52nd Precinct have closed the case on a four-month-old fatal shooting of a 17-year-old in Bedford Park. Cops have charged 19-year-old Hector Bueno of Norwood in the fatal shooting Michael Beltre, shot in the face while running errands.  Beltre had arrived from the Dominican Republic two years prior with his family, settling in the Tremont neighborhood with his family.
He was killed in front of 2622 Jerome Avenue, just several blocks from the Kingsbridge Armory and across the street from St. James Park. The area, a mix of stores and residential apartment buildings, is normally bustling during the daylight hours. Evening hours often attract prostitution along neighboring Davison Avenue and drug deal in St. James Park.
According to police, Beltre spoke to two assailants, Bueno being one of them, when Beltre was shot in the face. Beltre and his assailant soon fled as police and paramedics rushed to the scene. Beltre was bussed to St. Barnabas where he died from his gunshot wound.
Bueno faces several charges, including 2nd degree murder, manslaughter, and other gun-related charges. It's unclear whether the gun Bueno allegedly carried was registered.
By JUSTIN MCCALLUM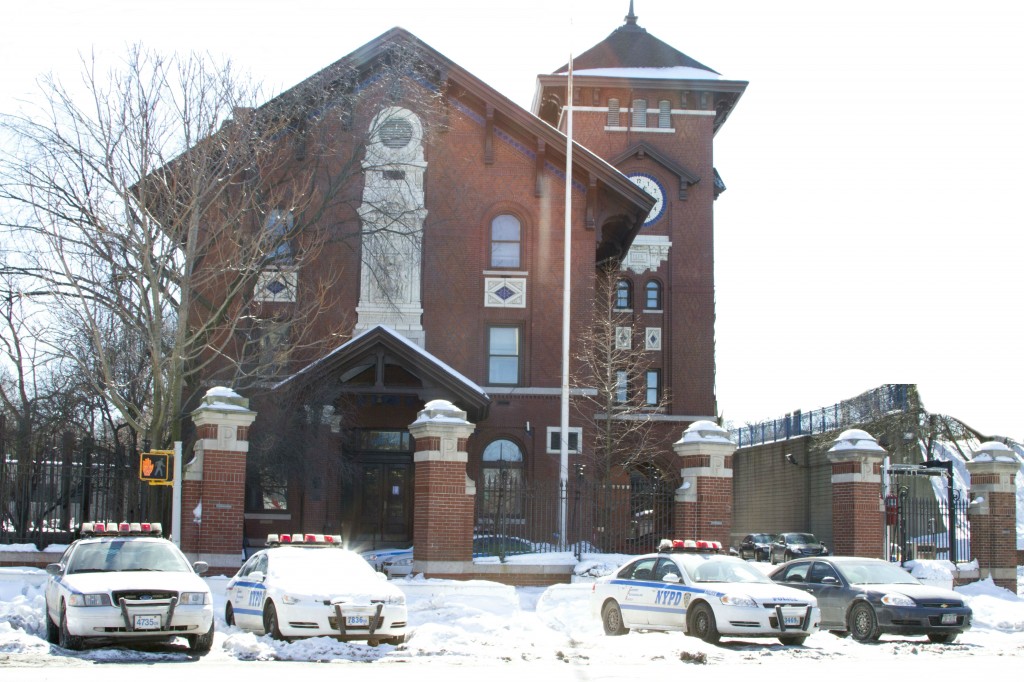 To curb major crime and increase community engagement, the 52nd Precinct is ushering in new reinforcements—the public.
Inspector Nilda Hofmann, commanding officer of the Five-Two, recently announced the formation of a local block watch association, intended for the community to "be the eyes and ears for the police department."  But the program somewhat deviates from normal block associations, which often involve residents physically patrolling the area.  Instead, residents will undergo a NYPD-sponsored training session, learning how to properly report a crime.
Hofmann explained that the program is designed to make citizens more aware of their surroundings and give them the tools to effectively and accurately report crimes to a tip line. When calling the police, members of the anti-crime group will utilize a specially designated, anonymous ID number to tell police the caller is credible. "We hope that this program provides more credible information based on what our volunteers will be seeing and hearing in their respective neighborhoods," Hofmann said. Read more
by David Cruz
Mayor Bill de Blasio promised, and now he's delivered.
In what was a major campaign pledge during de Blasio's road to Gracie Mansion, the city will now settle two class-action lawsuits over the constitutionality of stop-and-frisk, a decision that sends ripples through a public that grew distant from the police.
The controversial practice had for years eroded relationships between police and minority communities, with Bronxites claiming it was an intentional form of racial profiling. The lawsuits— Floyd v. City of New York and Ligon v. City of New York— Read more
by David Cruz, Editor-in-Chief 
Stop, Question and Frisk Appeal Dropped
Mayor Bill deBlasio promised, and now he's delivered.  In what was a major campaign promise during deBlasio's road to Gracie Mansion, the city has now dropped its appeal in two-class action lawsuits over the constitutionality of stop-question-and-frisk, preferring to settle the case entirely.  The controversial policy, which for years created a divide between the police and Bronx minority men and women, will now be overseen by a court-appointed monitor, under the terms settled between the city and several Bronx plaintiffs who were stopped, questioned and frisked by police.  Mayor deBlasio called his decision a "defining moment for millions of our families, especially those with young men of color."  Borough President Ruben Diaz Jr., whose borough showed the second highest number of stop, question and frisk incidents in the city, said the policy had "driven a wedge between the police and our communities…"  He hopes the move will now create an atmosphere where people are treated respectfully.  The now previous Bloomberg Administration was adamant in reversing federal judge Shira A. Scheindlin's decision when the case worked its way in Federal District Court, citing that the law violated the 4th and 14th Amendment to the Constitution.  Whether this shift in tone will promote a friendlier relationship between police and public remains to be seen, though supporters of stop-question-and-frisk maintain the law could seriously compromise safety in the city.  Police Benevolent Association President Patrick Lynch blasted the decision, suggesting the process would hinder officers from doing its job.  "Our goal is to continue to be involved in the process in order to give voice to our members and to make every effort to ensure that their rights are protected," said Lynch.
Copycat Thief
The Five-Two's on the hunt for a thief who struck twice in Kingsbridge this month, making off with hundreds of dollars in valuables.  The suspect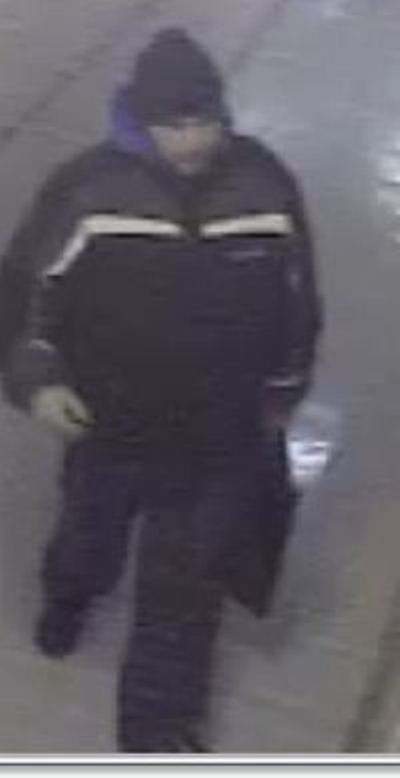 first broke into an apartment on Bailey Avenue on Thursday, January 16 during broad daylight, stealing jewelry, cash and several Apple products.  He struck again just a week later, copying the same steps as the previous crime by breaking into an apartment building during broad daylight and stealing jewelry, cash and several Apple products.  Thankfully, no one was injured.  Surveillance video captured a picture of the suspect for the dual burglaries–a Hispanic man in his 40s, standing at 5' 9" tall with a medium build.  He was seen wearing the same black hat, black and grey jacket with a white stripe and black sneakers.  The public is asked to call Crime Stoppers at 1-800-577-TIPS (8477) or submit tips by logging onto the Crime Stoppers website at www.nypdcrimestoppers.com or by texting their tips to 274637 (CRIMES) then enter TIP577.
Pickpocket Mommy on the Loose
A snatch and grab thief, who took her baby along, is still out there, and police at the Five-Two need your help in tracking her.  The thief, rolling a
baby stroller, unsuspectingly robbed someone of their wallet as the victim waited on line inside a Burger King at 215 Fordham Road on January 4th at noon.  The suspect came from behind and slowly lifted the wallet from the victim's purse, making off with $80 and various credit cards.  Surveillance video caught the thief in action.  Anyone with information is asked to call Crime Stoppers at 800-577-TIPS.
Prowler Itching To Burglarize
The 52nd Precinct's are on the lookout for a burglar with a penchant to sneak in apartment buildings and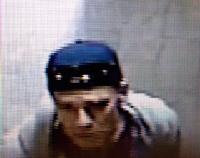 make off with property.  Police say the crook's been at it since November, with reports he broke into an apartment near Morris Avenue on November 4th only to walk away empty-handed.  He got even more brazen on November 14th during a daylight burglary hit, walking into the front door of a Grand Concourse home and stealing a laptop.  Police are asking anyone with information to call Crime Stoppers.
Catalytic Converter Crooks
An unusual crime is happening right underneath your car, and police at the Five-Two are warning you about it.  Reports have spiked throughout the city over the theft of catalytic converters, mechanized car filters composed of a mix of precious metals that often include platinum, rhodium and palladium.  Thieves often scope out cars that have been left in isolated areas for a prolonged time, and once the coast is clear they duck to the bottom of the car.  Using a battery saw, the thief can cut the converter in less than a minute and make off with the piece.  Cars without a converter tend to gravely roar when it starts.  Precious metals are in high demand these days, which often run upwards to $150 should a theft sell the metal to a scrap yard.  Police departments are issuing crackdowns by heading to junk shops to ensure owners ask for ID to anyone bringing a converter.  They also warn drivers to move their car periodically to prevent the thief from getting the upper hand.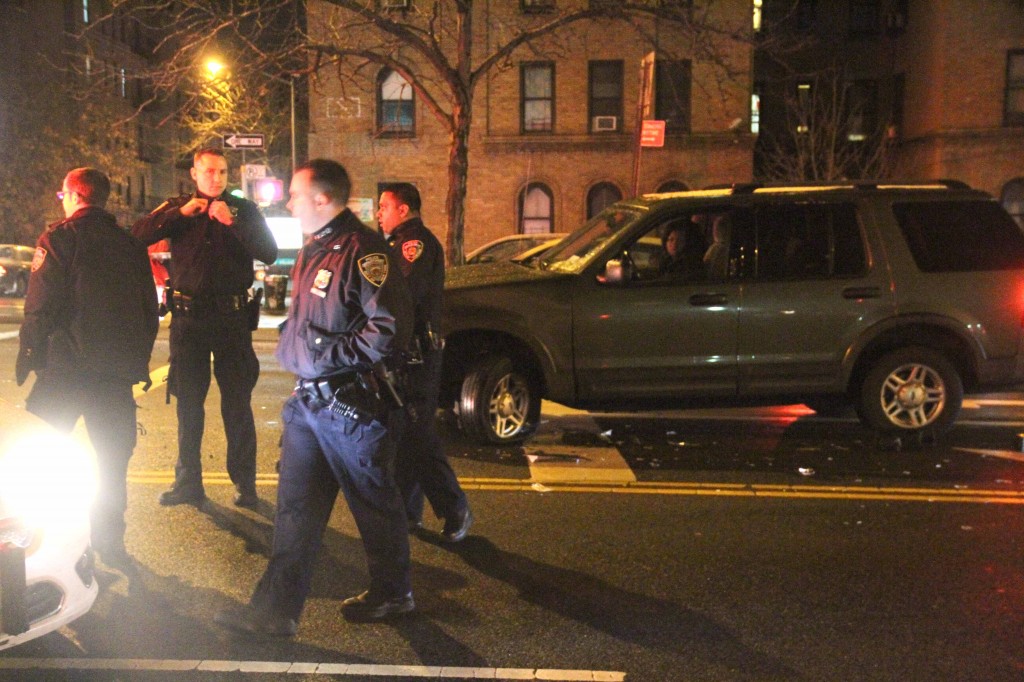 Police survey the latest crash on the Grand Concourse this past Christmas Eve.
Photo by David Greene
by David Greene
For the second time in less than 24-hours a person getting ready for Christmas was struck by a vehicle along the Grand Concourse.
In the latest incident an unidentified woman was crossing the lengthy thoroughfare at E. 196 Street just before 8pm on Christmas Eve when one SUV slammed into another at the intersection, causing the second car to ram the victim.   She was rushed to St. Barnabas Hospital and was expected to recover.  Both drivers stuck around as accident investigators processed the scene.
One man, who did not give his name, observed police at the scene, later commenting that drivers often "lose the message" during the holiday season.  "The message is not about pushing and driving like a maniac," said the man.
Just 24 hours before, another pedestrian crossing Grand Concourse and Bedford Park Boulevard was hit as they were crossing the street.  Sources have reported that the victim died of their injuries at St. Barnabas Hospital, but it was not immediately confirmed.
by David Cruz 
Hearings are in the works over the NYPD Crime Map, the newly released digital map pinpointing where crime has occurred. The map was born out of a years-long investigation from the Norwood News, which inspired recently enacted legislation.
Michael Beltre, a 17-year-old high school student who recently moved to the Bronx from the Dominican Republic, was murdered last night in front of 2622 Jerome Ave. just after 7 p.m. Police say Beltre was shot in the face and transported to St. Barnabas Hospital, where he was pronounced dead on arrival.
According to the Daily News, Beltre told his mother an hour before he was shot that he was heading out to run errands. Police said Beltre was casually speaking to one or two people on the street before one of them pulled out a gun and blasted Beltre in the face.
Beltre was killed on a shady stretch of Jerome Avenue, between Kingsbridge Road and the north end of St. James Park. Residents of the area often complain of drug dealing and prostitution. Gun violence is not uncommon around St. James, despite heavy usage of the park by residents.
The mood was bittersweet last week as Inspector Joseph Dowling tearfully removed his 52nd Precinct Commanding Officer's pin and handed it off to Nilda Hofmann, a hometown girl who grew up in the community she will now oversee.
Although there will be a transition period, Hofmann, commander of the 25th Precinct in Harlem for the past three years, now takes over a bustling precinct that covers the neighborhoods of Bedford Park, Fordham, Kingsbridge, Norwood and University Heights.
After a little more than two and a half years at the helm of the 52nd Precinct, Dowling is moving on to a position with the Bronx Borough Patrol.
Dowling replaced former commander John D'Adamo who abruptly left after a series of scandals, including an incident involving his wife lying to authorities and his name coming up in the Bronx ticket-fixing scandal. D'Adamo was never charged with any wrongdoing, but left after less than 17 months on the job. Typically, commanding officers serve between two to four years at a precinct. They are rotated frequently to avoid corruption and stagnation.

Above is a link to an interview with me, Bronx Youth Heard Director and Norwood News Editor Alex Kratz, and Lehman High School student Adonis Jimenez for a Bronx 2.0 segment that aired on Bronxnet in February. Everything I talk about in that segment remains true. Bronx Youth Heard is a fantastic program for students interested in journalism or who love to write or who want to have impact on their communities and think (like we do) that journalism is a way to make that happen.
We recently decided to extend the application deadline to Friday, October 4, which pushes our start date to Thursday, Oct. 10, so there is still plenty of to apply. [Click here to download your application now!]
This is an intensive, rewarding and fun experience that doesn't cost a dime. The picture below is about half of our class from last semester. Don't they look they're having a good time?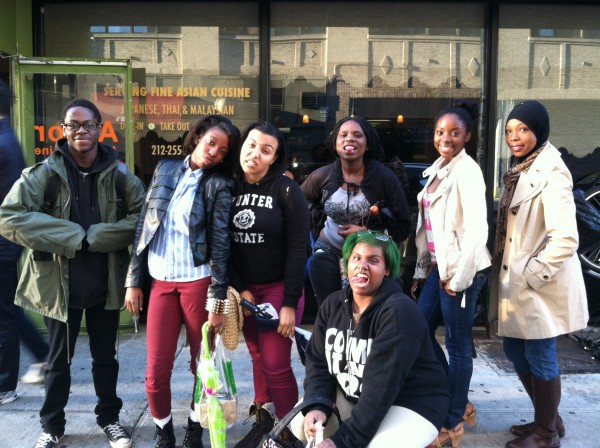 We'll teach you how to be a journalist and challenge you to put those skills to the test. In the end, we want you to be published in a newspaper that is read by an estimated 37,500 people in the Bronx. That's something you can be proud of and show to college recruiters.
If you're interested and have Thursdays, from 4 to 6:15 p.m. open, don't hesitate, act now and apply today. The application deadline is now Friday, October 4.
Here's a link to more information about the program and how to apply.
If you have any questions, you can email us, or give us a call at (718) 324-4998.
By Alex Kratz
Inspector Joseph Dowling is moving on from his post as commander of the Bronx's 52nd Precinct. But first, he will introduce his replacement, Nilda Hofmann, at tonight's Precinct Community Council meeting at St. James Episcopal Church (2500 Jerome Ave., across the street from Monroe College), which starts at 7 p.m.
Dowling's departure falls right into the traditional window of two to three years that NYPD commanders stay at a given precinct — the general idea being that short-term stints will limit the possibility of corruption or stagnation. Dowling took over in the Five-Two for John D'Adamo in March of 2011.
D'Adamo only lasted about 17 months in the position and was replaced by Dowling soon after D'Adamo's wife was caught lying to Clarkstown police officers about being the victim of a robbery. D'Adamo was also linked to (but never charged in) the Bronx ticket fixing scandal.
After replacing the charismatic D'Adamo, Dowling has quietly gone about his business — being visible and showing up to important meetings and events, working with other law enforcement agencies to make some big busts in high-crime areas and avoiding scandals.
By Natasha Rodriguez
The New York City Council overrode Mayor Michael Bloomberg's veto of the Community Safety Act last month, striking a massive blow to the New York Police Department's stop-and-frisk policy. Although the City Council had passed the Community Safety Act in June, both bills were vetoed by Bloomberg in July.
More than two years in the making, the Community Safety Act is comprised of two bills. The first, known as "The NYPD Inspector General" bill, will allow the commissioner of the Department of Investigation to appoint an Inspector General to oversee the NYPD's activities and policies.
The second bill, known as, the "Bias-Based Profiling Bill," will expand current anti-discrimination policy over the NYPD's stop-and-frisk procedure to protect everyone regardless of age, gender, immigration status, sexual orientation, disability, and housing status and would permit individuals to sue the NYPD in state court.
The Inspector General bill passed 39-10, and the anti-profiling bill passed 34-15. All Council members voted the same way they did in the first vote on June 26, though Council Members Peter Vallone and Dan Halloran were absent.
Are you a teen who loves to write? Are you interested in telling the stories of your community?
The Norwood News is running a free after-school journalism program for high school students.
Learn how to be a journalist, beef up your writing skills, build self-confidence and make a difference in your community!
The next semester starts on Sept. 26. Classes will be held at Hostos Community College at 450 Grand Concourse on Thursday afternoons from 4 to 6:15 p.m., and run for 12 weeks.
[Download the Application Now!]

During the semester, students learn the fundamentals of writing, reporting, and photojournalism through classroom instruction and hands-on reporting in their own neighborhoods. We take them on field trips – including inside a working newsroom. In addition to journalism skills, students will learn about community activism and civic responsibility, how their neighborhoods work (or don't), who has power, who doesn't and why. Guest speakers include working journalists and prominent local officials.
At the end of the semester, student work is published in a special youth supplement called Bronx Youth Heard, which appears in the Norwood News – giving youth a powerful voice in their own communities.
We are looking for students of all academic abilities, but they should be highly motivated, love to write, be naturally inquisitive, and care about what's going on in their communities.
The program was founded in 2008. To read about an earlier semester, and students' experiences, here's an article that appeared in City Limits. And here's a recent article that appeared in Bronx Ink.
Students who complete the course will receive a recommendation letter from our program coordinator. Depending on the school's policy, there's also the possibility of students earning class credit. Completing this class will look great on a college application or resume.
To apply, click here and download the application form. On a separate piece of paper, please also tell us about yourself, your academic and extra-curricular interests, and why you are applying to this program. Your essay should be around 400 words long and must be typed. Mail your completed application form and essay to Bronx Youth Heard, c/o Norwood News, 3400 Reservoir Oval East, Bronx, NY 10467. Or fax to (718) 324-2917. The application deadline is Monday, September 23, 2013 by midnight. You can also email your application materials to us, at bronxyouthheard@gmail.com.

For more information about the program, please call Alex Kratz at (718) 324-4998, or e-mail bronxyouthheard@gmail.com.
By Alex Kratz
A 53-year-old man who shot himself in chest inside the sanctuary at St. Brendan's Church in Norwood this morning is expected to survive, police said. The man, who wasn't recognized by church leaders as a member or frequent visitor, is sedated and being treated at St. Barnabas Hospital.
Inspector Joseph Dowling, the commander of the 52nd Precinct, said the man was discovered after shooting himself by two people who were coming into the sanctuary to pray. They alerted someone on the maintenance staff who called for an ambulance.
Dowling said investigators are wrapping up the crime scene at the church tonight and hope to learn more about the man's motives when he wakes up from being sedated, probably some time tomorrow. It appears the man turned a gun into his chest and fired. They are treating the case as a suicide attempt, he added.
He said they don't know the man's address and believe he may be homeless. Although the man did have an arrest history, Dowling said there wasn't  anything "major" on his record.
The church, one of the oldest and most storied in the Bronx, is planning to re-consecrate the sanctuary tomorrow during a ceremony, Dowling said.
In an unrelated incident, a non-fatal shooting on the corner of East 204th Street and Webster Avenue on Sunday afternoon, Dowling said they have identified a suspect and are in the process of tracking him down.
In ruling on two class-action lawsuits last week, federal Judge Shira Scheindlin blasted the New York City Police Department's rampant use of stop-and-frisk tactics as unconstitutional and appointed a federal monitor to oversee reform efforts — a move that several Bronx lawmakers supported and the mayor vehemently opposed.
Bronx Borough President Ruben Diaz Jr. called the ruling "a welcome step in the right direction," adding that while "stop-and- frisk can be an effective tool in reducing crime, it is not in its current form — which more often than not violates the constitutional rights of those stopped."
State Senator Gustavo Rivera said he hoped "the ruling will put an end to the discriminatory practices that have disproportionately violated the constitutional rights of thousands of minorities in New York."
Donna Lieberman, executive director of the New York Civil Liberties Union, addressed the victims, most of whom are minorities, directly, saying they "have become central players in cleaning up the program."
According to the NYCLU, the NYPD stopped and interrogated people 532,911 times in 2012, a 448 percent increase in street stops made during 2002. Nine out of 10 people stopped were not charged with any wrongdoing, and about 87 percent were African-American or Latino. White people accounted for about 10 percent of stops.
The Bronx Crime Report, published weekly on the Breaking Bronx blog, includes the latest crime-related stories from the borough and the latest crime statistics from each of the Bronx's precincts.
The Wanted
-The NYPD released a new video today of two suspects wanted for the murder of Candido Fernandez, 48, who was found around 6 p.m. Friday evening near Hoe Avenue in the Foxhurst section of the Bronx with a gunshot wound to the back of his head, ABC News reports. According to police, the shooter passed the gun to his accomplice before they both fled in opposite directions.
– Police are searching for a man who reportedly robbed a livery cab driver on the corner of East 176 Street and Crotona Avenue in the East Tremont section of the Bronx early Sunday morning, NY1 reports. According to detectives, the man got into the cab and pulled a gun on the driver, demanding money. After the driver gave him a couple hundred dollars in cash and his mobile phone, the suspect, five feet tall, five inches and 180 pounds with short black hair, ran away.
The Stories
-According to Bronx News 12, last night a Wakefield resident was stabbed in the hand at 1a.m. on 241st Street, the same spot where a 25-year-old man was shot and killed earlier this month. NYPD reports that felony assaults are up by 10-percent this year compared to 2012, and incidents of federal assaults, rape, and grand larceny have spiked in the 47th Precinct.
-NY1 reports that police have arrested Gerson Rodriguez, 33, for following a 73-year old woman into her apartment in the Melrose section of the Bronx Saturday night. Rodriguez, who attacked his victim as she was opening the door and forced his way into the apartment, is being charged with criminal sex act and burglary.
-A Manhattan Judge upheld four long prison sentences for four men arrested and charged in 2009 with plotting to bomb two synagogues in the Bronx and shoot down military cargo planes upstate, NY1 reports. James Cromitie, David Williams, Onta Williams, and Laguerre Payen, whose defense argued that the men were unfairly mislead by an FBI informant, were each convicted of conspiracy and sentenced to 25 years in prison.
-Bronx News 12 reports that 35-year-old Ibushio Sealey was found last night in at his apartment building at 2290 Andrews Avenue in University Heights with two gunshot wounds to his torso. The victim, who was rushed to Saint Barnabas Hospital, was pronounced dead upon arrival. No arrests have yet been made.
-An unidentified 55-year-old woman was found stabbed to death on the floor of a vacant apartment at East 187th Street in Belmont, ABC News reports. Police discovered the body on Wednesday at 5:45a.m. in a pool of blood, and said the victim, who lived several doors down on the third floor, may have been sexually assaulted before being fatally attacked. Investigators identified a second story roof which could have provided an escape root for the perpetrator.
The Stats
Find the latest crime statistics for your Bronx precinct here: 40th, 41st, 42nd , 43rd, 44th, 45th, 46th, 47th, 48th, 49th, 50th.
52nd Precinct Crime Statistics
The Bronx Crime Report, published weekly on the Breaking Bronx blog, includes the latest crime-related stories from the borough and the latest crime statistics from each of the Bronx's precincts.
The Wanted
Last Tuesday, a crime story came to the Norwood News.
During the middle of the day, just a little after 2:30 p.m., the man you see in the photo to the right walked into the Keeper's House, the historic three-story stone house on Reservoir Oval East where the Norwood News has its offices.
It was a busy day at the Keeper's House. In addition to the Norwood News, the house, which was converted into office space in the early 2000s, is home to Mosholu Preservation Corporation, the Jerome-Gun Hill Business Improvement District and Mosholu Montefiore Community Center's Out of School Time program. The house was teeming with young people from the Summer Youth Employment Program who were working in various capacities a different programs.
The suspect took advantage of this bustle, slipped into the house through the open front door and proceeded to search throughout the building for something to snatch. After looking around for about five minutes and a couple of awkward encounters with Norwood News interns, he left the building, apparently without taking anything.
Five minutes later, he returned, marched straight into one of the Norwood News offices — there are three offices in the suite the NN operates out of, he went into one of two that was unoccupied at the time — and removed a Cannon Rebel T3I camera straight from the bag of an NN intern who was out getting lunch. Video recordings, which captured most of his movements in the Keeper's House, show him casually walking out with the camera in his hand and then strolling east on Reservoir Oval.
Thanks to the police department for emailing this information out. We hope this individual is caught and the camera is recovered.
If anyone has information about this suspect, please call the NYPD's Crime Stoppers Hotline at 800-577-TIPS. You can also submit tips by logging onto the Crime Stoppers Website at WWW.NYPDCRIMESTOPPERS.COM or texting tips to 274637(CRIMES) then enter TIP577. You can also call the Norwood News office, 718-324-4998.
Police Seek Pair in Sedgwick Avenue Shooting
Police are asking for the public's help in identifying two individuals, including one who fired several shots at a crowd of
people on the Morris Heights-Highbridge border.
According to officials, the incident took place at just before 1 a.m., outside of 1600 Sedgwick Ave. on Sunday, July 21, when the male fired three times into the crowd.
Police say the female then took the gun and the pair fled.
The duo are now wanted on reckless endangerment and weapons charges by detectives in the 46 Precinct. No one in the crowd was injured.
The gunman is described as a dark-skinned, heavy-set male wearing a black shirt with white design. His cohort appears to be a female Hispanic wearing a tank-top and shorts.
The Stories
– According to the New York Daily News, an armed man blasted his way through the locked door at a Bronx gas station to get his hands on the cash inside. The unidentified 6-foot-tall man approached a cashier pay window at the Eagle gas station on Webster Ave. near E. 181st St. in the West Bronx. He flashed a gun and told a worker on the other side of the window to fork over his cash, but the employee refused. A surveillance camera inside the station recorded the suspect firing a round into the door and then breaking through the splintered wood. He ran up to the register, emptied it and ran off, leaving the worker unharmed, officials said
– ABC News reports that police in the Bronx are looking for an armed man who robbed a Subway restaurant, and they are hoping a surveillance photo will lead to an arrest. Detectives say the suspect went into the restaurant on Broadway in the Kingsbridge section. He demanded cash and escaped with an unknown amount of money. No injuries were reported in the incident.
– Bronx News 12 reports that a police chase near City Island came to an end with a foot pursuit. Officers tried to pull over a car after allegedly seeing one of the two people inside with a gun. They say the vehicle ran multiple red lights and stop signs before crashing. Cops caught and arrested a 17-year-old who was in the passenger seat, but the driver is still on the loose.
– Police are looking for a Bronx man who allegedly brandished a knife and threatened a woman who caught him masturbating on a BX2 bus back on July 9, ABC News reports. The suspect fled the bus at the East 171st and Grand Concourse stop.
– Police are looking into the death of an unidentified woman at 2375 Southern Blvd. The woman was found early this morning in a third floor apartment, unresponsive and unconscious. She was pronounced dead at the scene. Police say they are continuing to investigate and waiting on the medical examiner to determine cause of death.
The Stats
Find the latest crime statistics for your Bronx precinct here: 40th, 41st, 42nd , 43rd, 44th, 45th, 46th, 47th, 48th, 49th, 50th.
52nd Precinct Crime Statistics
By Natasha Rodriguez
The Bronx Crime Report, published weekly on the Breaking Bronx blog, includes the latest crime-related stories from the borough and the latest crime statistics from each of the Bronx's precincts.
-The New York Daily News reported that a violent gunman shot and killed a 20-year-old man on a Bronx street corner Tuesday as the victim's stunned girlfriend stood nearby, family and police sources said. Police say the shooter opened fire on Oscar Araujo at the corner of Commonwealth Ave. and E. 172nd St. in the Parkchester area just after midnight. Araujo was shot in the head and died at the scene, officials said. The gunman remained at large Tuesday afternoon.
-A Bronx gang member was sentenced to seven years in prison Friday for his role in a horrific 2010 gay bashing attack, the New York Daily News reports. Nelson Falu was among eight members of the "Latin King Goonies" who tortured and beat two teenage boys and a 30-year-old man over the course of several hours in a Bronx home, while using anti-gay slurs. The cases against the other gang members are still pending.
-Police are investigating the death of a teenager who they said was severely beaten with a rock following a shooting in the Bronx, CBS News reports. Officers were called to East 222nd Street and Schiefflin Avenue at around 3 p.m. Monday where they found 17-year-old Antonio Lyles with severe head trauma.  He was taken to Jacobi Hospital in critical condition, where he  died Tuesday morning — nearly 12 hours after the beating. Two people have been arrested in connection with the teen's beating.
-According to CBS News, Rasheed Barton, 28, was shot and killed in the Bronx early Sunday, and police have been searching for the assailant. The shooting happened at 1:31 a.m. Sunday at 1379 Bronx River Ave. The victim was quarreling with the suspect, who pulled out a gun and shot him once each in the chest and buttocks. The victim was taken to St. Barnabas Hospital, where he was pronounced dead. The suspect is still at large.
-The New York Daily News reports that a Connecticut man was stabbed to death in the Bronx this weekend after he stepped into the middle of a vicious fight between two women, police and neighbors said. Ronis Garcia, 28, was at his friend's sixth-floor Bryant Ave. apartment in Hunts Point when one woman, believed to be Garcia's ex-wife, began brawling with another woman. As the dispute escalated, Garcia stepped in, only to get a knife jammed into his chest, cops said. Garcia was taken to Lincoln Hospital, where he was pronounced dead shortly after 7 a.m. Both women were arrested.
The Stats
Find the latest crime statistics for your Bronx precinct here: 40th, 41st, 42nd , 43rd, 44th, 45th, 46th, 47th, 48th, 49th, 50th.
52nd Precinct Crime Stats Through August 4, 2013
By Natasha Rodriguez
The Bronx Crime Report, published weekly on the Breaking Bronx blog, includes the latest crime-related stories from the borough and the latest crime statistics from each of the Bronx's precincts.
The Stories
– The New York Daily News reports that a brutal maniac raped and slashed a 26-year-old woman after holding a box cutter to her throat and dragging her to the roof of a Bronx building. The man grabbed the woman from behind on E. 193rd St. near Jerome Ave. in Fordham Manor just after midnight Saturday and forced her into a nearby building. He then pulled her up to the roof, where he raped her — callously slashing her in the right arm with the box cutter, the sources said. Paramedics rushed the woman to North Central Bronx Hospital with non-life-threatening injuries. Her attacker is still at large, officials said.
– According to CBS News, police are searching for a man wanted in connection with a robbery in the Bronx. According to police, on July 6 around 3 p.m., the suspect followed his victim into his apartment building on Boston Road near Southern Boulevard where the suspect flashed a gun and made off with the victim's iPhone and cash.The victim was not injured in the incident. Anyone with information in regards to this incident is asked to call Crime Stoppers at 1-800-577-TIPS (8477). The public can also submit tips by logging onto the Crime Stoppers website or by texting their tips to 274637 (CRIMES) then enter TIP577.
– Bronx News 12 reports that a cab driver is in the hospital after allegedly being stabbed and robbed by a passenger in Fordham. According to police, Luis Ferrierra stabbed the cabbie in the neck and torso at East Fordham Road and Marion Avenue Sunday night. The driver was severely wounded, but his current condition is not known. Ferrierra then stole the cab, officers say, but crashed into the wall of a retailer just a couple blocks away.The 22-year-old is facing multiple charges, including felony assault and robbery. Cops say the crime marks his eighth arrest this year.
– A 19-year-old Bronx resident was fatally shot around the corner from his home in the early morning hours late last week, Bronx News 12 reports. NYPD officers responded to a 911 call near the intersection of Creston Avenue and East 184th Street.There they found Kahleed Adams, who had been shot in the head, the hand and the back. Once emergency medical responders arrived, they pronounced him dead at the scene. Police have made no arrests, and the investigation is ongoing.
The Stats
Find the latest crime statistics for your Bronx precinct here: 40th, 41st, 42nd , 43rd, 44th, 45th, 46th, 47th, 48th, 49th, 50th.
52nd Precinct Crime Statistics
By Andrea Cetra and Natasha Rodriguez
First, we need to catch up on some of the Bronx stories we missed last week:

– NY1 reports that two men charged with a brutal anti-gay attack in October 2010 were sentenced last Monday. Daniel Rivera, a member of the "Latin King Goonies," who attacked and sodomized four men on Osborne Place in Morris Heights with a baseball bat and a plunger, was sentenced to 13 years in prison after pleading guilty to burglary charges. Elmer Confresi pleaded guilty to attempted gang assault and was sentenced to four years in prison and five years of probation. The remaining gang members have not yet been sentenced.
– Residents have expressed concern about a leaky tunnel on East 174 Street at the 174-175 Street B and D train station, Bronx News 12 reports. Community members are complaining of the tunnel's rusty beams, old chipping paint, dirty water, and crumbling walls. Sidney Flores, a local community activist who has been advocating for repairs since 2005, has started a petition, currently 800 signatures long, to have the tunnel fixed.
– The New York Daily News reports that a gunman blasted away at a group of men — sending two to the hospital — during a furious shooting in the Bronx, officials said Wednesday. Police said the two victims were hanging out in front of a bodega on Webb Ave. near Kingsbridge Rd. in Fordham Manor at 11:40 p.m. Sunday when a man dressed all in red, carrying a black plastic bag, walked by. A video released by police shows the man in red pulling a gun out of his bag and opening fire. The gunman was still at large last Wednesday. Anyone with information regarding his whereabouts is urged to come forward.
– The Board of Elections nullified more than 1,800 signatures that were collected by Bronx Council Member Maria Del Carmen Arroyo in her bid to maintain her South Bronx seat, The New York Daily News reports. The signatures invalidated by the Board of Elections were limited to those belonging to non-registered Democrats or non-residents of the district, which includes Hunts Point, Morrisania and parts of Highbridge. Yet the remaining signatures include likely fabrications such as Kate Moss and Derek Jeter. Arroyo must maintain at least 450 signed petitions to remain on the ballot for the Sept. 10 primary.
– NY1 reports that the Women's Housing and Economic Development Corporation (WHEDco), a nonprofit organization responsible for building and operating the South Bronx's Intervale Green, the largest green affordable housing development in the country, has begun a new fundraising effort to build a greenhouse atop an apartment building in the Crotona Park East section of the Bronx. WHEDco aims to raise $1,900 for the new initiative via $10 donations contributions to the organization's website: IOBY.org.
- -NY1 reports that MTA crews returned to clean up debris that has been falling for months from the 6 train overpass on Westchester Avenue in the Parkchester area of the Bronx. The MTA says it is working on the clean up but local residents and business owners expressed concern for their safety.
-On Monday, the five mayoral candidates sat in on a housing forum in the Morrisania section of the Bronx, Bronx News 12 reports. During the event, hosted by the Harlem Interfaith Commission for Housing Equality, candidates spoke briefly to local residents, although Anthony Weiner reportedly had the most floor time.
– The Riverdale Press reports that according to a study by the New York State Labor Department, the Bronx has the highest unemployment rate of any county in New York State despite an overall dip throughout the rest of the city. In June, the borough's unemployment rate was 11.8 percent which is down from last year's 14 percent rate, but residents said they are still struggling to make ends meet.
– Elderly residents at a Middletown Plaza senior housing facility are complaining about the New York City Housing Authority's failure to repair the security system in their 15-story, 40-year-old building, The New York Daily News reports. Several of the 185 residents claimed they have been awaiting the installation of closed-circuit cameras in hallways and outside in addition to patch-up repairs that have caused flooding in recent years and stalled elevator service. Yet, according to the NYCHA, plans are underway to finish the repairs.
– The Riverdale Press reports that Justin Fornal, 35, most known for playing his alter ego Baron Ambrosia on BronxNet and the Cooking Channel, finished swimming a seven and a half mile stretch of the Bronx River on Saturday. Fornal, who took on the challenge after learning that the Bronx Historical Society had no record of anyone swimming the distance, was given hepatitis A and tetanus shots before embarking on the 7-hour journey.
Here are the newer stories we're following today.  
– Bronx News 12 reports that mayoral candidate Bill Thompson paid a visit early Friday morning to Schuster Meat Corporation in the Hunts Point section of the Bronx during his 24-hour campaign tour. The factory, founded in 1941, sends out 20,000 pounds of meat per day to clientele.
– 14-year-old Shaaliver Douse was shot at 3 a.m. Sunday morning at the intersection of East 151 Street and Courtlandt Avenue in Melrose by a rookie police officer, NY1 reports. Police say the teenager fired a gun at a male standing across the street and, after being told my police officers to drop his weapon, was shot in the left jaw and pronounced dead at the scene. Douse had previously charged with attempted murder of a 15-year-old, although the charges were dropped.
– City Council Speaker and mayoral candidate Christine Quinn, who has been criticized in the past for her power to allocate discretionary funds, has allocated $50,000 to the Throgs Necks Volunteer Ambulance Corp,s which was on the verge of closure, the New York Daily News reports. The service formerly relied upon contributions from local residents and politicians to operate.
-The Bronx Times reports that District 13 Council member James Vacca responded to a neighbor's complaint that nearly six-feet of debris was collecting at a  home at 3669 East Tremont Avenue in Throgs Neck. The Council member's efforts led to the issuing of a Stop Work order at the site, where interior demolition was underway without a permit.
– Fatherhood will be the theme of the Bronx Documentary Center's upcoming film festival, which will run from August 8-11, Bronx News 12 reports.  The non-profit gallery and educational visitor space located in the Melrose section of the Bronx was founded in 2011 by New York Times photographer, Michael Kamber and Danielle Jackson, a former photo director for Magnum Photos New York. Click for more information.
-Here's an update on last week's story: The New York Daily News now reports that Bronx Council member Maria Del Carmen Arroyo has admitted that the signatures on her ballot from stars such as Derek Jeter and Kate Moss were false. The Board of Elections determined that 1,800 of the signatures were invalid but the council member is still well above the 450 required to get on the ballot. Arroyo has filed a complaint with the District Attorney's office against her staff workers, Elbin Lopez, Luis Vargas, and Betty Julien, who she claims are responsible for the forgeries. Arroyo later admitted her nephew, Richard Izquierdo Arroyo, who recently served 10 months in jail for embezzling $200,000 from an Arroyo-supported non-profit, had played a large role in the petition process.  Arroyo insists she will remain on the ballot.
That's your news roundup for today. We'll be back tomorrow with the Bronx Crime Report. 
By Hugh Thornhill
The Bronx Crime Report, which includes the latest crime-related stories in the borough and the latest statistics for every Bronx precinct, is published weekly on Breaking Bronx.
The Stories
– Cab driver Moises Martinez, 52, was arrested and being held without bail for allegedly strangling his NYPD employee
girlfriend on Monday. Police say Yajaira Reyes was found in a trash can inside the couple's Walton Ave. apartment by police on Sunday after Martinez aroused their suspicion by parking his livery cab on the sidewalk in front of the building, the Daily News reports.
Our David Greene has more:
Officially, the NYPD has offered no motive in the killing, however, one police source maintained that investigators believe jealousy was the reason for the killing.
The medical examiner was expected to conduct an autopsy on Monday that would determine Reyes' cause of death. Those results may not be available for several days.
Neighbors say the couple was raising four children together. Published reports have said the children were on vacation with relatives in Florida at the time of the slaying.
Martinez was immediately taken into custody and charged with murder and manslaughter.
Reyes, an immigrant from Guatemala, had been a part-time NYPD traffic agent for the better part of the past year.
As Martinez was being led away in handcuffs, the suspect looked straight into the lenses of several photographers until one asked, "Why'd you do it?" The suspect then looked away as he was placed into an unmarked car and seconds later, buried his face in his lap as he was transported to central booking for his arraignment.
Citing an unnamed police source, both Eyewitness News and 1010 WINS reported that Martinez had confessed to the gruesome crime at the scene.
An employee at the Diplo First Class Car Service on Jerome Avenue in Bedford Park, where Martinez worked, said, "He was a quiet guy, but got along with everybody." The company says it currently employs 300 workers.

– According to Eyewitness News, Police are currently are hoping to catch a man who sexually assaulted a 63-year old woman in Soundview at around 5 a.m. on June 30 . The suspect grabbed the woman from behind, threw her on the ground, and then assaulted her before running off.
– According to a Daily News article, young Mexican-born Bronx activist, Marco Saavedra, has been locked up in an immigration detention facility in Arizona after protesting U.S. deportation policy. He has been living in the U.S. illegally since he was 3, and may not be able to return back to the city if deported.
– A driver who allegedly hit a man in the Bronx on Sunday was arrested when he returned to the scene after initially fleeing, NBC New York reports. Officials say that the 19-year old victim who was hit on Baychester Avenue at 3 a.m. is currently in stable condition.
– Police released a picture of 19-year old Jafar "Jaffy" Borden, who allegedly shot three people in the Bronx, NY1 reports. Police say that Borden fired multiple shots on Holland Avenue on July 9, wounding three teenagers. All three have recovered from their wounds and have been released from the hospital. Police are still searching Borden.
– A 12-year-old boy got his phone back after a robber snatched it, only to have one of the boy's relatives chase him down and confront him in a Bronx laundromat, Eyewitness News reports. Authorities say the thief snatched it away from the boy on the platform of the No. 4 stop at Jerome Avenue and East 170th Street on Sunday morning. After the confrontation and struggle, the suspect fled the scene and is still at large.
– Fernando Lopez, who assaulted Bx10 bus driver Jose Rondon, received five years' probation much to the objection of prosecutors and other bus drivers,  the Daily News reports. Under state law, transit workers are granted a special "protected status." Assaulting a worker is punishable by up to seven years in prison. However, incarceration is not mandatory and Lopez had no previous offenses on his record.
The Stats
Find the latest crime statistics for your Bronx precinct here: 40th, 41st, 42nd , 43rd, 44th, 45th, 46th, 47th, 48th, 49th, 50th.
52nd Precinct Crime Statistics
The City Council convened in the middle of the night three weeks ago to vote on a crowded agenda of issues, including the adoption of two bills under the Community Safety Act. While the bills passed easily, Mayor Bloomberg has vowed to veto them, saying they will undermine the police department's ability to keep the city safe.
The first measure, known as "The NYPD Inspector General" bill, passed by a vote of 40 to 11, and would allow the commissioner of the Department of Investigation to appoint an Inspector General to oversee the NYPD's activities and policies.
The second bill, known as, the "Bias-Based Profiling Bill," which passed 34 to 17, would expand current anti-discrimination policy over the NYPD's stop-and-frisk procedure to protect everyone regardless of age, gender, immigration status, sexual orientation, disability, and housing status and would permit individuals to sue the NYPD in state court.
According to a press spokesperson from the speaker's office, the meeting's delay (it was originally scheduled to begin at 9 p.m. but didn't get under way until nearly 11:30 p.m.) was due to the council members' busy schedules and the wide array of issues on the agenda.
Although no Bronx Council members voted against both bills, support for the anti-profiling legislation was split. Council members engaged in a heated debate on the floor that lasted until nearly 2:30 a.m. Thursday morning. Bronx Council Members James Vacca of District 13 and Majority Leader Joel Rivera of District 15, both voted in favor of the Inspector General bill, but against the anti-racial profiling policy.
"The [Inspector General] bill will address people's real problems," said Rivera. "It will be able to actually help people. The profiling bill does not because it doesn't create the ability for people to really get justice." Read more
By Norwood News
The Bronx Crime Report is published weekly on Breaking Bronx.
The Stories
Another Shooting in Fordham-Bedford, This Time It's Murder
Detectives are looking for a gunman who fired shots into a Grand Concourse building, killing a 22-year-old husband and father who lived just a few buildings away. It marked the third shooting incident in the immediate area in the past 10 days.
Officers from the 52nd Precinct were called to 2860 Grand Concourse at East 198th Street at 9:53 p.m. last night and discovered the victim, identified as Raymond Hernandez, 22, in the building's lobby, bleeding from a bullet wound in his chest.
Hernandez, a husband and father of a 3-year-old girl, according to the Daily News, was rushed to St. Barnabas Hospital where he was declared dead on arrival.
Police say Hernandez lived at 2874 Grand Concourse, just a couple of doors down from where he was shot.
One police source said, "We have no arrest, no motive, no story at this point."
Investigators described the gunman as a male in his late teens or early 20s, wearing blue shorts and a white T-shirt.
On July 11, just a block away from last night's shooting at 2885 Valentine Ave., a 20-year-old man was shot in the leg at around 5 a.m. On the night of July 5, just two blocks away, on the corner of Bainbridge Avenue and East 198th Street, a 26-year-old man was shot in the hand. No arrests have been made and both investigations are ongoing.
–David Greene
Murder in Mount Hope
Lavon Latimer was gunned down outside of 220 Mount Hope Place last Friday late at night. The 27-year-old resident of Queens was found at 11:26 p.m. with multiple gunshot wounds to the torso by police responding to a call of a male shot outside 1840 Grand Concourse.
Latimer was rushed by EMS to St. Barnabas Hospital where he was pronounced DOA. No arrests have been made and the investigation is still ongoing.
Latimer's death adds another tally to the list of violent crimes this year in the 46th Precinct. Through July, there were four murders, 18 shooting victims, and 16 shooting incidents committed this year in the 46th Precinct. Those numbers are substantially lower than last year's numbers through the same time period. Through July 7 of 2012, there were the same amount of murders, but there were 34 shooting victims and 28 shooting incidents.
–Michael Brown
Editor's note: Anyone with information about any of these crimes can call the NYPD's Crime Stoppers Hotline at 800-577-TIPS. You can also submit tips by logging onto the Crime Stoppers Website at WWW.NYPDCRIMESTOPPERS.COM or texting tips to 274637(CRIMES) then enter TIP577.
The Norwood News will continue to monitor the investigation as it unfolds and will have a more detailed story in our next print edition.
The Stats
Find the latest crime statistics for your Bronx precinct here: 40th, 41st, 42nd , 43rd, 44th, 45th, 46th, 47th, 48th, 49th, 50th.
52nd Precinct Crime Statistics