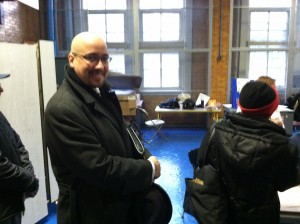 Looking like a dapper G-Man straight from the cast of the "Untouchables" — dark suit, long dark trench coat and fedora pulled down low — State Senator Gustavo Rivera walked into PS 86 in Kingsbridge Heights to vote. I asked him if he was nervous about election day. Not so much about his own race, which pits him against Conservative/Republican Michael E. Walters, who received 6 percent of the vote in 2010 against State Senator Ruben Diaz Sr. But more about his party's candidate for president, Barack Obama.
Rivera, like most Democrats, is a big Obama supporter. He worked extensively on Obama's successful campaign in Florida four years ago. In the weeks leading up to today, he's done some "surrogate" campaigning for the president, mostly by doing call-ins to radio stations in the Orlando area, which has a heavy Puerto Rican population. (Rivera was born and raised in PR.)
"I'm all Zen," Rivera said. "I haven't been nervous on election night in 10 years."
Before becoming the candidate who took out Pedro Espada in 2010, Rivera worked as a campaign operative for a long list of Democratic hopefuls and incumbents. As an operative, his main goal on election night was to get all of his troops back from the field safely. In other words, he was more concerned with logistics than results until later on. Sometimes, he said, he wouldn't find out results until well after they were announced.
As a candidate in 2010, however, Rivera said he reached a different kind of Zen. At around 8 p.m. on primary night, in what was supposed to be a close contest with Espada, Rivera came to the realization that he had done everything he possibly could to win the election. A calm washed over him. And then he went to enjoy dinner with his staff.
This year, Rivera easily won his primary and will undoubtedly coast to victory tonight against Walters. He's also feeling confident about Obama's chances in Florida, Ohio and other battleground states that will decide the presidential election.
Locally, Rivera, is also invested in the outcomes of several close state senate races. The biggest problem in Albany, Rivera often says, is the obstructionist tactics of Republicans, who hold a majority in the senate. (After Democrats wrested control of the body in 2008, Rivera says Espada succeeded at maintaining that obstructionist agenda.) With his own race in the bag, Rivera's been free to help Democratic candidates this fall.
Aside from campaigning and raising funds, Rivera says he has also been sure to give his own staff vacation time so they can work for other Democrats. His chief of staff, Conchita Cruz, is in charge of handling Spanish-language media for the Obama campaign in Florida. Others are working mostly in a couple of Westchester races — the 40th Senate District where Democrat Justin Wagner is looking to unseat Republican Greg Ball and the 37th District, just north of the west Bronx, where Democratic Assemblyman George Latimer and Republican Bob Cohen.
Rivera said he hasn't figured out his plans for tonight, but he's hoping they include a victory party for senate Democrats.