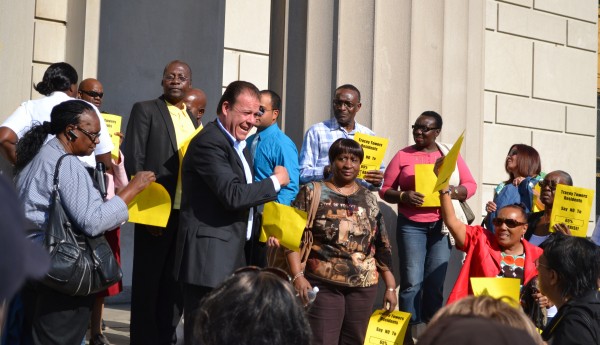 In a stunning and convincing primary day upset last Thursday, Bronx Assemblywoman Naomi Rivera was ousted by a rookie, Mark Gjonaj, who outspent, outmaneuvered and outhustled his politically-insulated but scandal-stricken opponent.
Though Rivera held the advantage of incumbency in a largely Hispanic 80th Assembly District, that includes parts of Norwood, Bedford Park, Allerton, Morris Park and Pelham Gardens, Gjonaj (pronounced Joen-eye) spared no expense and took advantage of every opportunity to defeat Rivera soundly in a four-way race.
According to unofficial results released by the Board of Elections, Gjonaj won with 51.69 percent of the vote (2,407 total) compared to Rivera's 40.69 percent (1,894). The other two candidates — Adam Bermudez (222) and Irene Estrada-Rukaj (134) — split the remaining votes.
Despite strong support for Rivera from the Bronx Democratic County Committee, Bronx Borough President Ruben Diaz Jr. and several labor unions, everything seemed to be going Gjonaj's way in the weeks leading up to the Sept. 13 primary, which was held on Thursday so it wouldn't coincide with Sept. 11.
The two candidates appeared together outside of the 869-unit Tracey Towers on Mosholu Parkway in early August for a rally against an enormous rent hike. Rivera, who showed up 45 minutes late, vowed to fight the rent hike and made sure to point at Gjonaj when she talked about unscrupulous and greedy landlords. (Gjonaj has strong ties to the real estate industry, but he is not a landlord. He owns a real estate brokerage firm in Morris Park and his family owns property and buildings in the Bronx.)
But after setting up a conference call with other city officials, which didn't amount to anything, Tracey residents said they heard nothing from Rivera.
Meanwhile, "Mark came through for us at the eleventh hour," said Jean Hill, Tracey's tenants association president.
Gjonaj hired a lawyer who filed an injunction against the rent hike at the end of August, just days before a 16 percent rent increase was to go into effect. Though tenants are still waiting on a ruling or a compromise, the injunction held through the primary.
The act helped depict Gjonaj as a champion of tenants and swayed a large voting bloc into his corner. It also fed into his narrative of Rivera as a lazy incumbent who doesn't show up for work. (Her attendance record is consistently in the bottom quarter of assembly members.)
That alone might have made the race close. But Gjonaj also benefited from a constant stream of negative and scandalous articles attacking Rivera in the New York Post.
Soon after their run-in at Tracey, the Post linked Rivera to a Facebook page where the assemblywoman posted photos of herself being intimate with a Brooklyn gym teacher who she had hired in 2010 to be an extremely well-paid ($54 an hour) part-time community liaison for her office.
The next week, the Post ran a front page story reporting that she had hired an earlier boyfriend, Vincent Pinela, to work at the Bronx Council for Economic Development, a nonprofit organization that she funneled hundreds of thousands of dollars to over the past several years. Pinela, a former personal trainer, said she hired him even though he wasn't qualified and then gave him a big salary increase and directed him to pay for personal dinners and campaign expenses on the nonprofit's dime.
Rivera denied the accusations at first and then stubbornly refused to offer a more in-depth explanation to ward off the allegations. She avoided the media altogether. Soon, several authorities confirmed they were investigating the four-term assemblywoman and fliers highlighting the Post's headlines began showing up in the mailboxes of district voters.
In the days leading up to the primary, district voters were bombarded by mailings from both sides, some semi-positive fliers that were stamped as approved by the candidates. The others — like the one with the Post headlines and another depicting Gjonaj as a sort of Eastern European gangster/landlord — came from anonymous sources.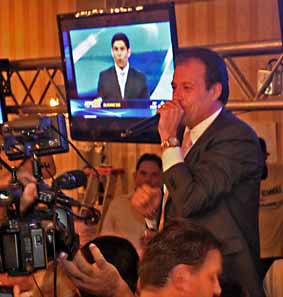 In the past, Rivera had held off token opponents with little funding. Gjonaj raised $226,893 and spent $193,826.49 to defeat her. It paid for the mailers, his two campaign offices (one in Morris Park and one in Norwood on Bainbridge Avenue), advertisements, an expensive public relations firm, the Advance Group, and an army of his yellow-T-shirt-wearing Gjonaj CARES cleanup crew.
But he also outworked her on the campaign trail. Gjonaj said he was banging out 14- to 16-hour days, hitting the streets and talking to voters.
"I literally walked a hole in one of my shoes," he said at one point.
While Rivera was off hiding from the media, Gjonaj was knocking on doors, showing up at community meetings and engaging in a debate on BronxNet with the other candidates that Rivera refused to attend.
On the morning before his victory, in front of Bronx Borough Hall, Gjonaj helped several old ladies from Tracey get off a chartered bus he paid for. They were there for another hearing at Bronx Supreme Court. After inciting the crowd of more than 140 Tracey residents, he sucked down a quick cigarette and then joined the line to get through security at the courthouse.
Gjonaj, 47, a tall, thin man with dark hair slicked back to reveal a receding hairline, smiled as he flipped through his smart phone to show a reporter his endorsement by the Daily News. He was giddy talking about his humble beginnings — the son of immigrant Albanians who sold flowers on Pelham Parkway as a teenager, delivered pizza to get through college and started his own successful business.
He oozed confidence, knowing his opponent was on the ropes.
"I'm excited, I feel like we did everything we possibly could," he said.
And then some.
Editor's note: A version of this story appears in the Sept. 20-Oct.3 print edition of the Norwood News.