Editor's Note: Every Wednesday, Breaking Bronx features a health-related story, event or tidbit as part of an online expansion of our Be Healthy! column.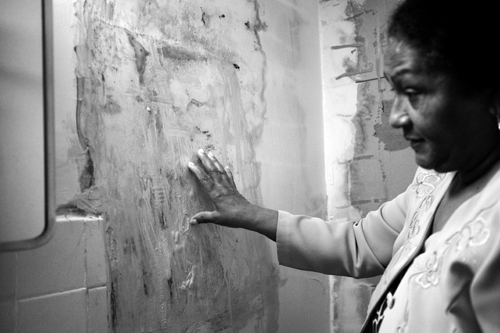 Bronx Photo Exhibit Spotlights Public Housing Health Hazards
When the ventilation fan in Maribel Baez's bathroom stopped working, a black patch of mold began to grow on her ceiling. She called the New York City Housing Authority, which runs the Melrose Houses in the South Bronx, where she's lived for four years, and tried to get the problem fixed. NYCHA told her it would be two years before they could send a repairperson out. The mold kept growing.
Then Baez began experiencing breathing problems: tightness in her chest and persistent coughing. Her doctor diagnosed her with chronic obstructive pulmonary disease (COPD), a serious condition that's been linked to, and is aggravated by, long-term exposure to lung irritants like mold.
"It's unfair that NYCHA is putting tenants in danger," Baez said.
The plight of tenants like Baez is the subject of a photo exhibit on display this week at the Bronx Documentary Center, featuring dozens of images by photojournalist Ana Brigida that show NYCHA residents in apartments plagued by leaks, mold, mildew and crumbling ceilings.
Organized by the advocacy groups South Bronx Churches, Manhattan Together and Metro IAF, the exhibit, "How the Other Half (Still) Lives," seeks to highlight the health hazards posed by poor conditions in the city's public housing complexes — conditions that organizers say are the result of neglect by NYCHA and the Bloomberg administration.
"Conditions are beyond what words can describe, so we're having a photo exhibit, so you can see for yourself," said Father Francis Skelly, of Immaculate Conception Church in Melrose, who works with South Bronx Churches (SBC) to help organize tenants.
In one photo, a 16-year-old girl's hand is clutching her inhaler. She suffers from asthma, the photo's caption reads, and has lived in an apartment filled with mold in the Melrose Houses for the last 10 years. In another photo, a young boy sits with a mask over his nose, connected to a breathing machine. Other pictures show buckets poised in hallways and closets to catch leaking water, holes in walls and dark patches of mold and mildew spread over ceilings.
"The conditions are getting worse," said SBC's Marielys Divanne, who spent the last few years going door-to-door in NYCHA complexes, talking to tenants about their health problems. "We hear so many stories of families that have children and seniors with asthma and upper respiratory problems, and the mold and leaks just continue to get worse."
Jamayra Paramo, who lives in the Jackson Houses on Cortlandt Avenue and 156th Street, says her apartment is prone to constant leaks and mildew, and her young son suffers from asthma.
"He can't have a normal 8-year-old's life. He can't run, he can't play sports," she said. "Housing employees would come in, tell us they were going to fix the problems, and then never come back."
In a statement, NYCHA officials said that the agency has made major strides in the last year to reduce their repair backlog and waitlist times, investing $11 million of their budget and creating a special repair task force last year. That task force, NYCHA says, was able to complete 45,000 repair work orders, in more than 12,000 apartments citywide last year, up six percent from the year before. The agency predicts it will be able to accomplish even more this year, after the City Council announced last month that it would allocate $10 million to the agency to be used for repairs.
But NYCHA acknowledges that budget shortfalls persist, and have limited the agency in how they've been able to address tenants' needs.
"NYCHA works unceasingly to address all requests for repair and maintenance at our 2,604 building," officials said in a statement. "While the needs are great in most of NYCHA's developments, the reality is that buildings that are 40-70-years old are aging structures that require a great deal of repair, for which the Authority receives inadequate funding."
Father Skelly largely blamed Mayor Bloomberg for not adequately investing in NYCHA the way he has in other housing initiatives.
"Public housing is not a priority of this administration," he said. "This blight that you see all around us will be part of his legacy."
Montefiore Medical Center Marks One-Year Anniversary as Smoke-Free Campus

Montefiore Medical Center celebrated its first year as a smoke-free campus on March 21, coinciding with national "Kick Butts Day," a day of activism led by the Campaign for Tobacco-free Kids. The hospital teamed up with Bronx Breathes, Albert Einstein College of Medicine of Yeshiva University and Bronx Community Health Network to hand out free nicotine patches and gum and quit-smoking literature.
In 2011, Montefiore, the largest health-care provider and employer in the Bronx, expanded its no-smoking zone policy to all of its locations in the Bronx and Westchester, including its main hospital campuses, public areas like parking garages, common areas in residential buildings, and community sites.
Ask Be Healthly! Send Us Your Health Questions.
Got a pressing health, fitness, or nutrition question on your mind? Send them our way! We're ready to tackle your queries about food, sex, illness, health insurance, prescription medications–any health-related topics that puzzle or interest you.
We'll answer your question in a Q&A feature appearing in the Norwood News' Be Healthy! column. If we don't know, we'll ask the experts. You can sign your name or send it anonymously.
Send your queries to: norwoodnews@norwoodnews.org.
Here's a link to the first installment of Ask Be Healthy!
Advertising Note: If you're a business or advertiser interested in targeting our Be Healthy! audience online or in print editions of the Norwood News, call Marketing and Advertising Solutions (MAS) at (718) 676.1626 or email info@masmarketingny.com.