April 3, 2012 at 11:14 AM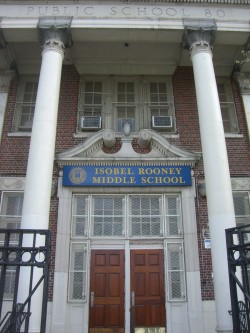 A group of parents and local activists will be holding a walk this afternoon to save the spirit of MS 80, the school on Mosholu Parkway that has already lost its principal after it was designated for the Department of Education's turnaround program. Under the turnaround program, the school would undergo a complete facelift, which would include hiring a completely new staff (although up to 50 percent of the current staff could be rehired) and taking on a new name.
The group organizing the walk, Friends of MS 80, want more information about what's happening with one of the area's only middle schools and are pushing for the school to be renamed MS 80/Isabel Rooney. Although everyone calls the school "MS 80″ and its honorarily named after Isabel Rooney, a longtime school board member who advocated strongly for the school, its technically named "JHS 80, The Mosholu Parkway School." The change to MS 80 would allow the community and alumni to better identify with the school.
The walk begins at 3:30 p.m. outside of MS 80, 149 Mosholu Parkway North, and will continue to the Mosholu Montefiore Community Center, Dekalb Avenue and Gun Hill Road.
Recently, seven schools were taken off the list of schools slated for closure, but MS 80 remains on the chopping block. But those schools were rated higher by the DOE and more vocal in their opposition to the plans for closure. Friends of MS 80 have been advocating at community meetings and speaking with the DOE, who want them to be involved with community advisory committee.
For more background on the MS 80 story, click here.
Ed. note: A joint public hearing for this proposal is scheduled for April 16 at 6 p.m. at J.H.S. 80, 149 East Mosholu Parkway. Oral comments can be left at (212) 374-5149, and written comments can be sent to D10proposals@schools.nyc.gov.
Comments