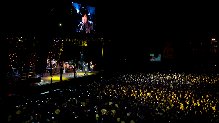 The future of the Kingsbridge Armory is still undecided, though Mayor Bloomberg's new round of RFPs (Request for Proposals) for plans on redeveloping the site are due today. In the meantime, one Latin American entrepreneur is taking advantage of the enormous space.
Pedro Zamora, a music promoter and restaurant owner with Mexican roots, had been hosting concerts and other events at vacant armories in Brooklyn for years until 2010, when the city told him the sites were no longer available for rent.
Searching for locations that were large enough, Zamora found the 5-acre Kingsbridge Armory sitting dormant in a largely Hispanic section of the Bronx, perfect for his plans for the space, which include hosting a number of popular Latin musicians and even a full-fledged rodeo scheduled for March.
"[The Armory] hadn't been used in quite some time and needed repairs to bring it up to code, so I did the repairs myself," he said. "In exchange for the repairs, I got a good deal on the rent and the Department of Buildings helped expedite the necessary permits."
On Feb. 11, Zamora hosted his first concert at the Armory, featuring bachata singer Hector "El Torito" Acosta and popular norteño ensemble Los Tigres del Norte. The show drew thousands, including representatives from the offices of Bronx elected officials.
"I went to the concert with my cousin and brother, and we had a great time," said Jose Zapata, taking a break from playing soccer in St. James Park. "The place was really big and the music was just like home."
"I can't wait for the rodeo," added his cousin Kelby. "I went to buy a new hat, so I can look cool when I go."
"Everyone was uncertain in the beginning, including me. It was extremely hard, but it all paid off at the end of the night," Zamora said. "We received a tremendous amount of support from the city agencies, and I am sure the rest of the planned events will be just as successful."
"If I can get more companies to join forces with me, we can better stimulate the local economy," he said. "I have always desired to reach out to the Latin American community to provide these types of services, and build strong, sustainable relationships."
Although he hasn't been able to secure a long-term commitment from the city, Zamora's vision for the Armory is not limited to music concerts. Bucking bulls, live music, masked wrestlers grappling in a padded ring and vendors selling tacos and other treats are all part of the upcoming events that Zamora has scheduled for the massive space.
"This place is enormous," he said. "I would like to set up a soccer league, and even bull riding in here. It's definitely do-able."
Ed. note: A version of this story appears in the March 22-April 5 print edition of the Norwood News.