Editor's Note–The following was filed by student reporters in the Bronx Youth Journalism Initiative. They are: Alexa Silver, Claudia Seda, Camryn Clarke, Paige Ruiz, Tatyana Turner, Patience Cournoo, Brittney Williams, Brandon Alleyne, Alexis Butler, Brenda Sichini, Nayeh Yisrael, Kassidy Washington, Terrance Washington, Selena Marte, Ricky Mieses, Celeste Pasian, Jasmin Lino, Andrea Jewth, Kavon Wilson.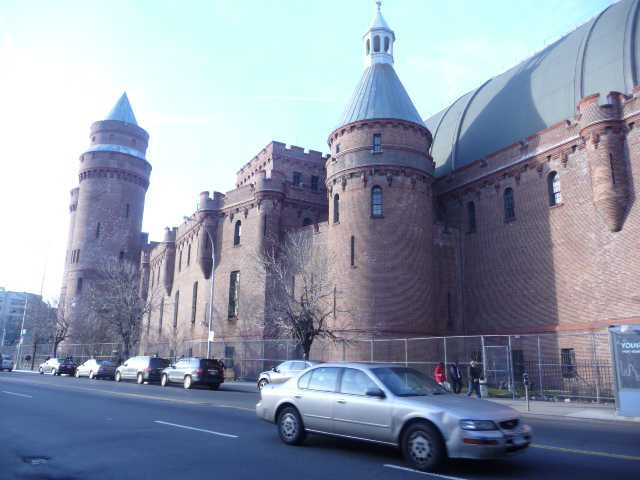 Today's the big day–the deadline for interested developers who want to set up shop at the Kingsbridge Armory to submit their applications to the city. A spokesman for the Economic Development Corporation, charged with sorting through the proposals, said they were due in at 4 p.m. today.
We know, and we've written about,  a few of the groups that are interested in coming to the Armory: a bicycling and basketball sports mega center, a hockey rink, and maybe even an Evangelical church.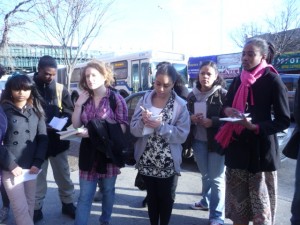 But what do Bronxites want to see at the Armory? To find out, we dispatched our team of student reporters (right) from the Bronx Youth Journalism Initiative, the free after-school journalism program run by the Norwood News. They hit the streets around Kingsbridge Road, armed with a notebook and pen, to ask the question: what you like to see at the Kingsbridge Armory?
The overwhelming response from those asked matches well with several ideas that have already been proposed for the space. Nearly everyone said they'd like to see the building used for some kind of community benefit, either in the form of a school, recreational programs for kids and the elderly, or a sports complex.
"My choice would be afterschool programs, especially for the elderly," said Joe Laubriel "Maybe we could turn it into a museum. That would be good for tourism."
Other ideas suggested along that line include turning it into a skate park, an indoor soccer field, a public gym or athletic center. A handful of interviewees said the same thing: kids in the Bronx have no where to go to spend time, and they're bored.
"Anything for the community," said Edrina Gilchrist. "Something for the kids to do-–trips, sports."
Dougie Sells, from Soudview, said he thought it should be made into an recreational center, but one with affordable programs—nothing should cost more than $5, he suggests.
"We've got these kids running around with nothing to do," he said.
Ron Hayes, a building manager from Kingsbridge, went a different route. He said he'd like to see the building knocked down, to put up affordable housing developments in its place.
"It takes up a lot of space," he said.
Several people also said they'd like to see the Armory turned into a shopping mall, which was the plan proposed for the space back in 2008, before community activists, leaders, and the City Council rejected it because the developer refused to pay workers there a living wage.
"It would help to have a mall closer," Georgette Saunders said.