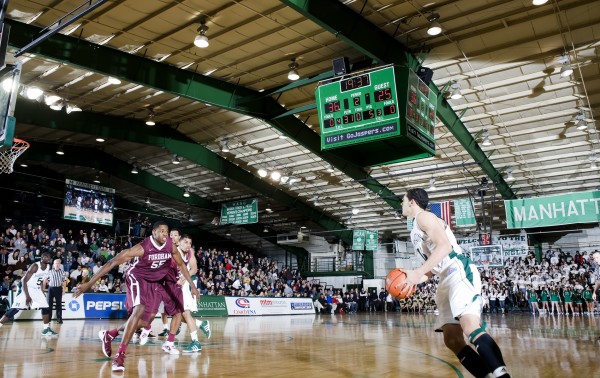 Following its seventh straight win on Sunday night — to complete a road sweep of the Metro Atlantic Athletic Conference's western New York schools, Niagra and Canisius — it's time to acknowledge the remarkable turnaround of Manhattan College's men's basketball program, which is fielding the hottest hoops team in the Bronx. (Manhattan plays tonight at Marist.)
Last year, the Jaspers suffered through one its worst season ever with a 6-25 overall record and just three MAAC wins. The abysmal performance cost head coach Barry Rohrssen his job.
This year, behind 34-year-old first-year head coach Steve Masiello the team already has 16 wins, making it the biggest one-season turnaround (from last year to this year) in the entire NCAA Division I, according to sports information director Steve Dombrowski.
Masiello is doing with it with mostly the same team as he inherited, but with a new winning, blue-collar attitude that he has preached from Day 1, when he told reporters at his introductory press conference in April: "We're gonna win and win big." He added that the Jaspers would be "the hardest-working team in the country, bar none."
A native New Yorker, Masiello worked under Bobby Gonzalez, who was the last coach to take the Jaspers to the NCAA Tournament during the 2003-04 season. For the last six years, he apprenticed under Louisville head coach Rick Pitino, one of the greatest active coaches in all of college basketball.
The season started inauspiciously with a blowout loss at Syracuse, a legitimate national title contender and then an early losing streak that left Jaspers with a 2-4 record. They responded with five-game winning streak that included a dismantling of its cross-Bronx rivals at Fordham University. Two days before Christmas, they were routed by George Mason and then started the conference schedule with back-to-back losses at home to Rider and on the road Loyola (Maryland).
Since then, the Jaspers have hit their stride behind star junior guard George Beamon, who is now averaging almost 18 points per game and dropped 33 on Canisius last week, and a trio of Bronxites — freshman Emmy Andujar, sophomore Michael Alvarado, and senior Kidani Brutus — are the team's second, third and fourth leading scorers, respectively. (What's not to like about that?)
The Jaspers, at 9-2 in conference, are tied for first place in the MAAC, with Iona and Loyola. They face both teams again in the final weeks of the season. A regular season title means winning the top seed in the MAAC tournament, which the Jaspers will have to win to gain a birth into the Big Dance.
Here's highlights from Sunday's game against Niagra: