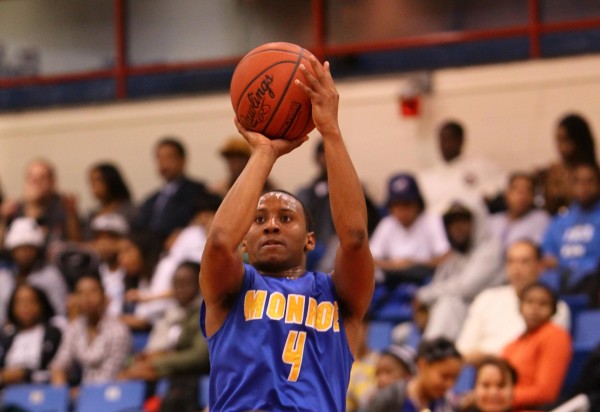 Every Thursday, The Bronx Sports Report compiles the latest youth, high school and college action and stories coming out of the Boogie Down. We'll also occasionally mention a certain professional baseball team that plays on River Avenue in a large stadium you may have heard of.
The Lady Knights Rebound With Huge Win
Let's start with the ladies.
Specifically the Lady Knights of John F. Kennedy High School. Consistently one of the best public school girls teams in Gotham, the Lady Knights are again a force to be reckoned with this winter. But when they lost badly to perennial champions Murry Bergrtraum (seriously, Bergtraum winning the title is like tax season, it happens every year) last Wednesday, it appeared to signal another close-but-no-cigar season for the Riverdale-based program.
But hold on. Two days later, the Lady Knights made a statement, trouncing South Shore, 47-32, highlighted by a tenacious and stifling defensive effort. (Click here for photos from the game.)
South Shore suffered its first league loss and just its second defeat overall and is the NY Post's fourth-ranked girls team (public or private). In December, South Shore soundly beat Bergtraum and destroyed Harry S. Truman, the Bronx's other major contender. Truman beat JFK, 58-56, in JFK's home gym and only fell to Bergtraum by three.
"It was a good win after a bad loss," JFK's Joya McFarland, who led the Lady Knights with 11 points, told the NY Post. "It's something we really needed."
JFK is getting healthy at the right time. The game against South Shore featured the return of two key players from injury. They're undersized, but scrappy and they'll have to continue putting the defensive clamps on opponents if it wants to finish the season strong. They face a number of tough contests, including another showdown with Bergtraum on Feb. 6.
It's worth noting that Bergtraum's two losses came in its first four games and has reeled off six straight wins. But the other teams, including two Bronx squads, JFK and Truman, seem to have narrowed the gap. Suddenly, Bergtraum's tax season-like title doesn't seem so certain.
The Bronx Bombers Big Trade (from the Seattle perspective)
I need to come clean in the interest of full disclosure. I'm a Seattle Mariners fan who lives in the Bronx. I know. Believe me, it's harder for me than it is for you. But it allows me to offer another perspective on the Yankees' recent decision to trade their top hitting prospect, Jesus Montero, to the M's for Seattle's top pitching prospect, Michael Pineda (plus a young pitcher from each team).
The Yankees and Mariners don't share much in common as franchises. It's East Coast versus West Coast. Big market versus mid-market. The Yankees have 27 World Series wins. The Mariners have never played in a World Series. The Yankees' payroll is more than $200 million. The Mariners will probably spend around $80 million in salaries this year — about a quarter of that going to Ichiro (and another 10% to Chone Figgins, who's been the biggest free agent bust since Carl Pavano). Let's just move on before I start crying.
But the biggest difference between the two teams right now is that the Yankees score runs in bunches, while the Mariners rarely score. I think the Seattle Sounders MLS team put more points on the scoreboard this summer than the M's did. On the other hand, the Mariners give up very few runs and its farm system is rich with pitching talent. Meanwhile, the Yankees Achilles heel the past two years has been pitching. So, on the surface, this trade makes a great deal of sense. Both teams dealt from strength to improve their weaknesses.
Now, let me tell you a little about Pineda and what he will bring to the Bronx.
This first thing you need to know is that every M's fan hated to see him go. He just turned 23 years old and throws absolute smoke, which he complements with a nasty, biting slider and incredible control. He's enormous at 6-foot-7, 260 pounds. And perhaps most importantly, he's fearless, poised and intimidating. Hat tilted slightly to the side (like a righty CC Sabathia), Pineda stares down hitters like they've insulted his mother, like they just gave him a parking ticket, like they punched his kitten.
Plus, he had a year apprenticing under The King, Felix Hernandez, perhaps the best pitcher in baseball (Sorry Yankee fans, it's not CC.). We absolutely HATED to see him go. Of course, there are some small concerns. He faded down the stretch after posting an All-Star first half. He still needs to develop a change-up and injury is always a concern for a young pitcher, but that's nit-picking. Have no fear. He's the real deal.
Still, the Mariners needed to make this trade. The team that groomed hitting stars from Ken Griffey, Jr. to A-Rod, has an offense that is downright offensive and just painful to watch. Here's how bad it got last year: At one point, Adam Kennedy, a journeyman pinch-hitting specialist who ended up with .234 batting average in 2011, was hitting in the three hole, a spot usually reserved for a team's best hitter. Even worse, no one could argue with his placement there. Nuff said.
By all accounts, Montero has the potential to be a superstar hitter in the A-Rod/Miguel Cabrera mold, regardless of whether or not he remains a catcher. (All of those accounts also believe he's a liability behind the plate.) He flashed that potential this past September, hitting .328 with 4 home runs and 12 RBIs in 18 games. The Mariners have no one in the system with that kind of slugging potential. They do, however, have several pitchers knocking on major league door who look like top of the rotation starters.
I love this trade because it makes so much sense for both sides. It's not about the Mariners dumping payroll, which often is the case (see: Johnson, Randy and Lee, Cliff).  Of course the most famous trade in Yankees-Mariners history happened in 1988 when the Yankees traded a raw young outfielder named Jay Buhner for an overweight designated hitter named Ken Phelps. We all know how that turned out. Buhner turned into an all-star and one of the best Mariners players of all-time. Yankees fans got an unproductive DH and basically felt like Frank Costanza in this clip from "Seinfeld."
In other Bronx sports news:
The Kennedy Challenge, at JFK gym, one of the best girls basketball tournaments every year, is happening this weekend. Here's the lineup of games.
In the Post's latest boys high school basketball rankings, four of the top 10 teams are from the Bronx. Cardinal Hayes is ranked number one.
Monroe College is now airing its men's and women's basketball games on 1230 WFAS. BronxTalk host and Monroe's sports information director Gary Axelbank will share some of color commentator duties.
Davon Marshall is thriving for Monroe's nationally-ranked men's team after dedicating his off-season to improving his conditioning.
Fordham Prep soccer star Mark Kramarchuk will play at Bucknell next year.
Wings Academy star Justin Jenkins talks about the Regents exam and preparing for the rest of the season in his diary for the Post.
Congratulations to Fordham University junior swimmer Thomas Yi (Honolulu, Hawaii/Kalani) and senior diver Andrea Krok (Clifton Park, N.Y./Shenendehowa) who were named the Atlantic 10 Men's and Women's Swimming & Diving Performers of the Week, respectively.
Evander Childs Campus boys hoops team has quietly reeled off five straight wins and is 12-3 on the season, good for second place in the Bronx A East division. The Tigers have already surpassed its win total from last year. Evander plays at Bronx Science on Friday afternoon at 4:30 p.m.
George Beamon continues to star for Manhattan College's men's basketball team, scoring 24 points in the Jaspers' recent win over Niagra. The Jaspers have won five straight and are now 14-7 on the season. Meanwhile, the Manhattan ladies team fell to Loyola and 10-11 on the season. They play on ESPN3 against Fairfield on Friday afternoon.
Fordham's men's and women's basketball teams lost badly last night. The men (8-11 overall) were crushed by Richmond, 102-58, while the women (10-11 overall) were blown out at Rose Hill gym by Charlotte.