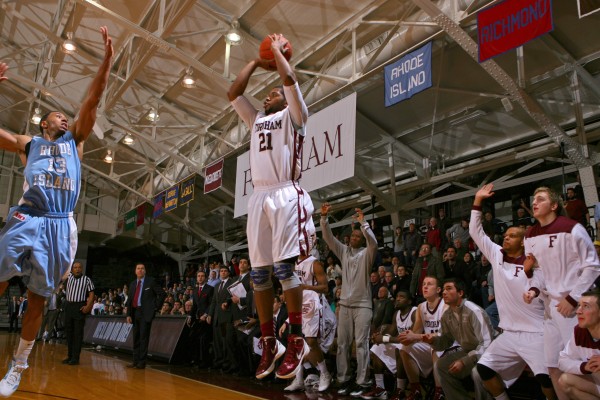 Editor's note: The Bronx Sports Report is a new feature on Breaking Bronx and will appear every Thursday. We will include the latest and most compelling sports stories coming out of the Boogie Down. We can't get to every story, but if there is some athlete or sport you would like us to cover, let us know in the comments section or send us an e-mail at norwoodnews@norwoodnews.org and we'll do our best give it some coverage.
Tremendous hoops action coming out of the Boogie Down just in the past two days. The photo above shows Alberto Estwick's clutch shot in last night's college basketball thriller between Fordham and Rhode Island, which may have saved the Rams season. But we have to start with Tuesday night's insanely schizophrenic heart-stopper that cemented Wings Academy as the best public high school hoops program in the Bronx.
Wings Reigns Behind Jenkins
For the past several years, Wings and John F. Kennedy have traded the title of best in the Bronx. (Although Eagle Academy is loudly knocking on the door.) Last year, Wings took the Bronx AA Division title, finishing 16-0, and cruised to the borough championship by slaughtering JFK, 73-54, in the final. The Wings (it's the small aerospace-themed school's name and nickname) ended with a loss to eventual champion Boys & Girls in the PSAL semi-finals.
This year, Wings is again off to a fast start and was undefeated going into Tuesday night's road game at JFK's gym in Riverdale. Earlier in the season, Wings beat JFK at home by 6. In the rematch, the Knights came out strong, taking an eight point lead in the first quarter. Wings responded with a ridiculous 27-0 run behind the scoring of dynamic senior guard Justin Jenkins, who is being recruited by several Division I schools in the region (he just received an offer from St. Peter's College) and is writing a diary about his senior season for the NY Post.
JFK failed to score a single point in the second quarter, but roared back in the second half. Down one with only seconds remaining in the game, JFK pushed the ball up court. Louis Baltazar received the ball on the wing and drove hard to the basket, finishing with an acrobatic layup to put JFK up by one, 53-52, with 1.2 seconds left.
But Wings didn't panic, throwing a long pass and calling a timeout just past half-court with less than a second remaining. There would be just enough time for a quick catch-and-shoot. After the timeout, Jenkins sprinted along the baseline, received the in-bounds pass in the corner and all in one lightning quick motion, released a jump shot while fading away. Nothing but nylon. Game over. 55-53, Wings. Jubilation for Wings as crushed JFK players walked off the court.
Wings is now 12-0, while JFK fell to 9-4.
Tonight, at 5 pm, Wings travels to Eagle Academy, which finished second in Bronx AA last year and is 10-1 so far this season. The Eagle's only loss: a whooping at Wings in December. They'll be looking for revenge.
Rams Needed This One Badly
Fordham's season almost mirrors the Wings-JFK game in that it's been a roller coaster for second-year head coach Tom Pecora's squad. The Rams started slowly, hit rock bottom with a blowout loss to their Bronx rivals at Manhattan College, rebounded with huge wins over Georgia Tech and then-nationally-ranked Harvard and then dropped three straight Atlantic-10 conference games before last night's win over Rhode Island at Rose Hill gym. (See highlight below.)

[Video: Highlights from Fordham University's comeback win over Rhode Island last night. See senior guard/hero Alberto Estwick's late three to cap the comeback at about the 1:15 mark.]
A loss at home to lowly Rhode Island, which is 3-16 overall and hasn't won a conference game, would have been a devastating setback for the young Rams who only have three seniors on the roster. One of those seniors, Alberto Estwick, turned in the best performance of his career in his 100th game for Fordham. The Brooklyn native scored 18 points, including the game-clinching trey with 28 seconds left.
"I'm thrilled for Alberto," Pecora told reporters after the game. "As a senior he stuck in there through good times and bad times and tolerated everything. When he took that last shot in the corner I said `God, if anyone deserves t make this, it's this kid'. We didn't reach many of our game goals tonight but when you play poorly and win, that's a good sign."
The Rams overcame the loss of star forward Chris Gaston, who missed the entire second half after being ejected for a flagrant foul late in the first half, and a four-point deficit, 60-64, with 3:24 left in the game. After Estwick's three, the Rams clamped down on defense to complete the comeback win.
Fordham (8-9 overall, 1-3) plays St. Bonaventure on the road Saturday afternoon.
Jaspers Extend Win Streak
The other Division I hoops team in the Bronx is Manhattan College. The Jaspers — undoubtedly the more successful program over the past decade albeit in an inferior conference — destroyed Siena on Saturday and is off to its best Mid-Atlantic Athletic Conference (MAAC) start since the 2005-2006 season. Now 12-7 overall and 5-2 in conference, Manhattan won its third straight game and is excelling behind the play of leading scorer Marcus Beamon, who dropped 24 on Siena, and point guard Michael Alvarado, a Bronx native (All Hallows High School), who dished out a career-high nine assists on Saturday. Manhattan plays Marist on Friday. See highlights below.

In Other Bronx Sports News:
Bronxite Moussa Kone, a standout at Frederick Douglass Academy, is making his mark at Hofstra as a freshman despite recently being told he was legally blind in his right eye.
The JFK girls hoops squad fell to perennial powerhouse Murry Bergtraum last night, 49-36. The two teams are now tied atop the Bronx/Manhattan/Queens AA Division at 8-2.
Wings might be the best public school team in the Bronx, but Cardinal Hayes is laying claim to best high school team in the Bronx, period. At 14-1, Hayes is ranked second in the NY Post's latest high school boys basketball rankings. St. Raymond's is fifth, Wings seventh and Mt. St. Michael 10th.
Fordham University goalkeeper Ryan Meara was drafted by the New York Red Bulls in Major League Soccer's annual draft last week.
Monroe College Mustangs coach Marcus DiBernardo was named the junior college Division I Coach of the Year.
Did we miss something? Write into the comments section or send us an e-mail at norwoodnews@norwoodnews.org.