Editor's Note: The following story was originally published in Bronx Youth Heard, a publication of the Bronx Youth Journalism Initiative, a free journalism program for Bronx high school students run by the Norwood News. We are currently accepting applications for our spring semester. To find out more about the program and how to apply, click here. The Bronx Youth Journalism Initiative is supported by the North Star Fund, the Johnson Family Foundation Fund, and City Councilman Fernando Cabrera, and is run in collaboration with CUNY's College Now program at Hostos Community College.
By Michaela Ritz


Bold colors, a large font, highlighted words and smiling people. Producers of cigarette ads use these design elements to lure customers. Health advocates say these ads prey on low-income communities of color, particularly in the Bronx.
"The tobacco industry saturates poor communities like ours, where there are high stress levels and unemployment," said Juan Ramon Rios, of the High Bridge Community Life Center, which runs the Partnership for a Smoke-Free Bronx. The group has been pushing for legislation that would limit the number of cigarette ads displayed in city bodegas, and regulate where ads are placed in stores so that teens and kids are not targeted. The effect of such a law would be large in the Bronx, advocates say, as there are more than 1,600 bodegas and small groceries here.
Many teens, however, say they aren't influenced by the advertisements.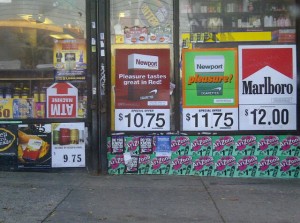 "I have never seen a cigarette ad before," said Nusrat Ahmed, a 16-year-old student who lives in Parkchester. Nusrat says she's never smoked before and that she has a built-in prejudice against it because her uncle smokes and her father chews tobacco.
"Cigarettes make you feel good for a short while, but they bring you closer to your death," she said. "Cigarette companies try to promote the short-term experience."
Nic Arenas, a 16-year-old smoker who lives on Allerton Avenue, says he thinks graphic anti-smoking ads — such as those launched by the Health Department — are more noticeable than those that advertise the sale of cigarettes.
"Smoking ads are very simple and anti-smoking ads are disgusting, so I think Truth ads are more persuasive because of the images they present," he said.
But experts say the ads are more subtle in their appeal to youth. Bolded words such as "pleasure," "menthol," "cooling effect," and "smooth," are one way the ads create pleasant associations with cigarettes, according to the Campaign for Tobacco-Free Kids.
"The warning signs are small and ambiguous in comparison to the rest of the ad," said Elizabeth Zaslavskaya, a 15-year-old Pelham Parkway resident. She noted that many ads are located in the windows of drug stores, while the signs warning about the negative health effects of cigarettes are usually very small or obscured.
"Ads are placed in the store and storefront windows. As soon as you go to the counter …the first thing you will see is colorful tobacco," said Rios. This observation touches on two strategies used by tobacco companies, he said, which are satutration, a larger number of ads, and point of sale, ads and products near the cash register. A study conducted by the American Academy of Pediatrics found that "point of sale is the dominant channel for advertising cigarettes, and adolescents are routinely exposed to these messages."
According to a report from the Centers for Disease Control, Marlboro cigarettes target whites and Asians. The survey found that 60 percent of black middle-school students and 79 percent of black high-school students smoke Newport brand cigarettes.The American Academy of Pediatrics also conducted a study which found that Camel ads in magazines were popular with teenage girls.
Most bodegas are paid to promote the cigarette company's product, but Richard Ricardo, a 42-year-old store manager at Harb Discount and Stationary Store on Bedford Park Boulevard, said the amount is not much.
"There's really no money in it," he said. "We bring the cigarettes for the customers."