Editor's Note: The following story was originally published in Bronx Youth Heard, a publication of the Bronx Youth Journalism Initiative, a free journalism program for Bronx high school students run by the Norwood News. We are currently accepting applications for our spring semester. To find out more about the program and how to apply, click here.  The Bronx Youth Journalism Initiative is supported by the North Star Fund, the Johnson Family Foundation Fund, and City Councilman Fernando Cabrera, and is run in collaboration with CUNY's College Now program at Hostos Community College.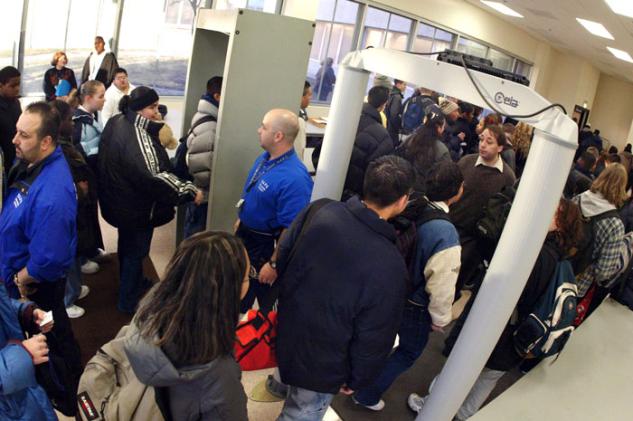 By Adama Diallo

At 9:05 a.m. on a recent cloudy and windy Monday morning, a large crowd of students are eager to get inside of Morris High School Campus in the Bronx. They are already five minutes late for their first period and the process of going through the school's metal detectors will make them even later.
"Metal detectors made me late a lot of times," said Jimmy Marichal. "It makes my attendance drop and it wastes my time by making me take my stuff, such as belts and watch, off every morning."
There are two metal detectors at the Morris High School campus, which contains four public schools and more than 3,000 students. The process to go through the detectors involves removing belts, necklaces, earrings and swiping ID cards, which can take a couple of minutes.
"Sometimes lines are ridiculously long, some students miss their whole first period and some even leave," said Samantha Velez, 19, an organizer at Sistas and Brothas United, a youth group that advocates against harsh policing practices in city schools.
Some students get to school early to make sure they are not late for their first class.
"I come to school earlier than usual," said Aisha Diabate, 18.
But some students say they don't mind the delay, because the metal detectors mean the building is more secure.
"I feel like metal detectors are useful, because that way students don't get to bring stuff that can be harmful, and it makes me feel safe," said 16-year-old Raymond Victorio. "We never know what will happen."
Samantha, however, thinks the metal detectors do more harm than good.
"They are sending a message that students are not trustworthy. It shows that they are kind of incarcerated," she said.
Most security guards that work schools with metal detectors agree that they don't create a great environment, but say they are necessary for security reasons.
"We are here to make sure that students don't get inside of the school with a gun or other harmful stuff," said Victoria Sanchez, a security guard at the Morris Campus. "This isn't a prison. We are just trying our best to protect the environment that we live in and we want everyone to feel safe and comfortable."
Though schools have been resistant to the idea of removing metal detectors, student advocacy groups like Sistas and Brothas United say the Department of Education should look for other ways to make campuses safe, ways that don't negatively affect students' learning.
"There are a lot of other security measures schools can take, such as peer mediation," said Shaun Lin, 28, an organizer for the group.
"The presence of police creates a tense environment in the school," he continued. "It makes students feel intimidated and watched, because it seems like the space is not theirs."