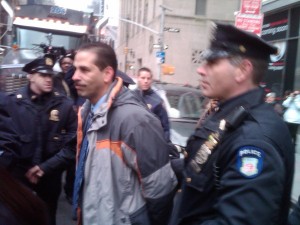 Bronx Councilman Fernando Cabrera was arrested this morning along with six other pastors while protesting a city policy that they say is now excluded religious groups from worshiping inside city-run buildings.
At about 8 a.m. this morning, Cabrera, a pastor himself who represents the 14th Council District (which includes Kingsbridge, University Heights, Mt. Hope and Morris Heights), went downtown with around 20 other people to rally in front of the New York City Law Department at 100 Church St. The "Prayer Protest" was organized by Pastor Dimas Salaberrios of Infinity New York, which was recently evicted from the NYCHA-managed Bronx River Houses.
James Duffy, a spokesman for the NYPD, said that at around 8:30 a.m., Cabrera and six other pastors sat in front of the entrance to the building, blocking the entrance. After repeated warnings to move, Duffy said police arrested the seven protesters for "trespassing" and took them to the local precinct. Cabrera was released later this morning, according to his staff. (Duffy said trespassing is a minor "violation.")
A spokesperson for the NYPD confirmed that several people were arrested in front of the law department's office for obstructing traffic, although they said charges are still pending. The spokesperson wouldn't say whether Cabrera was among those arrested.
Kate O'Brien-Ahlers, the communications director for the law department, said she was aware of the protests outside of their offices, but not the arrests. She said it didn't seem like the protesters were getting out of control.
Following a court decision that upheld a city policy banning religious groups from worshiping inside public school buildings, Cabrera said the city is now evicting churches from other city-owned property, including Infinity from the Bronx River Houses and the Bronx Bible Church from the Justic Sonia Sotomayor Houses in Soundview.
O'Brien-Ahlers said the law department worked on the case to prevent from worship in public schools, did not direct NYCHA to evict the churches from NYCHA-owned buildings. She did say the NYCHA was in the process of re-evaluating its permitting process for all groups that use their public spaces. (She said the churches don't have leases with NYCHA. They apply for permits to use the public spaces in the buildings.
NYCHA did not immediately respond to inquiries.
Cabrera adamantly opposes the city's ban on worshiping inside government property and is working with state lawmakers to have the policy changed.
Cabrera's office says "New York City is the only municipality in the nation that bans Houses of Worship from meeting in public spaces."
"Today we are seeing the first indication that the churches in New York City, and nationally, are awakening," said Cabrera in a statement about this mornings protest. "Together, we will fight these restrictive laws that discriminate against hundreds of thousands of Church-goers."
Stay tuned.