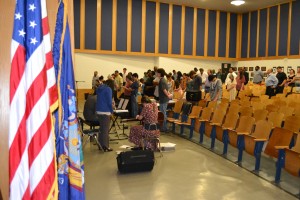 The Bronx Household of Faith, a small congregation in University Heights, and dozens of other churches throughout New York City will become homeless on Jan. 1 after the Supreme Court decided today not to review an appeals court ruling in June that upheld the city's policy of excluding churches from using public schools for worship services.
The Supreme Court denied the petition without comment except to note that Justice Sonia Sotomayor, a native Bronxite, "took no part in the consideration or decision of this petition." A public information officer at the Supreme Court wouldn't elaborate on why Sotomayor didn't participate.
Lawyers for the Alliance Defense Fund (ADF), which has represented Bronx Household of Faith in its legal battles with the city's Department of Education for 17 years, couldn't be reached for comment.
The ADF has argued that the city is unfairly singling out churches for exclusion and, consequently, violating their Constitutional rights. The city says holding worship services in schools amounts transforming the building's into churches and the appeals court ruling back in June upheld that position.
"The Department [of Education] is quite properly concerned about having any school in this diverse city identified with one particular religious belief or practice," said Jane Gordon, who argued the city's case, about the June ruling. "The decision is a victory for the city's schoolchildren and their families."
But the appeals court decision was divided 2-1 and earlier courts had ruled in favor of Bronx Household, allowing them to conduct services at PS 15 on Andrews Avenue in University Heights for the past decade. ADF lawyers felt strongly that the Supreme Court would take on the case.
We wrote about Bronx Household of Faith's plight in-depth back in June, but it's been back in the media spotlight lately as the Supreme Court drew closer to a decision on whether to take on the case.
Bronx Household is not the only local church affected by the decision. Love Gospel Assembly has been meeting at MS 399 since its building on Webster Avenue was destroyed in a fire last year. There are at least 60 churches using public schools to conduct worship services.