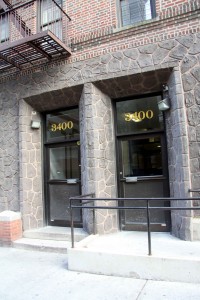 A Norwood teen is recovering after being shot two times outside of an apartment he shared near Williamsbridge Oval Park on Tryon Avenue.
According to EMS records, the unidentified 16-year old male was shot in the arm and leg on the second floor of 3400 Tryon Ave., at just before 6 p.m., on Saturday, Nov. 19. The victim was transported to St. Barnabas Hospital and was expected to survive.
According to witnesses, a dispute began when two groups of men had a dispute inside the apartment that spilled out into the hallway, where the victim was shot. Residents reported hearing four gunshots and witnessing four individuals taken into police custody from the scene.
Residents say that despite being in a wheelchair, the still-unidentified 25-year-old tenant of the apartment has been in trouble since moving into the there back in January, allegedly throwing partys with as many as 100 guests in the 1-bedroom apartment.
One neighbor cried, "I hope he didn't die!" When told the teen would recover, she responded, "That's great. Maybe he just needs some therapy. These kids these days."
The neighbor, who declined to be identified, said of the young man, "He's in a wheelchair because of his criminal past."
A second neighbor called the young handicapped man, "trouble," adding, "They throw party's with 100 people in the apartment."
Resident's also have been complaining of the stink of marijuana smoke, music blasting until the break of dawn and visitors at all hours of the day and night.
The neighbor recalled a police raid shortly after the young man moved in. "The police took out bags and bags of pot," he said. "They had a plantation in there."
A third resident of the building confirmed police have visited the apartment three to four times in a single night.
Calls to the building's landlord at E.N.M. Associates was not immediately returned. This publication will reach out to both the NYPD and the Bronx District Attorney's office regarding the accusations made by residents.