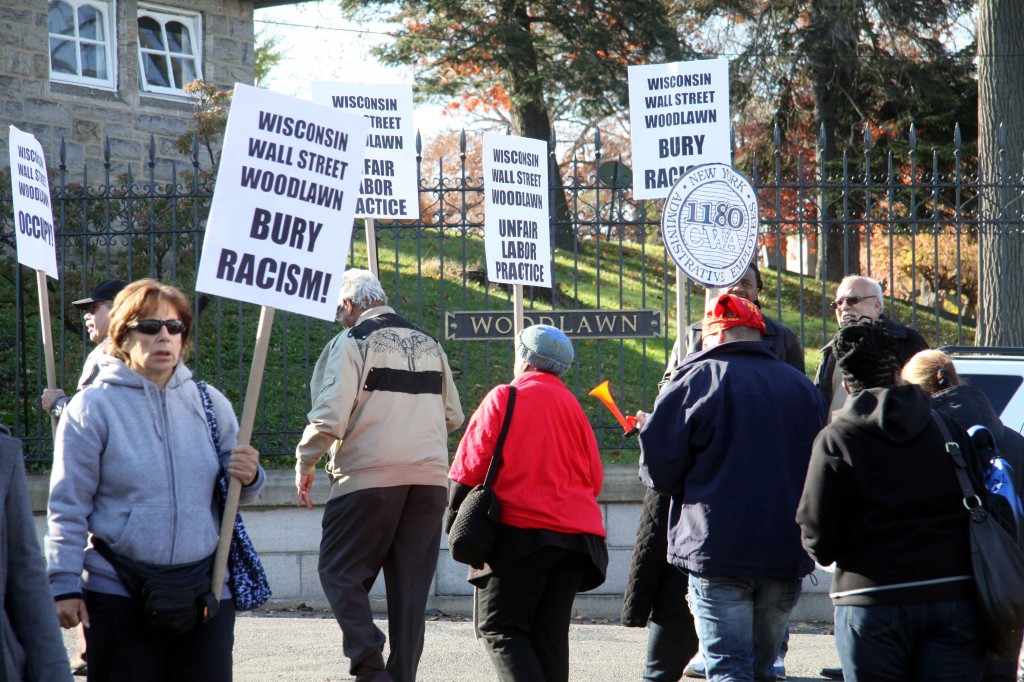 A group of protestors from downtown Manhattan's Occupy Wall Street encampment came to the Bronx this weekend, in a show of support for Woodlawn Cemetery workers campaigning against what they say are unfair labor practices at the landmark cemetery.
About 75 Wall Street demonstrators and members from several labor unions showed up on Saturday to rally with the cemetery workers, who for the last couple of years have tried unsuccessfully to address what they said were acts of overt racism by Woodlawn supervisors.
"We're going to be there to support them, because their struggle is our struggle," said Occupy Wall Street organizer Alan Janczewski.
The group marched outside the gates of the 150-year-old cemetery, holding signs and chanting slogans like, "Hey hey, ho ho, racist bosses got to go."
For the past few years, unionized Woodlawn employees have been at odds with management, claiming supervisors there discriminated against minority workers. Last spring, the cemetery laid off 15 of its 37 workers, a move officials say was necessary to cut budgets costs but which workers claim was retaliation for protesting.
"I'd like things to get back to normal here. I don't know if that will ever be," said Frank Russo, a Woodlawn worker since 1979 who says he lost his overtime hours after he spoke out against how his minority co-workers were being treated. "When you stick up for people in here, they just want to hang you. They tried mentally, they tried physically and now they are trying financially."
Occupy Wall Street demonstrators had been camping out in downtown Manhattan since mid-September to protest a range of issues, from corporate greed to wealth inequity. The movement spread to the outer boroughs last month, and several "Occupy the Bronx," demonstrations were held at Fordham Plaza and other locations.
Early this morning, Mayor Bloomberg ordered police to clear the encampment at Zuccotti Park, the downtown Manhattan plaza where the movement began.
–David Greene and Jeanmarie Evelly