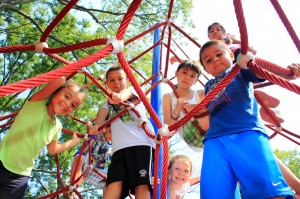 There's good news and there's bad news for Norwood's heavily-used Williamsbridge Oval Park.
We'll start with the good news. Tomorrow morning at 11 a.m., the Parks Department will hold a ribbon-cutting ceremony to celebrate the completion of the new playgrounds and basketball courts on the south end of the park. The playgrounds were finished just before the 4th of July thanks to some heavy lobbying by the Friend of Williamsbridge Oval volunteer ground. The basketball courts were only recently finished; their completion was delayed by a shoddy concrete job earlier in the summer.
Now, the bad news. A Parks spokesperson said the plumber working on the major overhaul of the Rec Center has defaulted, which will delay the opening of the center until the spring of 2012. It was originally supposed to open this past spring.
Ok, back to the good news. Here's a description, courtesy of the Parks Department, of all the new features that actually are open (we'll assume they will put up the actual hoops up before the ribbon-cutting tomorrow; they weren't up this afternoon) :
"This project includes a completely reconstructed playground, with a state of the art and fully accessible toddler and preschool unit, and more challenging climbers for the older children. A spray and water feature with artfully placed local boulders serves as a playful centerpiece of the playground, with activities geared toward younger children.

"There is also a new basketball court complex will two full courts, bench seating and bleachers. The central spray plaza has been redesigned to provide varied water play experiences geared toward older children, with a variety of seating arrangements, and durable plant beds featuring trees, shrubs and flowers. The plaza in front of the building was paved in decorative concrete pavers, including an impressionistic representation of a map of the world. The lower level of the recreation building has been made accessible to people with disabilities with a ramp system that maintains the symmetry of the existing building structure."
–Alex Kratz