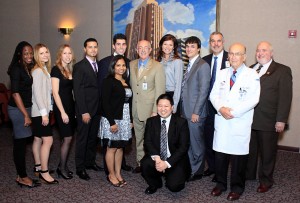 Montefiore Medical Center's Surgical Assistant program recently came full circle. Not only did it celebrate the graduation of its 2011 class, it's also looking back at 40 years since the program began.
Physician's assistants help doctors and surgeons perform medical tasks. They came into vogue during the Vietnam War, when physician assistants were relied upon to care for soldiers under doctor's directions. Montefiore was the first hospital in the country to center the program around helping surgeons in 1971.
Ten members of the PA program graduated at the ceremony recently held at the Cherkasky Auditorium. Members of the 2012 class were also announced.
Clara Vanderbilt is one of the program's first students and won the PA of the century award from Montefiore in 2000.
"Four decades ago Montefiore established a tradition which became the inspiration for over 40 residencies in surgery and other medical specialties around the country," she said.
The program, which used to be a full four -ear residency, is now a grueling 15 month program.