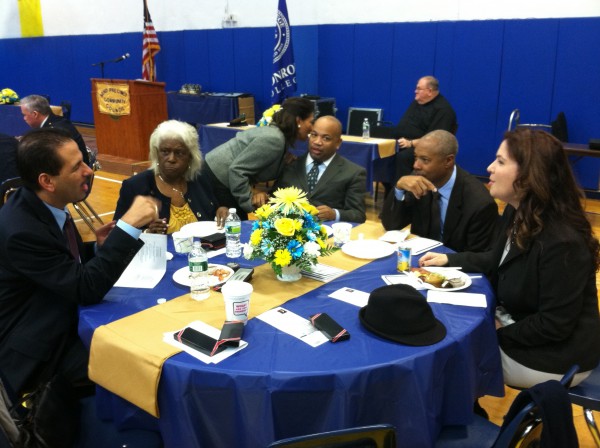 Quick rapid fire version of Friday News & Notes today.
— As you can see from the photo above, I attended the 52nd Precinct Community Council's annual breakfast and love fest this morning. In addition to the folks above, other notable political guests included Comptroller John Liu (who's been spending a lot of time in the Boogie Down lately), State Senator Gustavo Rivera, State Senator Ruth Hassell-Thompson and Assemblyman Jeff Dinowitz.
— DA Robert Johnson was given an award at about the same time 16 NYPD officers and five civilians were arraigned for various offense stemming from the ticket-fixing probe that has rocked the department. In his brief remarks, Johnson alluded to the charges, saying it "was a difficult day" for his office and that the actions of those implicated in the scandal should in "no way represents the big picture of the organization."
— At least one of the officers indicted is from the Five-Two. (We'll have more from the precinct council breakfast, including some good stories about our Finest, and the ticket-fixing scandal next week in our print edition and on Breaking Bronx.)
— Slimming State Senator Gustavo Rivera will have his final weigh-in tomorrow at St. James Park. At the beginning of the summer, as part of his Bronx CAN Health Initiative, Rivera said he would lose 20 pounds by the end of October. Last we heard, he was down 16. District Leader Kenny Agosto was also at the precinct council breakfast and said, while sweating after working the room a good hour, he was down 15 pounds.
— There are rumors of a rift growing between Community Board 7 members as evidenced by the razor-thin difference in the voting in of new Vice Chair Adaline Walker-Santiago-Higgins (yes, she wants all three names included). Walker-Santiago-Higgins said yes, the vote was tight, but that she didn't sense any serious turmoil. Stay tuned.
— Walker-Santiago-Higgins said she's working to secure a use for the Old Fordham Library, which is now apparently being used for storage and shredding purposes by the Department of Health, which is scrapping its plan to turn the building into an animal shelter.
— Enjoy and have a safe Halloween weekend!