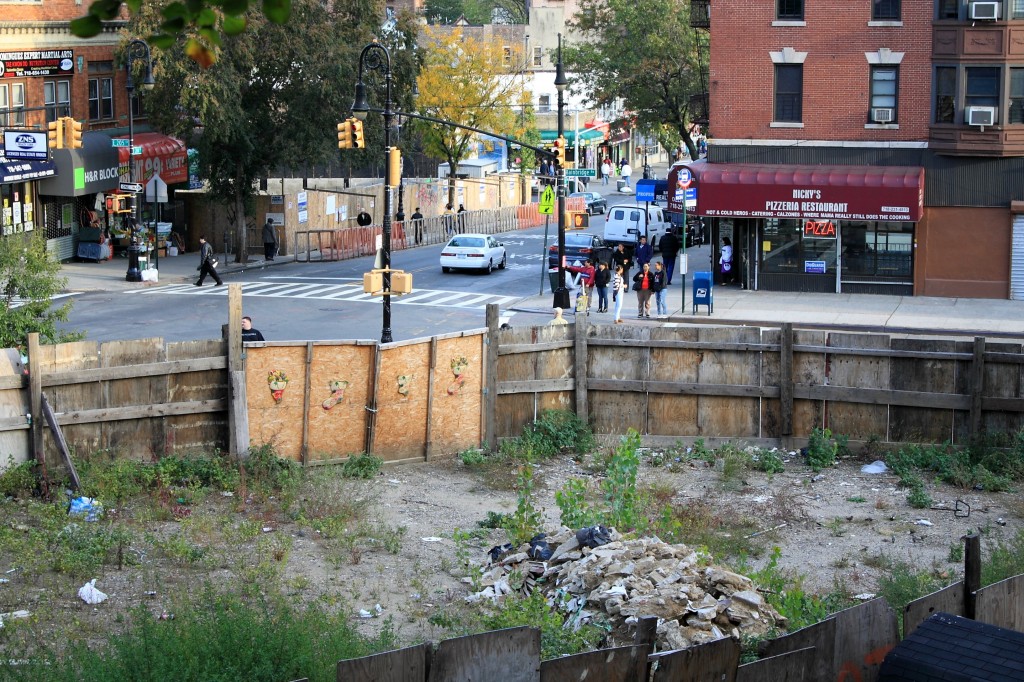 Two years ago today, on Halloween morning, a fire tore through a string of stores at the corner of Bainbridge Avenue and East 204th Street, reducing the 10 businesses housed there to little more than charred remains. Today, the space still sits empty, boarded up and strewn with rubble.
We sent a team of student reporters from the Bronx Youth Journalism Initiative — a journalism program for Bronx High School students run by the Norwood News — out on the street recently to ask local residents what they'd like to see built in the vacant lot.
Those interviewed offered up an array of ideas for what should fill the space: a bar, a pool hall, a coffee shop. While their answers were different, everyone agreed that the neighborhood is still suffering; one man described the corner as "a ghost place."
"It's very bad for the area here," said Kastriot Delias, the owner of Nicky's Pizza, across the street from where the fire took place. "A lot of people stopped coming here…my business is still not to its normal level."
"The collapse of big businesses hurt the small businesses," said Jim Cromin, a butcher at nearby Hillside Meat Market.
There have been some signs of rebirth in the area, however. A new and improved Foodtown supermarket reopened across the street from the vacant lot this spring (the original Foodtown was destroyed in another, arson-caused fire just two months after the Halloween blaze). Ming Wong Chinese Restaurant, which was damaged in the original fire, reopened, but then later closed from lack of business; the Bainbridge Bakery set up shop again in a new location, and then recently returned home just a few doors from its original location and opened up again last month after being closed for nearly two years.
The future of the fire site is in the hands of landlord Evelyn Jacobsen, who has been criticized by community members for being largely unresponsive since the blaze, despite telling the Norwood News two years ago that "the plan is to get the building back up as quickly as possible."
When asked what they'd like to see in the still-empty space, local residents offered a number of ideas to our youth reporters.
"I would like an intimate café to eat breakfast in," said Joszef Kiss.
"They should put apartments, low-income buildings," Diana Gomez said. "No more Chinese restaurants."
"No more 99 cent stores," neighbor Samirah Issa appealed.
Several respondents said they'd like to see the lot turned into some kind of neighborhood space, like a community center or youth program site.
"A community service program to help kids from joining gangs," Iris Negron suggested.
For some, anything would be an improvement to the weed-filled, eyesore of a lot that's there now.
"Something's better than nothing," Cromin said.
In the video below, Nicky's Pizza owner Kastriot Delias talks about the effect the fire two years ago had on his business and the neighborhood.
Text by Jeanmarie Evelly. Reporting and video by: Erica Maldonado, Giselle Lam, Michaela Ritz, Ashley Sandino, Leila Nombre, Dondre Lemon, Brandon Diop, Chris Delgado, Stephan Perez, Anthony Caldwell, Terrel Eric Warren, Lashay McCall, Kiki Olafimihan, Odallys Idrovo, Elijah Colon, Elfrida Johnson and Natalie Azvcena.