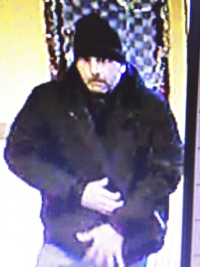 A serial burglar has robbed up to $10,000 worth of jewelry and other items from two homes in and around Bedford Park over the last month.
Police have identified a person of interest in the case. He was spotted on surveillance camera entering a home from an "unsecured entry" near East 201st Street and Perry Avenue around 7 a.m. on Jan. and took items before leaving. A day later, a victim came forward reporting that $5500 worth of jewelry had been taken.
That same person of interest matching the description from the first incident broke into a home two blocks up near East 201st Street and Valentine Avenue on Jan. 11, according to police. It happened around 1 p.m. when the unidentified man was seen breaking into the home and removing jewelry and electronics valued at around $4000.
Police at the 52nd Precinct encourage anyone with information to call CrimeStoppers at (800) 577-TIPS (8477).