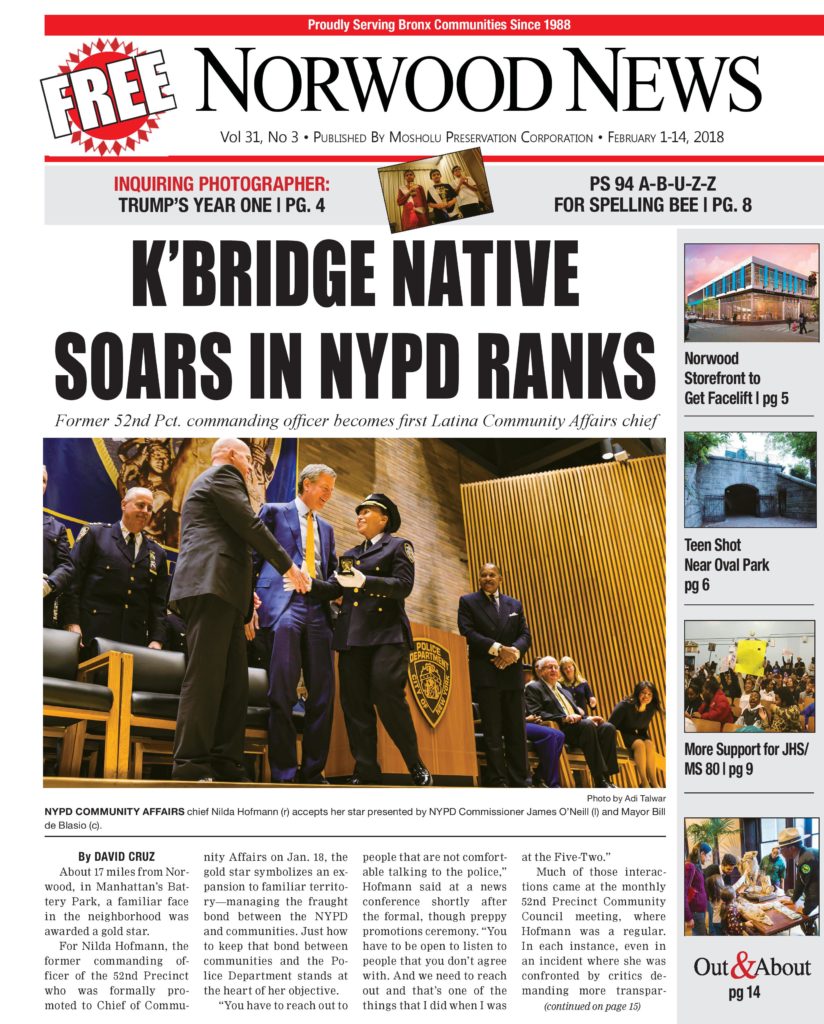 Dear Fellow Readers!
The latest edition of the Norwood News, largely covering the northwest section of the Bronx, is out with plenty of community news you can use. We pack 16 pages worth of news so let's get started!
We begin, as usual, with page one. There you'll find a nice human interest story on Nilda Hofmann, a born-and-bred Bronxite who rose to the rank of NYPD Chief of Community Affairs in January. We'll take you to the ceremony where the 28-year veteran received her gold star from NYPD top cop James O'Neill. You'll also hear how the NYPD's Neighborhood Police crimefighting method can make her an integral part of the force. Worth a read.
Our page 2 editorial takes a position on the new New York City Council Speaker, Corey Johnson, who's made it harder for ethnic and community papers like the Norwood News to get a greater sense of what's happening at the Council. Check it out.
David Greene writes a piece on a commercial property in Norwood primed to get a facelift. Meantime, we have a quirky story on what exactly led residents to find a yellow oil drum at the corner of East 204th Street and Perry Avenue. The answer will surprise you. We also have an update to a story on the 52nd Precinct being investigated for allegedly forcing gun arrests in an unorthodox way. The inspector is not having it.
As usual, we have the regular staples–an insightful Inquiring Photographer looking at President Donald Trump's first year in office, a listing of services in Neighborhood Notes, ways to prevent HPV in our Health Check feature, and a cultural listing of events in our Out & About section–all intended to make your the smartest person in the Bronx.
Finally, send thoughts to me, David Cruz, at dcruz@norwoodnews.org. I love to hear from the public so please don't hesitate.
Until next time!
David Cruz
Editor, Norwood News