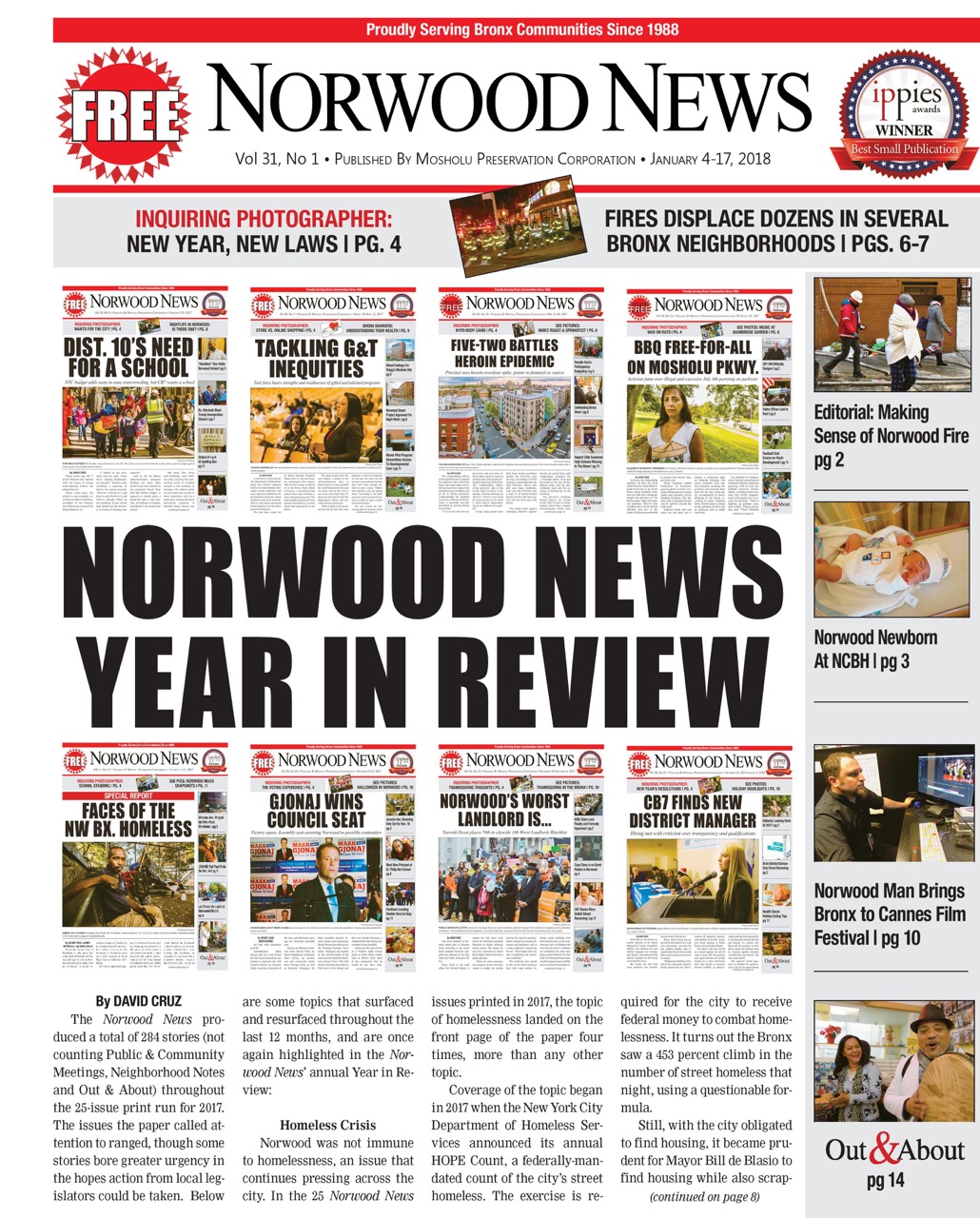 Dear Fellow Readers,
As you stay snug in your homes or brave the temperatures in your winter coats, you might want to check out the latest edition of the Norwood News. The first issue of 2018 is packed with plenty of Bronx community news.
We begin the first issue of 2018 by looking back at 2017 in our annual Year in Review write-up anchoring the paper. Our two-page spread takes you back to some of the more pressing stories of the year, with some numbers to support it. If there's a local story we missed, be sure to send us a Letter to the Editor.
Looking beyond the past we then turn to the present and the devastation left behind in three blazes that rocked three separate Bronx neighborhoods in the span of two weeks. Read about the fire at 3414 Knox Pl., which happened in a building owned by what the city identified as one of the 100 Worst Landlords. Read what tenants have to say about management. Tethered to the Norwood fire is a tragic fire that claimed the lives of 12 people in the Belmont section of the Bronx.
Veering towards more lighthearted news we profile Matt Raimo, a Norwood local, filmmaker, and employee of Empire City Casino who has upped his film career by having one of his films accepted to the Cannes Film Festival. Raimo has some great advice to aspiring filmmakers. We also give readers an update on some political happenings in the borough.
As usual, the regular staples are there–Inquiring Photographer, Neighborhood Notes, and Out & About–to get your brain going, make your life easier or offer some cultural fare.
We hope you consider sending a letter to us. Send them to dcruz@norwoodnews.org and let us know how we're doing.
So check out the latest edition of the Norwood News, and we hope you have a healthy and Happy New Year!
Til' Next Time!
David Cruz
Editor-in-Chief