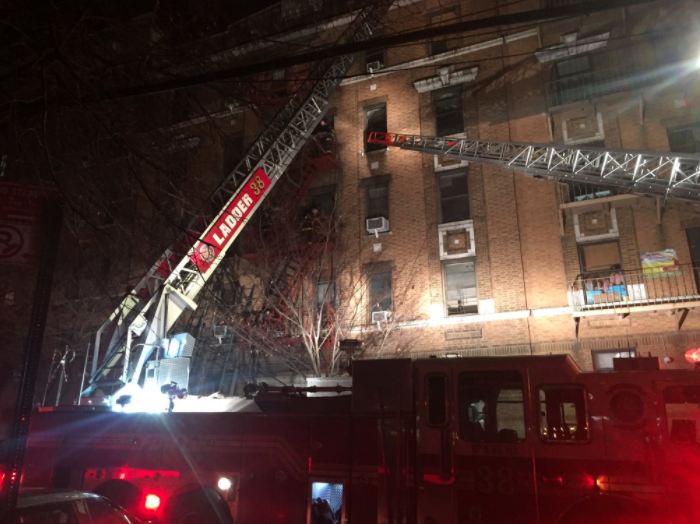 Twelve people, among them one child, are dead and four critically injured in a fire called one of the "worst fires in several decades." The fire in the Belmont section of the Bronx comes amid the city experiencing a deep freeze.
"This is the worst fire tragedy we have seen in this city in at least a quarter century," said Mayor Bill de Blasio at the scene of the fire at 2363 Prospect Ave. "Based on the information we have now, this will rank as one of the worst losses of life to a fire in many, many years."
Eric Phillips, de Blasio's spokesman, wrote on Twitter that the cause of the fire "appears to be a small child playing with a stove in a first-floor apartment."
Twelve other people were rescued and are expected to recover, de Blasio said. In several instances, fire crews can be seen leading survivors out of a fire escape.
Mayor: at least 12 dead. Worst fire in several decades. pic.twitter.com/UVxDu0xecD

— Eric Phillips (@EricFPhillips) December 29, 2017
Close to 200 firefighters brave the temperatures to fight the five-alarm blaze since just before 7p.m. and was brought down by 9 p.m. The fire happened at the first floor, according to de Blasio, standing alongside FDNY Commissioner Dennis Nigro. The five-story apartment building by East 187th Street is within walking distance of the Bronx Zoo and Fordham University.
De Blasio said one of the victims in the blaze was a one-year-old baby. Other victims include a 2-year-old, 7-year-old girl, 19-year-old woman, 37-year-old woman, 63-year-old woman, four unidentified men, one unidentified boy and one unidentified woman.
It's unclear what caused the fire. A review of the New York City Department of Buildings website showed no open violations against the building.
The fire came a day after a four-alarm blaze ripped through a building in Norwood that resulted in several dozen people displaced.
"[W]e've had an awful tragedy this evening," Bronx Borough President Ruben Diaz Jr. said.
Editor's Note: Victims can go to Crotona International High School at 2474 Crotona Ave. for assistance by the American Red Cross.