An overnight fire at a building owned by Norwood's reported worst landlord displaced every tenant on one of winter's chilliest nights.
It was a fire that woke up Michael Cotto, a six-year tenant at 3414 Knox Pl. His daughter first woke up, inhaling smoke.
"Everything is gone," said Cotto, standing alongside his wife, Jacqueline Colon. Luckily, the pair and their daughter have found a home at his mother-in-law's house. He and dozens of others in the 36-unit building have been displaced.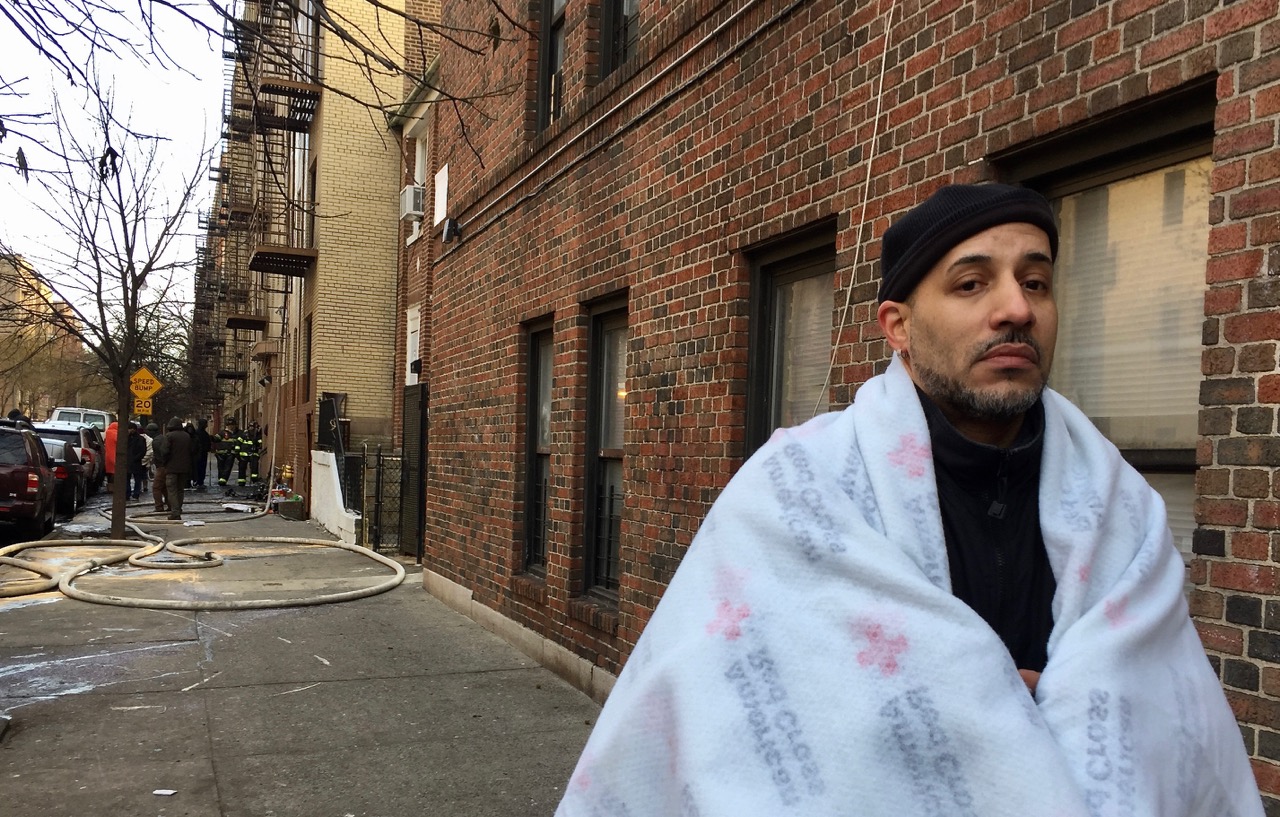 The building was listed as being owned by Narsinh Desai. In November, New York City Public Advocate Letitia James placed Desai on the 100 Worst Landlords Watchlist. Desai was placed 70th on the citywide shame list for having 118 violations in his building. The building now has 36 violations, with two C violations, considered the most egregious.
Desai is listed as the managing agent for Norwest Realty, a local management company at 287 E. Gun Hill Rd. Cotto and other tenants have taken the management company to Housing Court to make repairs to the building's electrical system. Though a cause of fire is still being determined, residents suspect the building's electrical system is to blame for the fire.
"This is the result of being cheap with the electrical, that's what this is," said Michael Espilco.
Cotto and Colon have directly sued Nick Gazivoda, one of the officers at Norwest Realty, who oversees the buildings day-to-day operations.
"The landlord never did anything. We took him to court," said Cotto, wrapped in a blanket provided to him by the American Red Cross. "All he did was change the circuit breaker and the problem kept still occurring. Did he come to fix it? No. Now we have a fire and everything is gone."
"Since 2015 I've had him in court and he doesn't fix the problem," said Colon.
The fire started at around 4:30 a.m. on the sixth floor of the six-story building, according to fire officials. At least two people were injured, according to the fire battalion chief. The fire was put up just after 6 a.m. The building's A, B and C lines were impacted. The FDNY usually sees more activity during frigid nights when tenants are turning on stoves or ovens to stay warm. The Red Cross provided assistance to some 15 families.
"I have a petition from the A, B and C lines. Everybody have flickering lights. Everybody had power outage," said Colon.
Gazivoda, who was on site to assess the roof damaged sustained by the fire, was unavailable for comment.
"All of these people have no place to live now because of his negligence," said Espilco.
Fire crews weren't only handling to bring down the Knox Place blaze. An abandoned home long considered an eyesore along Decatur Avenue burned for more than an hour early this morning and was all but gutted.
The blaze broke out in the basement of 3132 Decatur Avenue, and quickly spread to the first and second floors. Firefighters contained the fire from sweeping into the Huang Lee Laundromat next door.
"Our units responded to a three-story unoccupied multiple dwelling with a working fire in the basement," said FDNY spokesman Keith Reilly. "At its height, the fire was an all-hands," which Reilly stated consisted of 60 members and 12 units.
Members were able to bring the fire under control at 5:18 a.m., Reilly added, "There were no reported injuries and the cause is still under investigation."
Despite having been boarded up for several years, one source told the Norwood News, "I had heard that people had been going in there, but I haven't seen anyone recently."
A second house fire in October severely damaged another home and injured an occupant as well as a firefighter and paramedic.
That fire also remains under investigation.
Additional reporting by David Greene