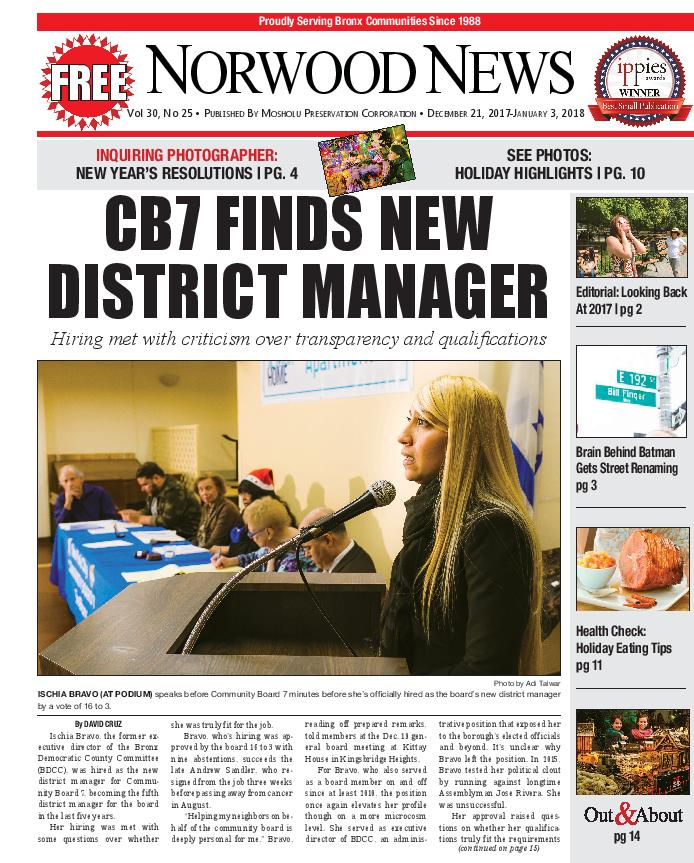 Dear Fellow Readers,
The latest edition of the Norwood News, covering the Norwood section of the Bronx and its surrounding neighborhoods, is out with its last edition of 2017! It's certainly been a ride. To refresh your memory of some of this year's happenings, we encourage you to take a look at our editorial. It's worth a read.
But let's get back to the beginning and page one! On Dec. 19, Bronx Community Board 7 finally found another district manager. This time it's Ischia Bravo, who becomes the first female district manager since the late Rita Kessler. Her hiring was met with some opposition. Read up why.
Inside-the-cover you'll find a neat story that begins with a question: did you know the birthplace of Batman was in the Bronx? In a story ripped from the lost pages of history, this story tells you about the co-creator of Batman. Check out the street naming event and where his name will be etched forever. It's worth a stop on page 10 to see our photo spread of holiday events leading up to Christmas and Hannukah.
On page seven you can get an update to this project that's been on hold for the last year. Read Wendy Joan Biddlecombe's piece on The Stagg Group and when they will build the Mosholu Grand, a 13-story residence at one corner of Norwood.
As usual we have your regular staples–an insightful Inquiring Photographer, nifty news in our Neighborhood Notes section, health news in our Health Check, and cultural listings in our Out & About section–all intended to grease the wheels of motivation.
The Norwood News always seeks feedback. Send comments to me at dcruz@norwoodnews.org.
So check out the latest edition of the Norwood News. We end with a wish for happy holidays and a Happy New Year. We made it towards 2017. Here is to 2018 and a great year ahead.
Til next year!
David Cruz
Editor-in-Chief