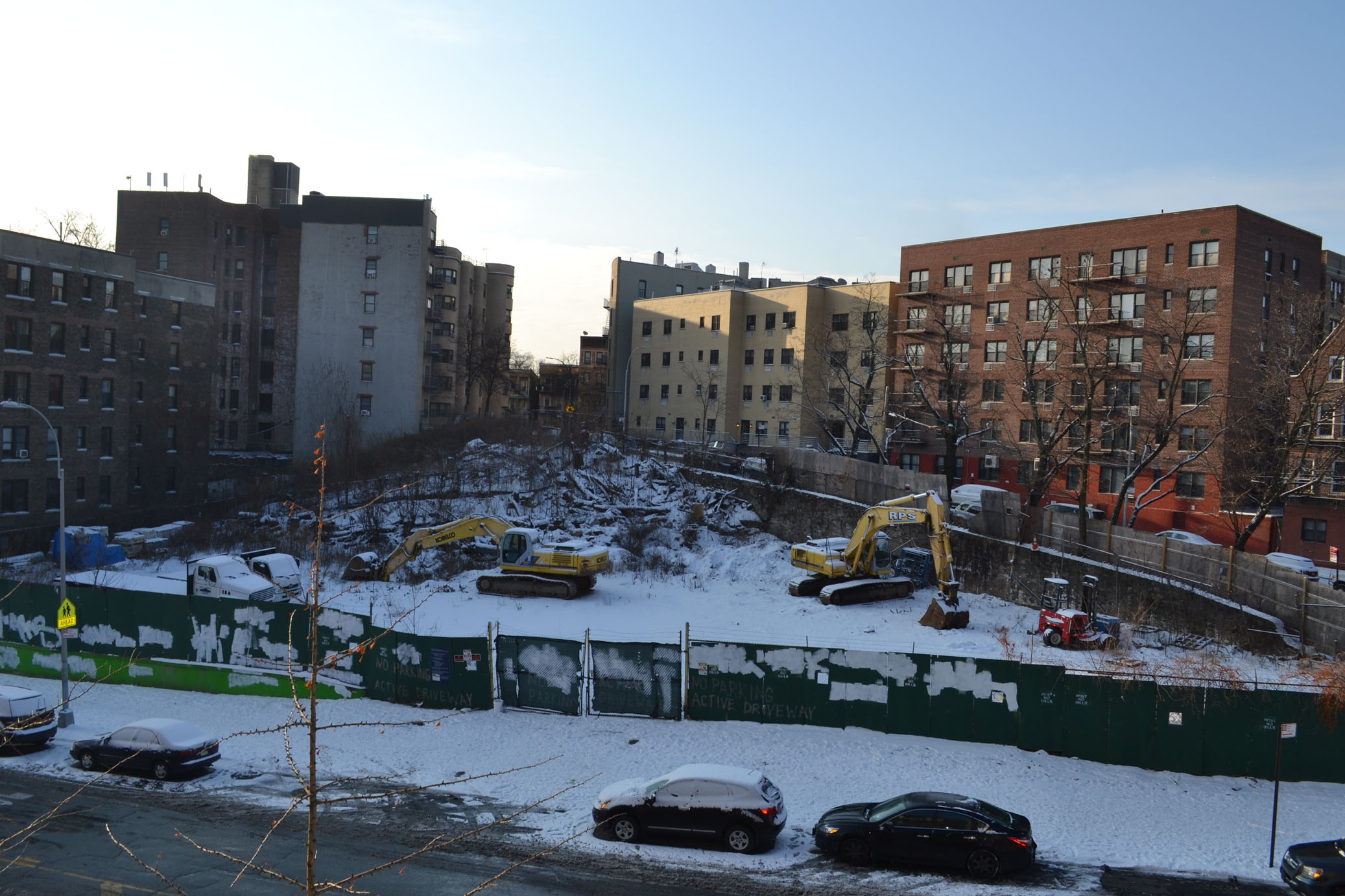 Mosholu Grand, the planned site of a 152-unit apartment building at a former auto repair shop and gas station location, is environmentally cleared for development following a monthslong debate over the property's safety.
Throughout the planning and demolition process, the community board and neighborhood residents were worried that the site at 150 Van Cortlandt Ave. E. might be environmentally unfit for living.
But according to an environmental assessment statement signed off on Dec. 6 by Aaron Werner, the director of environmental planning at the New York City Department of Housing Preservation and Development (HPD), construction at the site "would not result in any significant adverse impacts on the environment." This ruling, called a "negative declaration," considers not only possible hazardous materials but also the impact the new residents will have on local schools and infrastructure, water and sewer systems, lighting conditions, and other factors.
"I feel we're in good hands, [the report is] comforting to me," said Helene Hartman-Kutnowsky, Community Board 7's Environmental and Sanitation Committee chair who has been leading the charge to make sure the site is environmentally safe for future residents. "My contacts in the businesses assure me that HPD and DEP [the New York City Department of Environmental Protection] are being very thorough, and the documents do look good."
Earlier this year, a site investigation by the Brooklyn company Hydro Tech Environmental Corp., hired and working on behalf of the developer, the Stagg Group, found that "vapors associated with gasoline constituents and chlorinated solvents were detected in the soil vapor beneath the western and eastern property boundaries" and that "metals were detected throughout the shallow and deep soils of the site at concentrations exceeding regulatory standards."
Though a remedial action plan is in place to remove soil and other excavated materials from the construction site, residents needn't be alarmed, according to the city.
Juliet Pierre-Antoine, HPD press secretary, wrote in an email that the site "wasn't contaminated enough to be considered a brownfield. It just needed simple remediation."
"This is not a special case, it is a common practice," Pierre-Antoine said of the City Environmental Quality Review process.
Hartman-Kutnowsky said the community is still very "sensitive" to environmental concerns after the former Bronx New School, which rests a block from the Van Cortlandt Avenue East site, was closed in 2011 after  toxic chemicals were found in the air. A report released in 2013 found that students and employees at the school were exposed with high levels of trichloroethylene and were put at a minimal risk of developing cancer and other health issues from exposure to the carcinogen.
"Bronx New School was literally above levels that were safe to be around. I can't tell you what we went through as parents," said Hartman-Kutnowsky, whose child attended the school.
In a phone interview, Stagg Group president Mark Stagg said Mosholu Grand construction is expected to begin in March 2018. Though the environmental assessment statement lists construction time at an estimated 30 months, Stagg was adamant it would not take more than 18 months to completion once construction kicks off. He said that funding is in place and he looks forward to bringing more affordable housing to the Bronx. He also said he was unaware that graffiti is present on the construction walls, and said that his company will address the problem immediately. Several days after the interview, the graffiti was covered up.
Mosholu Grand is a proposed mixed-use building being funded for HPD's Multifamily New Construction Mix & Match program, which funds new construction of mixed-income apartment buildings. According to the plans, the complex is supposed to have 4,000 square feet of community space and roughly 2,590 square feet of off‐street parking.
According to the environmental assessment statement, of the 151 apartments (plus one apartment for a superintendent), 76 units would go to households that earn up to 60 percent of the Area Median Income. New York City's 2017 AMI is $85,900 for a three-member household. The rest of the units would be available to households that earn up to 90 percent of the AMI. About 10 percent of the apartments would be earmarked for "formerly homeless households," according to the report.
The Stagg Group purchased the property for $7.1 million back in 2015.
Editor's Note: The full report is available at https://a002-ceqraccess.nyc.gov/ceqr/ by searching with CEQR No. 17HPD109X.