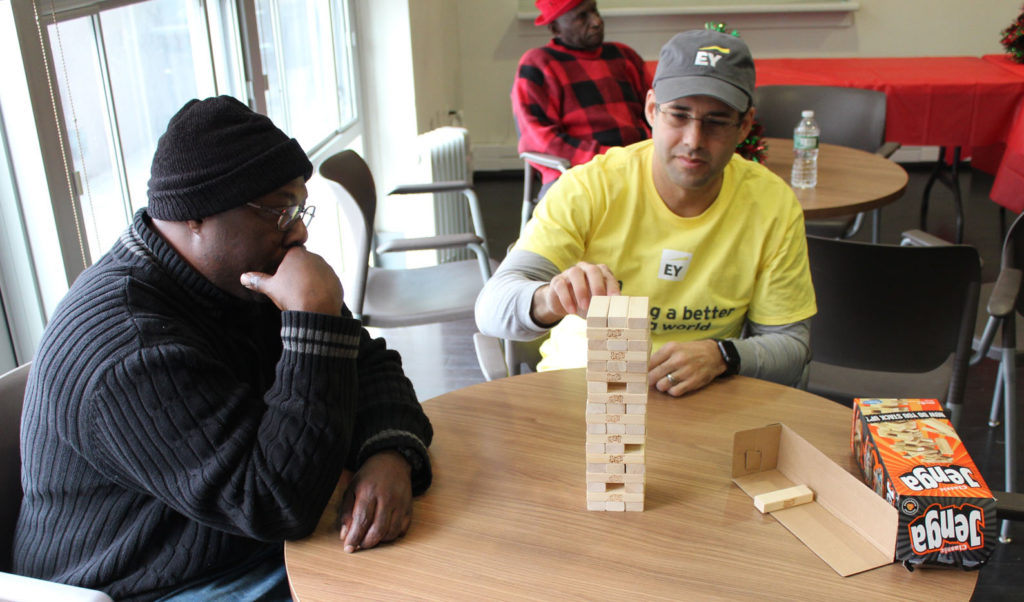 Amid the season of giving, volunteers filled the space with holiday spirit at Jericho Project's Kingsbridge Terrace Veterans Residence to spread some cheer.
This year Jericho kicked off the holidays raising awareness on homelessness and formerly homeless individuals at the Jericho Project's Day of Action on Dec. 8 at 2701 Kingsbridge Terr., one of their buildings reserved exclusively for veterans.
Jericho Project provides supportive housing owning eight different buildings in Harlem and the Bronx. The residents are provided assistance, employment and educational credentials, to keep them from returning to the streets.
Tori Lyon, Jericho Project's CEO, employees and their supporting partners, Ernst and Young (EY), hosted a holiday event at the home. EY, who's culture is to give back to the community, helped give residents gifts and a great lunch.
The U.S. Department of Veterans Affairs released data that shows that most veterans across the country and in Puerto Rico are at increased risk for suicide compared to their non-veteran peers. Records show that between 2001 and 2014 suicide rates have decreased for veterans who have used the Veterans Health Administration (VHA) care.
Veterans such as Craig Hinds and Darold Cox are one of the individuals who have benefitted from the Jericho Project. "They bring us together, make us feel good for the holidays, a sense of family," says Hinds, who's recently finished school and been a Kingsbridge Terrace tenant for five years. Cox, 66, mentions he wakes up thankful to be under a roof. "Not just any roof, a great roof," he says.