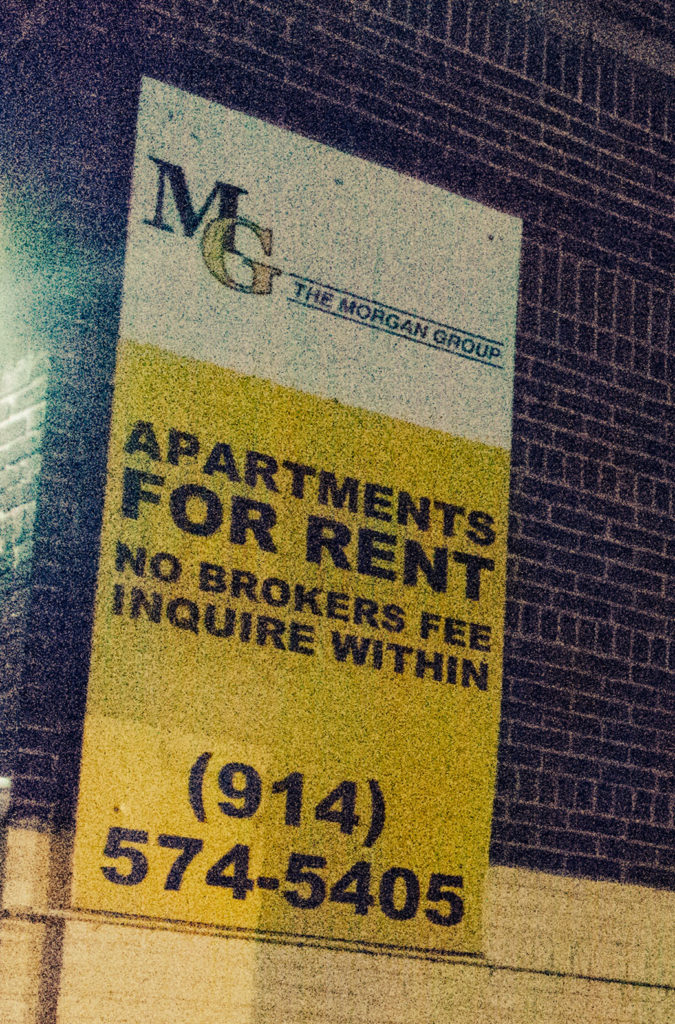 The ongoing hazardous conditions at a Kingsbridge Heights apartment building is now getting the attention of a Bronx legislator.
State Senator Gustavo Rivera, representing the neighborhood, has stepped in to show support for the tenants of 60 E. 196th St., which has been plagued with disruptive construction.
In response to the situation, Rivera attended a Division of Housing and Community Renewal (DHCR) investigatory conference with tenants and the Morgan Group, which owns the building. He also has secured legal assistance from Legal Services of New York (LSNY) in cooperation with the Northwest Bronx Community & Clergy Coalition (NWBCCC) and organized to help tenants apply for rent reductions.
As of Nov. 28, the Housing Preservation and Development agency has 163 violations filed against the building. More than 70 are Class C violations, ranging from paint that tested positive for lead to exposed electrical wiring.
The Norwood News previously reported that tenants on one line of the building were forced to share a single bathroom for weeks after they were left without water or gas while their kitchens and bathrooms were being demolished for city-mandated renovations. In some cases, tenants had their sinks and toilets completely removed. A stop work order was implemented by the city Buildings Department on Oct. 26, but was lifted on Nov. 8.
Jesus Ayala, an asthmatic tenant, says that the conditions have worsened since August. He says that they have not yet plugged a hole in the wall of his apartment, and instead covered it with plywood. Ayala says, "I had to go to the hospital [because] I ran out of the inhaler." His sister, Iris, says their apartment tested positive for lead paint and that her nephew tested positive for lead poisoning.
Maria Valdez, another tenant, says that although her kitchen was torn apart she was grateful to have it finished in time for Thanksgiving. She says, "There are still a few details that they have to finish, but those are things that you don't have to stop cooking for." She also says that she thinks the conditions have improved, but that there is still a lot more to be done.
Another tenant who only went by Ingrid, says that the circumstances have improved since Thanksgiving, after the meeting. She says that the Morgan Group was told that they must "finish at least the basic stuff for Thanksgiving like the kitchens and the bathrooms." However, Miguel, a tenant who commented on the first Norwood News article about the building, insists that the violations are mere "gossip." He says, "The building is being fixed in sections. The hot water and heaters, none of those things have we been without. It's just people finding something to complain about."
The Morgan Group is among the more prolific landlords in Norwood's surrounding communities. The firm's white and gold insignia typically hangs just above the first floors of apartment residences. The real estate tracking website Property Shark has at least 50 apartment buildings listed under The Morgan Group, with a swath of its properties found in Norwood and the surrounding communities. Scott Morgan is listed as the owner. Morgan did not return calls seeking comment.
Rivera also heard about conditions at 3115 Sedgwick Ave. in Van Cortlandt Village, another building owned by The Morgan Group. The area falls within Assemblyman Jeffrey Dinowitz's district, which also overlaps with Rivera's. The two plan to set up another conference on Dec. 8 with Scott Morgan to discuss conditions and alleged harassment that tenants are going through at the Van Cortlandt Village building, which is also facing multiple violations.
Dinowitz has condemned the conditions tenants have been subjected to. He says that tenants have shown him photos of the "shattered porcelain sinks" and "broken pipes" that they were left with. He also says the actions of The Morgan Group are "criminal." "While I am still waiting on conclusions from various agencies involved, if they conclude that harassment has occurred, then I strongly urge the Attorney General to take appropriate action."
Rivera encouraged tenants to become organized. "One tenant can obviously be… pushed away to the side, but a group of tenants is always stronger," he said.
David Cruz contributed to this report.