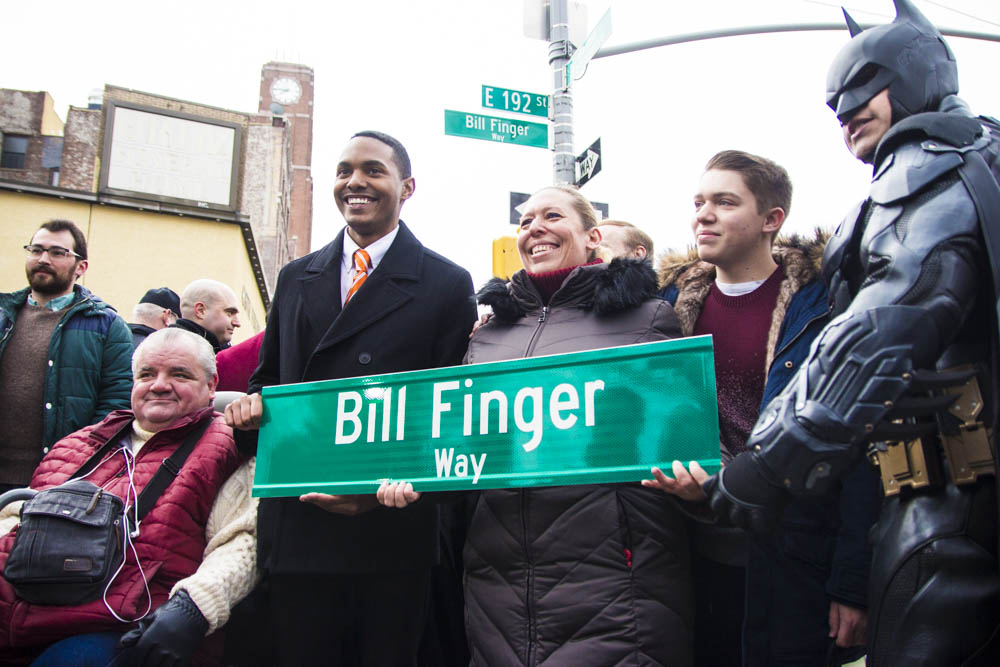 Much like his most-famous creation Batman, Bill Finger spent much of his life cloaked in the shadows of others.
But on the morning of Dec. 8, Finger was at the center of attention in his hometown. It's there were superfans of the Dark Knight assembled at the corner of East 192nd Street and the Grand Concourse to rechristen the cross street in honor of Finger, the man who many do not know is the co-creator of the Dark Knight.
"It's pretty surreal," said Benjamin Cruz, the great-grandson of Finger, whose contributions to the creation of Batman have largely gone overlooked. "It's exciting to see that he's getting recognition… and people are remembering him this way. It's great."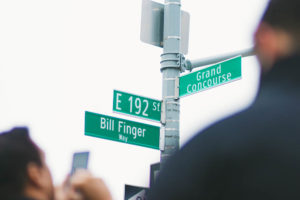 In the run-up to Batman's debut in March 1939, Finger, along with fellow Batman scribe and DeWitt Clinton High School alum Bob Kane, regularly met in nearby Poe Park to brainstorm ideas for the Gotham City vigilante.
Upon first listen, to learn that Batman was born in the Bronx comes as a surprise to many New Yorkers including New York City Councilman Ritchie Torres.
"I was shocked to discover that the co-creators of Batman have roots in the Bronx and drew inspiration from Poe Park," said Councilman Torres who sponsored the change in the Council, a requirement for official street renamings. "Like the Bronx itself, I think, the legacy of Bill Finger for too long went unrecognized, and I said why not tell that story publicly through a street renaming."
Torres was also joined by students from P.S. 46 and Finger biographer Marc Nobleman, who explained that it was common for comic book writers and artists such as Finger to not receive credit for their work.
"Essentially, it started in the 30s, when the comic book industry was new," Nobleman, the author of Bill the Boy Wonder: The Secret Co-Creator of Batman, explained. "There was a studio-system, a shop-system, where one man would set up a shop and hire other people. Then they would produce the story, and the boss would get the credit, which to a modern ear sounds wrong… [but] that's just how they did it then."
Despite contributing to Batman's iconic look and helping create his equally iconic arch-nemesis The Joker, Finger, who also co-created the Green Lantern, died in relative obscurity in January 1974 at the age of 59. It wasn't until 1989 and 2015 when Bob Kane and DC Comics acknowledged Finger's work, respectively.
"He really got lost to history, which is really a crime, and it is so wonderful that it is being corrected now," said Kevin Conroy, the longtime voice actor of the Caped Crusader. "But it's a quintessential New York character—Batman, you know? Everything about Gotham City, the darkness, the noir feeling about it, it's a very New York story."
While now an internationally-known superhero, Batman hasn't been completely lost to the Bronx. Scenes of the television series Gotham, chronicling the early years of Batman ally, Commissioner Jim Gordon, are regularly shot in Bronx Borough Hall.
For Nobleman, the street renaming was a dream realized. "This is one of many dreams come true for me as a Bill Finger fan and as a Batman fan and for the families' legacy."