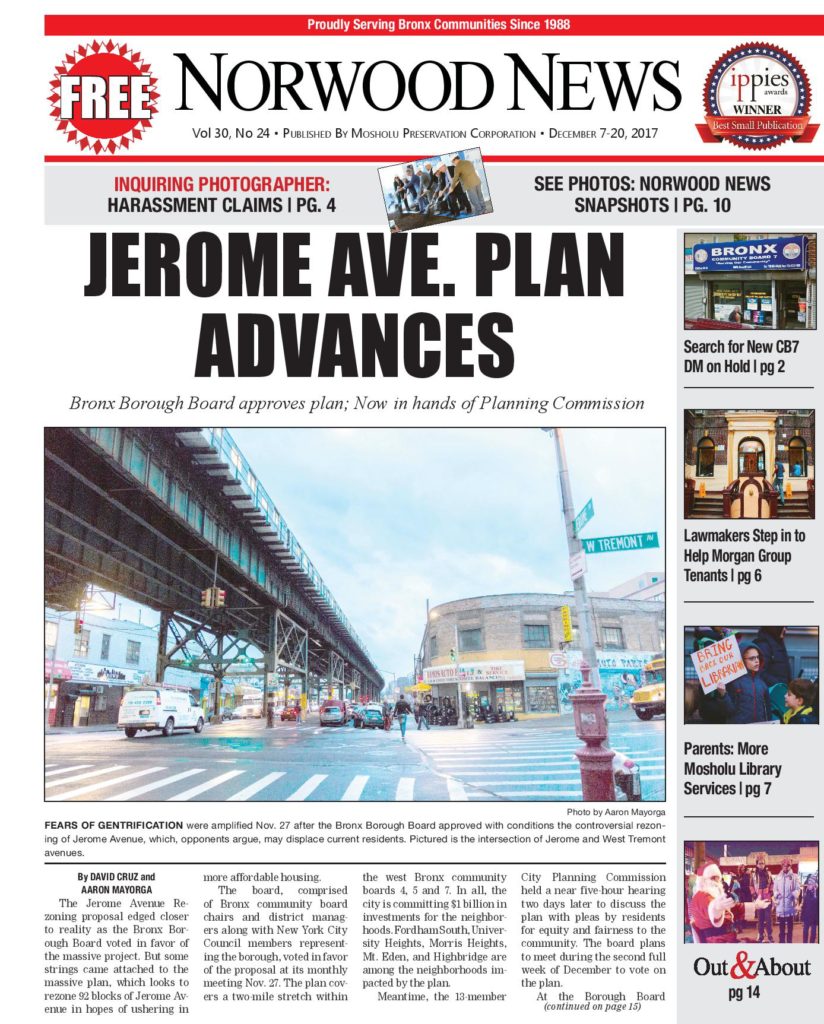 Dear Fellow Readers,
The latest edition of the Norwood News, covering the Norwood and the surrounding Bronx communities, is out with our second to last issue before year's end (time flies when you're having fun). With 16 pages of news from end to end, it's best we get into it.
We begin with page one, of course, and the issue of the Jerome Avenue Rezoning plan still in the making. The plan has received the blessing from the Bronx Borough Board, though with stipulations attached. Critics say it does not go far enough. Read what reporter Aaron Mayorga dug up.
Inside the cover you'll find a story on Community Board 7's ongoing delay in finding a district manager. Apparently the issue has to do with keeping the office sanitary. We'll explain there. We then have a story on a new construction violations bill drafted by Councilman Andrew Cohen to keep firms accountable for their work.
With the issue of sexual harassment front and center, we get five musings from Bronx residents who have something to say about it in our Inquiring Photographer. Meantime, hear what parents have to say about spotty children's library services at Mosholu Library.
The usual Norwood News staples are here–Inquiring Photographer, Neighborhood Notes, Health Check, and Out & About–all intended to serve as brain food. We also highlight events in our Norwood News Snapshots page, which is worth a look.
Don't hesitate to send an email my way. Send comments to me at dcruz@norwoodnews.org. This edition we have a robust Letters to the Editor page we would like to frequently fill up.
So take a look at the latest edition of the Norwood News. Our physical papers can be found across the northwest Bronx. So stop by your local restaurants, shops, and office to grab a copy.
Until next time!
David Cruz
Editor-in-Chief, Norwood News