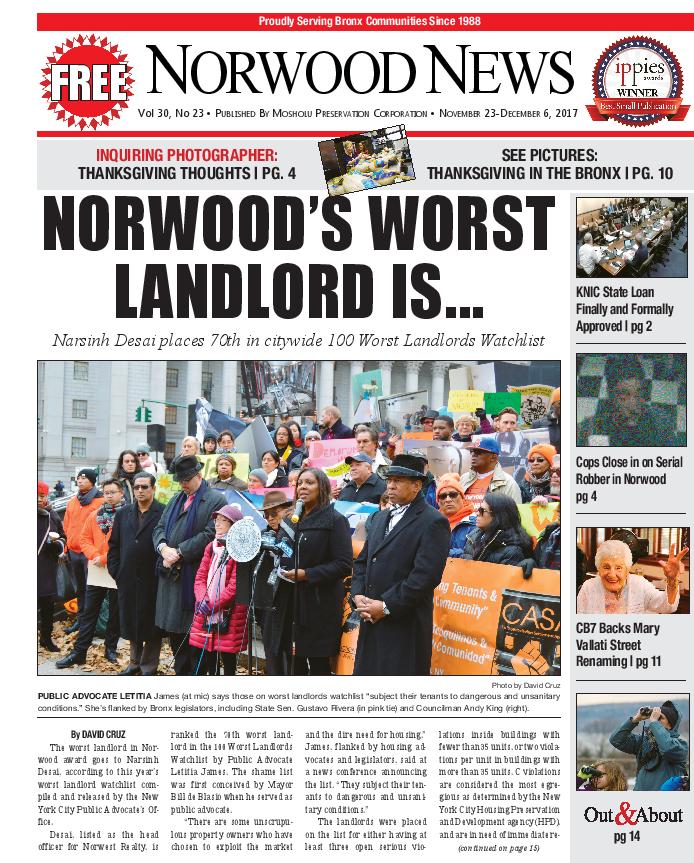 The 23rd edition of the Norwood News, covering the Norwood section of the Bronx, is out. We begin with page one and the worst landlords in Norwood.
Public Advocate Letitia James released the annual list of 100 worst landlords in New York City and Narsinh Desai came in at number 70, making him the worst landlord in Norwood.
This edition also features the Kingsbridge National Ice Center, for which a state loan has been approved, a crime file about a wanted serial robber who has attacked at least eight women in Norwood and surrounding neighborhoods, and a movement by Community Board 7 to rename a street after the late Mary Vallati.
Read page six to see if you're in one of the buildings that the United States Postal Service won't be able to access this holiday season. On page seven, read about the latest complains being made to the Civilian Complaint Review Board. Deeper into the issue, you can find out about the Thanksgiving events that took place this year in the Bronx.
As usual, the issue also includes Neighborhood Notes, a thoughtful Inquiring Photographer, Health Check courtesy of Montefiore Health System, and Out & About section to keep you informed during your Thanksgiving break.
Please enjoy the latest edition of the Norwood News and be sure to share with your friends and family.  As usual, feel free to share your thoughts on the latest edition at dcruz@norwoodnews.org.