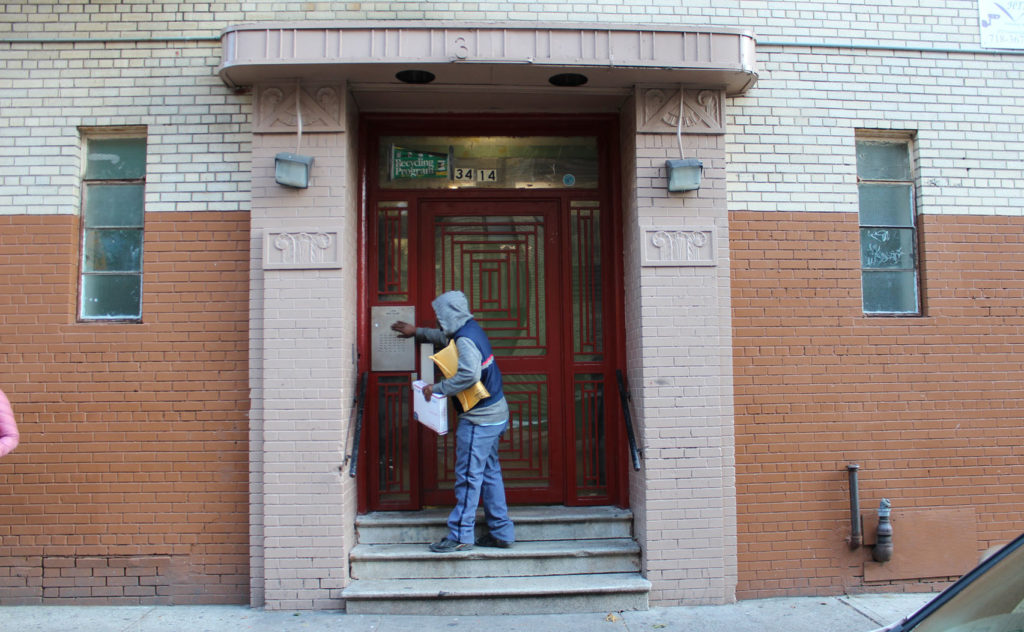 This holiday season, you might miss out on that Christmas package you've been expecting.
The United States Postal Service admits that its carriers can't deliver packages to some 2,000 apartments in the Bronx.
"Carriers cannot get into buildings," said Diane Jones, a USPS customer relations coordinator, at the latest meeting of Community Board 7's public safety committee. "And we're going to have an issue once the holidays come in and the packages start coming."
The issue arises from a lack of keys. While letter carriers typically have the keys to all of the buildings along their route, package carriers do not. Instead, they often find that the parcel they're hauling can't be delivered.
Under USPS rules, once a delivery is attempted and not accepted for any reason, the package is returned to the main neighborhood post office, which will then hold it for just over two weeks. Recipients who are left with a notice telling them that a package is waiting for them have a chance to pick up their package before it's returned to its sender.
Mail Routes 10458 by DavidCruz on Scribd
In Norwood, most undelivered packages are brought to the Williamsbridge Post Office at 711 E. Gun Hill Rd.
Having to hold more undelivered packages could mean longer lines and wait times at nearby post offices during the holiday rush. Jones warned that if packages aren't picked up it could mean no space at local post offices.
Although she wasn't clear about what might happen in that scenario, Jones was clear that the looming possibility has driven USPS to "put some pressure on building management" to fix the issue.
An internal list of buildings provided to the Norwood News shows 92 out of 192 buildings within the 10458 zip code—covering Bedford Park and parts of Fordham—are inaccessible to carriers.
Fortunately, a solution may be in order.
The "Key Keeper" is the first solution. As its name suggests, the Key Keeper—a small, metal lockbox—stores a given building's front door key. According to the USPS, the lockbox can be installed on a doorjamb or mounted on a wall.
An electronic key is also an option, which enables package carriers to allow themselves into a building through its buzzer system.
Lastly, building owners could opt to install parcel lockers in their lobbies. Normally, if a recipient isn't available, package carriers would leave the parcel locker key inside a mailbox telling the recipient that a package is waiting for them inside the parcel locker.
The average USPS-approved parcel locker runs in the thousands of dollars. Meanwhile, key keeper boxes retail for significantly less, around $50. It's unclear who would pay for the service, though Jones said that the federal agency won't fund it despite having done so in the past.
Currently, there is no law requiring landlords to make their buildings accessible to USPS package carriers.
Additional reporting by David Cruz