Police are looking for a suspect connected to at least eight related robberies in Norwood, falling within the 52nd Precinct.
A 64-year-old woman at Valentine Avenue and East 204th Street was approached by a man who snatched her purse before escaping on Nov. 6. The woman did not suffer any injuries, police say.
A 33-year-old woman was also robbed of her purse. The man approached her in front of 359 East 204th Street on Oct. 27 when he grabbed her purse and ran northbound on Decatur Avenue, police say.
In a similar incident, a suspect approached a 20-year-old woman from behind and grabbed her purse. The incident took place at 2950 Bainbridge Ave. at 1:00 a.m. on Oct. 26.
The man also grabbed a 66-year-old woman's pocketbook on East 203rd Street and East Mosholu Parkway South on Oct. 24.
On Oct. 22, another woman was approached from behind and snatched her purse on 55 East Moshulu Pkwy. Police say the thief also pushed her to the ground and fled on foot to an unknown location. The woman refused medical attention.
The man also pulled a purse from around a 46-year-old woman's neck, causing her to fall and cut her lip open. The incident occurred on the Grand Concourse and East 201st street on Oct. 21. He got away with several of the woman's belongings including, house keys, identification, cell phone and jewelry with a value of about $1,300.
A 22-year-old woman was approached similarly and thrown to the ground in front of 334 East 205th St. on Oct 10 at 10:44 p.m.
A 32-year-old woman was walking down East 201st and Bainbridge Ave. when the man grabbed her purse and iPhone on Oct. 4.
The man is black and in his 20's. He is around 5'5" and 160 to 170 pounds. He usually wears dark clothing when committing robberies and is known for targeting women.
Forcible Touching in Fordham
Police are looking for a suspect who molested a 14-year-old boy at a building near Fordham.
Police say the man approached the victim and convinced him to follow to a building on Morris Avenue and East 190th Street at 6:00 p.m. on Oct. 27. He then embraced the boy, grabbed his rear end, and rubbed his genitals against the boy's genitals over his clothing.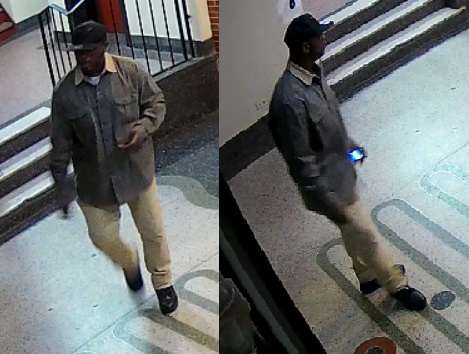 The man is described as forty years old, black, 5'9 and 180 lbs. He was last seen wearing a green jacket and khaki pants.
Anyone with information on the previous two crimes is asked to call Crime Stoppers at 1(800) 577-TIPS. The public can also submit their tips by logging onto the Crime Stoppers website at WWW.NYPDCRIMESTOPPERS.COM or by texting their tips to 274637 (CRIMES) then enter TIP577.