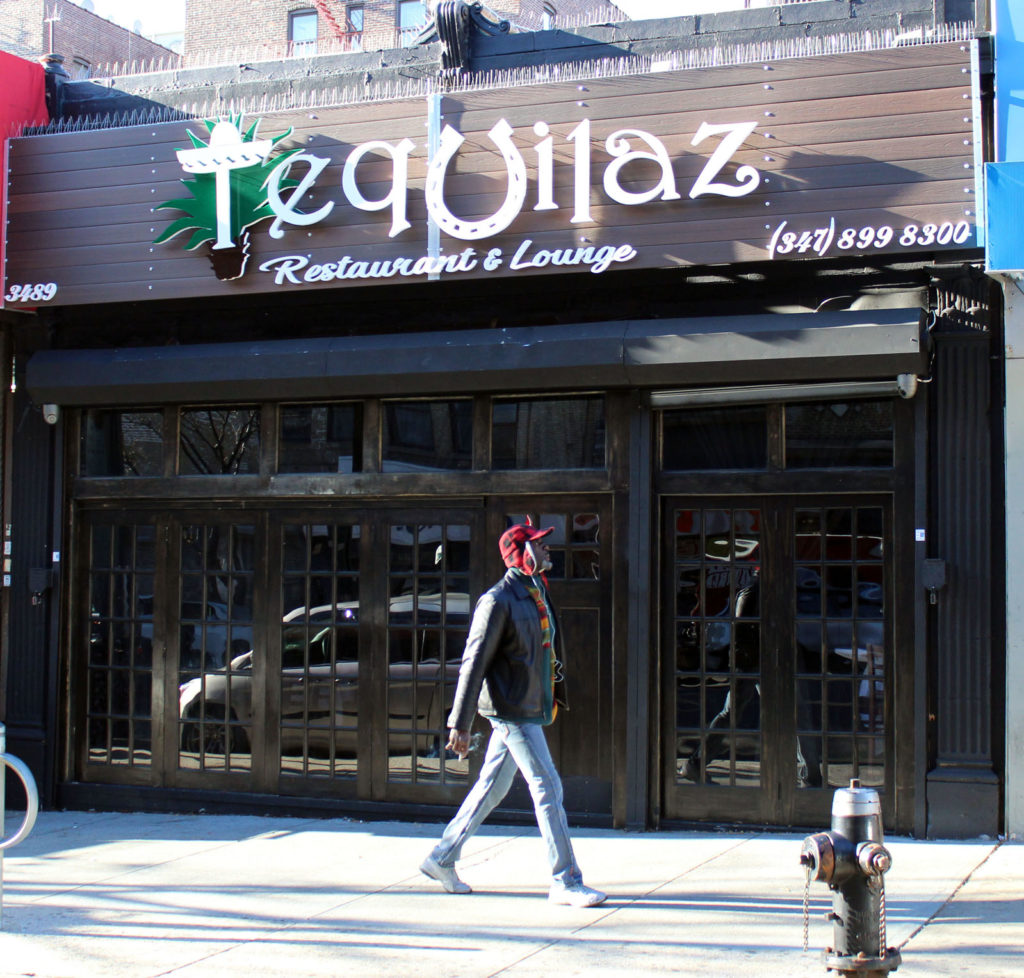 A popular go-to spot in Norwood permanently closed after a number of infractions were reported including selling alcohol to minors and numerous health violations.
Tequilaz at 3489 Jerome Ave. had closed days before it lost their liquor license on Nov. 8. This followed three reports of illegal activities, says the New York State Liquor Authority (SLA). The NYPD reported that a large fight broke out inside the restaurant that spilled onto Jerome Avenue during an inspection on Oct. 22. This is in violation of The Alcoholic Beverage Control Law which bars licensees from allowing their premises to become disorderly.
Prior to that incident, SLA had three pending cases against Tequilaz. The first case was for selling alcohol to a minor in May. The second case came after two more incidents of selling alcohol to minors in June. This case also included another fight that happened in May. The third case was for another alcohol sale to a minor, in addition to employing unlicensed bouncers in July.
Their license remained suspended from Oct. 25 until the SLA Board voted to permanently revoke the license.
On top of the SLA violations, Tequilaz scored poorly in an inspection by the New York City Department of Health (DOH) on Sept. 12. The eatery racked up 93 violations, way more than the 13 points permitted to score an "A." According to DOH, the violations included food not being stored at the right temperature, the presence of filth flies, and the facility not being vermin-proof. In a graded inspection that took place on Sept. 28, however, the restaurant scored a 3, which would equate to an "A." The final grade from DOH was still pending by the time the restaurant closed its doors.
Some residents have paid little attention to the restaurant closing. Ana Gonzales, a Norwood resident, says she had grabbed drinks there once or twice, but that the restaurant was "too expensive to frequent." Another resident, Eva Perez, says that she didn't even notice the restaurant there in the first place. "I thought it was a clothing store," she says.
Other residents say that they are glad to see the establishment go. Bryan, an employee at Amazing Linen that's two doors down from Tequilaz, says, "That restaurant brought problems here." He says that a lot of people would smoke marijuana outside of the restaurant, spilling out to other parts of Jerome Avenue. "[Tequilaz] had health issues, they lost their liquor license. Anything bad, they got it."
The restaurant served Mexican food along with Latin fusion and sushi, boasted "an array of various Latin Fusion flavors that are new to Norwood," according to their website. The eatery is now one of two restaurants that have closed in the neighborhood in a span of over a month, along with VIP Café.
Attempts to reach the restaurant owner, Harold Richardson, were unsuccessful.