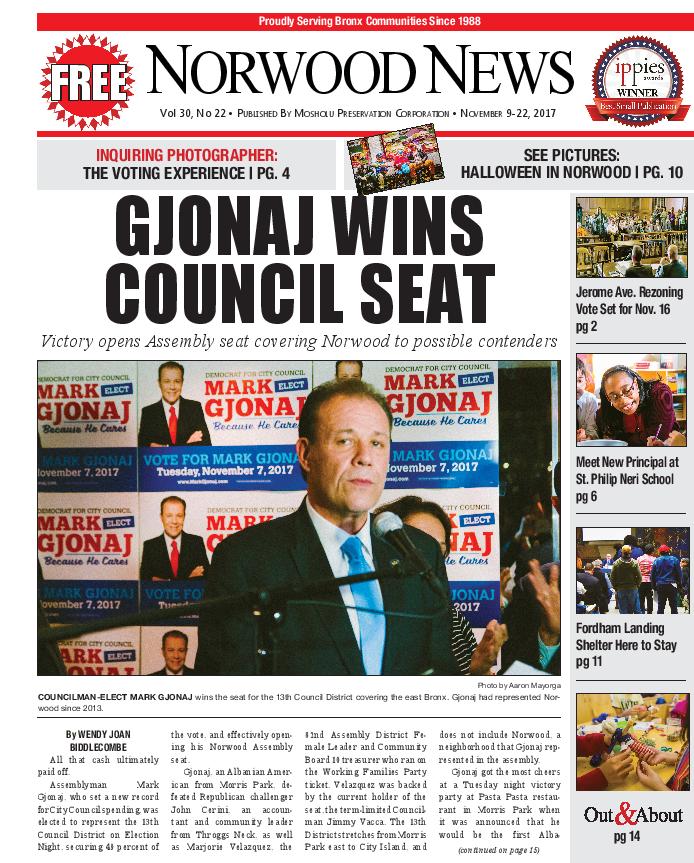 Dear Fellow Readers,
The 22nd edition of the Norwood News , covering the Norwood section of the Bronx and its surrounding neighborhoods, is out! You can find them at 300 locations across the borough. We begin, of course, with page one and the election of now Councilman-elect Mark Gjonaj.
Gjonaj, the Democratic nominee in the race for the 13th Council District, won his seat after spending $1 million. That number is significant since Council races ever get to that threshold. Find out who are some possible contenders for the soon-to-be vacant Assembly seat covering Norwood.
Other inside the cover stories include Bronx residents sounding off on the Jerome Avenue Rezoning plan. The proposal is not endorsed by housing groups. A hearing on the proposal is slated for Nov. 16. The proposal then moves to the New York City Council. We also have a profile story on the new principal for St. Philip Neri Catholic School. Definitely worth a read. We also turn to the Kingsbridge Armory and the state's approval of a $138 million loan to developers of an ice center there.
Be sure to check out page 10 of the Norwood News and a recap of Halloween events happening around the neighborhood. Adi Talwar, David Greene, and Aaron Mayorga all contributed to the photo spread. We also highlight efforts by a car dealer to help victims of Puerto Rico.
The regular staples–Inquiring Photographer, Neighborhood Notes, and Out & About–are also featured. For those in the mood for some grub, check out Diego Barcacel's story on Savor the Bronx!
So be sure to check out the latest edition of the Norwood News. Share them with your friends and encourage everyone to pick up a copy. We're available at restaurants, libraries, schools and offices. Feedback is always welcomed at this bi-weekly paper. So send thoughts to me, David Cruz, at dcruz@norwoodnews.org.
Til next time!
David Cruz
Editor-in-Chief
Norwood News