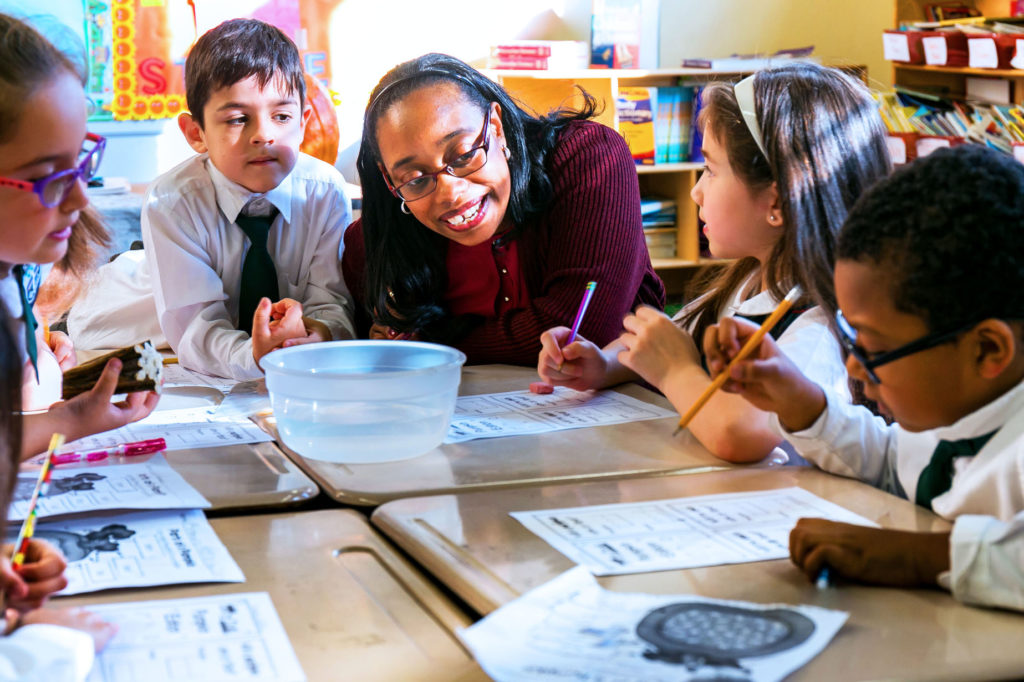 In the space of five minutes, Ajeia Beebe, new principal at St. Philip Neri Catholic School in Bedford Park, escorted a timid student out of a classroom, received a hearty "good morning Mrs. Beebe" from uniformed children walking down the hallway, and gave a top-down tour of the 104-year-old school.
It's been almost two months since Beebe came to the school, and she's already feeling at home. In many ways, she is. It helps that a number of her old students at the school she's previously worked at have now transferred to St. Philip Neri, making for a smooth transition.
"It's nice to see that students still have that love for education, and I think it also has to do with making it a loving environment and a nurturing environment and that's our goal," Beebe, speaking to the Norwood News from her office on Oct. 27, said. "Our school motto is 'Servium,' which is pretty much 'to serve' and that's something that I live by since I was born."
Up until August, Beebe served as principal at nearby St. Ann's Catholic School, which closed this year after the Archdiocese of New York deemed it was not on proper financial footing to continue operating. It was a closure Beebe described as "heartbreaking." Diocese officials reassigned teachers and administrators across the system, with Beebe ultimately chosen to lead the Catholic school that rests at Grand Concourse near Bedford Park Boulevard. It's an institution with an enrollment of some 200 students, and one now that's replaced the New York City Department of Education's Universal Pre-K for one they've solely sponsored.
With no signs St. Philip Neri would face closure, Beebe has hit the ground running with an aggressive agenda that includes expanding music services, increasing enrollment, starting so-called buddy classes, and instituting a teacher resource center that's expected to launch in December. As has long been the case for Beebe, ideas are jotted down in a binder she's kept.
On her days at school, Beebe remains omnipresent, evaluating teachers, serving as a watchful eye during dismissal or leading a choir class. She relies on her student hallway ambassadors, handpicked to responsibly escort other students who may be running late.
"So it's that personal touch where some students may feel a bit nervous going to class or going up the stairs by themselves because they're not with their class, but with VIP service," Beebe said.
Beebe spent a portion of her childhood in Highbridge. His mother was a lector while her dad volunteered at Sacred Heart Catholic School. "That was the elementary school that I went to so we were truly bled with working with the Marist Brothers and also Farther Mark Cregan," recalled Beebe. "I was teaching religious studies when I was 13. I was teaching public school students third grade all the way up preparing for sacraments. I didn't mind it. It was something I enjoyed."
Her entire career has been in the Catholic school system, an institution she feels is making a comeback. With parishes forming regional schools, it's bridged a stronger bond between church and Catholic school officials. St. Philip Neri appears to be following that tract, according to Beebe, thanks to the school's relationship with Father Jose Serrano, St. Philip Neri Church's lead pastor.
"Father Serrano has been wonderful in assisting with mass, making a presence and walking through the building and saying hello and allowing us to utilize the church facilities if that is a need," Beebe said. "But at the same time it's give and take, but we work very well together."
Scholarships and financial aid programs are available to students, a boon to the neighborhood's working class and second generation of immigrants enrolled at the school.
The joys of teaching continue to course through Beebe, who relishes in popping her head into classes or even teaching a class every once in a while. "It's those little things that still keep me going," Beebe said. "It's the children."
Editor's Note: The published edition of the Norwood News erroneously spells Ajeia Beebe and Fr. Mark Cregan's names. We apologize for the error.