All that cash ultimately paid off.
Assemblyman Mark Gjonaj, who set a new record for City Council spending, was elected to represent the 13th Council District on Election Night, securing 49 percent of the vote, and effectively opening his Norwood Assembly seat.
Gjonaj, an Albanian American from Morris Park, defeated Republican challenger John Cerini, an accountant and community leader from Throggs Neck, as well as Marjorie Velazquez, the 82nd Assembly District Female Leader and Community Board 10 treasurer who ran on the Working Families Party ticket. Velazquez was backed by the current holder of the seat, the term-limited Councilman Jimmy Vacca. The 13th District stretches from Morris Park east to City Island, and does not include Norwood, a neighborhood that Gjonaj represented in the assembly.
Gjonaj got the most cheers at a Tuesday night victory party at Pasta Pasta restaurant in Morris Park when it was announced that he would be the first Albanian-American city council member.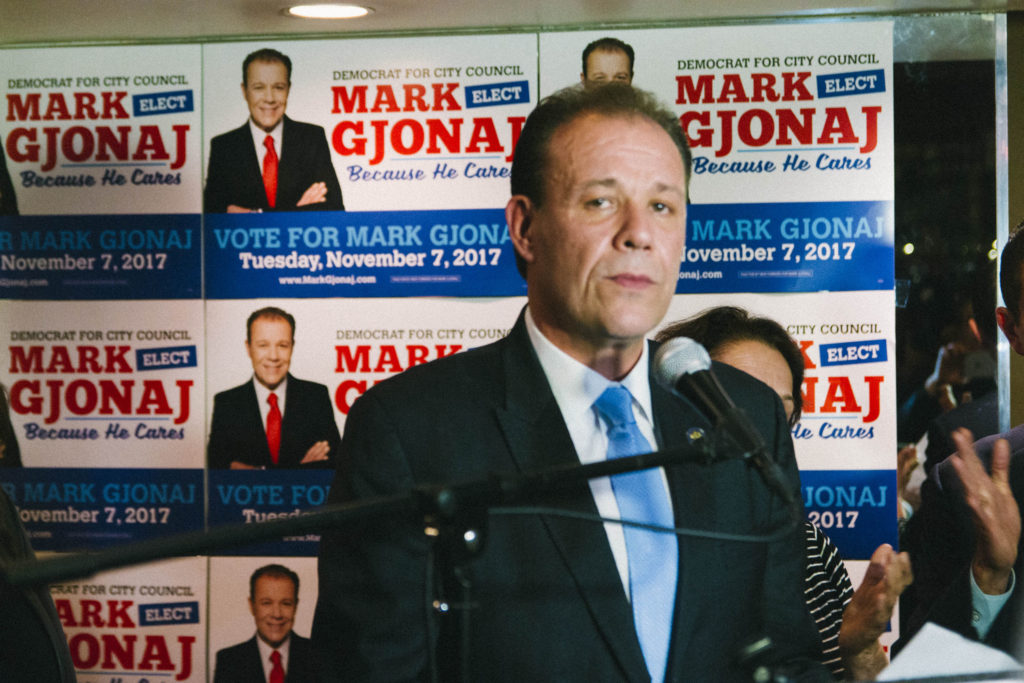 "Black, white, Albanian, Irish, women and men, we are one collective voice and we are going to say 'wake up City Hall,'" Gjonaj said. "The Bronx will not become a tale of two boroughs."
Gjonaj said that after a short break of a day or two, he's ready to start working on his campaign issues: improving transportation, quality of life issues, and addressing overcrowded classrooms and homeless shelters.
"I will always be a part of this assembly district, I don't care about borders," Gjonaj said of Norwood no longer falling within his council jurisdiction.
Backed by Gov. Andrew Cuomo, Bronx Borough President Ruben Diaz Jr., Bronx Democratic Party Chair Marcos Crespo, unions that included 32BJ and 1199SEIU, Gjonaj clinched the Democratic nomination for the council seat by less than 400 votes in the September primary.
As of Nov. 7, Gjonaj raised $838,904 in net campaign contributions and spent $1,112,625 on his campaign. He did not participate in the New York City Campaign Finance Board's matching funds program, which matches contributions from qualifying New York City residents at a $6-to-$1 rate. Candidates who join the program—that aims to have New Yorkers, not special interest groups, donate to campaigns—can receive up to $1,050 in public funds for each contributor.
Gjonaj's ascent, which comes with a bump in pay (council members earn $148,500 a year to the $79,500 that state legislators earn), leaves the 80th Assembly District without a representative for the foreseeable future, perhaps until 2019, unless Cuomo calls a special election in the interim.
In a phone call before Election Day, Anthony Rivieccio, the founder of Northwest Bronx Democrats, said that Gjonaj's win as a council member is a loss for the 80th Assembly District and Norwood.
Rivieccio said that he supported the new council member for years because he's been "accessible" and 'negotiable' in regard to any topic or issue" since he was elected to the assembly in 2012, having defeated incumbent Assemblywoman Naomi Rivera.
Rivieccio said that now that Gjonaj is in the City Council, a number of hopefuls who have been eyeing his seat might come out publicly. These contenders might include:
Marcos Sierra, District 80 Male Leader
Andrea Siegel, District 80 Female Leader
Adam Bermudez, aide to Councilmember Andy King who ran for the Assembly seat in 2012
Nathalia Fernandez, the Bronx regional representative for Gov. Andrew Cuomo's office who previously worked for Gjonaj
Sheila Sanchez, president of Northwest Bronx Democrats
Rivieccio pointed to Gjonaj's willingness to not only support the downzoning of Mosholu Parkway, but also to provide video testimony as a sign of his commitment to preserve and protect the greenway from over-development.
Behind the scenes, Rivieccio said Gjonaj has provided resources to community organizations for their flea markets, cleanups and other programming. Rivieccio recalled an effort about four years ago to paint over unsightly and prolific graffiti that plagued the bridge to the New York Botanical Garden on Mosholu Parkway.
"Assemblyman Gjonaj got a team of community people together," Rivieccio said. "None of us were great painters. [But if you look at the bridge today] it's clear and white."
As for the high campaign spending, Rivieccio said Gjonaj did what he had to do to win a more conservative Democratic district.
"Cerini happened to be a very credible candidate," Rivieccio said, adding that he was glad the assemblyman didn't participate in the funds matching program. "Otherwise, the city would be broke," Rivieccio said.