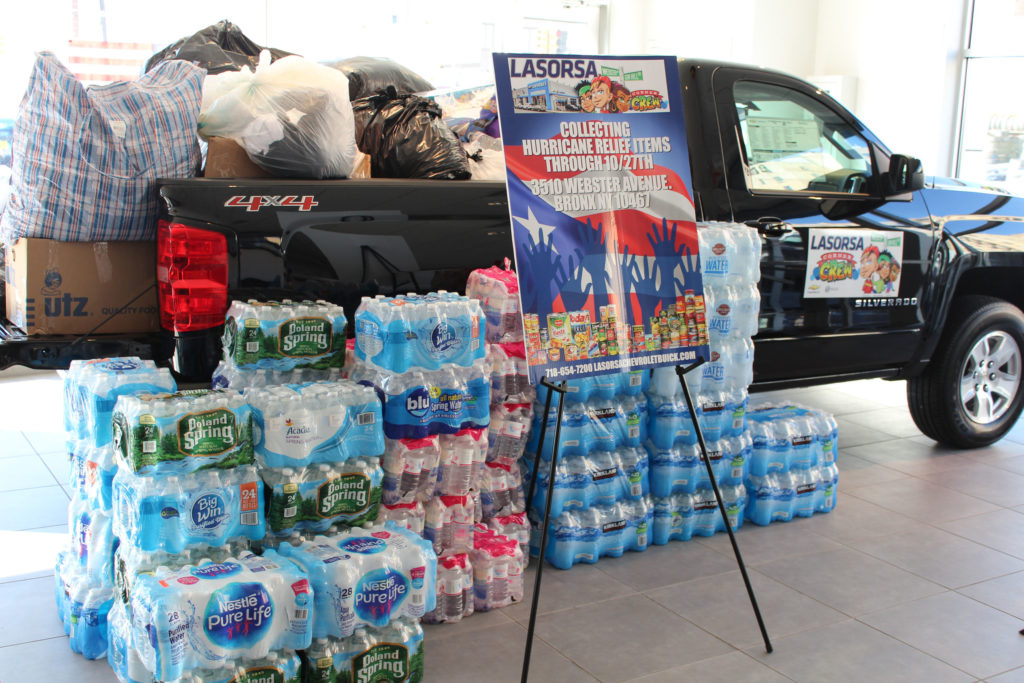 LaSorsa Chevrolet Dealership announced their collection efforts for victims of Hurricane Maria in Puerto Rico were successful.
The auto group on the corner of East Gun Hill Road and Webster Avenue in Norwod collected hurricane donations for the past two months through Oct. 27 with a portion of donations coming from the recent Hurricane Relief Concert held at East 204th Street and Webster Avenue. With the help of local residents, they've received an abundance of water, clothing and nonperishable goods.
Satisfied with the amount of donations received, John A. LaSorsa, CEO of the dealership, told the Norwood News he was happy to be a collection center. With family in Puerto Rico, employee families involved, along with the community who needed the help, "Its really a great effort on behalf of the community and we're happy to be involved," he says.
Hurricane Maria devastated Puerto Rico in September, with electrical power still out across the U.S. commonwealth. Its impact has been greatly felt across the Bronx, where an estimated 300,000 people of Puerto Rican descent live. There have been 51 deaths as a result of the Category 5 hurricane, though many have begun to dispute the numbers, claiming as many as 900 have really passed. A series of collection drives have been organized to send as much relief aid to the ravaged country. Among the biggest collection drives is one organized by the City of New York, which has assigned FDNY stationhouses across the Bronx to serve as collection sites for Hurricane Maria victims. Batteries, baby food, diapers, and feminine hygiene products were among the more sought-after donations.
The dealership has left it up to the community to decide what area of Puerto Rico will receive these donations. "Without them we don't exist, so its important for us to be a part of anything that happens to our community," said LaSorsa.