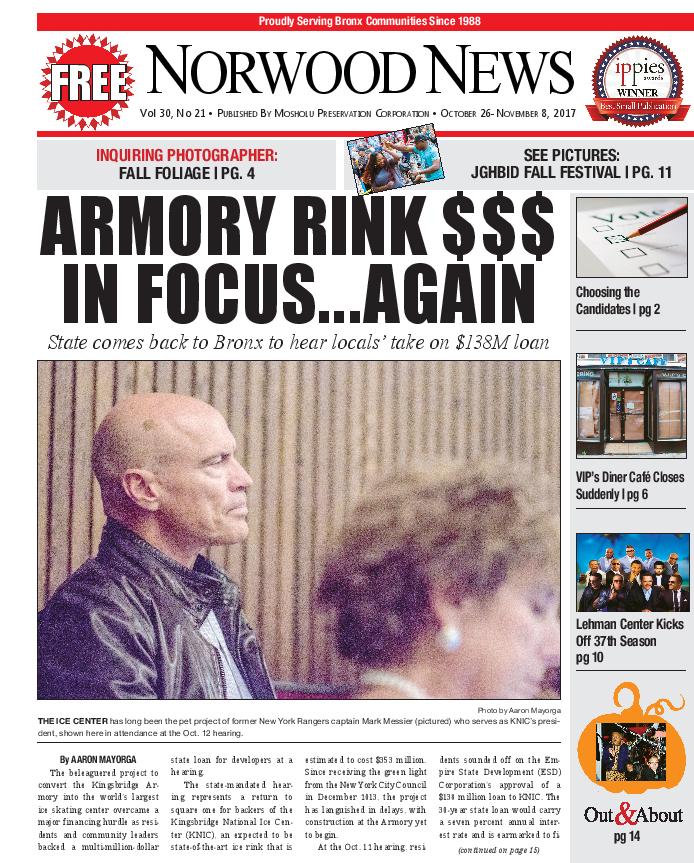 Dear Fellow Readers,
The latest edition of the Norwood News, covering the northwest portion of the Bronx, is out with plenty of community news you can use. For the sake of consistency, we begin with page one as usual and a story that keeps on giving–the Kingsbridge Armory.
This time, in a move aimed at advancing the reconfiguration of the building to a massive ice center, state officials heard from the community on whether to fund give the beleaguered project a $138 million state loan to begin phase one. The findings were near unanimous. Reporter Aaron Mayorga chronicles reaction from community stakeholders on the prospect of the state loan. The 1200-word article, which offers an in-depth look at what exactly has happened since the New York City Council approved the project in 2013, is certainly worth the read. On a side note, it has been , 1417 since the Council approved the project that's been in limbo.
Diving into inside-the-cover articles you'll find our page 2 editorial on the mayoral election and its candidates, a push to rename a street in Riverdale after the late Community Board 7 district manager, and a feature story on Lehman Center for the Performing Arts' long-serving director Eva Bornstein. Also, be sure to check out page 11 and a feature photo page showing highlights of the Jerome-Gun Hill Business Improvement District's annual Fall Festival. Definitely a feast for the eyes~!
As usual, we have your regular staples–a fun Inquiring Photographer, an insightful Neighborhood Notes, Health Check, and robust Out & About–all intended to make you a well-informed and well-rounded reader.
So check out the latest edition of the Norwood News and share it among your family, co-workers and friends. Also, we always love to gauge the community and hear what they have to say about the paper (good or bad) so send thoughts to me at dcruz@norwoodnews.org.
Until next time!
David Cruz
Editor
Norwood News