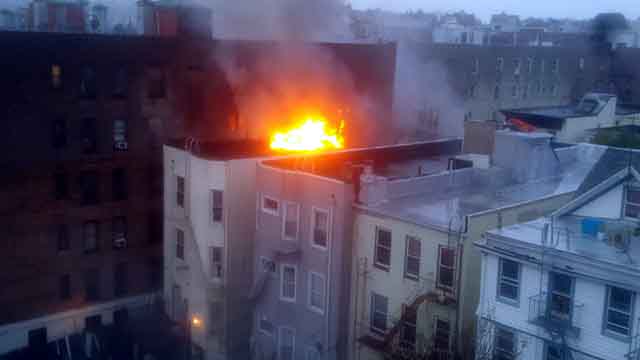 One person, a firefighter and a paramedic suffered minor injuries after a fast-moving house fire destroyed a three-story home on Decatur Avenue.
According to fire officials, the fire broke out at 7:30 a.m., on the second-floor of 3080 Decatur Ave. between East 204th Street and Mosholu Parkway North in Norwood. The street comprises three-story homes mixed with residences six stories or more.
One resident remembered emergency crews rushing to the scene. "The fire trucks woke me up and I came out side and the fire was coming out the roof," said the resident, who pulled out his cell phone and showed video of the flames and billowing smoke.
The three injured were rushed to the hospital with minor injuries.
One FDNY official suspected the fire to have started on the second floor of the home and entered into a shaft, which explained the rapid climb of the fire. Residents say fire shot through the roof within minutes of residents first seeing smoke.
The FDNY press office reports 106 firefighters and paramedics responded from 25 units from across the borough.
Firefighters were able to prevent the fire from spreading to a neighboring six-story apartment building on one side. A similar home on the other side did sustain some damage to it's aluminum siding and the roof.
The one home appeared to have been completely gutted on the inside and members of the Department of Building's were already on scene.
An official from the American Red Cross said she had applications on eight adults who were left homeless from the blaze.
The FDNY's Fire Marshall continues to investigate the cause of the fire.