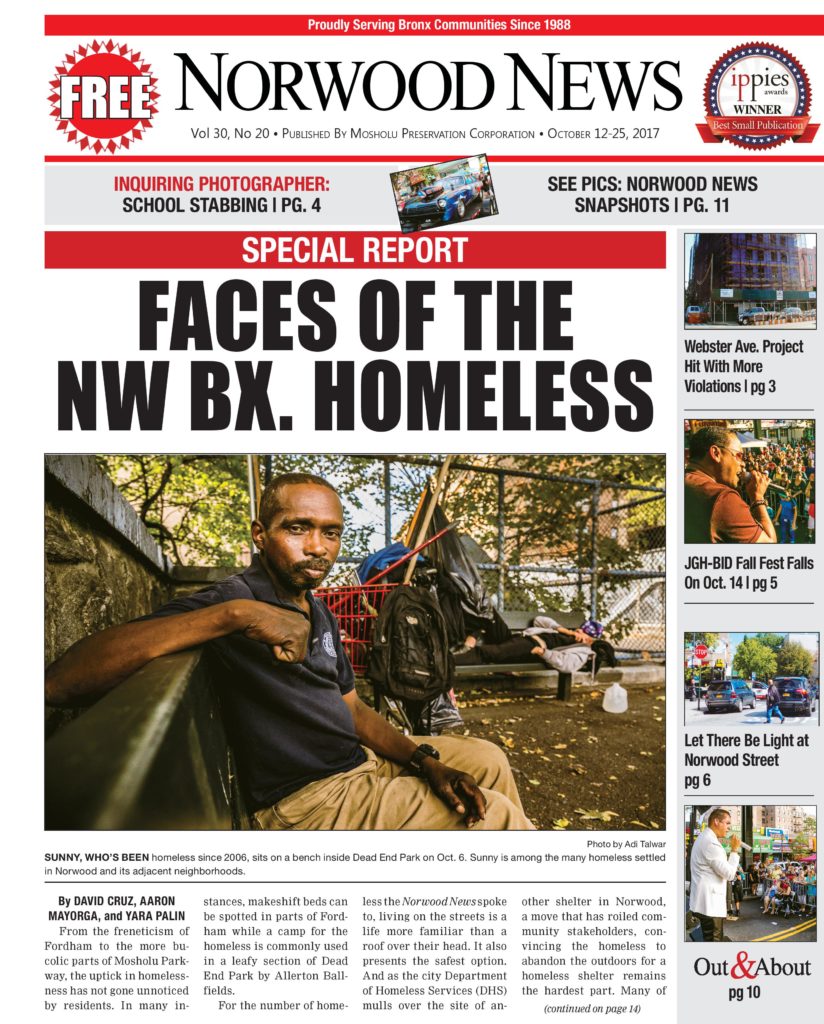 The latest edition of the Norwood News, covering the Bronx, is out with plenty of community news you can use! We begin with a special report on the issue of homelessness crisis. Our reporters fanned out over the last two weeks interviewing the borough's downtrodden and learn why they prefer the streets over a shelter. The story comes amid the city's plan to bring more shelters to Norwood. It's a can't miss story by me, Aaron Mayorga,  Yara Palin, and Adi Talwar with help from Diego Barcacel Pena and Stephanie Luciano. Be sure to check out this eye-opening story and send comments our way.
Inside the 16-page paper are stories on more troubles for a building under construction on Webster Avenue, residents sounding off on a number of issues in our Letters to the Editor section, a graffiti-squashing couple sick of the quality of life issue. On page 5 take a look at details to the upcoming Fall Festival by the Jerome-Gun Hill Business Improvement District, where an estimated 5,000 people are expected to have a great time (A sidebar item relating to the BID: a commercial needs survey by the BID is being conducted through November. If you want to fill it out, go here).
We also have a heartwarming story on Norwood residents committing their time to relief efforts for Hurricane Maria victims. Hear from one volunteer and restaurateur on what exactly was collected. Also, read up on a traffic light that's set to be installed 67 years in the making.
As usual, the regular Norwood News staples are in the fold–Inquiring Photographer, Neighborhood Notes, Out & About, and Health Check–are available for your perusal. So check out the latest edition of the Norwood News, and send comments my way at dcruz@norwoodnews.org. Feedback is always greatly appreciated!
Until next time!
David Cruz
Editor, Norwood News