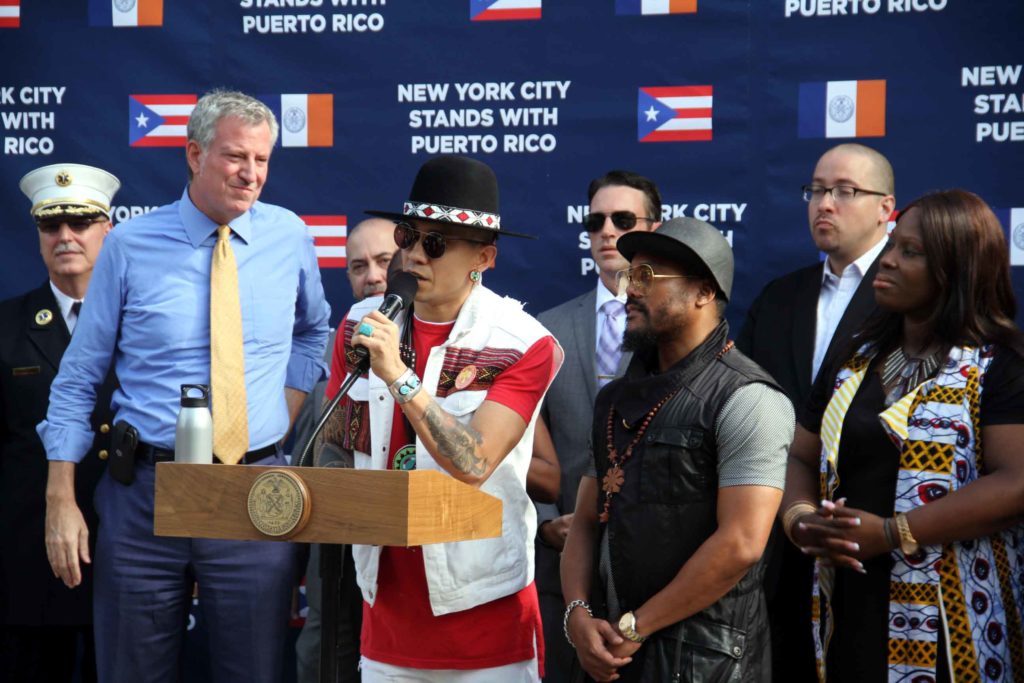 City officials and members of the techno-pop music group Black Eyed Peas stood outside of FDNY's EMS Station 26 on Boston Road, announcing New York City's relief efforts for hurricane-torn Puerto Rico.
Mayor Bill de Blasio was on hand for the Oct. 7 announcement. From now until the end of the month, the city will be accepting needed donations for the commonwealth at 17 Bronx police stations and five FDNY/EMS stations across the borough until Oct. 31.
"They may be more than 1,000 miles away in terms of geography, but there right here in terms of our hearts, we are Puerto Rico," de Blasio, who faces an election this year, said.
The Mayor made the announcement at EMS Station 26, where EMT Yadira Arroyo worked, before she was killed earlier this year.
The Mayor explained, "She gave her life serving other New Yorkers so we're here remembering her."
Taking a swipe at President Donald Trump, de Blasio said"No one would tolerate in a neighboring state if help didn't come, and I'll tell you something, you would never hear a President of the United States say that the people of Connecticut are lazy and their not doing enough for themselves."
Jaime Gomez, also known as Taboo of the Black Eyed Peas told the crowd, "Especially being Mexican-American Latino myself, it's important for me to use my voice and platform to be of service to our people, we say that the power of the people is much stronger than the people in power."
Fellow bandmate Allan Lindo added, "Our brothers and sisters need a lot of help in Puerto Rico and we're here to help out and spread the word."
McCray also announced the expansion of NYC Well, that will provide a mental help hotline for victims in Puerto Rico as well as New York City families also coping with the disaster.
Those in Puerto Rico wishing to speak to a mental health professional or those New Yorkers wishing to get help to someone on the island can call the Disaster Distress Helpline at (800) 985-5990 and anyone in New York City can call (888) NYC-WELL or text WELL to 65173.
The Mayor also announced that 164 New York City employees from the NYPD, FDNY, Department of Sanitation and the Department of Buildings were currently on the ground in Puerto Rico, clearing roads and checking  the stability of buildings. De Blasio added, "They are on the front lines."
Those wishing to donate through The Mayors Fund, can visit: www.nyc.gov/donations. No longer looking for food and water donations, the city is currently accepting specific donated items.
WHAT TO DONATE:
-Baby food
-Diapers
-Batteries
-First aid supplies
-Feminine hygiene products
DROP OFF LOCATIONS:
40th Precinct: 257 Alexander Avenue, Bronx, NY, 10454 (Mott Haven)
41st Precinct: 1035 Longwood Avenue, Bronx, NY, 10459 (Longwood)
42nd Precinct: 830 Washington Avenue, Bronx, NY, 11238 (Melrose)
43rd Precinct: 900 Fteley Avenue, Bronx, NY, 10473 (Soundview)
44th Precinct: 2 East 169th Street, Bronx, NY, 10452 (Concourse)
45th Precinct: 2877 Barkley Avenue, Bronx, NY, 10465 (Schuylerville)
46th Precinct: 2120 Ryer Avenue, Bronx, NY, 10457 (Fordham)
47th Precinct: 4111 Laconia Avenue, Bronx, NY, 10466 (Edenwald)
48th Precinct: 450 Cross Bronx Expressway, Bronx, NY, 10457 (East Tremont)
49th Precinct: 2121 Eastchester Road, Bronx, NY, 10461 (Morris Park)
50th Precinct: 3450 Kingsbridge Avenue, Bronx, NY, 10463 (Kingsbridge)
52nd Precinct: 3016 Webster Avenue, Bronx, NY, 10458 (Bedford Park)
Police Service Area #7: 737 Melrose Avenue, Bronx, NY 10455 (Melrose)
Police Service Area #8: 2794 Randall Avenue, Bronx, NY 10465 (Throgs Neck)
Police Service Area #8 Satellite: 1165 East 229th Street, Bronx, NY 10466 (Edenwald)
Transit District 11: 161st Street/Yankee Stadium Station, Bronx, NY 10451 (Concourse)
Transit District 12: 460 Morris Park Avenue, Bronx, NY 10460 (Van Nest)
EMS Station 26: 1264 Boston Road, Bronx NY 10456 (Morrisania)
EMS Station 55: 3134 Park Avenue, Bronx, NY 10451 (Melrose)
Engine 64/ Ladder 47: 1214 Castle Hill Avenue, Bronx, NY 10462 (Castle Hill)
Engine 83/ Ladder 29: 618 E. 138th Street, Bronx, NY 10454 (Mott Haven/South Bronx)
Engine 73/ Ladder 42: 655 Prospect Ave, Bronx, NY 10455 (Melrose)