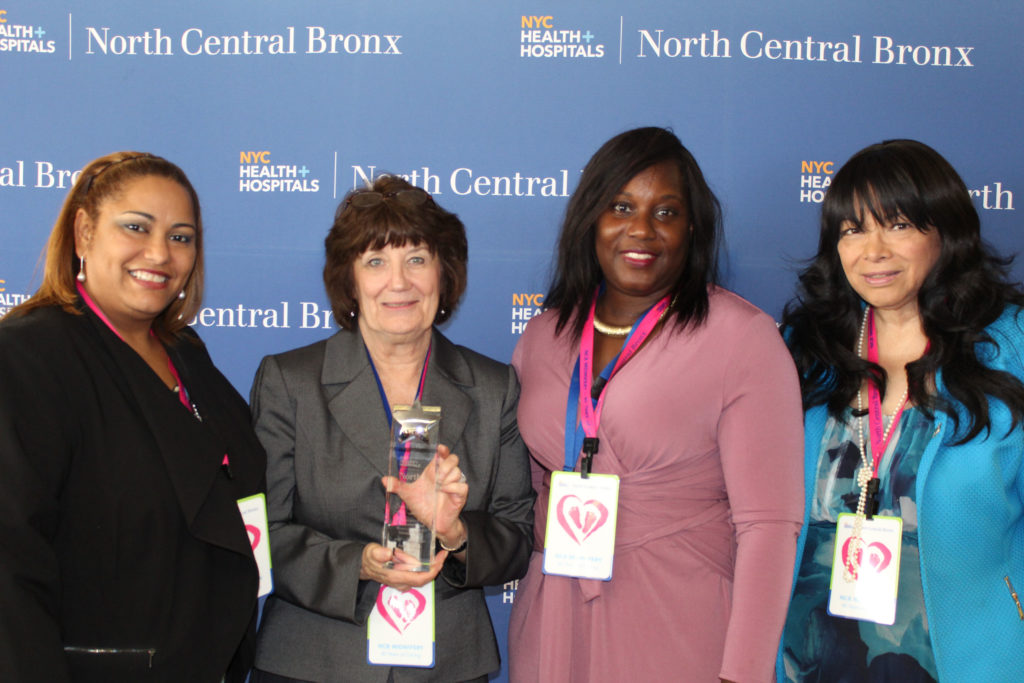 It's very easy to see the positive impact that the midwifery program at North Central Bronx Hospital (NCB) has had since its inception 40 years ago. The unit has delivered 90,000 babies since its inception in 1977, and about 1,500 annually.
NCB midwives provide a spectrum of care for labor and delivery care during pregnancy, and well care, birth control, menopause, and care related to female gynecological disorders after delivery. The hospital serves Norwood and the entire north Bronx community, which has a diverse ethnic population.
At the midwifery's 40th anniversary on Oct. 5, midwives from past and present joined former and current patients to celebrate the work that NCB has provided to Norwood.
Dr. Susan Papera, licensed midwife and director of midwifery services, was honored for her dedication to NCBH which stretches back to 1978. She started has since spent the last 14 years directing the midwife education program at the hospital. Throughout her time at NCB she even became a grandmother. She recalls the moment after she helped a woman to deliver her baby, the newborn's grandmother look at her and said, "I remember you. You were my midwife."
Papera also says that being located in the Bronx presents different challenges for pregnant women, that their midwives are trained to help with. She says, "The main ailments in the Bronx that you have are obesity, diabetes, hypertension, and asthma. These are medical conditions that if the women, physician, and midwife work together can optimize good outcomes."
Dr. Chinyere Anyaogo, MD and Vice Chair of Women's Health Services, says that many of their patients don't even know about their preexisting health issues until they see a midwife.
NCB also offers assistance with domestic abuse situations, which Dr. Anyaogo says is also prevalent in Norwood.
Towards the end of the celebration, Dr. Joyce Thompson, the keynote speaker, turned to midwives and patients in the room, saying "The future of this North Central Bronx midwifery is in all of your hands." She implored them to "be bold. Be courageous. And above all, be true to the women you serve."