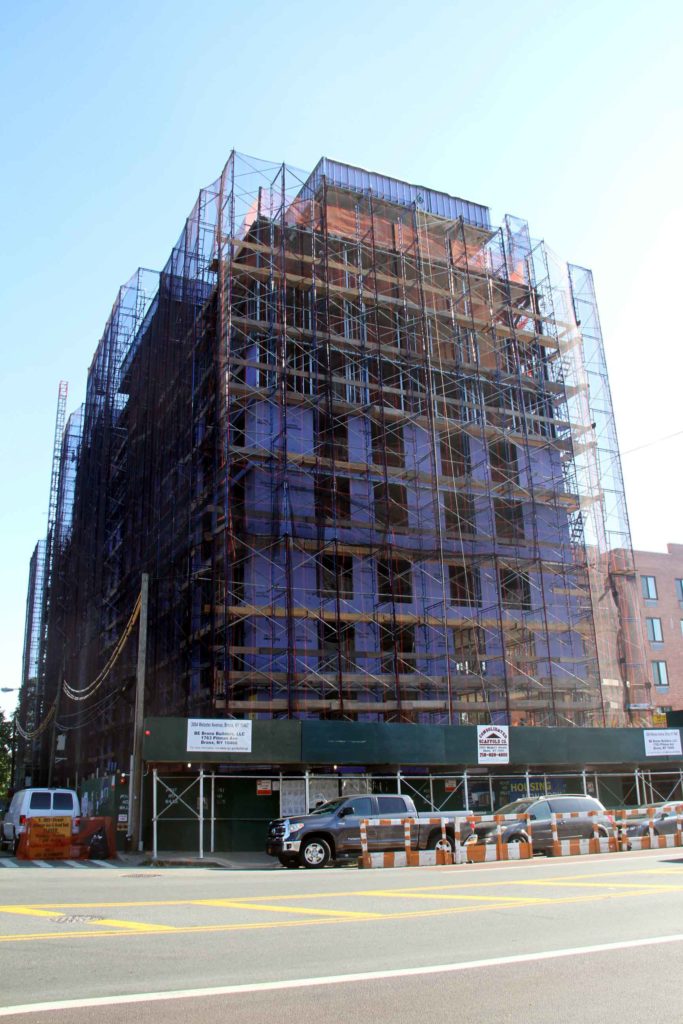 Although the latest stop work order for a troubled building under construction in Norwood has been lifted, unpaid fines levied against the developer are expected to pass $83,000.
The property at 3084 Webster Ave., at the corner of East 203rd Street, an 11-story residence under construction by The Stagg Group, currently has a total of 19 violations, seven which are still pending before an administrative court, according to records by the New York City Department of Buildings (DOB).
The most recent stop work order was issued on Oct. 2, when inspectors found a construction elevator, also known as a hoist, that was not operational at the site. DOB rules mandate that construction elevators must be operational when work is under way. The stop work order prevented any work from being done above 75 feet. The needed elevator repairs were made and construction workers were back at the site on Oct. 5.
The site also had a stop work order issued on Sept. 27, for an illegally erected "supported scaffold." The outcome of that violation will be determined at a proceeding by the Office of Administrative Trials and Hearings (OATH).
The DOB issued the fines to Be Bronx Builders, the construction arm of the Stagg Group, which has offices on Pitman Avenue and White Plains Road. Should OATH find the firm guilty, Be Bronx Builders could be hit with more than $83,000 in fines. So far, OATH has not issued the fines. In seven instances, the firm failed to appear before an OATH proceeding,
The latest fine adds on a history of troubles for the building going as far back as April when a crane dropped a load of concrete three floors, causing the project to halt construction for nearly a month. According to building records, fines for that day alone topped $47,000– $25,000 for not having a site safety coordinator on scene, $12,000 for construction debris scattered on the floor at the time of the accident and $10,000 for having caused the accident.
The Stagg Group has led in the number of new buildings popping up in Norwood and Bedford Park. Its signature construction project at the corner of Van Cortlandt Park South and the Grand Concourse, the Mosholu Grand, has not yet started.
Meantime, the Webster Avenue project is now one year behind schedule as the anticipated completion date was planned for late last year, according to a sign posted at the site.
A DOB spokesman told the Norwood News, "Whether you pay the fine or not, we want to make sure at the Department of Buildings that if you are issued a violation… that everything is code compliant and safe and we want to make sure that that violation has been corrected."
Repeated calls for comment to Be Bronx Builders and The Stagg Group were not immediately returned.