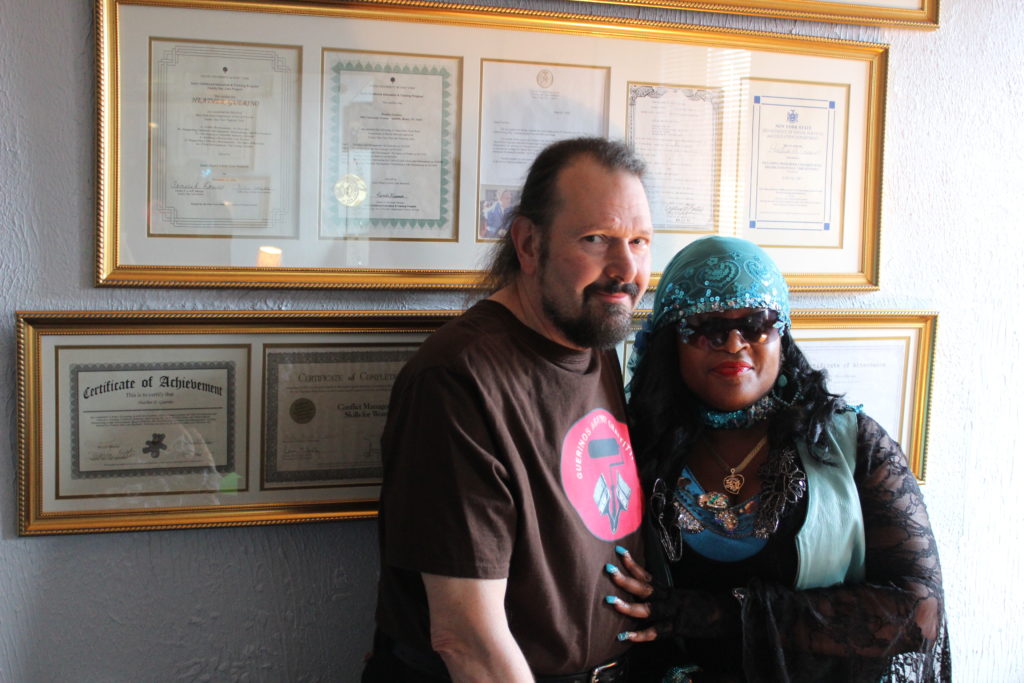 A Kingsbridge Heights couple has had enough with the scrawls of graffiti on property walls. For the last two years they found a way to combat it—taking it down themselves. They methodically remove graffiti from the neighborhood on a continuous basis.
Sirio and Heather Guerino have a small office at the corner of West 197th Street and University Avenue, Guerinos Against Graffiti (GAG), named after the family efforts to wipe out graffiti, and which has been operating for almost two years.
Born and raised in the Bronx, Sirio, 61, has always had a pet peeve against graffiti, which led to his involvement with Norwood Against Graffiti until that got dissolved. With help from Heather, what was once an idea was the beginning of their own endeavor.
For a negotiable fee, GAG is hired to paint over graffiti and monitor the property for a month to ensure it doesn't get spray painted again. The family handles the job themselves, sometimes with the help of their kids Duval, twins Hendrix and Spartacus and daughter-in-law Jessica Kracko. For everyone's convenience they ask owners to supply the paint for guaranteed customer satisfaction.
Last year, GAG was hired by Project Renewal, an organization whose mission looks to end homelessness while empowering adults and children. GAG hopes to secure more contracts in an effort to clean up the community.
Sirio's annoyance with graffiti echoes Heather's. Unhappy with the quality of life in the Bronx, Heather, who grew up in the Midwood section of Brooklyn, is new to seeing all the graffiti in the Bronx. "This is just abnormal to me," she said. "The kids in our neighborhood got to ….. be exposed to it, so what happens? They think it's a normal way of life."
According to 311 data for this year, the Bronx has seen a total of 867 complaints made against graffiti as of press time. Community Board 7, covering Norwood, Bedford Park, Kingsbridge Heights, Fordham and University Heights, saw 57 complaints filed. That's fairly low compared to Community Board 1, with 122 graffiti related complaints, 71 percent more than those found in CB7.
The Guerinos are persistent in covering up graffiti tags in the hope of encouraging vandals to move on. They work hand in hand by pushing murals to be painted and ensure properties stay graffiti free. They also stay vigilant in keeping mailboxes and lampposts free of graffiti. "If it doesn't stop, the Bronx is going to go back to how it used to be in the '70s," said Heather.