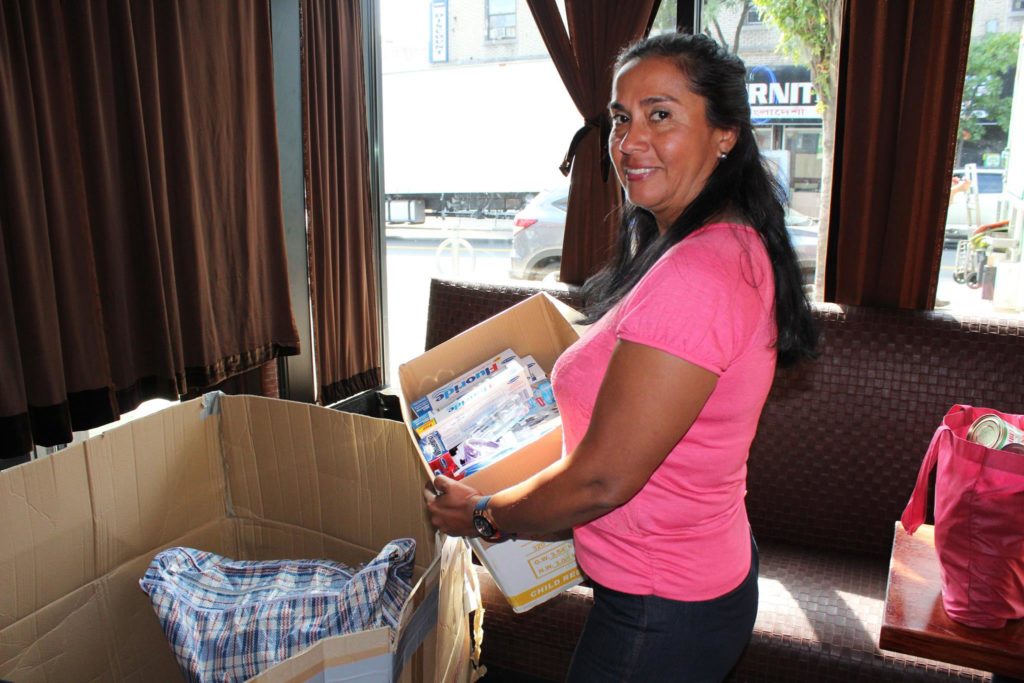 As Puerto Rico continues to recover from the effects of Hurricane Maria, leaving many native Puerto Ricans without food, water, and more, Norwood residents and business owners have teamed to donate goods to the island.
After hearing a sermon at their local church about the power of giving, Martha Salas and Sylvia Garcia decided to team up with Lexa Bar at 357 E. 204th St. to set up a donation site. "The response has been great," said Garcia. "We started posting posters on Bedford Park, where we live on 201st Street, and people have filled up three huge boxes already."
Neighbors have been coming in and out of the bar to donate goods. Local businesses have also done what they can to help the hurricane victims. Price Busters donated six cases of water. On the day of the last shipment, Sept. 26, Foodtown donated two cases of water and Leroy Pharmacy donated $50 worth of toiletries.
Lexa Bar & Garden has been working with Evo Lounge and Salsa Con Fuego to organize the donations to let La Mega 97.9 Radio send the supplies to Puerto Rico.
Hector Trinidad, co-owner of the bar, had his own experience with a natural disaster and knows how important it is to donate. "I lived over in Puerto Rico for several years and there was a hurricane that passed through called Hurricane Hugo," said Trinidad. "We were without water and light for several days, and we had to deal with what we had. [We've] gotten clothing, water, canned goods, stuff for infants, [and] we still have a few left over to send."
Norwood residents have not only been giving canned goods to Puerto Rico, but medical supplies as well. "A man came alone with a whole box full of diabetic strips, a machine, and adult diapers," said Garcia. "This one poster brought all the community together."
The category four hurricane ripped through Puerto Rico on Sept. 18, destroying cities, flooding crops, and disrupting communications. Roughly 300,000 Puerto Ricans live in the Bronx and have family members on the island that they have not been able to contact.
Other neighborhoods around the Bronx have also been doing their part to help out the victims of Hurricane Maria.
Jose and Lisette Acevedo, the owners of Gold Star Pawn at 710 Castle Hill Ave., set up a donation site at their store after losing communication with their family in Puerto Rico, reports News 12 the Bronx.
El Maestro Cultural Center at 1300 Southern Blvd., a boxing gym whose mission is "to preserve the identity, history, and cultural legacies of the Puerto Rican community for the benefit of our future generations," has also set up a donation site.
Over 300 people donated goods to A&G Early Child Care Community Network at 895 Fairmount Pl., reports Voices of NY.
"We struggle every day to put dinner on the table, to pay those bills every month, but you want to know something?" said Garcia. "It's not as terrible as you having your roof torn from your home, or having the animals that you raised for food drown—you just can't survive."