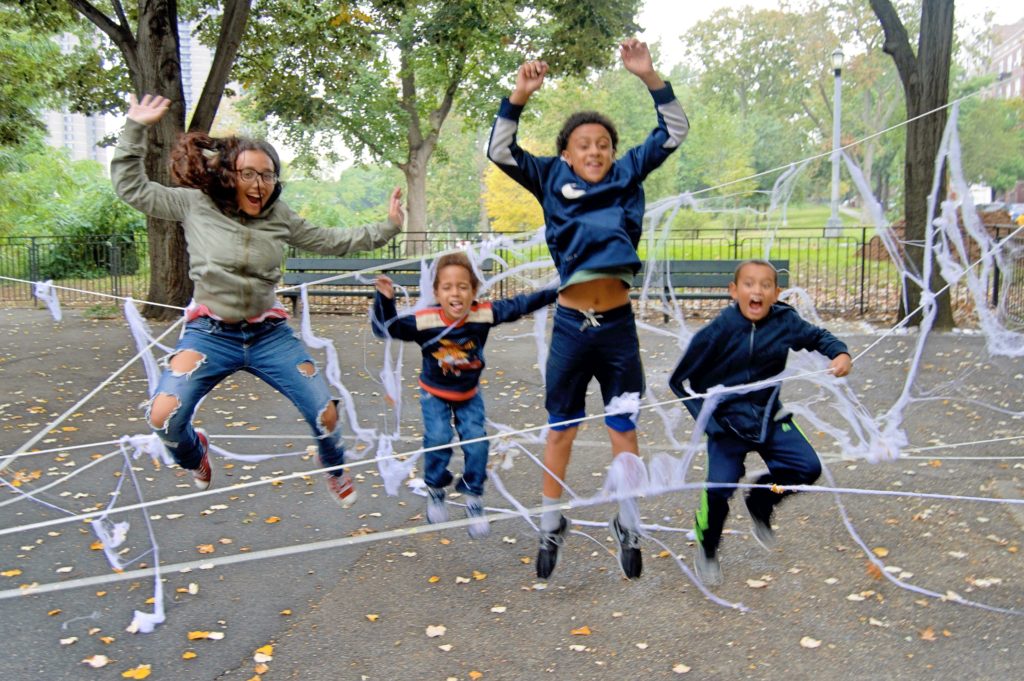 Editor's Pick 
Kossuth Playground Fall Festival 
The public is invited to attend the annual Kossuth Playground Fall Festival on Oct. 7 from 11 a.m. to 3 p.m. Events include music, mime, craft, story time, photo ops, and the Parks Fitness Mobile. For more information, call (347) 371-3085.
Onstage
Lehman College's Center for the Performing Arts, 250 Bedford Pk. Blvd. W., presents Boogaloo Extravaganza with Richie Ray & Bobby Cruz, Pete Rodriguez, The New Swing Sextet, and other special guests and attractions, Sept. 30 at 8 p.m. Tickets are $50 to $100. For more information, call (718) 960-8833. 

Events
The Bronx Zoo offers Boo at the Zoo, weekends and holidays from Sept. 30 to Oct. 29, to celebrate the Halloween season with a haunted forest; hayride; pumpkin carving; Bootoberfest (live music and food); mind reading, magic and puppet shows; crafts; and meeting with vultures, owls and ravens. For more information, fees, and a detailed schedule, call (718) 367-1010.
Bedford Park Congregational Church, 311 E. 201st Street (at Bainbridge Avenue) presents its annual fun fair and flea market, Oct. 21 from 11 a.m. to 4 p.m. Events include raffles and lunch. Sale items include household goods, jewelry, electronics, toys, and books. For more information, call (718) 733-3199.
The Jerome-Gun Hill BID presents its 16th Annual Fall Festival, Oct. 14 from 11 a.m. to 6 p.m., along Jerome Avenue between Mosholu Parkway and Gun Hill Road. Events include musical performers, hula hoops, jump rope, caricatures, face painting, food, free health screenings and giveaways. For more information, call (718) 324-4946. 
The East 204th Street and Bainbridge Avenue Merchant Association presents its 7th annual East 204th Street/Bainbridge Avenue Walk, Oct. 14 from noon to 7 p.m., from Bainbridge Avenue to Decatur Avenue. For more information, call the DOT at (212) 839-4850. 
Holy Nativity Church, 3061 Bainbridge Ave. (at 204th Street) holds a fundraiser for food pantry, Sept. 30 from 10 a.m. to 3 p.m. Included are bargains, toys, books, clothes, and household goods. For more information, call (718) 652-5853.
The Fordham Road BID presents the following events: Street Fair (on Fordham Road from Creston Avenue to East Kingsbridge Road), Sept. 30 from noon to 6 p.m.; and Fordham Fever Fridays, at Muller Park & Plaza (Creston Avenue between East Fordham Road and 190th Street), Oct. 6 from 2 to 6 p.m. featuring Superhero Celebration, including music, games, activities and more. Also scheduled is film, Oct. 7. For more information, call (718) 562-2104. 
Wave Hill, a Bronx oasis at 675 W. 252nd St. in Riverdale, offers Family Art Projects: Mapping the Bronx Green, to create collages using recycled maps and printmaking, Sept 30 and Oct. 1; and Raptors in the Autumn Sky, to make a movable raptor puppet, Oct. 7 and 8; both in the WH House from 10 a.m. to 1 p.m. Also scheduled are concert featuring Bridget Kibbey & The Sebastians performing classical music, Oct. 8 at 2 p.m. in the WH House (tickets are $28 plus admission to the grounds/$24WH member/$12/ages 8 to 18; info: ext. 251); and Falconry Presentation: Skyhunters in Flight, Oct. 9 at 1 p.m., on the grounds, to observe hawks, falcons and owls in an outdoor flight demonstration, learn about the ancient sport of falconry, and see raptors from around the world (free with grounds admission; admission on Wings Over WH Day is $10/adults, $6/students/seniors 65+, $4/ages 6 to 18, free/members/under age 6. Grounds admission is free until noon Saturdays and Tuesdays all year. For more information and a schedule of events including tours and walks, call (718) 549-3200.
Exhibits
The Bronx County Historical Society presents Over There, America and the Great War, at the Museum of Bronx History, 3266 Bainbridge Ave. (at 208th Street), through Oct. 8. Also at the museum is What Lies Beneath Cemeteries of the Bronx, exhibition from Oct. 12 to April 8, 2018. Opening reception on Oct. 12 from 4:30 to 7 p.m., free, includes drinks and snacks. For more information, call (718) 881-8900. 
Library Events
The Bronx Library Center, 310 E. Kingsbridge Rd., presents for children: Hands on Projects (ages 7 to 12; preregistration required): Leaf Book Making, Sept. 28 at 4 p.m. Adults can attend film: "The Old Man and the Sea," Sept. 30 at 2:30 p.m. For more information, call (718) 579-4244/46/57 or visit www.nypl.org.
The Mosholu Library, 285 E. 205th St., offers for children: Bilingual Birdies Class: Mandarin: (ages through 12 years), to collect fruits, ride a bike, and visit a farm. Events include live music and language learning, Oct. 11 at 10:30 a.m. Teens/young adults can attend: Craft-eens at 3:30 p.m.: Craft projects every Wednesday (materials are provided), Oct. 4 and 11; and films at 1:30 p.m.: "Kong Skull Island," Sept. 30, and TBA on Oct. 7. Adults can attend: Knitting Circle: Thursdays at 3 p.m. For more information, call (718) 882-8239.
The Jerome Park Library, 118 Eames Place (near Kingsbridge Road), offers for children: Preschool Storytime and Crafts at 11:15 a.m.: (ages 3 to 5), including puppetry, dramatics, crafts and flannel boards, Sept 28. Adults can attend: Computer Basics: Sept. 28 at noon. For more information, call (718) 549-5200.
NOTE: Items for consideration may be mailed to our office or sent to norwoodnews@norwoodnews.org, and should be received by Oct. 2 for the next publication date of Oct. 12.